I just read a recent blog post, from a well-respected source that shall remain nameless, about how to pick paint color – or rather, how NOT to pick paint color.  While I love most design blogs from this source, and even though the designers quoted in the article are incredibly talented, I actually cringed when I read the advice listed.  The five tips they suggested might work when a homeowner is working together with a skilled interior designer who can keep them from making serious mistakes.  But without professional guidance, I'm afraid that the five suggestions on how to pick paint colors will actually leave homeowners more confused, or worse, lead them to make bad choices.  
So, I'd like to weigh in on why the suggestions in the published article are NOT how you should pick paint color, and tell you what to do instead.
If you follow interior design, you will have heard these suggestions before, but this was the first time I'd seen all five offenders in one article.  I'll tackle each one below, and why I think there are better ways to pick paint color, but first, here's the underlying reason why I think these five tips fall short:
Picking paint colors for something large-scale (your home) is vastly different from choosing a color for something small (a chair fabric, say, or a blouse to wear).
Paint colors on your walls cover such a large surface area, with different types of light hitting the various parts of the room at different angles, that you have to think of the color differently.  Your room's paint color will cover a LOT of vertical square footage.  So gathering a bunch of tiny paint chips from the paint store and laying them out horizontally on your table to compare them is many homeowners' first mistake.  This common "starting point" gets most people nowhere, and too many times leads them to pick a color than might be a very nice accent on their bedspread but disappoints them when it covers the whole room.  I don't claim to be the foremost authority on color selection by any stretch, but I've done enough color consultations to know what NOT to do when you're about to choose just one paint color from the thousands of color chips out there. 
So here's how NOT to pick paint color, in my humble opinion:
1.
Use your closet for inspiration.
This first suggestion from the blog post in question can lead a homeowner to pick a strong, intense color, rather than the more muted, sophisticated tones that most interiors need.  I actually think the clothes in your closet are not the best source of possible paint colors.
Your closet probably has a lot of dark neutrals (black, most commonly), a few light neutrals (obviously white or off-white), and then plenty of brighter, saturated colors.  The light and dark neutrals may be good interior paint colors (although it's a bold client who paints their walls black!), but the brights?  Odds are you wouldn't want to paint your living room in emerald green (the rich tone of one of my favorite blouses), or pale lavender (unless it's a nursery), or a claret red (another fave).  Some strong colors are almost neutrals, like a rich navy, but most fabric colors are just too intense to envelop a whole room.  This is one of those, "Don't try this at home!" things.  Unless you're working in tandem with an interior designer who "gets" strong color (such as Megan Yager who designed the room below), or you have a bold, maximalist style, neutrals are your best bet!
However, the clothes in your closet can provide some useful color guidance, by showing you which undertones you prefer.  Some of us remember the 80's trend of "getting your colors done", where your skin tone was paired with warm or cool color palettes named after the seasons.  This is useful info in picking paint color, to a point.  If you're a redhead who loves warm tones, a rich terra cotta or earthy beige may look great in your home.  Just don't pick anything too intense!  Colors look even stronger over a big surface area, so tone your selections down a bit.
2.
Refer back to some happy memories for inspiration.
This little bit of advice from the blog is pretty harmless, but also not that useful.  We all love mentally revisiting favorite places, but colors from those spaces can be hard to translate to your current home, today.  I grew up with a bedspread and drapes done in a white fabric with bright yellow tulips all over.  I thought it was the coolest thing ever… but I would never paint my bedroom yellow today.  And my best friend in high school had some groovy fuchsia-colored wallpaper in her bedroom.  Yeah, no.  
If I look back on some of my favorite places in the world, those which could really work for inspiration are places in Europe where most interiors are painted in soft, light neutral tones.  (Hmm… does this soft living room color remind me of Paris?  Why not!)
3.
Envision the feeling you want.
Sigh.  This advice reminds me of every "color moods" chart you've ever seen.  Yes, we all know reds and oranges energize us, blues and greens are soothing, gray is intellectual, purples are "royal" (whatever that means).  If you're going to envision the feeling you want, think in terms of light versus dark, expansive versus cozy, bold or colorful versus muted or monochromatic.  And remember, the size of your space, and the amount of natural light it gets, will have a huge impact on your room's "mood".
During color consultations, when I ask homeowners what feeling they want in their space, the most common response by far is "light and bright".  This is a good starting point – the challenge just comes in picking a paint color that conveys "light and bright" while also coordinating well with your existing furnishings, accessories, and flooring.  The right color is usually NOT the brightest white paint chip from the store.
4.
Find inspiration online or in magazines.
This is actually useful advice, and every designer will tell you this as well.  Start saving photos of spaces you love, and eventually you'll spot styles that consistently appeal to you.  
Just remember that photos seen online or in magazines are usually edited to show the space to best advantage, and don't always render colors properly!  Use inspiration photos to help narrow down your choices, but don't just blindly apply the same color to your walls without testing first.  Read this blog about why paint colors in photos can be misleading.
Once you've decided on some color options based on your inspiration photos, be sure to test them, but NOT by taping color chips up or painting big squares on your wall!  I disagree most strongly with this next point:
5.
Paint some color samples right on your wall.
Please don't do this!!  Here's why:
It's too hard to compare a large sampling of color choices.

 

Your colors are stuck where you painted them, so you can't see how the third-from-the-left compares to the one on the far right, in order to decide between them.
To get a good "read", you'd need to prime your existing wall (unless it's already a white) and then do at least two solid coats of color.

 

Most people rush the process, don't prime, and just do a quick coat, so they don't get the paint color saturated enough to judge it properly.
Your painted samples are influenced by the color of the wall around it, especially if your current wall is a strong color.
You can't move the samples around to see how the colors look in various parts of your room, or against different existing finishes like the trim on your door frames or the tile of your kitchen backsplash.
As color consultants, we've walked into many sad scenes like this one.  Why on earth would anyone think this was the best way to choose paint colors?  The poor homeowner probably spent more time, money, and aggravation in painting all those sample squares than if they had just hired an interior designer for an in-home consultation in the first place.
So how do you sample paint colors then, when you're trying to pick the right color?
Paint them onto poster boards, so you can carry them around, compare them side-by-side, and evaluate them properly.  (We use these large color boards from Maria Killam during our color consultations, because those tiny paint chips just don't show you enough of the color to judge.)  We explain how to sample colors here.  Hint:  you can start with those tiny color chips, but then narrow them down to a handful of "finalists" and make large-sized color boards of those, to judge by.
And if you really want to paint some samples on the wall directly?  At least do it properly, the way the Baxter Design Group hired us to put up some large-scale samples for this San Antonio project.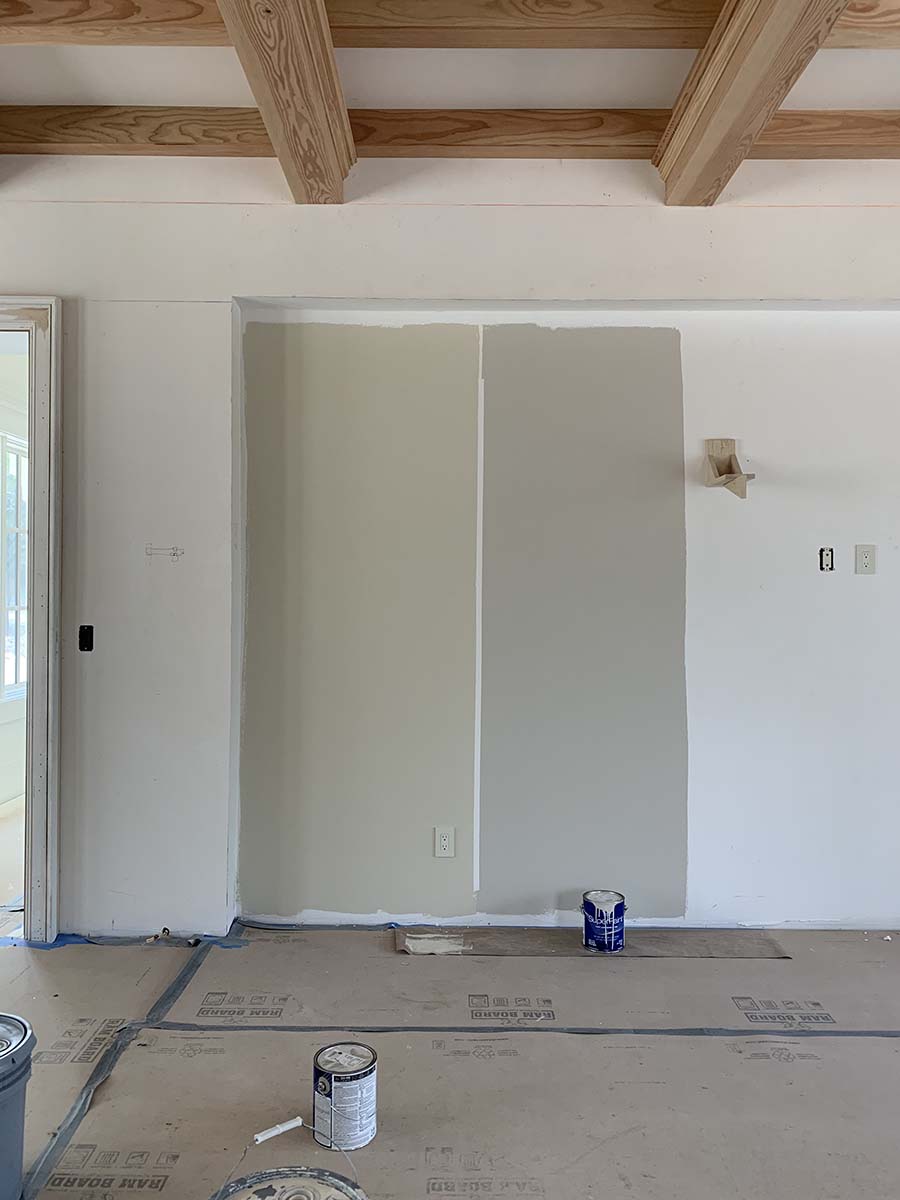 So there you have it – what NOT to do when you're picking a paint color!  And hopefully you've got a good sense of what to do, instead.  And remember – hiring an interior designer or color consultant to help you is always a good idea!  Trust me, the right professional can save your project from utter disaster.  (If you're hiring Paper Moon Painting to paint your project, we include complementary color consultations.)  In the same way that the success of most painting projects hinges on good prep, the success of most design projects – even the simplest room update – hinges on making sound decisions at the start.  Now you know how NOT to pick paint color, your project should be halfway to success already!