If you're updating your home, knowing how to make your kitchen look more custom is not a matter of new flooring or counters, it starts with your cabinets.
We're going to show you five ways to make your kitchen look more custom, but they all focus on the cabinets in your kitchen.  This is because cabinets cover the greatest amount of visual surface area!  In an older or outdated home, your flooring, counters, backsplash, and lighting may all need to be redone eventually.  But updating your kitchen cabinets will usually have the greatest impact, and certainly give the best bang for your buck.  If you're working within a budget and improving your kitchen in phases, tackling your cabinets is an ideal place to start.
But updating your kitchen cabinets doesn't have to mean replacing them!
The good news:  the elements that help make your kitchen look more custom, more unique and well-designed, can almost always be incorporated into your current cabinets!
As long as they're in good overall shape and you like the layout of your kitchen, you really can keep your existing cabinets.  Painting them in a fresh color (or two) is probably going to be a necessary step.  As cabinet painters ourselves, we see the amazing impact of painting cabinets every day.  So long as your cabinet painter knows how to properly fill any woodgrain or fix any imperfections to get a smooth, beautifully-sprayed finish, your cabinets can be transformed to look like new.
A

word of advice:  This is not something you want to tackle yourself!

Despite all the blogs out there that make it sound easy, you can't make your kitchen look more custom or high-end if you leave visible brush strokes or roller stipple in your cabinet finish.  Knowing how to update your kitchen cabinets includes knowing when to call in the pros.  Watch how we at Paper Moon Painting refinish cabinets, and read a more in-depth explanation of why this is NOT a good option for a DIY project!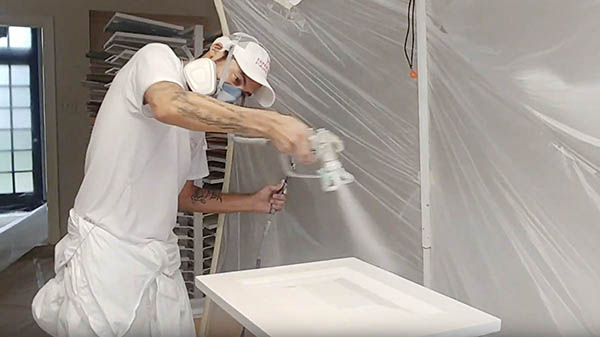 But if you want to go just one step further than painting alone, with a little help from a good carpenter, you can make some tweaks to your ordinary cabinets, to make your kitchen look more custom without a full remodel or redesign.  Updating all your finishes (counters, cabinet color, backsplash) will certainly help bring your home into the current design decade, but what truly separates a custom-designed kitchen from a builder-grade one is those small designer details in the cabinets themselves that most of us take for granted – at least until they're pointed out to us.
You want to keep your kitchen from looking generic or builder-grade.
Ultimately, this is the problem you want to solve.
Unless yours is a custom home, odds are your builder installed a row of upper cabinets that mirrors the cabinets below them.  Your lower cabinets surround the perimeter of your kitchen, and your upper cabinets – allowing perhaps for the window above the sink – do too.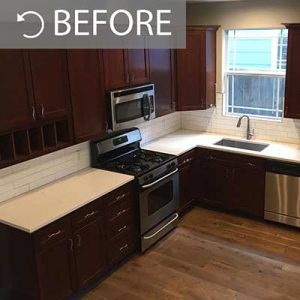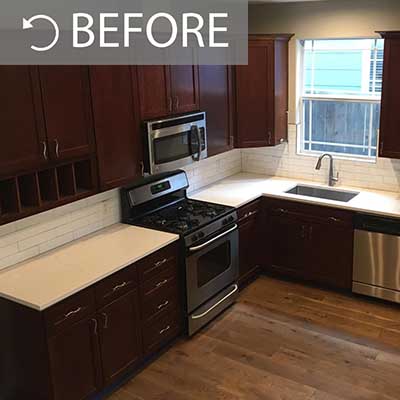 This kind of placement is easy to design and install, but it lacks imagination.  Having a long, blocky row of wooden boxes go around your kitchen right at eye level can look static and boring, and feels downright claustrophobic in a small kitchen.  Humans are drawn to variation and movement, and good kitchen design incorporates changes in height, depth, color, and contrast into any project.
Let's look at some upgraded kitchens, to illustrate some elements of a more thoughtful, customized approach.  (All photos in this post are our own Paper Moon Painting projects!  We credited the designers or photographers wherever appropriate.)
You may spot several custom features, but you can still incorporate one or two of them when you're updating your kitchen cabinets.  These ideas are all relatively small projects that require a minor investment but won't break the bank.  A good cabinet maker or carpenter can do them for you, or you can tackle some of them yourself if you're really handy and enjoy DIY home impovement.  (Just leave the painting to the pros!)
Tip:  try to make any woodwork changes before you get the cabinet painting done!  If you've already had them painted, your painter should be able to paint any new wood pieces or areas to match.  But if you take care of the woodwork details in advance, your painter can paint all your cabinets at once, including any new pieces, for a seamless transformation.
Here are five options to make your kitchen look more custom:
1.

 Put in a couple of glass-fronted doors.

This is one of the easiest changes to make.  In effect you're replacing the center panel of your upper cabinet doors with glass panels, and a good carpenter can get it done easily enough (or make you a couple of new doors from scratch, if your current ones aren't amenable for some reason).

You don't have to do all of your upper cabinets, of course.  The most common option is to select a pair that flank your range hood or your kitchen window.  You'll have to make the inside contents of those cabinets visually appealing, but this is easy to achieve with a nice set of dishes or some decorative bowls or vases.

We featured this lovely San Antonio kitchen below in a separate post about the iconic banana-leaf wallpaper we installed, but it illustrates the point.  You'd be amazed how even just two glass-fronted doors will break up the monotony of a solid row of upper cabinets!

Here's a lovely home in historic Monte Vista (San Antonio), where using glass-fronted doors was a much better option for the cabinets flanking the windows than just solid doors would have been!

Especially when your cabinets are taller than standard, a few glass-fronted cabinets keep your kitchen from being dominated by woodwork:

You don't have to use standard clear glass, if you prefer something else.  There are some beautiful glass options, that can make your home feel more modern or more farmhouse or more traditional, depending on what you choose.  There's reeded glass, seedy glass, acid-etched glass . . . Look at some options on this glass company's website here.

In this south Austin home, the homeowner's father made these leaded-glass windows as a labor of love.  What a beautiful contribution!

Variation  –  Instead of glass, try inserting brass mesh screens into a few of your upper cabinets!  This will take a bit more of an investment and homework because you'll need to find the brash mesh itself, and some of the prettiest ones can get pricey.  But it's a gorgeous option that will make your kitchen look more custom, without fail.

We installed brass mesh inserts in these black upper cabinets to transform this bar area into a small library, with books behind the brass mesh.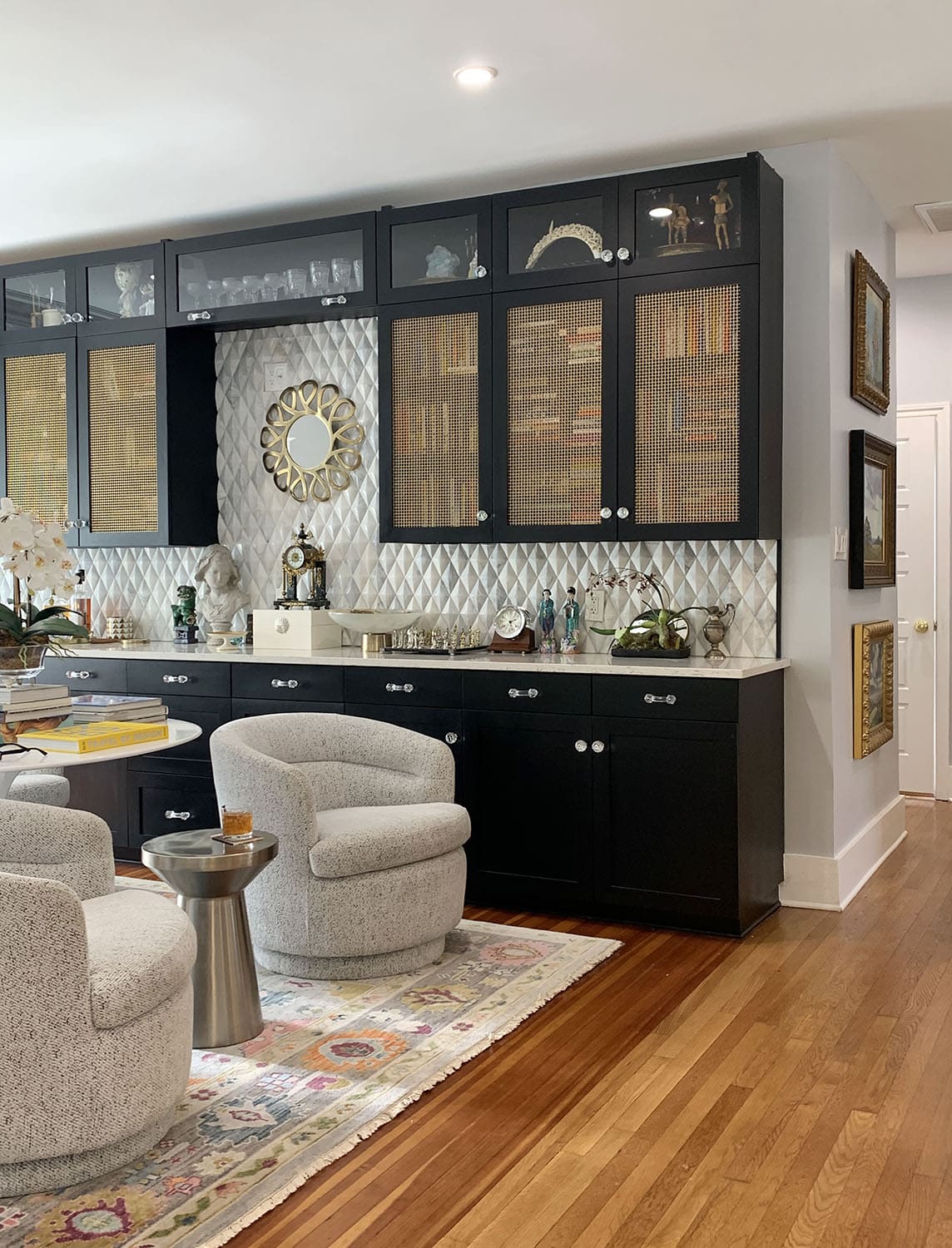 2.

 Sacrifice a section of upper cabinets and put in some open shelves.

This is also a fairly simple project.  Knowing how to update your kitchen cabinets can be as simple as taking some away!  You can either pick a small wall in your kitchen and then pry off all the uppers from that area, or just remove a couple of cabinets to the left or right of the window above the sink.  Then put up two shelves to go where the cabinets used to be.  You won't have lost any storage at all, but your kitchen will feel way more open, and you'll probably get more natural light from the window to boot.
Here's a range of projects showing how to make your kitchen look more custom with open shelves, from small to medium to large.
For this cute little kitchen, a pair of upper cabinets would have felt more "in your face" than these small shelves do.  This way, there's plenty of light from the window, and no storage lost.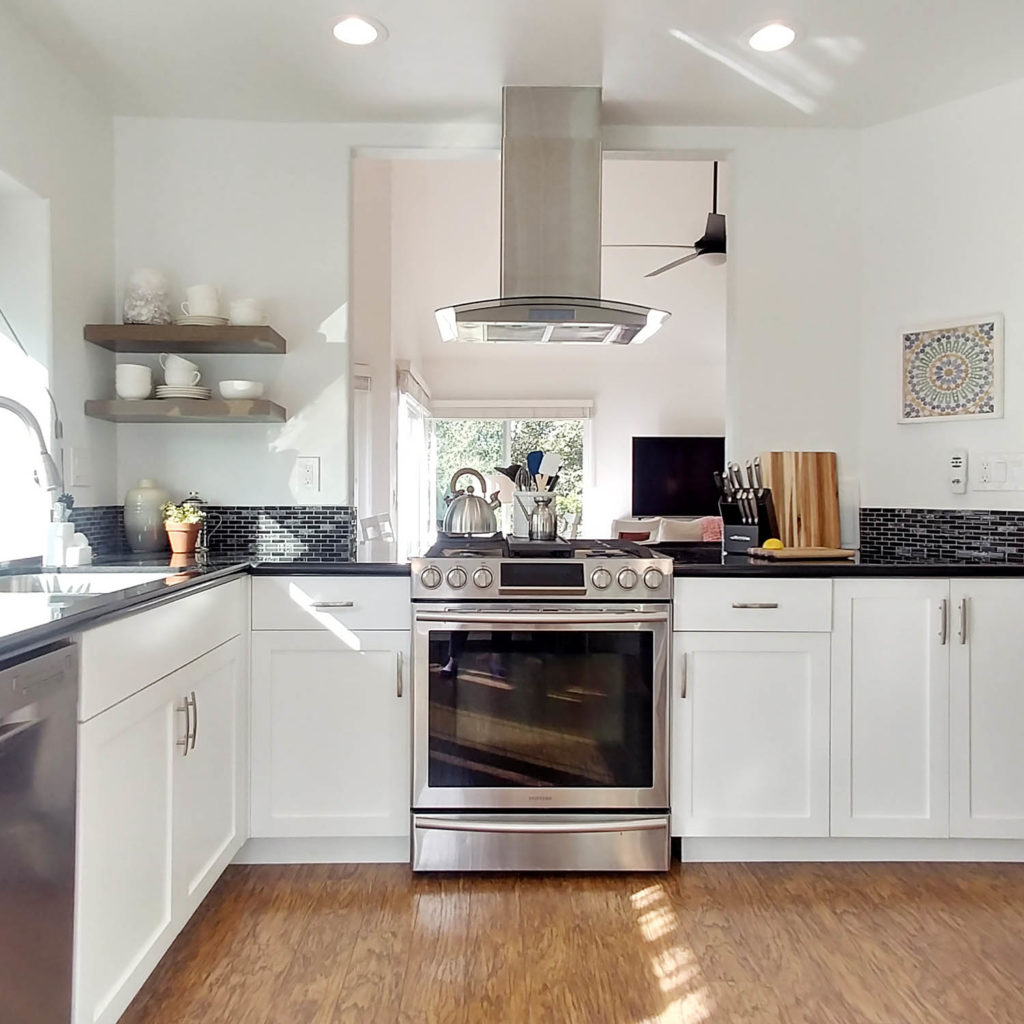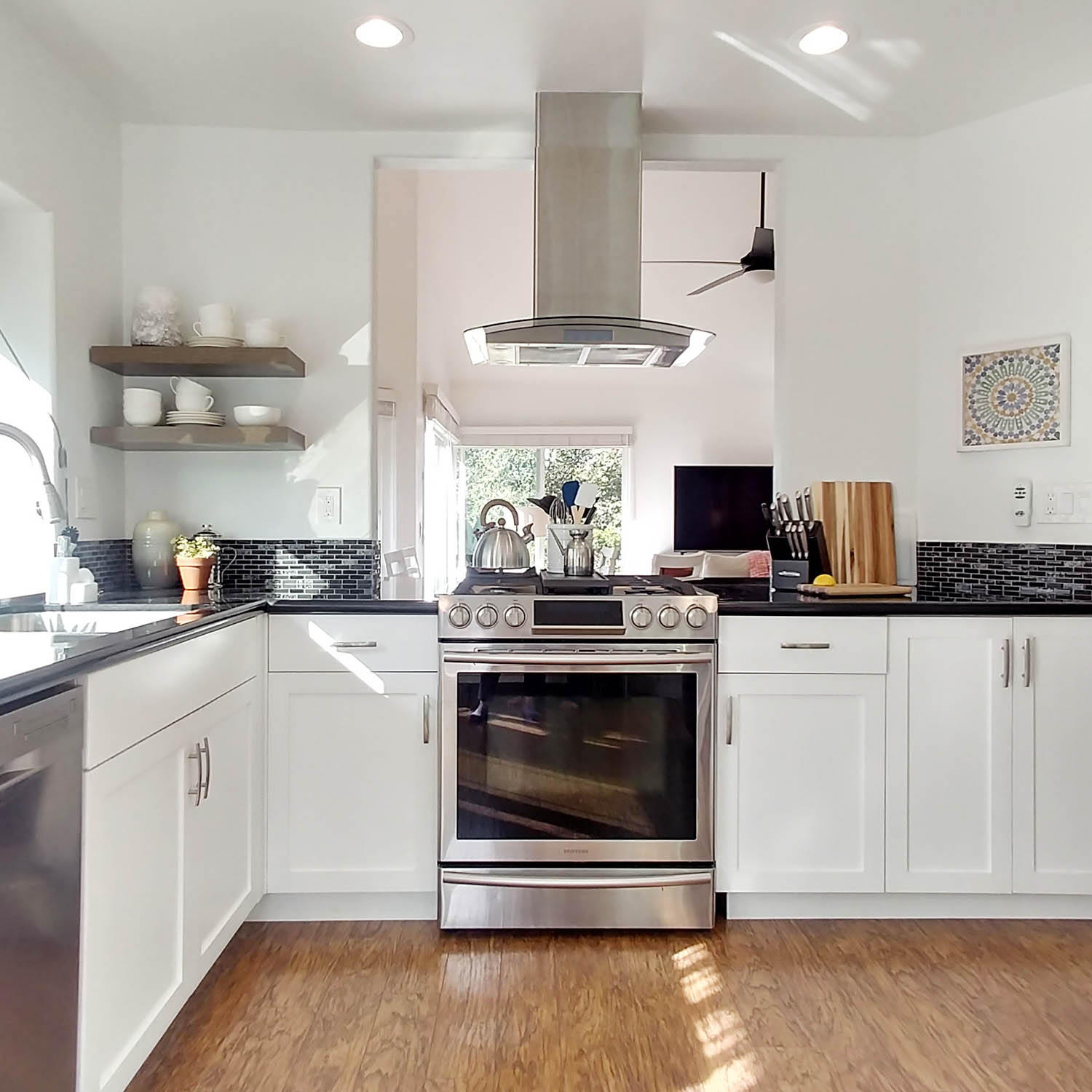 This San Antonio kitchen uses the open shelves to showcase some of the homeowner's favorite pieces.  Much more lively and interesting than closed-door uppers!
And in this chef's kitchen in Alamo Heights, the use of open shelving allows the windows to take center stage, without sacrificing storage.  If the window above your sink is tall enough, you could do this yourself.  Just eliminate the upper cabinets on either side, and run one long shelf across the space, window included!
3.

Remove the upper cabinets entirely.

Rather than replacing your uppers with open shelving, you can just take them out, perhaps from one of the smaller walls of your kitchen.  Then fix any nail holes, and paint the wall.

This can give you a more modern or European vibe (depending on the style of your home), and softens the "functional storage at all costs" look of most kitchens.  Without upper cabinets, you can hang artwork, put up a TV, or even install more windows, and make the room feel more like part of your living space.  Yes, you will lose some storage.  But you may find that you don't mind having a little less Tupperware, or stashing that once-a-year turkey roaster in the garage!

We love the "warm modern" retro vibe of this Austin bungalow.  Technically the kitchen does have some open shelves, but since they're small and made of glass, and clear drinking glasses are stored on them, you barely notice.

What about storage?

Many homeowners say they appreciate the extra storage all those generic upper cabinets provide.  But there are ways to add interest to your kitchen without sacrificing all that much.  Usually some thoughtful reorganizing is all it takes to make up for any lost uppers.  It's easy to get used to the amount of "stuff" we have, and think it's all necessary.  Many times, we're long overdue for paring down a bit!

Here's another fun East Austin kitchen with most of the upper cabinets removed.  The little rack that holds cookware does count as shelving, but you could store the few items on it elsewhere and put up some cool art instead, or just leave the wall to "breathe".
4.

 Vary the height or depth of your upper cabinets.

Again, the goal is to break up the long, monotonous row of solid upper cabinetry.  You can bump one section up, or have a carpenter make you a deeper section.  Do some mock-ups, even if it's just with old-school pencil and paper, to get a sense of how updating your kitchen cabinets this way would look.

In this San Antonio kitchen, the homeowners had decently high ceilings, which made it possible to raise the center portion of cabinets that house the vent hood.

Although this example below was a standard builder kitchen, the builder had enough sense to raise the height of these upper cabinets above the microwave, rather than make the top cut straight across.  It's hard to make your kitchen look more custom when there's no rhythm or visual movement, no variation of line for the eye to follow.  Looks like this builder (or his or her designer) understood this.

Notice the brass pulls, which the homeowner bought from Etsy.  Putting in some high-end hardware is an easy add-on when you're updating your kitchen cabinets.  Just be sure to order your new cabinet knobs and pulls before your cabinet painter paints everything, in case they have to fill in existing holes in your drawers or doors that won't line up with the new hardware.

Below, it's the lower cabinets that vary in depth, around the cooktop.  This is a bit more of an investment and would usually be part of updating the appliances, but it's nice to consider!
5.

 Use color creatively.

This merits several blog posts in itself, but if you're going to paint your cabinets anyway, incorporate a second color strategically.  You might choose a separate color for your lower cabinets, something we discuss at length in our post on two-tone kitchens.  We like how using two colors in this Rollingwood, Texas kitchen saved the whole space from looking like a solid wall of woodwork:

In this Hyde Park kitchen, the homeowner had us paint the cute little island (which is a furniture piece from an estate sale) as well as the lower cabinets in a fresh green.  (Like many of these projects, you can see the "before" photos in our "Kitchen Painting Before & After" page.)

Of course, you could just paint the island itself a contrasting color, rather than all the lower cabinets:

Or you could go with touches of color to make your kitchen look more custom and individualized, rather than large areas.  Maybe you paint the insides of open areas in an accent color, as we've done here:

Or tell your cabinet painter to paint just the frames of any glass-front cabinet doors in a separate color.  This is a very high-end look when done well, and you'll see it often in designer projects.  This San Antonio stunner is a gorgeous example.

Don't be afraid to go bold!  Even if you paint all your cabinets in just one single color, a bold or rich tone will always make your kitchen look more custom, because it's clearly not one of the stains or colors that builder-grade cabinets come in.  And rich colors, when chosen well, are surprisingly timeless, as in this Alamo Heights beauty:
R

emember  –  Get any woodwork updates done before, and not after, you get your cabinets painted!

That way your beautiful new cabinet finish will be consistent throughout your kitchen.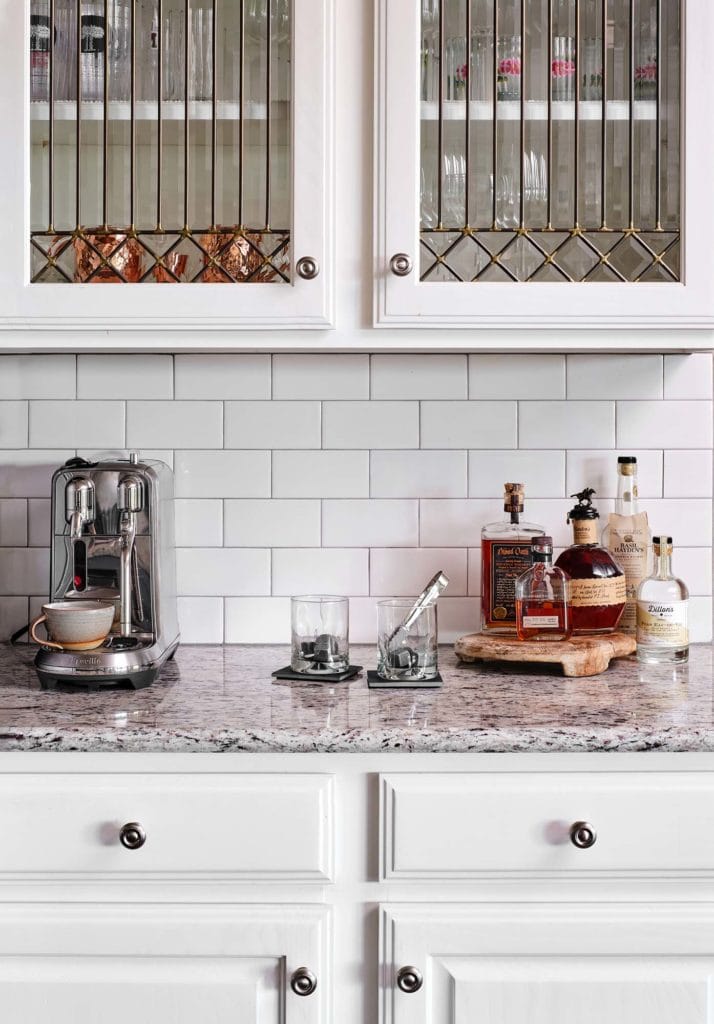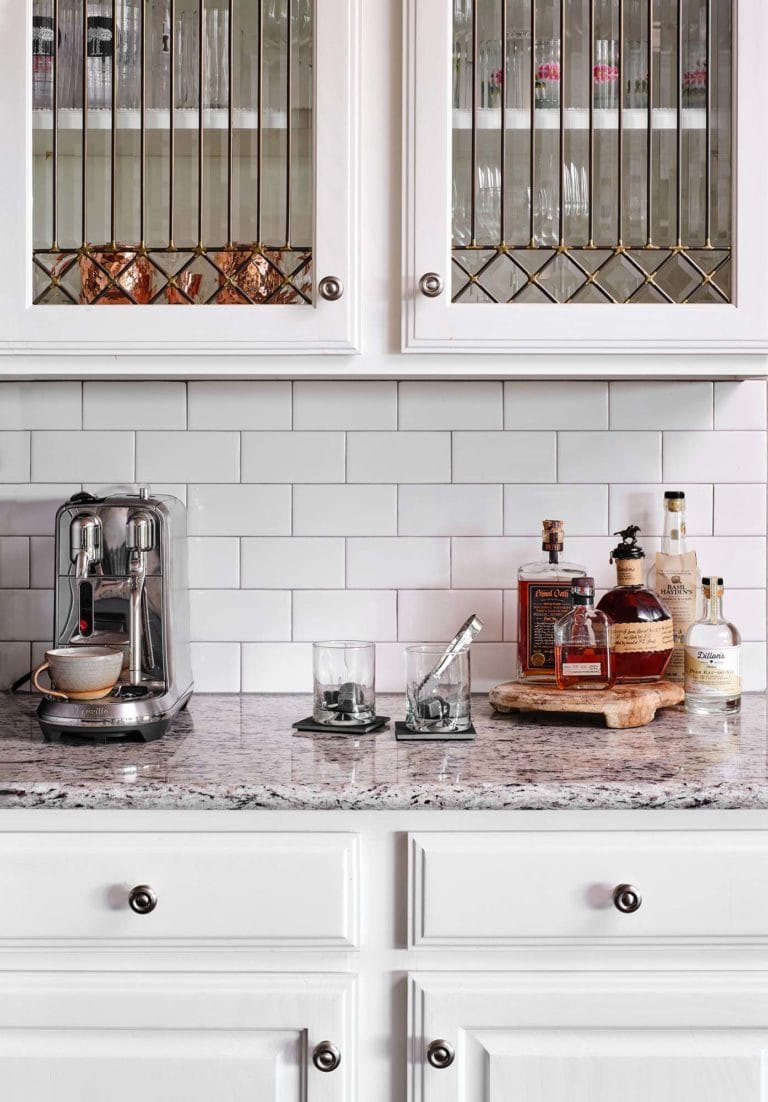 Using just a few designer elements when you're updating your kitchen cabinets will go a long way toward making your kitchen look more high-end, and get rid of the "builder-grade" look.
Remember, if you want to just refresh an outdated kitchen, updating your finishes (cabinet color, countertops, backsplash) will do it.  But if you want to take the extra step and know how to make your kitchen look more custom and sophisticated, add one of these cabinet elements to your overall vision!