Banana leaf wallpaper feels so fresh and modern but has a fun history and some serious design cred.
.
It first burst on the scene in the 1940's with the iconic Beverly Hills Hotel, at a time when people we celebrating the end of war and a return to nature and vibrancy.  There have been many variations since the original first came out, but our favorite is this York Wallcoverings version that we had the pleasure to install in a contemporary home in San Antonio, TX.  The best part?  Installing it in a totally unexpected area:  above the kitchen cabinets and around the clerestory windows!  The homeowner, Dr. James "Sante" Agtuca, is a design aficionado who had a clear vision for his own home.  We asked him about this very unique installation: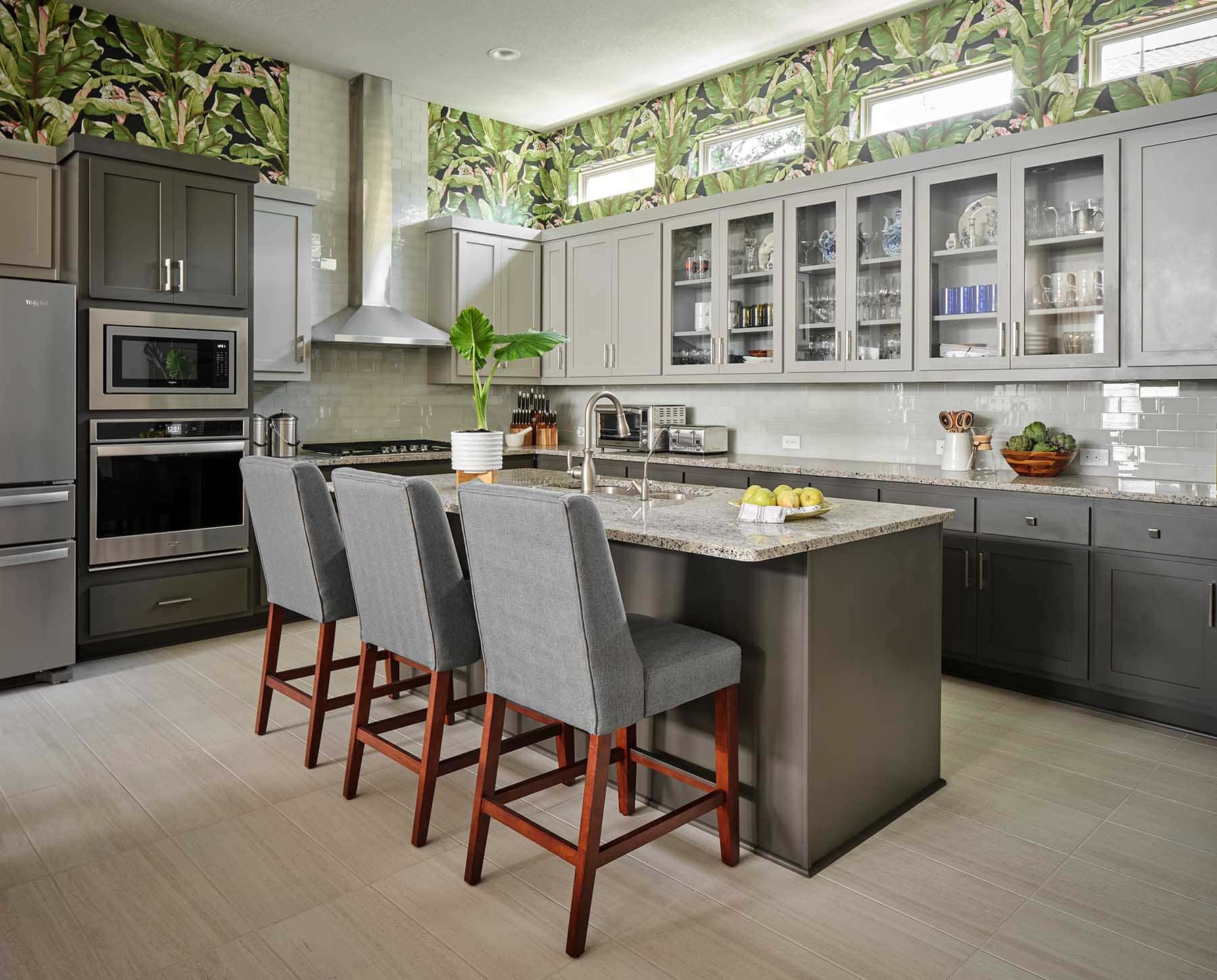 .
Q.  What was your inspiration for your kitchen?  What vibe were you going for?  Is that the same throughout your home?
A.    
I've always enjoyed kitchens with two-tone cabinets, and for my own home — where "cool urban" was the goal — I wanted to explore the different hues within the grey, beige and off-white color families.  Typically, my go-to's are pure whites and simple blacks; however, there was something interesting about working within the confines of a "river rocks meet concrete" palette.  When I really give it some thought, I think this "personal design challenge" can be traced back to my innate love for nature and the outdoors — even though I don't particularly look the part — and so, for my home, I subconsciously decided that moody greys and charcoals would establish the "muted nature" aspect of it [versus browns/tans], while "bright pops" of white ceramics, natural woods, and plant-inspired wall treatments would add some vibrancy.
Q.  How did you decide on this particular wallpaper to go above your kitchen cabinets?
A.   Sometimes it's difficult explaining why I choose certain design elements, but how I chose this wallpaper was easy: It was simply an Aha! moment.  Sure, many variations of the arguably trend-like "tropical plant leaves motif" exist, but I was immediately drawn to this offering by York Wallcoverings.  It really helped that, prior to the wallpaper installation, I knew just how bright the 3-foot span above my cabinets becomes from late morning to mid-afternoon.  Because of this, it was easy for me to visualize how stunning this wallpaper would be with daylight illumination alone.  Oh, and you should see how it transforms at night.  All of the cabinets feature strip lighting, and when the lights are "animated" subtly, the leaves look like they're moving.  It's very trippy, especially if you go all-out with the strips' color spectrum and animation characteristics.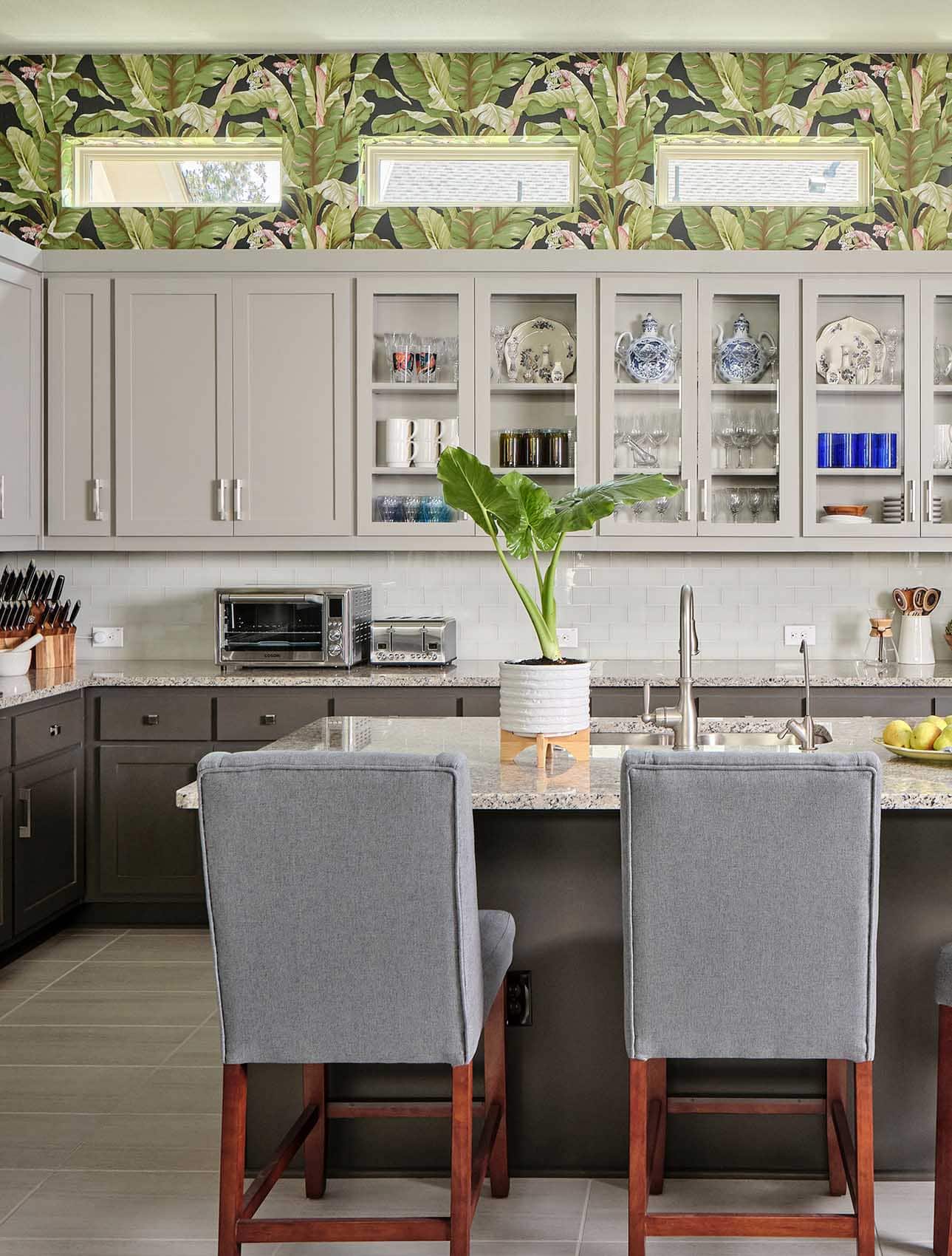 .
.
Q.  Did you have any concerns about how it would look?  Did you feel it was a design "gamble", or were you fairly confident in how you visualized it?
A.  
No concerns, actually.  It might have been a gamble if the wallpaper (and the other prints throughout my home) were for someone else's space, but I know myself.  Again, I was confident that the artistry of the design would shine through — with or without house lights — and that, overall, it wouldn't overwhelm the kitchen with too much visual busyness.
Q. What has the wallpaper added or contributed to how the kitchen (or the whole area) feels now?  Are you pleased with the results?
A.  Especially in the evening, when the wallpaper is essentially "alive" with a soft glow and all the cabinets/countertops are dimly lit, the entire kitchen atmosphere reminds me just enough of trendy restaurants and cocktail bars I've had the pleasure of making fun memories at, both stateside and overseas.  And that was my ultimate goal.  To pay tribute to every thing, memory, achievement, person, tear that has gotten me to where I am today — all via that emotional connection only good design can bring to the client.  It was neat to be that client… my own self.  It was rewarding to spoil myself a bit.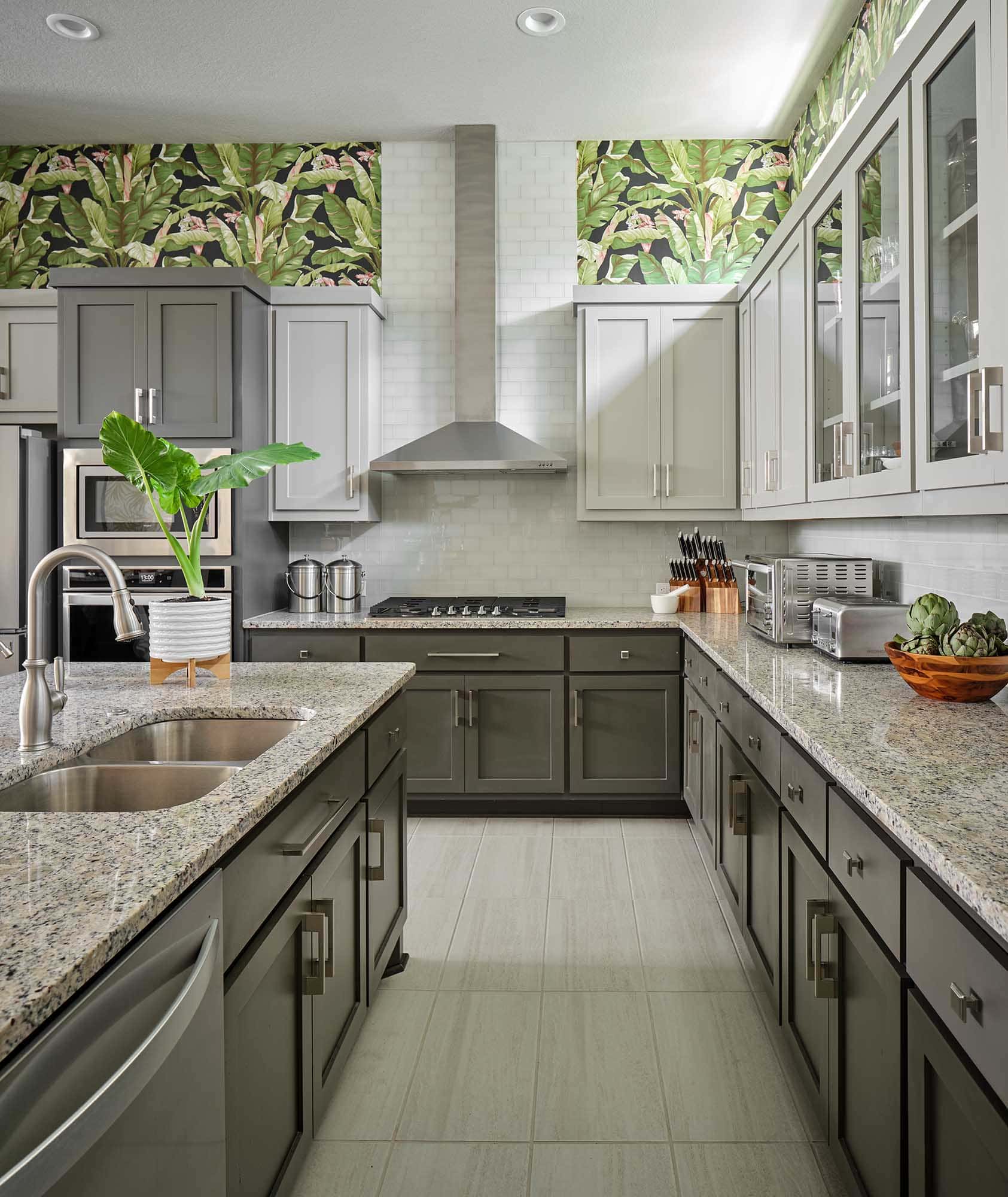 .
.
Q.  What's your design background?  What kind of design work do you do or plan to pursue more of?  What do you enjoy doing most?
A.  As a musician in my younger years, I'd always been well attuned to the intricacies of the "creative things in life" — whether music or art or film or graphic design or theme conceptualization.  Somewhat unfortunately, a lot of this "right-brainedness" was shelved away after high school when I decided to go into the medical field and pursue a career as a clinical pharmacist.  Post-COVID, however, I've realized life's too short not to do what you actually want to do in life — and so, thanks to a very convenient work schedule, I'm spending a good amount of off-time working towards an official AutoCAD/Revit Certification and Interior Design Certification so that I can eventually become a residential drafter and leave medicine altogether.  Ultimately, I see myself working for one of Texas' many luxury custom homebuilders, either as a blueprint/floorplan drafter or design consultant.  Heck, I love residential design so much, I'd even enjoy being a new home sales consultant or licensed realtor far more than being a pharmacist.  Oh, did I say that?  Yes, yes I did.  LOL.
Q. One more question!  How can potential clients reach you?
.
A few installation notes on this banana leaf wallpaper:
..
You may have noticed that the banana leaf wallpaper pattern fully wraps the inside of the clerestory windows.  Kudos to our wallpaper installer Juan Gutierrez, who is a real master at potentially tricky installations like this one.  He says the trick with wrapping the insides of windows (especially with a large-patterned paper like banana leaf wallpaper!) is to think of it like assembling a puzzle.  Set aside some good-sized scraps as you're installing.  Then, when you come to a window, you can continue the paper straight down into the window's upper inside edge, and also fold the paper up onto the bottom sill of the window, just by slicing across where the middle of the window would be on your strip, and folding the top and bottom in.  But the sides are tricky.  You can't just fold the wallpaper in on the sides, because you've already used part of that banana leaf pattern when you folded the wallpaper in at the top and bottom.  So for the sides, you have to use your scraps.  Find a piece of banana leaf that matches the pattern continuation on each side, cut to fit, and install at the window sides.  It won't match at the inside corners of the windows, but that's rarely noticed.  As long as the pattern continues from around the window into all four sides of the window's inside edges, it preserves the illusion.
Feel free to reach out to "Dr. Sante", as his friends nick-named him, to help with your own interior design project.  We hope you're as inspired by this fabulous banana leaf wallpaper installation as we are!