If you want a fresh, white kitchen, selecting the right white kitchen paint color for your cabinets can be massively frustrating!
So much so, in fact, that many of our clients opt for our complimentary color consulting services, to take the stress out of it.  After all, there are hundreds of whites out there, in all variations of undertones:  blue-whites, yellow-whites, pink-whites.   Navigating undertones is tricky, but if just need a little guidance to make the choice on your own, here's our best advice:
      1. Toss out any pre-conceived ideas about what the "right white kitchen paint color" is!
Often we'll go to a client's home for a color consultation, and the homeowner shows us several bright, fresh white paint chips, often already taped to the cabinets in question.  If we're doing the color consultation as part of our services, it's almost better to start from scratch.  While knowing which "look" you're going for is useful, it's better to show us inspiration photos from Pinterest or Houzz, rather than having pre-selected whites to look at.  I understand the helpfulness, but here's the problem:  we humans can become very easily "invested" in our decisions, even early-stage decisions, and this can keep us from better options!
But what if you saw the "perfect" kitchen online and you'd like to use the white paint color they referenced?
The challenge here is that – brace yourself for the ghastly truth, which I'm sure you already know:
     2. Almost all photos you see online are edited or Photoshopped!
We see this so much that we wrote a whole article about it here.  Look, editing a photo isn't done out of a desire to mislead, but usually because the photographer or poster had to adjust the photo to reflect reality as they saw it, and as they wished to communicate it.  Online photos are edited to look good, not to show you how that color would look in your own space.  And photos of specific paint colors from the manufacturers' websites aren't much better!  Take this kitchen we painted:
Upper cabinets painted in Sherwin Williams' SW 7005, "Pure White" (and lower cabinets in "Anchors Aweigh"):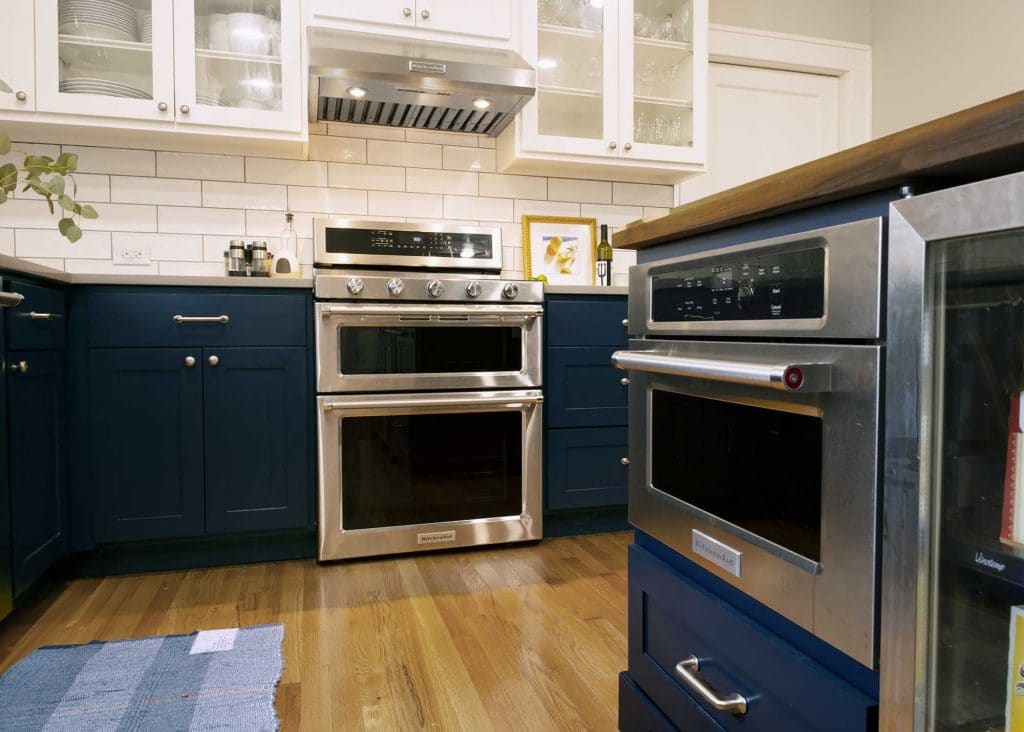 Here's a screen shot of  "Pure White" from Sherwin Williams' own website!

If I had seen this color on the website, I wouldn't have dreamed that it would give me the look I see in the kitchen above.  I took the project photo myself, and edited it to show what I feel the kitchen looks like in real life, regardless of what the Sherwin Williams website shows.  If you Google other images of that same color, you'll see tons of photos online that all show it just a little differently!
What does this mean for you?
Simply seeing which white paint color was referenced in the post or photo will not give you an accurate idea of what that color would look like in YOUR home, under YOUR lighting conditions, with the other objects in the room.
     3.  To pick the right white paint color for YOUR kitchen, you need to take the "fixed elements" into account.
This is something I learned during my color consulting training with Maria Killam, and it's one of those hard truths that your designer or color consultant wants you to know.  Your kitchen's "fixed elements" are its countertops, backsplash, and flooring, especially if you're not going to change them anytime soon.  (If you are going to replace them as part of an overall kitchen update, have samples of the new finishes on hand, to make sure your new cabinet paint color will coordinate.)
The single biggest reason that most homeowners end up with a different white kitchen paint color than they first envisioned?  The countertops and backsplash!
You may have fallen in love with a photo showing bright white cabinets painted in Sherwin Williams' "Extra White", but that kitchen also has white subway tile and gray quartz countertops.  (This project was photographed by the incomparable Matthew Niemann.)
Will "Extra White" work in YOUR kitchen, with its brown granite counters and pink-beige travertine backsplash?  Definitely not!  If you painted your cabinets in "Extra White", they would look bluish-white, as stark as a piece of paper, when surrounded by warm-toned finishes like granite and travertine.
In your kitchen, you'd need a much softer, toned-down white with just enough warmth in it to "play well" with your counters and backsplash.
Side Note:  I like either Benjamin Moore's "Ballet White" or "Swiss Coffee" for kitchens with warm-toned granite or travertine in them.
     4.  So how do you actually pick the right paint color?  Here are the steps:
Get a bunch of white sample chips from the paint store, especially in a variety of undertones.  Make sure you take home some whites that you don't think you'd consider because they might seem too creamy or not bright enough.
At home, hold these color chips up to your countertops and backsplash.  When we do this as part of a color consultation, we use large-sized color sample boards, but you can start with small chips for now.  It's best to hold them up against your backsplash in pairs, so you can eliminate one color chip at a time until you've ended up with three or four "finalists".
Now, either get or make some large sample boards of those finalists.  Some paint stores such as Benjamin Moore can order you larger color sample chips (about the size of a sheet of notebook paper), or you can paint your own on some poster board.   I know this step seems like a hassle, but it's worth it to avoid making an expensive color mistake.
Hold your larger-sized color boards up to your counters and backsplash, again in pairs, and make your final selection.  If you've been clear-eyed about narrowing down your choices, your "finalist" colors will already be good options because they will all coordinate well with your kitchen's fixed elements, so this step is just about your own personal preference, now that you can see larger sample sizes of the colors in question.
That's it!!
And by the way, please don't be disappointed if the warmer white that actually works in your kitchen isn't the bright white that you thought you wanted.
Your kitchen isn't going to look too creamy or yellow-y; rather, it'll "read" as a fresh, updated white kitchen, especially since the tones and colors won't be fighting each other!
To summarize:
Don't start with any pre-conceived color selections that may keep you from seeing better options, especially if you fell in love with some kitchen photos you found online.
Remember that almost all photos you find online have been edited or photoshopped!  That color may not read the same in your kitchen.
You need to evaluate the fixed elements in your own kitchen when choosing the right cabinet color.
Hold several color chips up to your counters and backsplash, see which ones coordinate well and which ones don't belong, and pick a few "finalists".  Then get, or make, some larger-sized samples of those colors, to help make your final decision.
That's it!!   Want to see how some of our gorgeous kitchen cabinet painting projects?  Click here!  And here's a step-by-step overview of the whole cabinet painting process.  Feel free to reach out to us with questions –  just call 210-655-3626 in San Antonio, or 512-522-4887 in Austin.
Whether it's to give you an estimate to paint your kitchen cabinets, or to help you pick the white kitchen paint color that will work best in your space, we're here to help!