A glance at some of our favorite white kitchens shows why a limited color palette can be both timeless and interesting!
When we started painting kitchen cabinets years ago, most people felt overwhelming relief at finally painting out their heavy oak cabinets and getting the bright, white kitchen they'd dreamed of. Fresh white kitchens were a happy, mood-lifting antidote to the brown-and-tan kitchens of the 90's and 2000's. White had been "rediscovered" seemingly overnight.
These days, you'll find gorgeous kitchens in all kinds of color palettes, from black to blue to green, but most homeowners still want that bright, fresh kitchen of their dreams.
However, white can be an intimidating color to select, and people might worry that white itself is trendy, or boring, or bland. It's hard to ignore the noise out there, about the demise of the all-white kitchen . . . it's makes for some good click bait, but it's nowhere near good design advice. Our favorite white kitchens prove the point.
Let's see why some of our favorite white kitchens are both classic and timeless.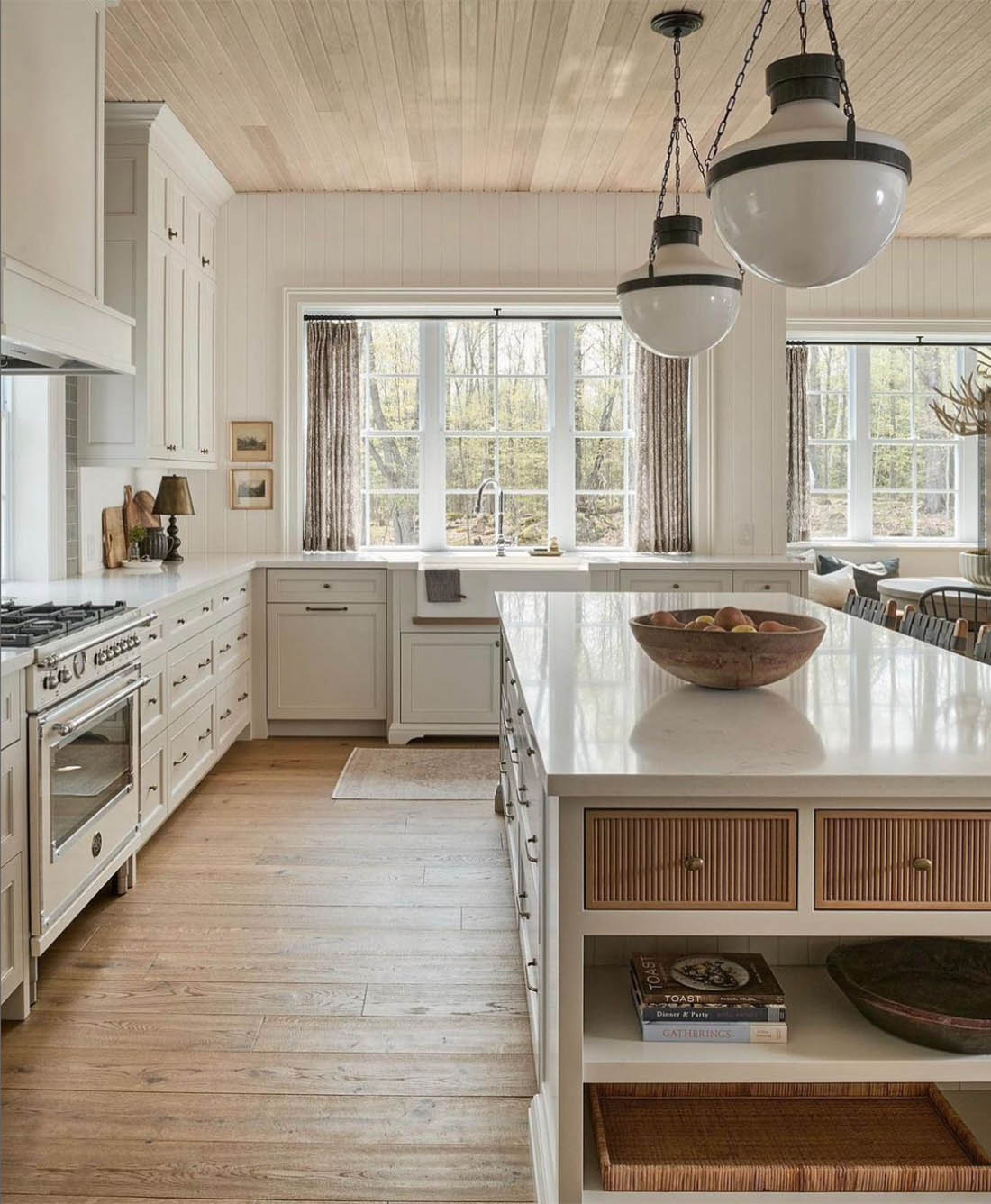 First of all, what makes a space come together, design-wise?
It's the right balance of visual textures, making sure the undertones in the space go together, and of course the basic design elements of scale, proportion, balance and emphasis all work.
How does all this apply to kitchens?
Once the logistics of good kitchen function are addressed, kitchens are actually less intimidating to design than other rooms in the house.
A living room, dining room, or master bedroom is a "blank canvas", and you (or your interior designer) will need to fill each space with furnishings, artwork, and accessories to end up with a pleasing whole.
Kitchens, however, come largely "pre-filled".
If you're updating your kitchen with fresh paint and maybe new counters or backsplash, your journey is a fairly easy one. Unless you're designing a house from scratch or doing a full-gut remodel, the composition of your kitchen is already done for you. So you happily don't have to worry about balance (the range and hood on one side balance the fridge on the other), scale (the island is proportional to the space), or even emphasis (you might already have a built-in focal point, such as a range-and-hood combo or a window with a view above your sink).
In other words, with these elements taken care of, just bear in mind the following and you'll be good to go:
---
To make a white kitchen interesting, be sure to include:
pleasing visual textures among its finishes (cabinets, counters, backsplash),
a hint of contrast,
attractive hardware and lighting,
good accessories and decor to finish it off.
---
.
Let's analyze a few of our favorite white kitchens to see how to make a white kitchen interesting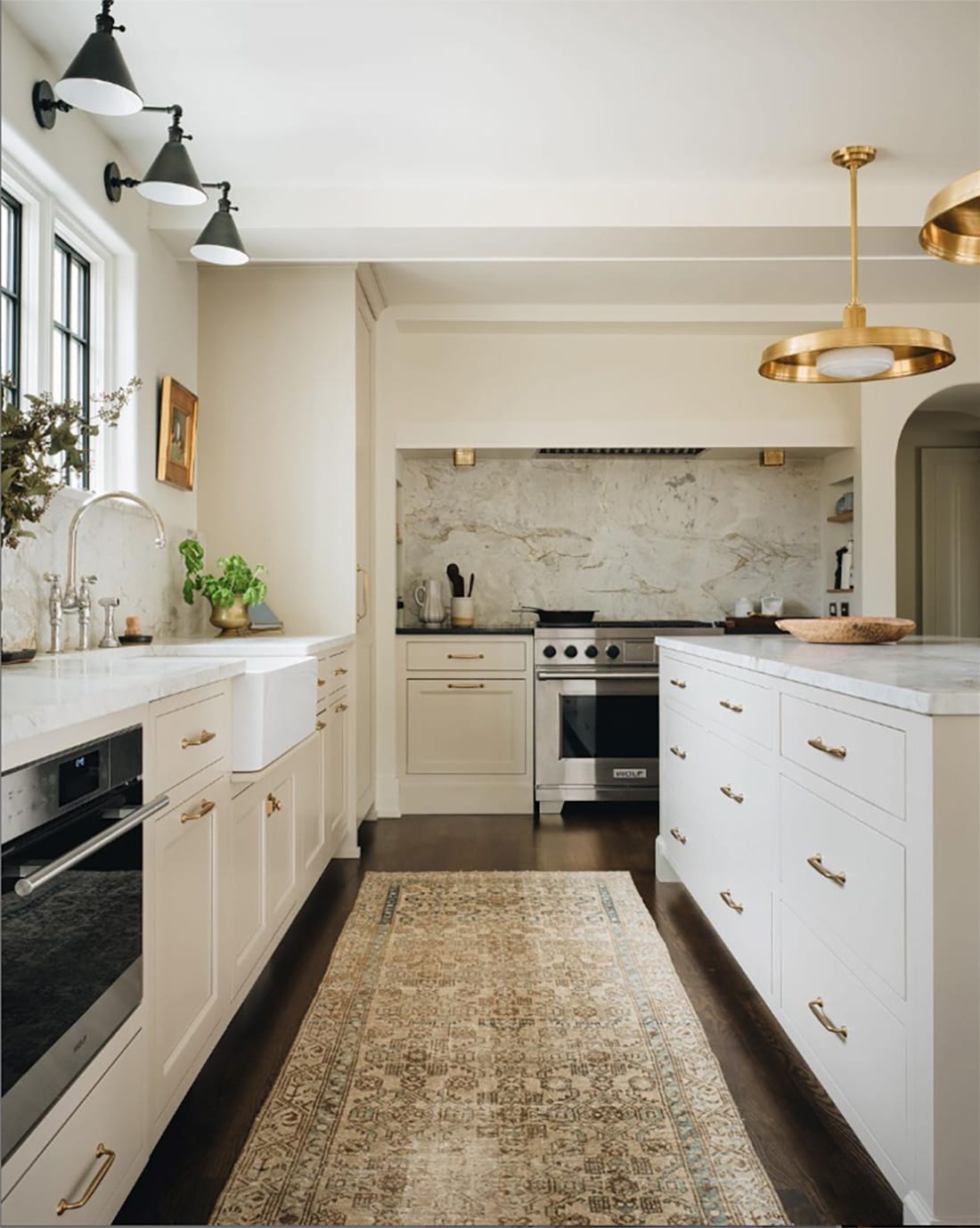 This beauty has a serene elegance to it, with some rich touches. Let's apply the criteria above:
The soft white cabinets and the stone counters and backsplash all provide lovely visual textures.
The black windows and black light fixtures above them give a hint of contrast.
The brass pendants and gold-leaf framed art bring a bit of luxury.
A runner in coordinating tones, and just a few tasteful accessories, finish it off.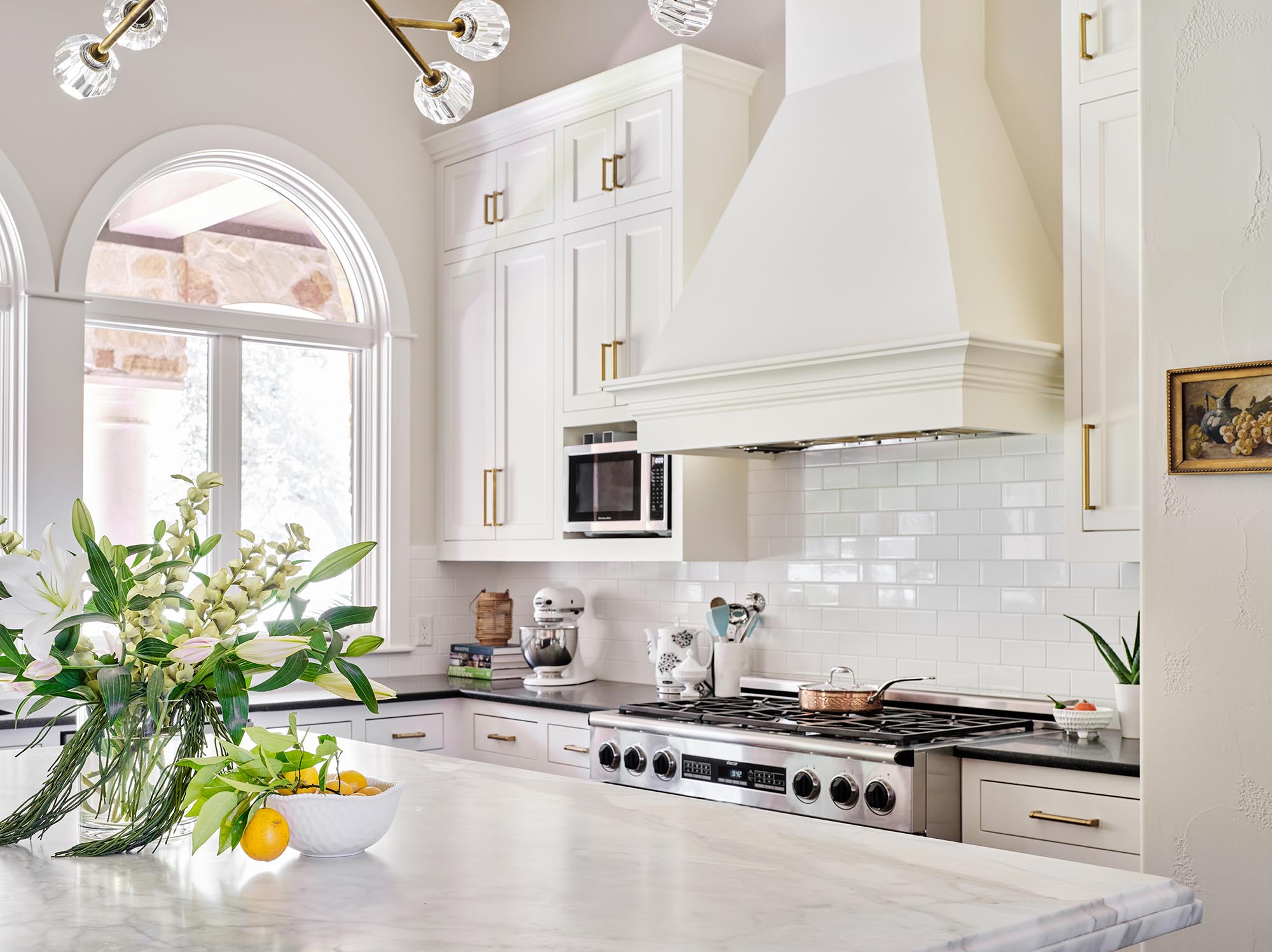 We painted the cabinets in this Lake Austin, Texas home in Sherwin Williams SW 7551, "Greek Villa". It's almost an entirely white kitchen. Why does it work?
Each of the white surfaces is pleasing on its own. The classic white subway tile, the soft white cabinets, the stone counters, all are in the same color family and blend beautifully. The subtle variations in visual texture and sheen keep them interesting.
There's enough contrast to give the space some visual weight. The black counters and even the cooktop part of the range provide contrast.
The "jewelry" of a kitchen, its hardware and lighting, adds interest. Sleek, updated brass hardware and the gorgeous Restoration Hardware light fixture adorn this kitchen perfectly.
Good decor gives our favorite white kitchens life and character. Flowers, books, artwork, the Kitchenaid mixer… These complete the space.
Here's another example: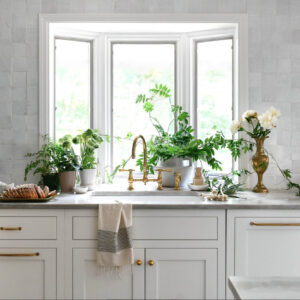 I could almost repeat the same comments as on the photo above it. Gorgeous visual textures among the different materials and surfaces, just a hint of contrast with the gray countertops, lovely brass hardware, and some lush plants to round off the decor.
---
What about kitchens that aren't all white?
The design principles hold true, of course, whether you're looking at our favorite white kitchens here, or bolder, more colorful kitchens. Any kitchen can also rely on color and pattern (colorful cabinets or a patterned backsplash tile) to provide interest.
But these kitchens are actually harder to design, at least for amateurs. If you're introducing a strong color into your kitchen, contrast becomes much more prominent, and you need to balance your light and dark elements carefully. Now you're looking at a two-tone kitchen. And tread carefully if you're adding strong color in your backsplash. Make sure that the patterned tile you love right now won't become too trendy and outdated in a few years. We love colorful kitchens, as you can see in both our Austin and San Antonio project galleries, but it takes a confident hand to design them!
---
.
Let's look at this white kitchen.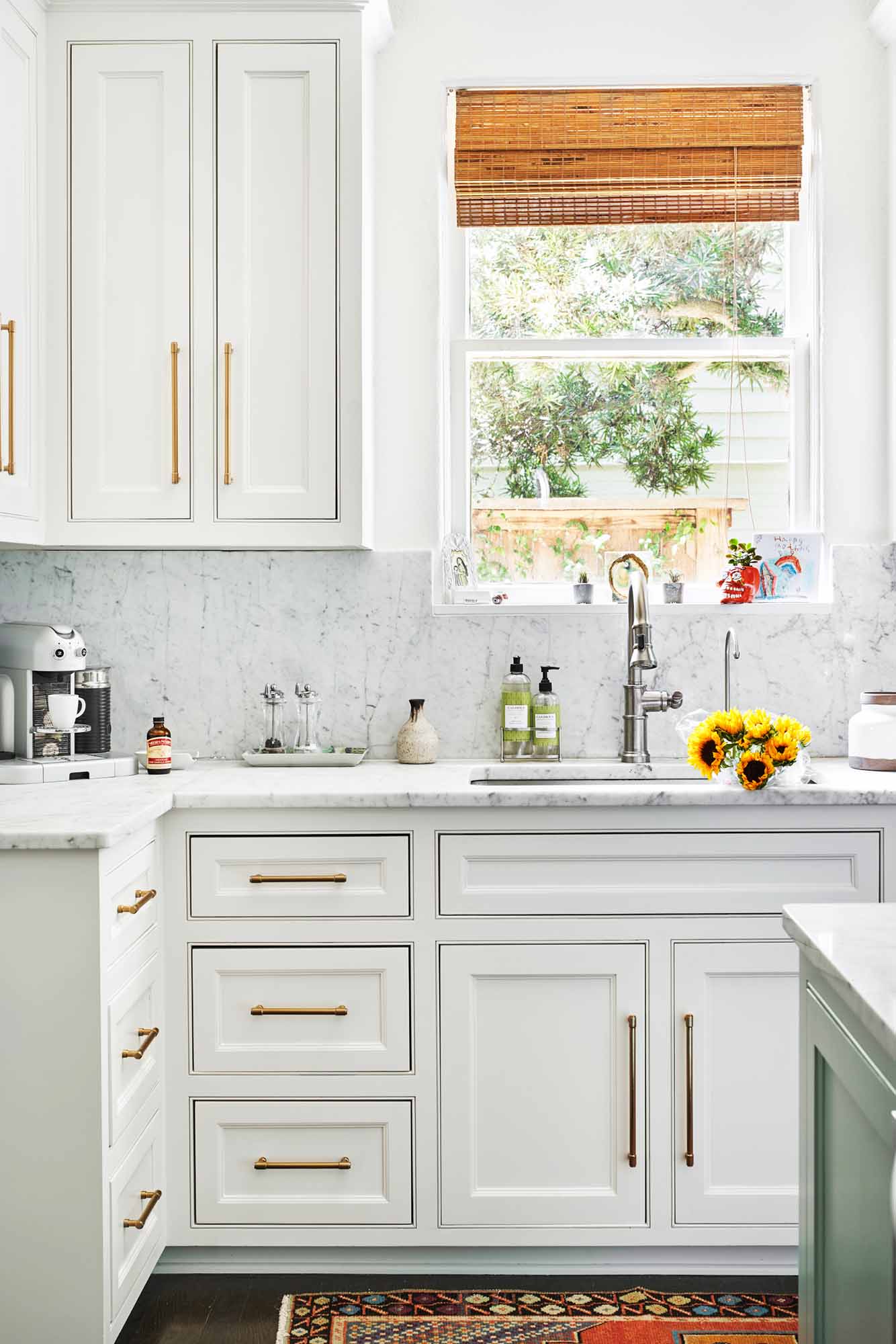 Technically this classic kitchen isn't an all white (the island is a pale blue), but I'm showing just the white parts of this kitchen to illustrate how our favorite white kitchens are both timeless and interesting. Let's analyze:
Visual textures: the cabinets (painted in Benjamin Moore OC-17, "White Dove") and marble counters and backsplash are beautiful.
Contrast is mostly in the dark hardwood floor. The window shade helps too.
No special lighting here (it's all recessed can lights), but the brass hardware is gorgeous and also visually substantial enough to make an impact in this kitchen.
The vibrant Oushak runner and pops of color in the decor provide life and energy.
This kitchen is almost tone-on-tone: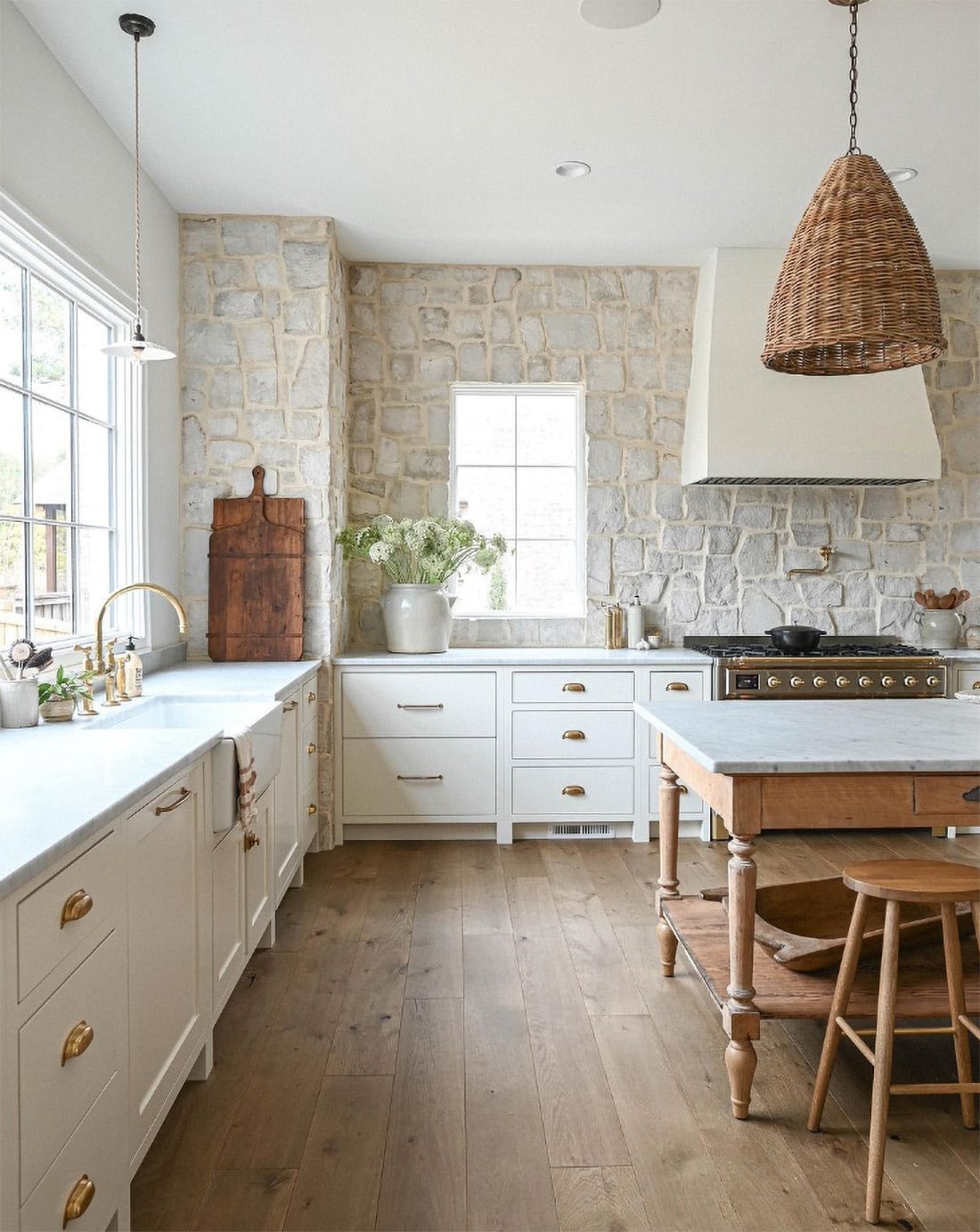 It's so beautiful, and has all the elements that keep it from ever being bland or boring.
Visual textures – that stone wall is a stunner.
Contrast is subtle, mostly with the rattan pendants and wood accessories.
Hardware – the brass brings a nice little touch of metal to all the organic finishes.
Decor – did I mention the rattan pendants? The work table is great too.
Not all our favorite white kitchens lean "organic" or traditional or farmhouse. Let's try a more modern kitchen: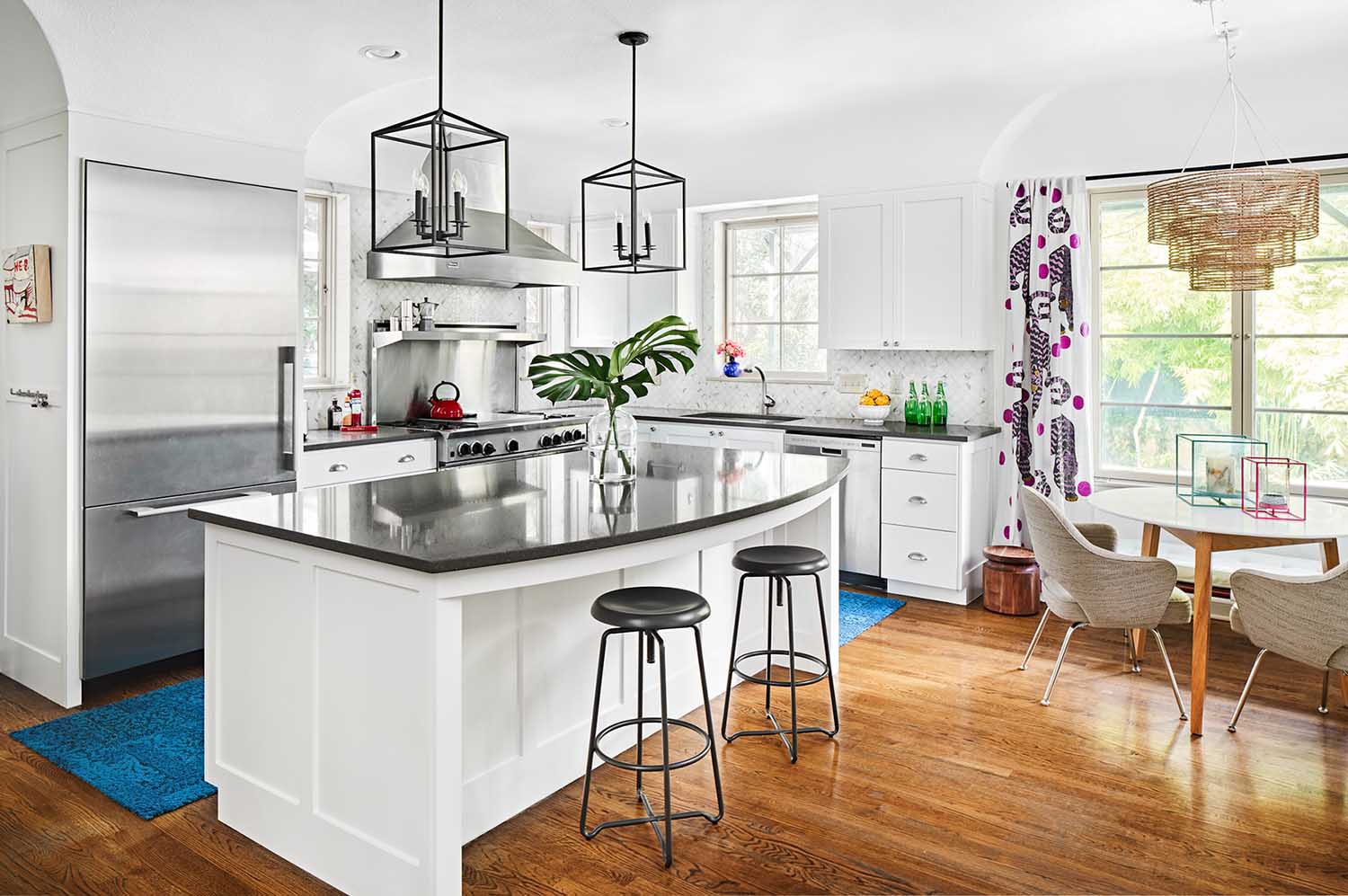 Visual textures – a lot of slick surfaces here, but the bright white cabinets (painted in Sherwin Williams SW7006, "Extra White") and marble tile backsplash play well together.
Contrast provided by the black counters.
The striking black pendant lights repeat the black from the counters.
Pops of color and accessories with a modern retro vibe make this a truly fun kitchen.
The beauty of a white or off-white kitchen is that is lets the home breathe, and doesn't fight for attention when it's part of a larger space. The kitchen below has a strong pop of contrast in the range hood, but from a different angle, you can see how the whole kitchen is part of an open, airy house that feels fresh and inviting.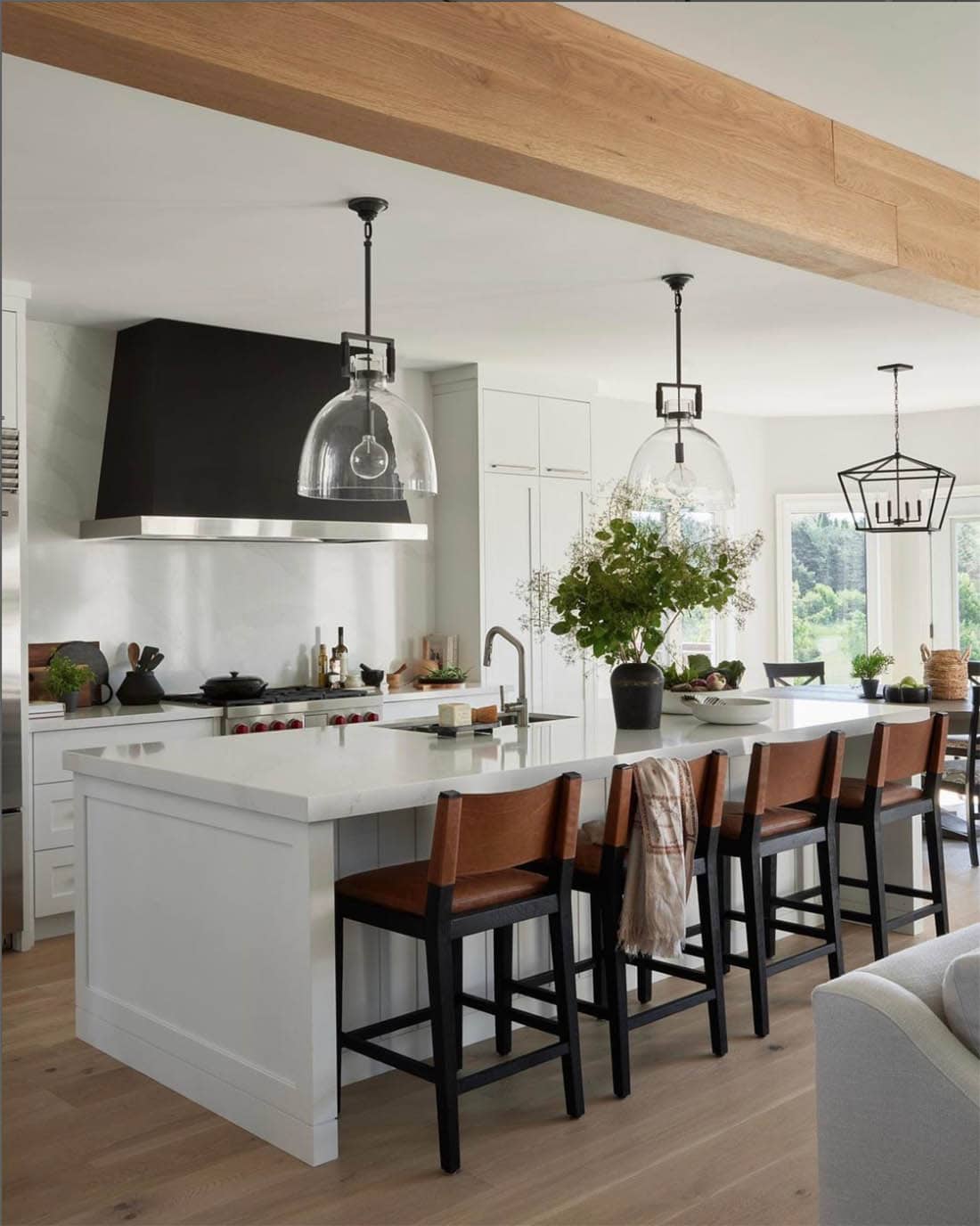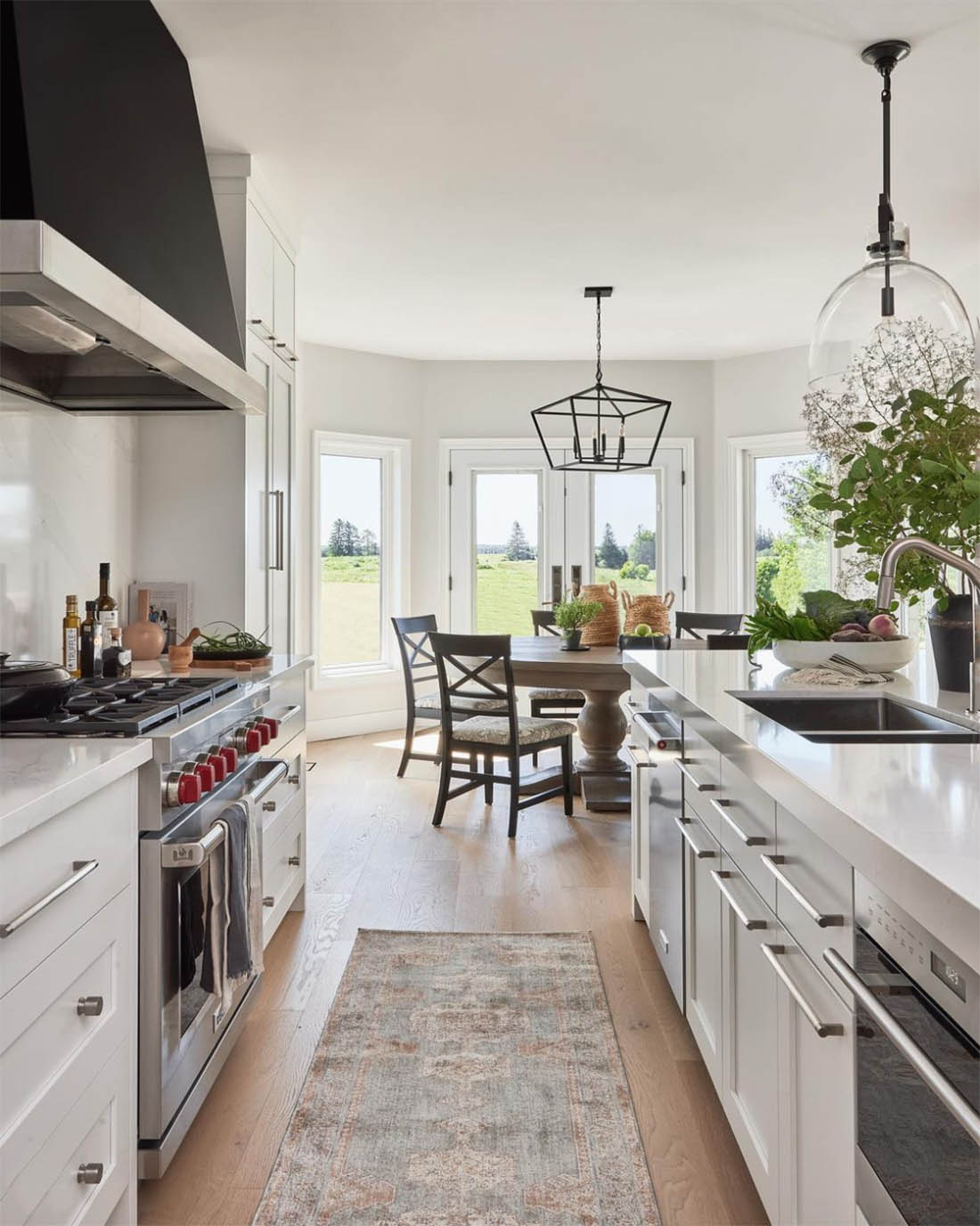 Whether your kitchen is small or large, enclosed or open-plan, choosing white is a great idea. With any of these kitchens, you can update the look to reflect future trends by switching out the lighting, hardware, and decor. I like to say that white kitchens are the "little black dress" of kitchen design – new jewelry, shoes, and accessories are all it takes to change the look, but the LBD itself will never go out of style. Hopefully looking at some favorite white kitchens will give you ideas on how to make a white kitchen interesting!