As an experiment recently, I googled "white kitchen ideas" to see what the all-knowing internet had to offer.  We get asked to paint kitchen cabinets white so often, and see the hesitation that some homeowners have about painting their kitchen all white, that I wanted to have something useful to offer.
However, while there must be a thousand blogs written on the topic, most of them show a variety of different kitchens, and it's left to the viewer to figure out how much of an impact the cabinet color has, as opposed to all the other design selections (tile, configuration, counters, etc.).  There wasn't a blog showing just ONE white kitchen, and how you could accessorize that kitchen several different ways, depending on your taste.  I wanted to prove the versatility of the all-white kitchen, and I needed one kitchen "dressed" in different ways, to prove my point.
When it comes to kitchen design, only white or a strong, saturated color are truly timeless.
Wait a minute…  Aren't neutral colors timeless??
We tend to think that "neutrals" are the only classic, timeless option in interior design, but neutrals can actually be pretty trendy.  Just think about the tans of the 90's (which everyone thought was "neutral" at the time).  Then the grays of the 2000's, and they gray-beiges ("greige") of the past decade.  Now I hear beige is coming back again.  These are all neutral colors, but they've each been a "neutral of the moment", and it's pretty easy to date a kitchen that's all tan or all gray, for example.
White, however, is truly timeless.  White kitchens have been around forever, and it's hard to date a truly well-designed white kitchen.  And a strong color (depending on the color – no Laker purpose, please!) can also be timeless.  Just look at the lovely kitchens by DeVOL or by Plain English to see how a kitchen in a rich, saturated color, cabinets and all, can be elegant and unforgettable.
So if neutrals aren't as trend-proof as we think they are, how can we make sure that a white kitchen will reflect our personality?
There are thousands of white kitchen ideas out there, but here I wanted to show you just one kitchen, in a lovely home by Slaughter Design Studio that we were honored to work in, and see how we could "accessorize" it six different ways.  To put it in a really corny analogy, it's like a white kitchen is the "little black dress" of kitchens.  You can take the little black dress and give it sparkly heels and a diamond cuff bracelet, or wear it with cowboy boots and chunky jewelry.  The dress itself, if cut and designed well, is the ultimate in versatility.
So here are our own white kitchen ideas, showing one kitchen styled six different ways.
Here's our starter image.  This kitchen is part of a spectacular ranch home near San Antonio, TX.  This isn't even the main kitchen!  Notice there's no fridge or range… this is more like a giant catering kitchen.  But since the cabinets, walls, woodwork and flooring are all white (or variation thereof), it's the perfect blank canvas.  Now let's style it up!  (All "styling" is done with Photoshop, mostly taking accessories and decor from other kitchens we've painted, and layering them onto the original image.  Please forgive any imperfections – my Photoshop skills are limited!)
1.

 Farmhouse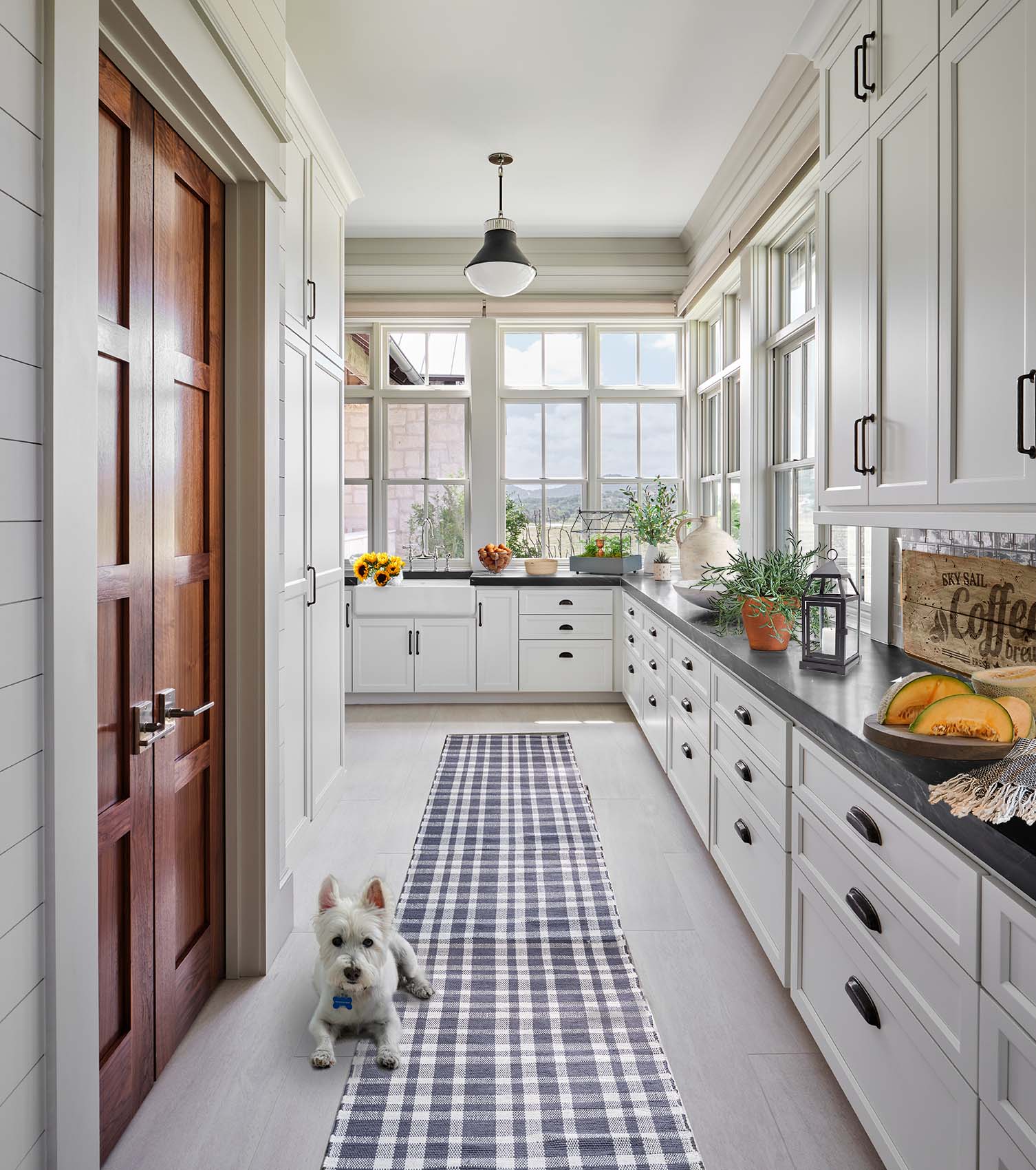 Since this kitchen has shiplap walls and black hardware, let's start with a farmhouse kitchen mock-up.  This could be a giant version of that childhood game where you were asked to spot the differences between two pictures!  Here's what I added to evoke that "farmhouse" vibe:
I changed the rug to something more traditionally country.
I added metal accessories with the lantern and the tabletop terrarium (back corner of the counter).
There are hand-made items like the large pottery jug, the wooden "Coffee" sign at right, and the basket by the sink.
To me, nothing says "farmhouse" like a bunch of sunflowers waiting to be put in a vase, and a wire basket of fresh eggs.
And a doggie!  Gotta have a cute doggie.
This is the easiest of all the mock-ups.  The rug has the biggest impact.  Then just layer in a bunch of traditional country-leaning accessories, and you're done.  No other changes were made.
2.
Traditional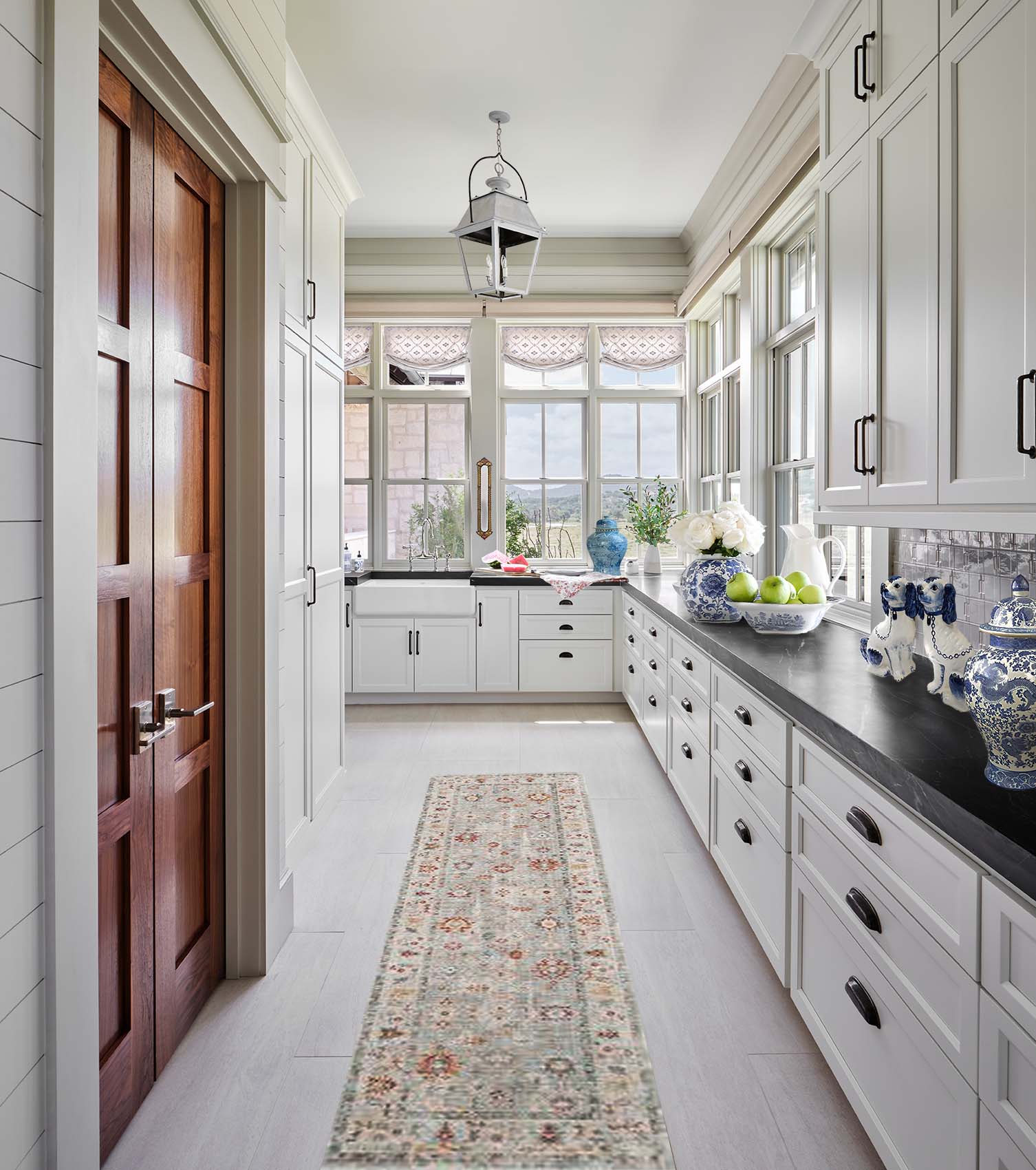 Here I was inspired by a lovely kitchen we painted, filled with blue-and-white accessories (you can see it in our San Antonio cabinet painting gallery).  I changed out the pendant light to a more traditional lantern, but all the rest is done with accessories and decor:
A lovely traditionally-patterned runner
Soft fabric shades in the windows
Lots of blue and white pottery, including a pair of Staffordshire dogs!
Beautiful, elegant, and inviting.
3.
Contemporary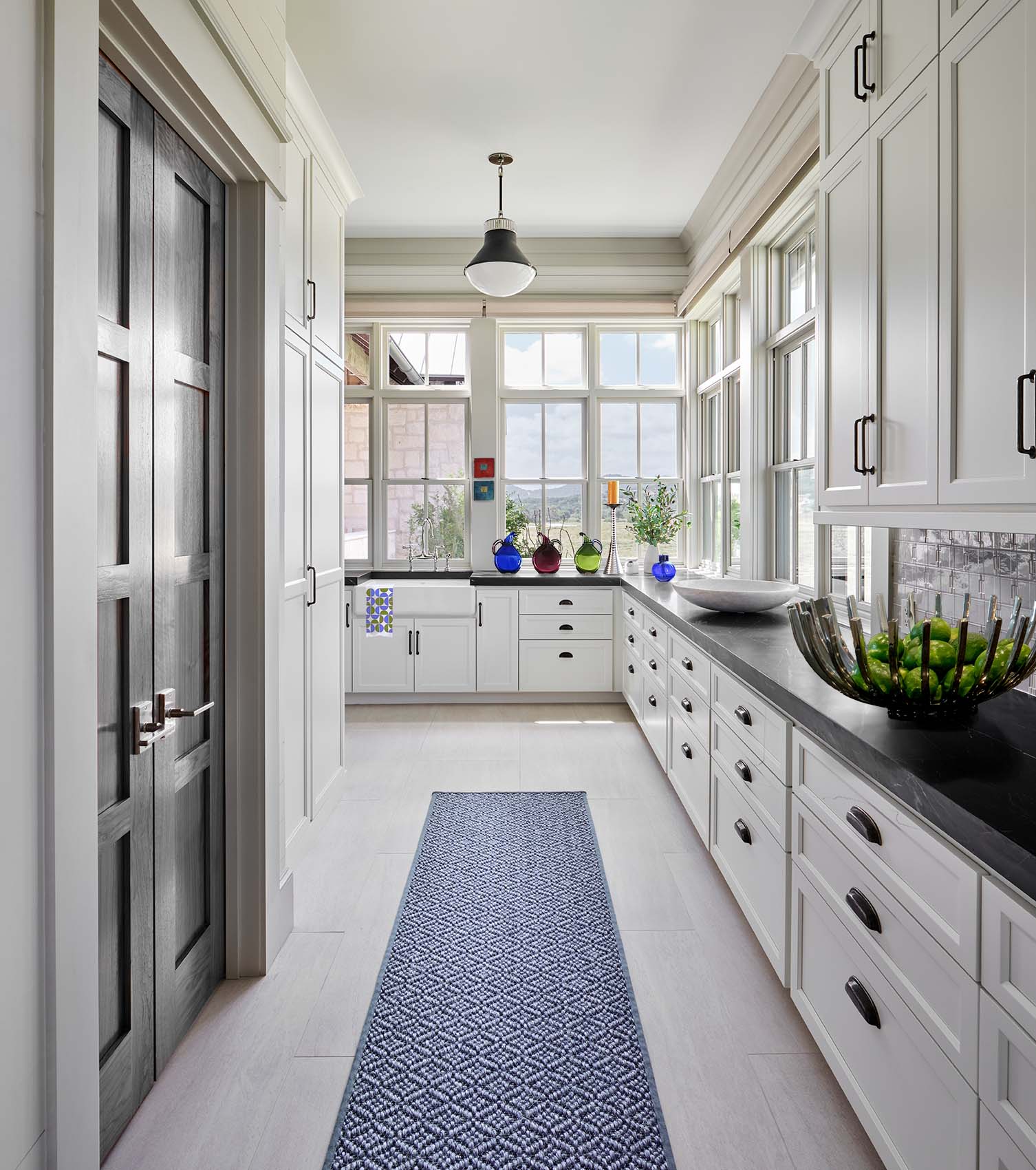 Here I mocked-up a physical change to the space, by giving the large doors at left a medium gray color.  You can have stained wood in a contemporary home, but this space felt more "cool contemporary" to me, rather than "warm modern".
All I did here (besides change the doors) is alter the color of the runner, and add contemporary accessories, mostly in blues and greens.  The backsplash tile and black counters were already perfect.  Oh, and I "removed" the shiplap walls!  The light-filled, open vibe of this kitchen feels very modern to me.
4.
Modern Retro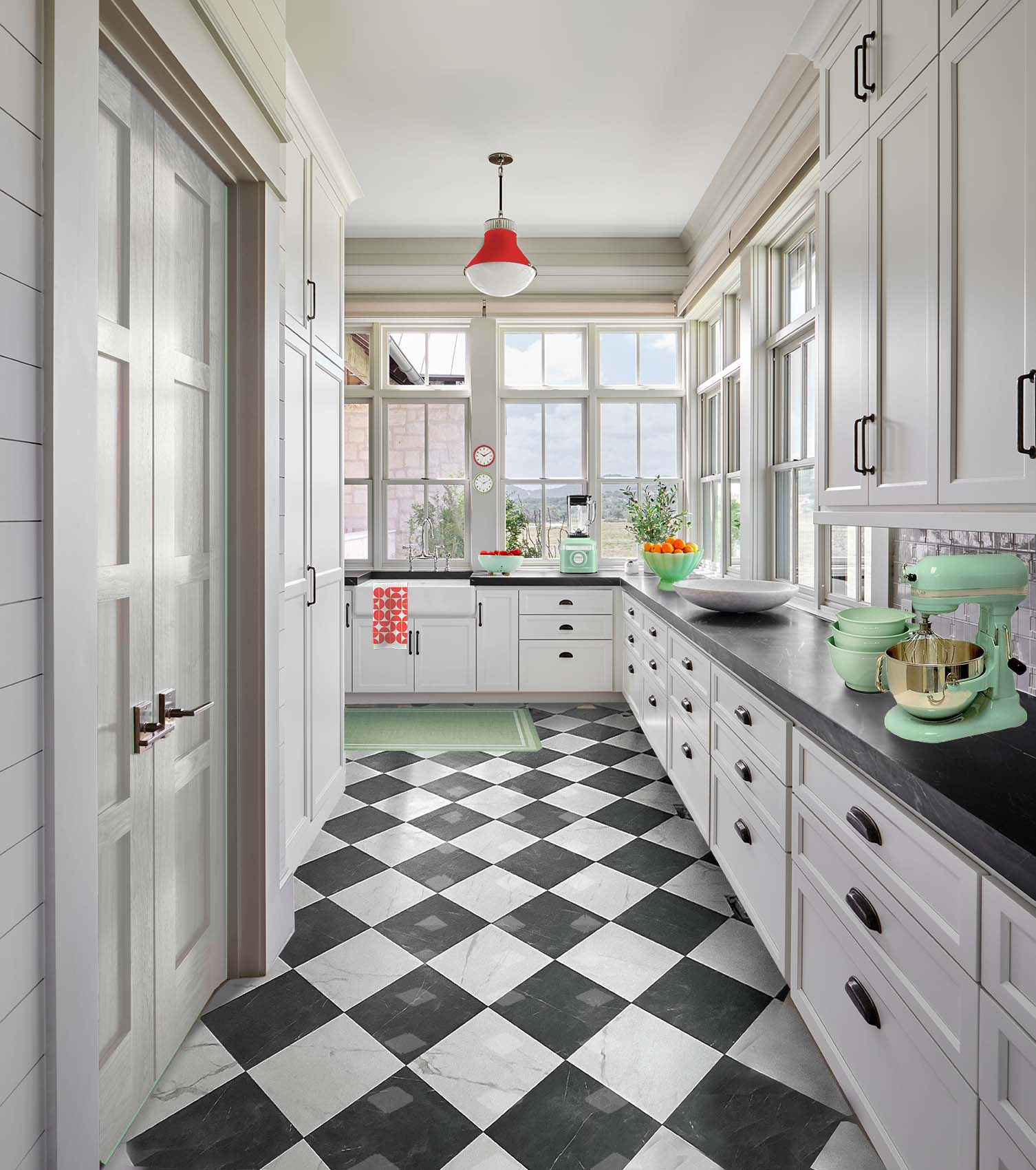 Okay, this was a tough one for me!  I wanted to evoke the modern-retro vibe of a 50's-inspired kitchen, but I had some challenges.  For one thing, most retro-inspired kitchens are in cute bungalows, not expansive ranch houses!  The large scale of this kitchen actually was a challenge.
Also, this kitchen mock-up has the largest "structural" change, with the checkerboard floor.  It's a hallmark of retro style, and it works beautifully in this kitchen with the white cabinets and black countertops.  But I am cheating a bit, since I changed such a large variable.  I also "painted" the large double doors white.  (But I left the shiplap walls.)
This kitchen is filled with vintage (and vintage-inspired) accessories like the KitchenAid mixer and blender in pistachio green.  I kept to mint green and red in the decor, including changing the light fixture to red instead of black.
5.
Boho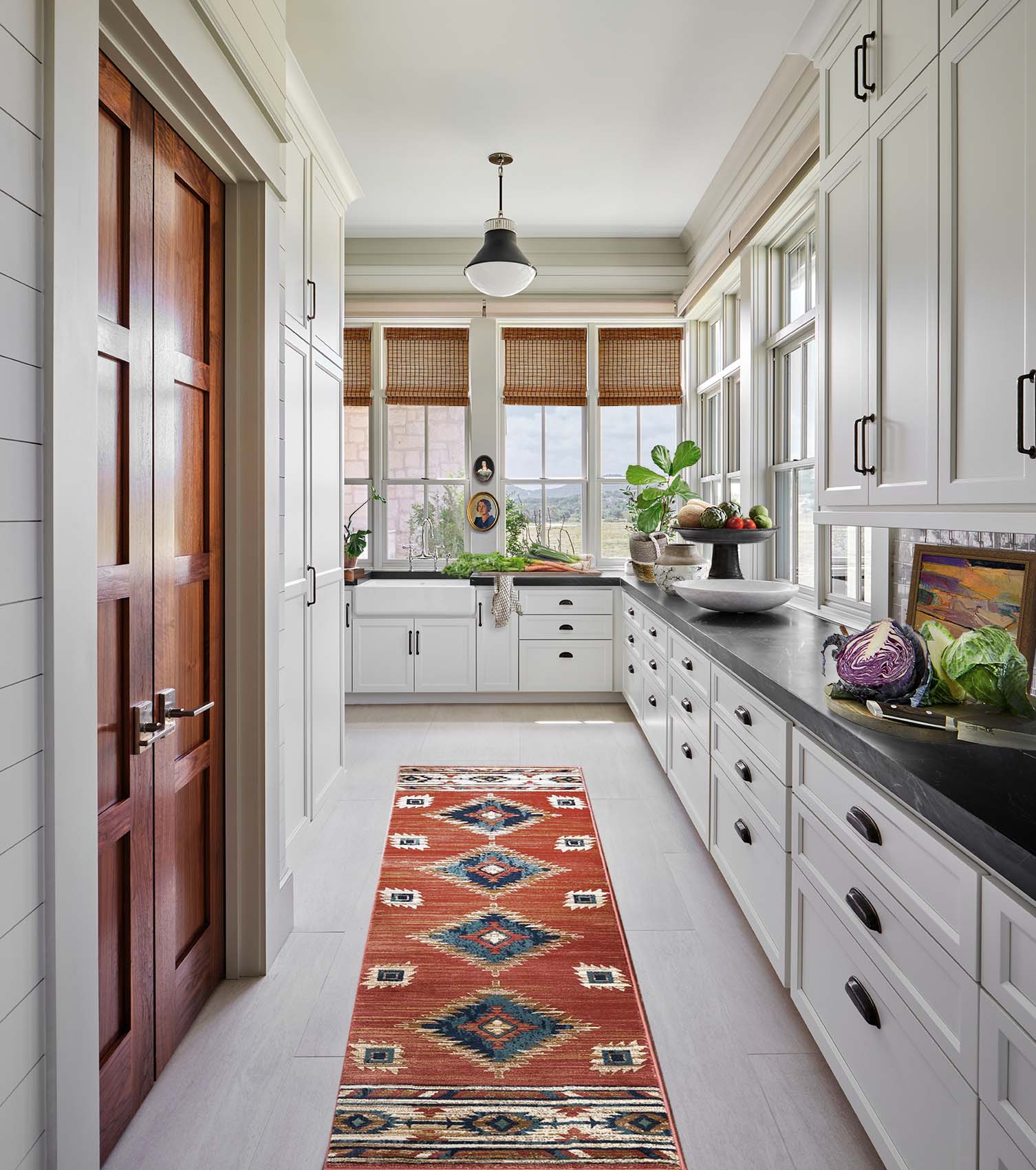 This was a fun one!  Here I kept the stained wood double doors, since stained wood tones add warmth to boho interiors.  I also added the woven shades and some other warm-toned accents like the tribal rug and the painting at right.  Plants, hand-made pottery, a pair of vintage oval portraits above the sink, and some good old fruits and veggies completed this kitchen for me.  I love this kitchen!
6.
Classic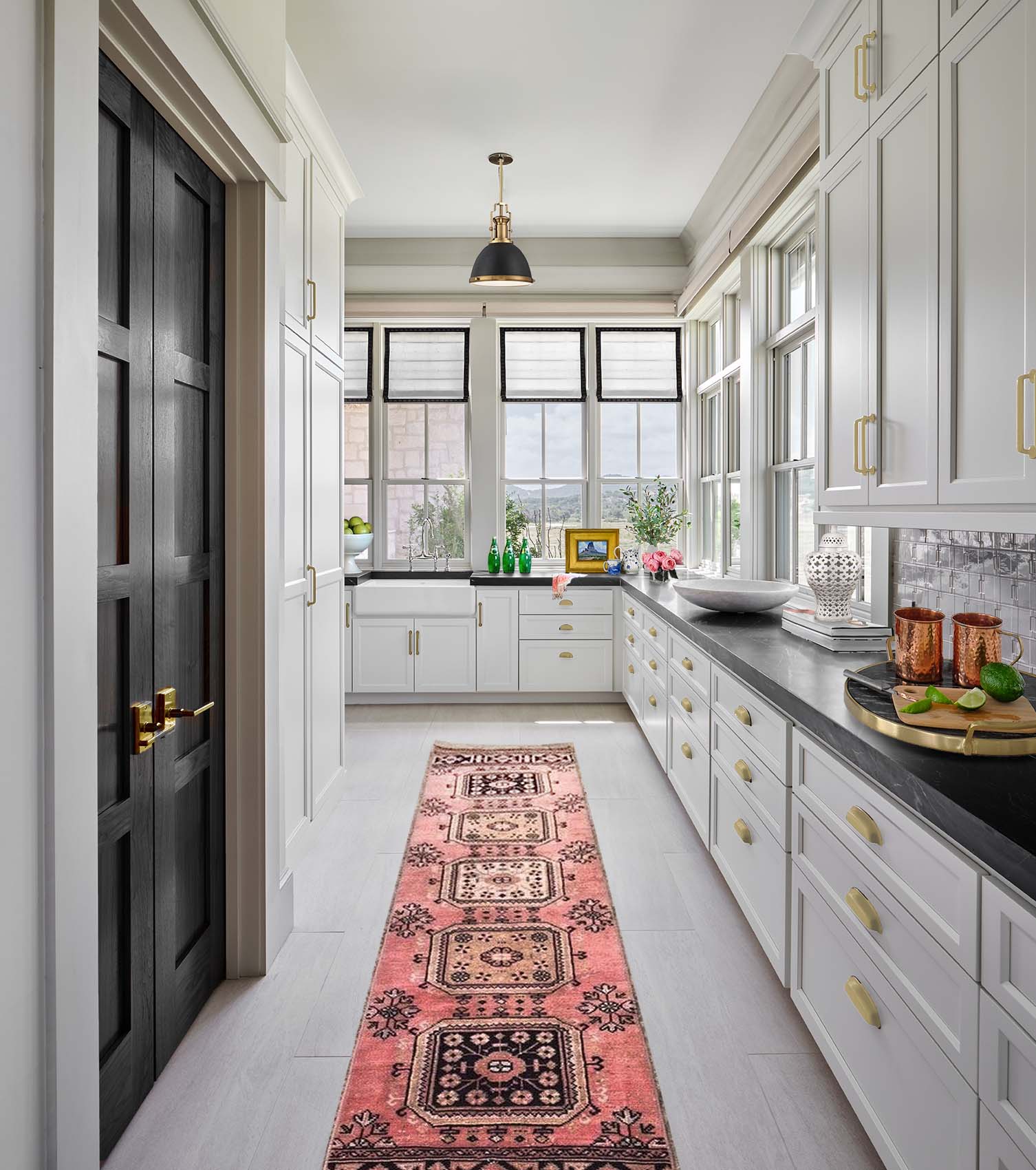 Confession:  this is my personal favorite, and aligns most closely with my own style.  To me, this kind of classic interior uses bold accents of color against a backdrop of white and black.  You'll notice I "painted" the double doors black, and got them brass door handles.  I also "removed" the shiplap walls, switched out the original black pendant for one with brass touches, and replaced all the black cabinet hardware with brass handles and drawer pulls.  The rest is all decor:
White roman shades with black trim
A bold pink runner in a traditional pattern
Brass and gold touches in the black marble drinks tray (at right) and the gilded frame of the landscape painting
Elegant white porcelain: the ginger jar and the footed bowl of apples (left of sink)
Bits of pink and green with the peonies, Perrier bottles, and applies and limes
And the shiny copper mugs!
See what I mean?  A white kitchen is the ultimate in design versatility!
If you're worried about painting your kitchen all white, don't be!
With rare exception, a white kitchen can be accessorized to reflect virtually any taste or design style.  There are still some design principles to keep in mind, of course, and we discuss some of them in this post on why all-white kitchens aren't boring.  And we're assuming that your kitchen's finishes all play well together.  Please don't pair a paper-white subway tile with a creamy-white cabinet color!  But an all-white kitchen, designed well, is about as timeless and versatile as it gets.  You can browse our own cabinet painting galleries for more white kitchen ideas, and have fun decorating your own kitchen!