A glance at some of our favorite white kitchens shows why a limited color palette can be both timeless and interesting!
When we started painting kitchen cabinets in a big way eight years ago, almost all of our clients felt overwhelming relief at finally painting out their outdated oak cabinets and getting the bright, white kitchen of their dreams.  Fresh white kitchens had burst on the scene as a happy, mood-lifting antidote to the heavy, brown-and-tan kitchens of the 90's.  It's almost like white had been "rediscovered", and everyone got sick of the Tuscan brown trend seemingly overnight.
These days, when our clients ask us about painting their kitchen cabinets, most homeowners still want that bright, fresh kitchen of their dreams.  But now there's a slight hint of worry about making a mistake by choosing white for their cabinet paint color.  Our color consultants have noticed that homeowners still want a white kitchen, but they're worried now white kitchens will be a trend that goes away, leaving them with a dated, boring kitchen that they might tire of later.
If you're worried that an all-white kitchen may be boring or even end up looking dated, fear not!
Not only are white kitchens timeless (as countless blogs have addressed), but kitchens have a built-in design advantage that keeps them from being boring or un-interesting, even when they're all white.  We'll show you below.
Let's see why some of our favorite white kitchens are both timeless AND interesting.
First of all, what makes a kitchen (or any space) interesting, design-wise?
A well-designed space will have balance and harmony among its various elements.  Its colors will coordinate (not "match", but coordinate).  It will have a focal point for emphasis, whether it's a gorgeous view or a modern fireplace or a stunning headboard.  Its elements will have the proper scale (furnishings not too small or too large), and the space planning will facilitate comfortable living (conversation groupings in a living room, easy maneuverability around the furniture in a bedroom, the classic "work triangle" in a kitchen).  And it will have good "visual interest", whether in color, pattern, or visual textures.
H

ow does all this apply to kitchens?

Once the logistics of good kitchen functionality are addressed, kitchens are actually less intimidating to design, visually, than other rooms in the house.  A living room, dining room, or master bedroom is a "blank canvas", and you (or your interior designer) will need to fill each space with furnishings, artwork, and accessories to end up with a pleasing whole.  Kitchens, however, come largely "pre-filled".  To extend the blank-canvas metaphor, the composition of your kitchen is already done for you (unless you're designing a house from scratch or doing a full-gut remodel).  So you already don't have to worry about balance (the range and hood on one side balance the fridge on the other), scale (the island is proportional to the space), or even emphasis (you might already have a built-in focal point, such as a range-and-hood combo or a window with a view above your sink).
That leaves just the "visual interest" category.
But isn't that where all-white kitchens are at a disadvantage?  Not at all!
The typical elements of visual interest are color, pattern, and texture.  (And we mean visual texture, like the difference in gloss between a white subway tile and the white satin-sheen kitchen cabinet next to it.  More "tactile" textures, like the softness of a plush throw or furry pillow, are more important in other rooms of the house, but less so in kitchens, which need to retain cleanability and durability.)
Let's analyze a few of our favorite white kitchens with "visual interest" in mind:
We painted the cabinets in this Lake Austin, Texas home in Sherwin Williams SW 7551, "Greek Villa".  Even though the perimeter counters are black, the cabinets, subway tile, and island countertop are all white (or a variation thereof).   What makes it work, visually?  It comes down to four criteria:
   1.  Each of the white surfaces is pleasing on its own.
The classic white subway tile, the soft white cabinets, the stone counters, all are in the same color family and blend beautifully.  These three items occupy the greatest visual space, but the variation in visual texture keeps them interesting.
   2.  There's enough contrast to give the space some visual weight.
The black counters and even the cooktop part of the range provide contrast.
   3.  The "jewelry" of a kitchen, its hardware and lighting, adds interest.
Sleek, updated brass hardware and the gorgeous Restoration Hardware light fixture adorn this kitchen perfectly.
   4.  Personal accessories and decor give the space life and character.
Flowers, books, artwork, the Kitchenaid mixer…  These complete the space.
---
If we had to come up with a working formula, I'd say a white kitchen needs:
pleasing visual textures among its finishes (cabinets, counters, backsplash),

a hint of contrast,

attractive hardware and lighting,

and accessories and decor to finish it off.
---
.
Here's another favorite white kitchen:
We painted the cabinets, walls, ceiling, trim and windows in this Alamo Heights home for Bradshaw Designs in San Antonio, TX.  The cabinets are in a custom white and the window is in Benjamin Moore's 2133-10, "Onyx".  Let's apply the criteria above:
The soft white cabinets, quartzite counters, and lovely backsplash (which isn't a true white but is still a light, soft color) all provide lovely visual textures.
The black window gives a hint of contrast.
The brass lighting and zinc range hood are fabulous!
Tasteful accessories finish it off.
What about kitchens that aren't all white?
The design principles hold true, of course.  Kitchens can also rely on color and pattern (colorful cabinets or a patterned backsplash tile) to provide interest.  But these kitchens are actually harder to design, at least for amateurs.  If you're introducing a strong color into your kitchen, contrast becomes much more prominent, and you need to balance your light and dark elements carefully.  And make sure that the patterned tile you love right now won't become too trendy and outdated in a few years.  We love colorful kitchens, as you can see in both our Austin and San Antonio project galleries, but it takes a confident hand to design them!
.
Let's look at this white kitchen:
Here's another Alamo Heights kitchen that we painted, this time in a more traditional home.  Technically it isn't an "all-white" kitchen (the island is a pale blue), but I'm showing just the white parts of this kitchen to illustrate how white kitchens are both timeless and interesting.  Let's analyze:
Visual textures:  the cabinets (painted in Benjamin Moore OC-17, "White Dove") and marble counters and backsplash are beautiful.  Check.
Contrast is mostly in the dark hardwood floor.  The window shade helps too.  Check.
No special lighting here (it's all recessed can lights), but the brass hardware is gorgeous and also visually substantial enough to make an impact in this kitchen.
The vibrant Oushak runner and pops of color in the decor provide life and energy.  Check!
This criteria applies to any kitchen, of course, but here we're showing that even without any other significant color in the space, a white kitchen works, when well designed.
Shall we continue?
Here's another Alamo Heights kitchen, where we painted the cabinets in a custom white for TMJ Construction.  Let's use our little check-off list:
Visual textures:  the smooth cabinets, hand-made ceramic tile backsplash, and quartz counters are all harmonious and pleasing.
The floor definitely provides the contrast here.  Love the herringbone brick!
Hardware and accessories . . .  the hardware is understated, and with only recessed can lights, there isn't a stand-out light fixture.  I think this kitchen would look lovely with some elegant brass hardware.  But the other elements are so nice, you don't really miss it.
Decor:  with an all-white kitchen, pops of color in the decor have an even greater impact.  The yellow Roman shade, blue-and-white accessories, and nice artwork bring this kitchen to life.
Let's try a more modern kitchen:
We painted the cabinets in this Olmos Park kitchen in Sherwin Williams SW7006, "Extra White".  Let's analyze:
Visual textures: the bright white cabinets and marble tile backsplash play well together.
Contrast provided by the black counters.
The striking black pendant lights repeat the black from the counters.
Pops of color and accessories with a "modern retro" vibe make this a truly fun kitchen.
Another traditional stunner here: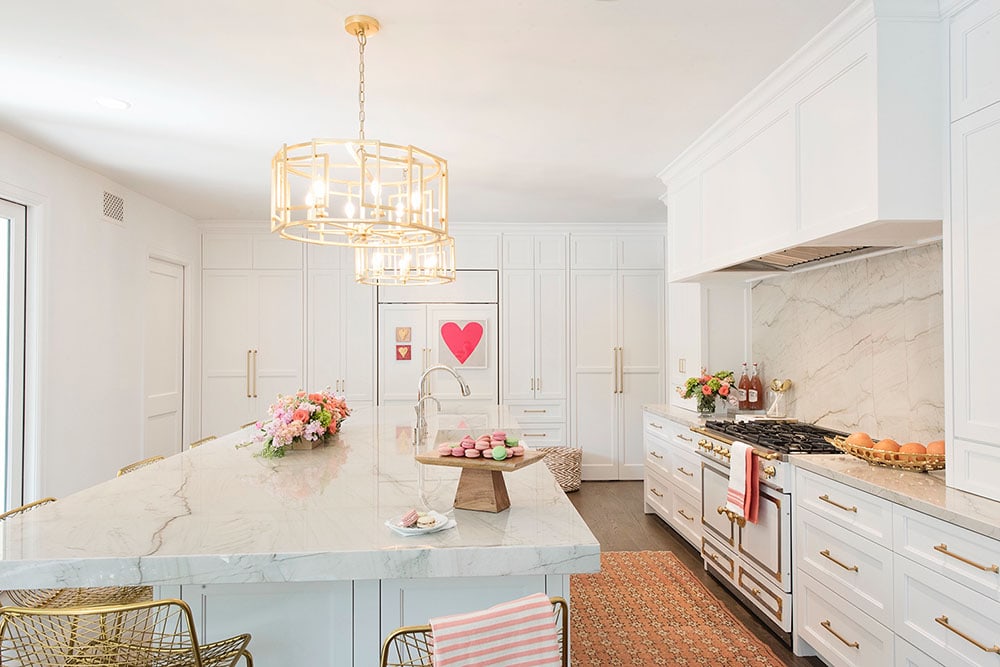 Another one of our favorite white kitchens is this beauty in Alamo Heights, also done for Bradshaw Designs.  (Cabinet color is Benjamin Moore's CC-20, "Decorator's White".)
Visual interest in the white cabinets, quartzite counters and backsplash, and even in the white LaCanche range:  Check.
Contrast: the hardwood floors helps provide contrast, but this kitchen probably has less contrast than any we've looked at so far.  (The pops of color help.)
Gorgeous lighting and hardware: Check.
Accessories: the LaCanche is a showpiece all on its own, but the pops of color in the fun accessories really polish off this kitchen.
Our favorite white kitchens aren't always so grand or large-scale.  Let's finish with this suburban kitchen in San Antonio, where we painted the cabinets in Sherwin Williams SW7005, "Pure White":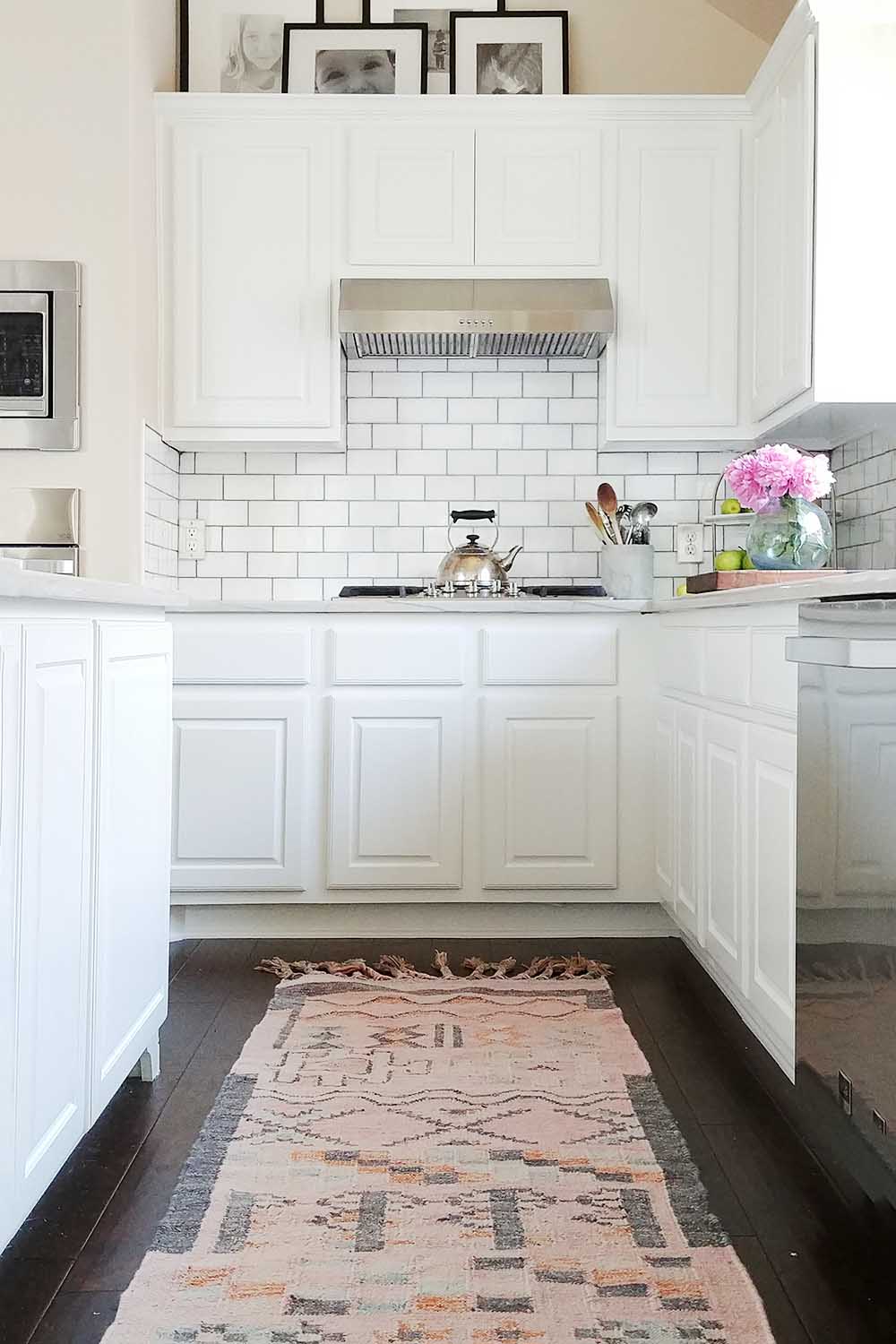 Visual textures in the white cabinets, white subway tile, and white marble counters all work together.
Contrast is mostly in the hardwood floors, but the homeowner also introduced a clever bit of contrast in the dark grout (and the picture frames at the very top).
Only recessed lighting here, and the homeowner installed brass hardware right after this photo was taken.  You can imagine, however, how some pretty hardware would accessorize this kitchen beautifully.
The pink runner is the most impactful decorative item, but pink peonies and the trays of green apples add more color as well.
Even with a small kitchen, choosing white is a great idea.  With any of these kitchens, you can update the look to reflect future trends by switching out the lighting, hardware, and decor.  (I like to say that white kitchens are the "little black dress" of kitchen design – new jewelry, shoes, and accessories are all it takes to change the look, but the LBD itself will never go out of style.)
Hope this analysis of our favorite white kitchens helps you achieve more clarity and confidence when you're selecting colors for your own kitchen!