We get asked all the time for our favorite green cabinet paint colors. Green is such a refreshing color – it evokes nature, calm, and new life. From an interior design perspective, green is a classic. It isn't technically a neutral, but – like navy – it is timeless in its own way.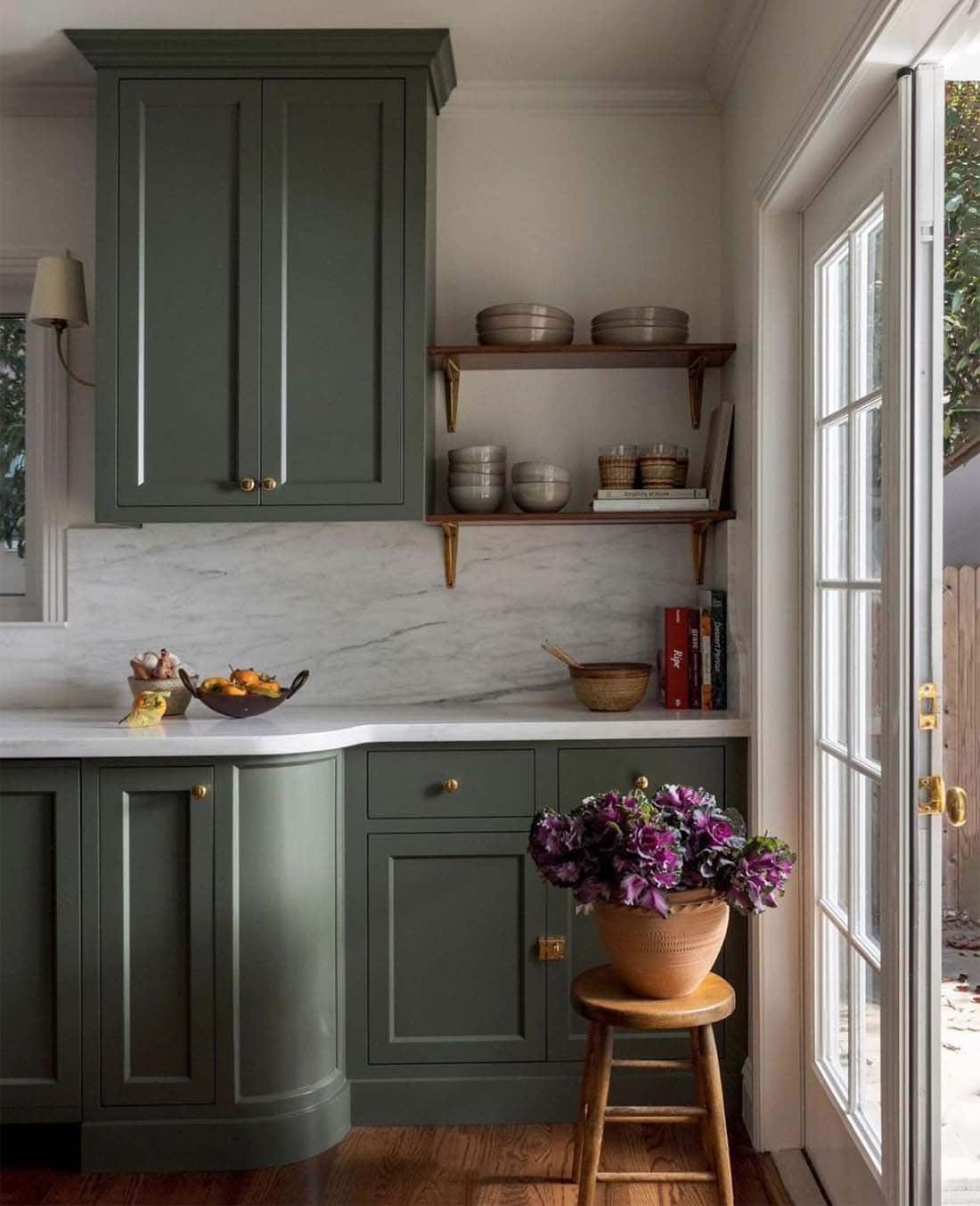 Both green and navy are having a heyday in kitchen design right now, and rightly so. The classic all-white kitchen will never go out of style, but for homeowners who want more richness of color, green is an excellent choice. Whether you want to paint all your cabinets in a single green paint color, or are thinking of a two-tone kitchen, here are some of the best green cabinet paint colors for cabinets, for your consideration.
Our favorite green cabinet paint colors fall into one of three "families": sage greens, vibrant greens, and deep greens
Think of green paint colors in terms of three loose categories: vibrant greens like emerald, sage greens (which include their darker cousin, olive green), and deep greens like forest green. Thought of in this way, it becomes much easier to choose the right green paint color for your own kitchen.
The Best Green Paint Colors for Cabinets
– Our Nominees –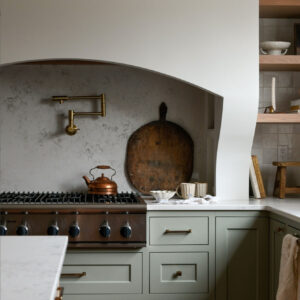 Sage Greens and Olive Greens
Sage greens surged in popularity as a go-to color in projects by Magnolia Home, and lend themselves very well to the farmhouse look. However, if you like your farmhouse style a little more updated, or prefer either a more traditional European or more minimalist vibe, sage greens will carry you through. And you can't beat the richness of olive green for a muted sense of drama and sophistication. Whether it leans toward a green-brown or toward a brighter avocado green, olive brings a high-end richness to a space.
Paint Colors to Try for Sage Green Kitchen Cabinets
Sherwin Williams "Livable Green",
similar to Benjamin Moore "Soft Fern" and Farrow & Ball "Mizzle"
Farrow & Ball "Blue Gray" (actually a sage green)
Sherwin Williams "Evergreen Fog", a cooler gray-green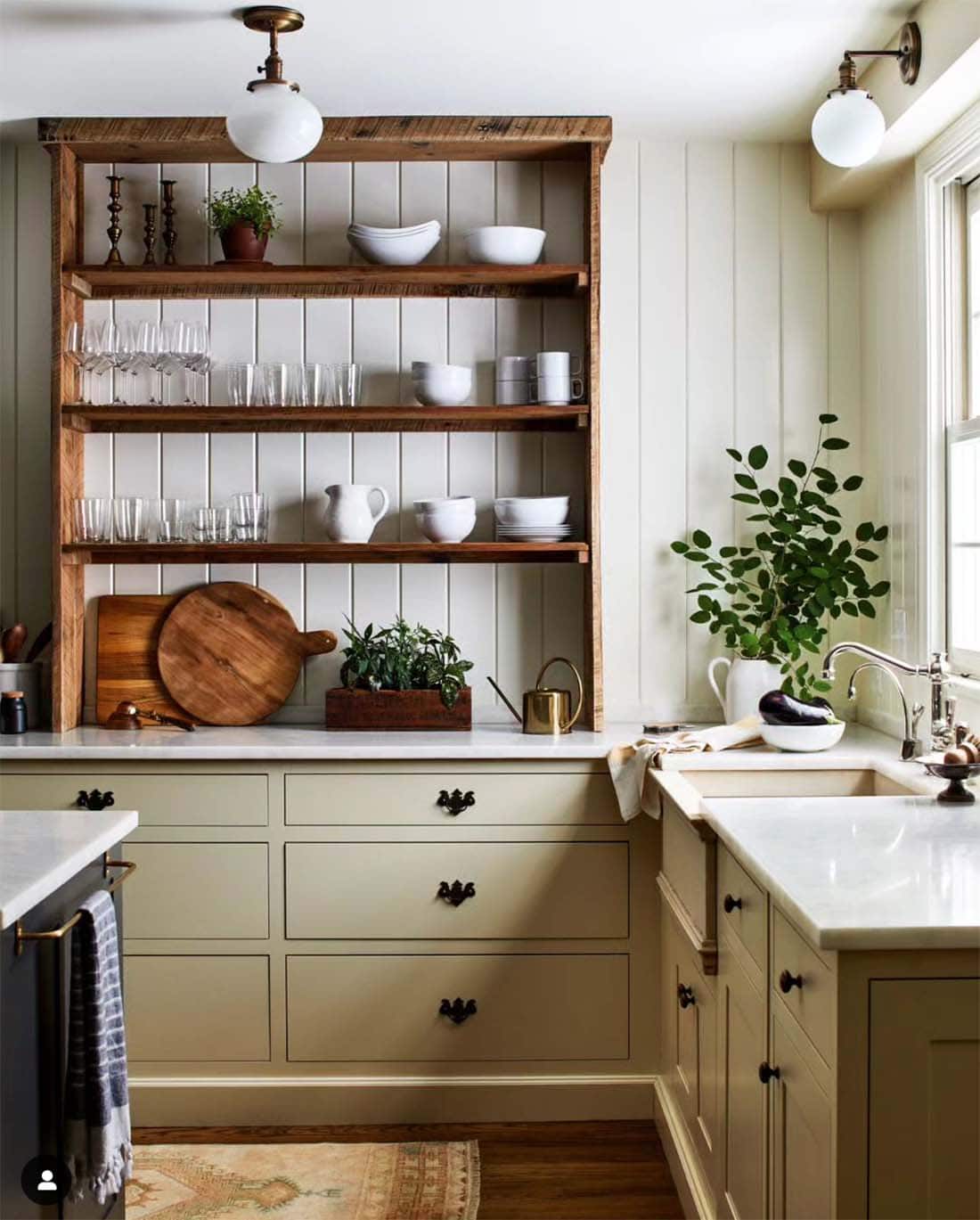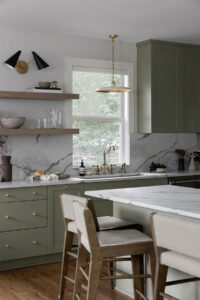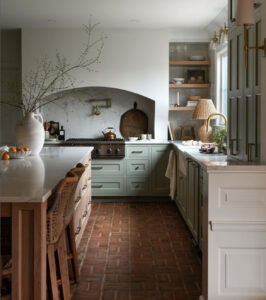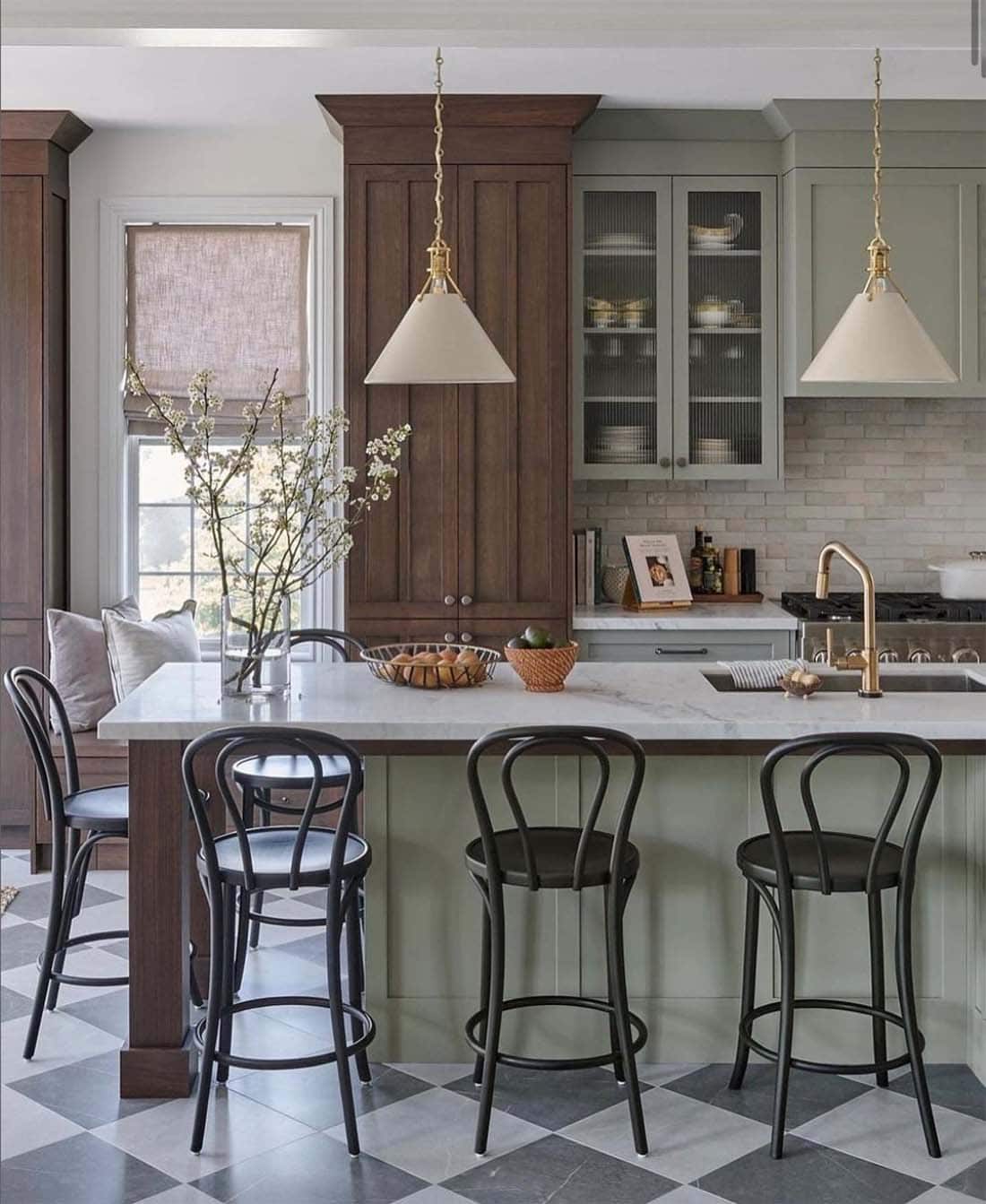 Some Options for Olive Green Kitchen Cabinets
Benjamin Moore "Rosemary Sprig"
PPG "Smokey Sage" – grayer than a true olive, but a pleasing muted green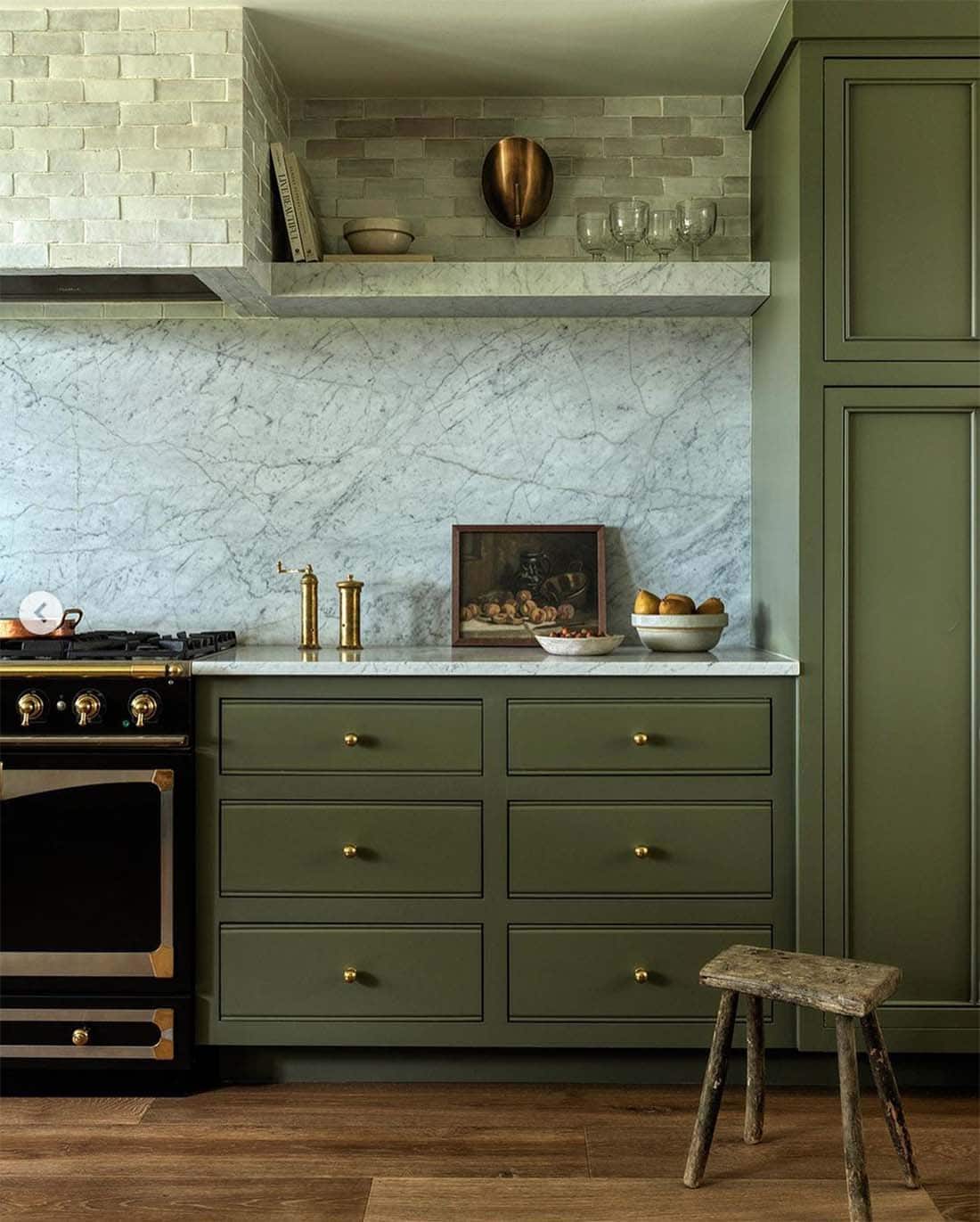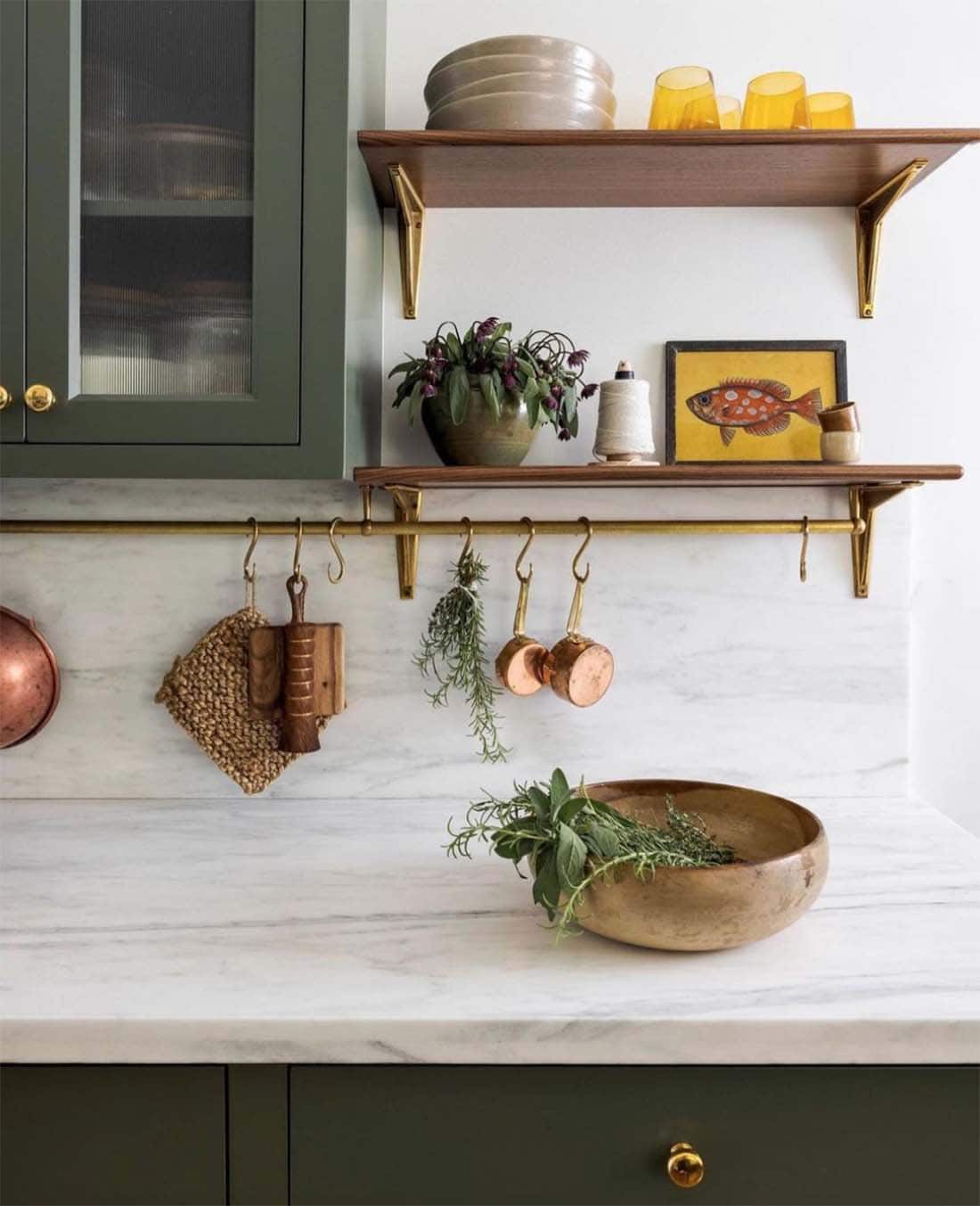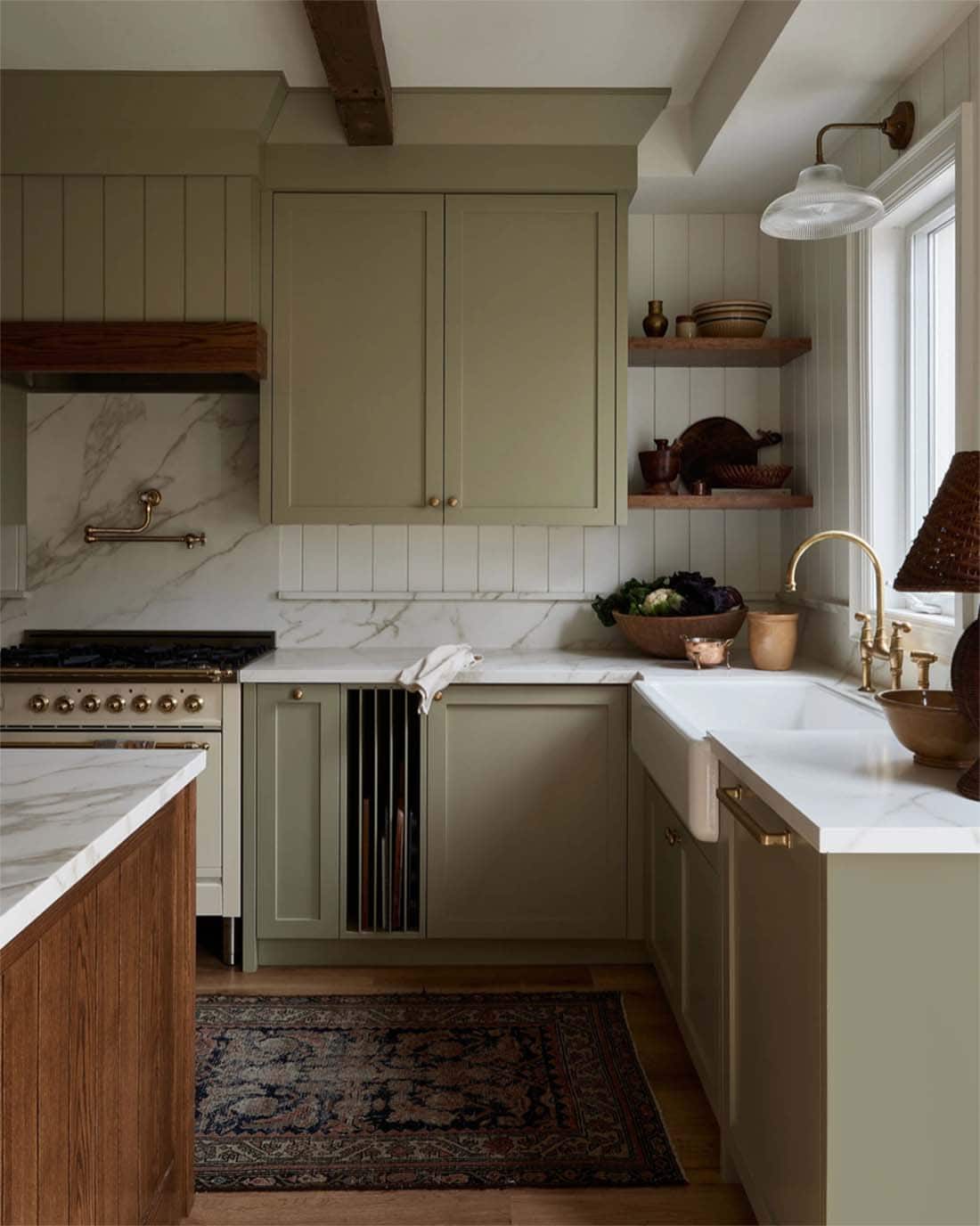 .
Vibrant Greens
If you want to go bolder, pick a stronger green like emerald. However, these saturated greens should be paired with either a strong contrast with black or white, for example, or other strong colors, to help carry the load and avoid overpowering your space. Vibrant greens make for an unforgettable kitchen that won't fade into the background. But you don't have to pick a green that looks like it came from your crayons box. Even a more muted green can look bright and upbeat in the right setting.
Vibrant Greens We Love
HGTV Home by Sherwin Williams "Soccer Pitch"
Benjamin Moore "Greenwich Village", a cheerful grass green
Benjamin Moore "Backwoods", this color can also look like a dark olive or deep green
Farrow & Ball "Pigeon", a cooler green midway between sage and olive
Benjamin Moore "Cedar Mountains", leans dark and cool-toned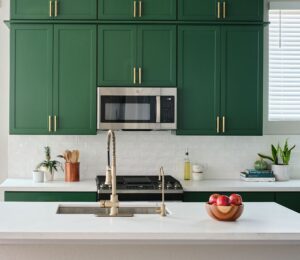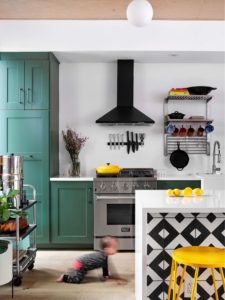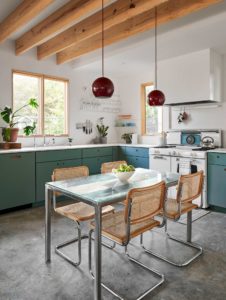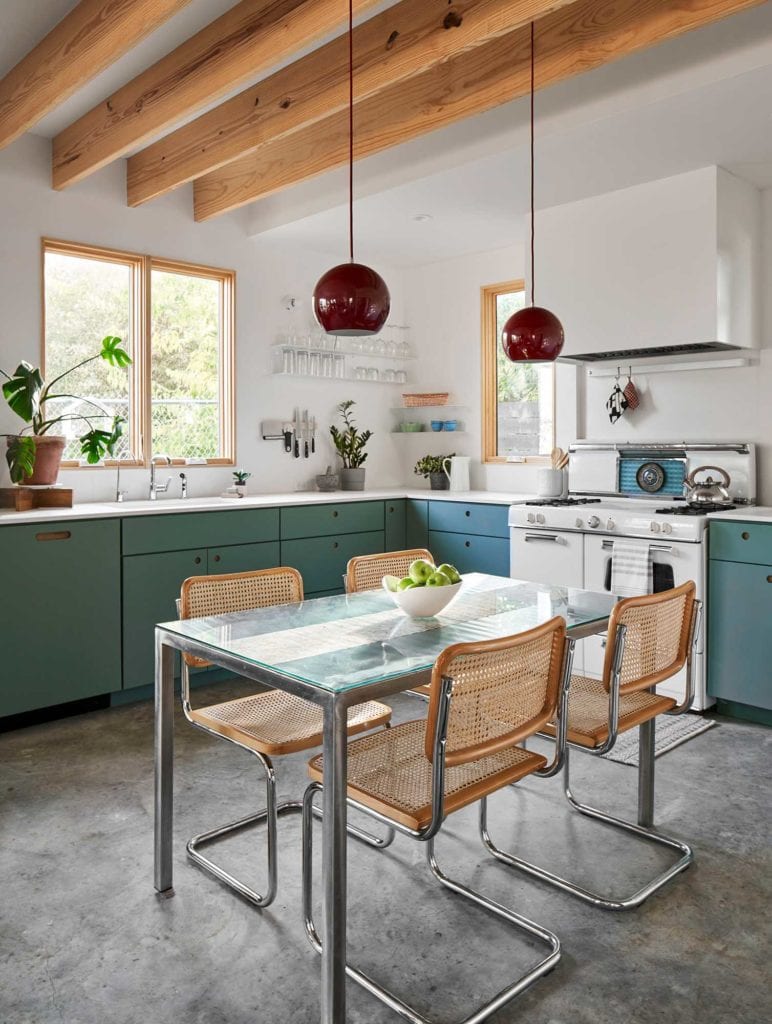 Deep Greens
No one does rich greens quite like the British, and we love the multilayered stunner below (although it could be argued the cabinets are more blue than green). But dark forest greens also contrast beautifully with white walls and a more clean-lined, minimal look. Often, you'll find butler's pantries, powder baths or mudrooms drenched in a rich, deep green, which feels almost cool and refreshing in a smaller space.
Some Options for Deep, Dark Green Kitchen Cabinets
Sherwin Williams "Portsmouth", lighter and grayer than the rest of these options
Benjamin Moore "Boreal Forest"
Benjamin Moore "Salamander" and Sherwin Williams "Cascades",
and their warmer twin,
Benjamin Moore "Essex Green" – about as dark as it gets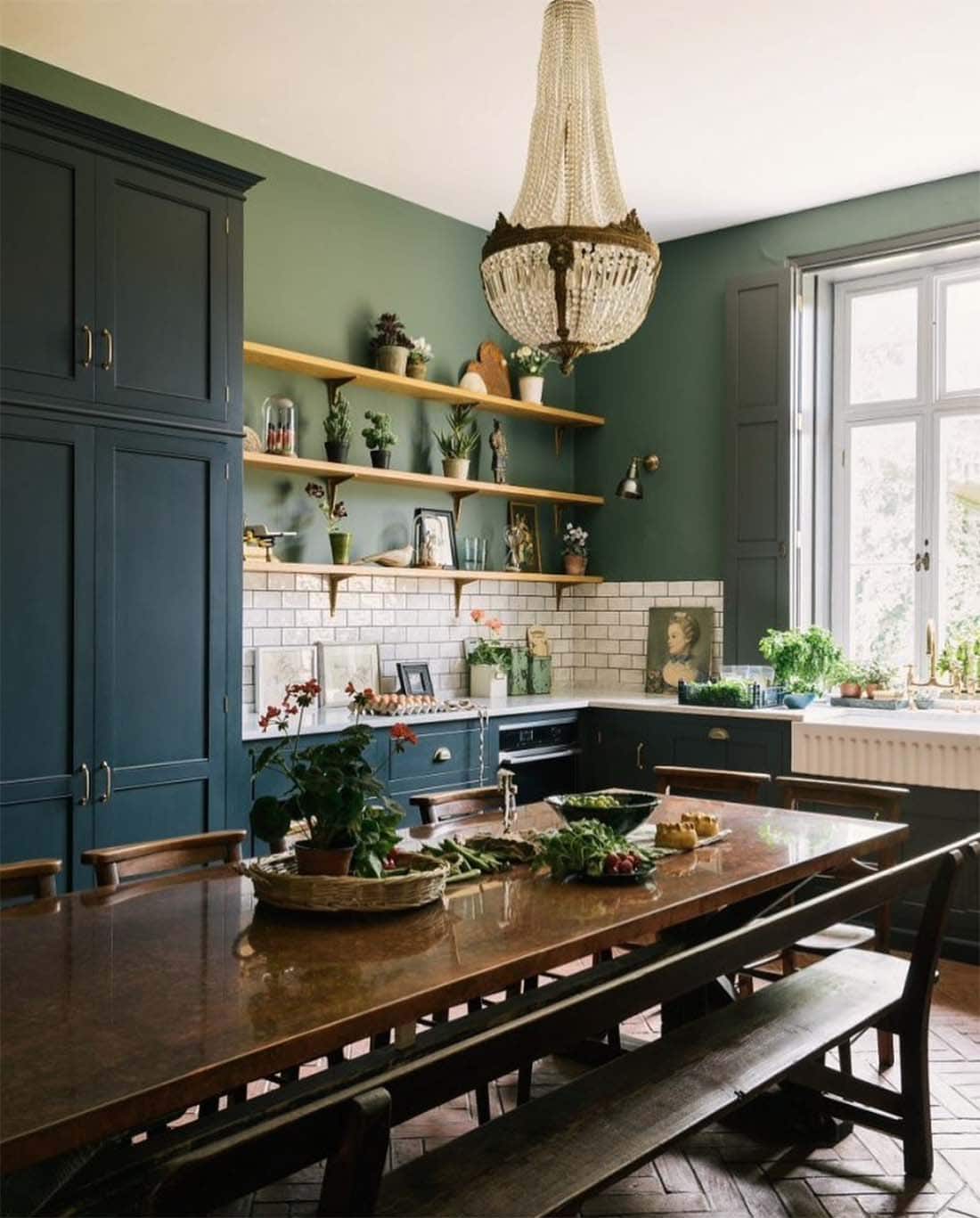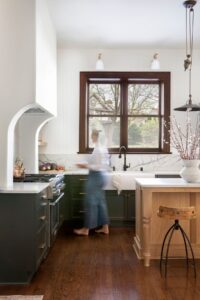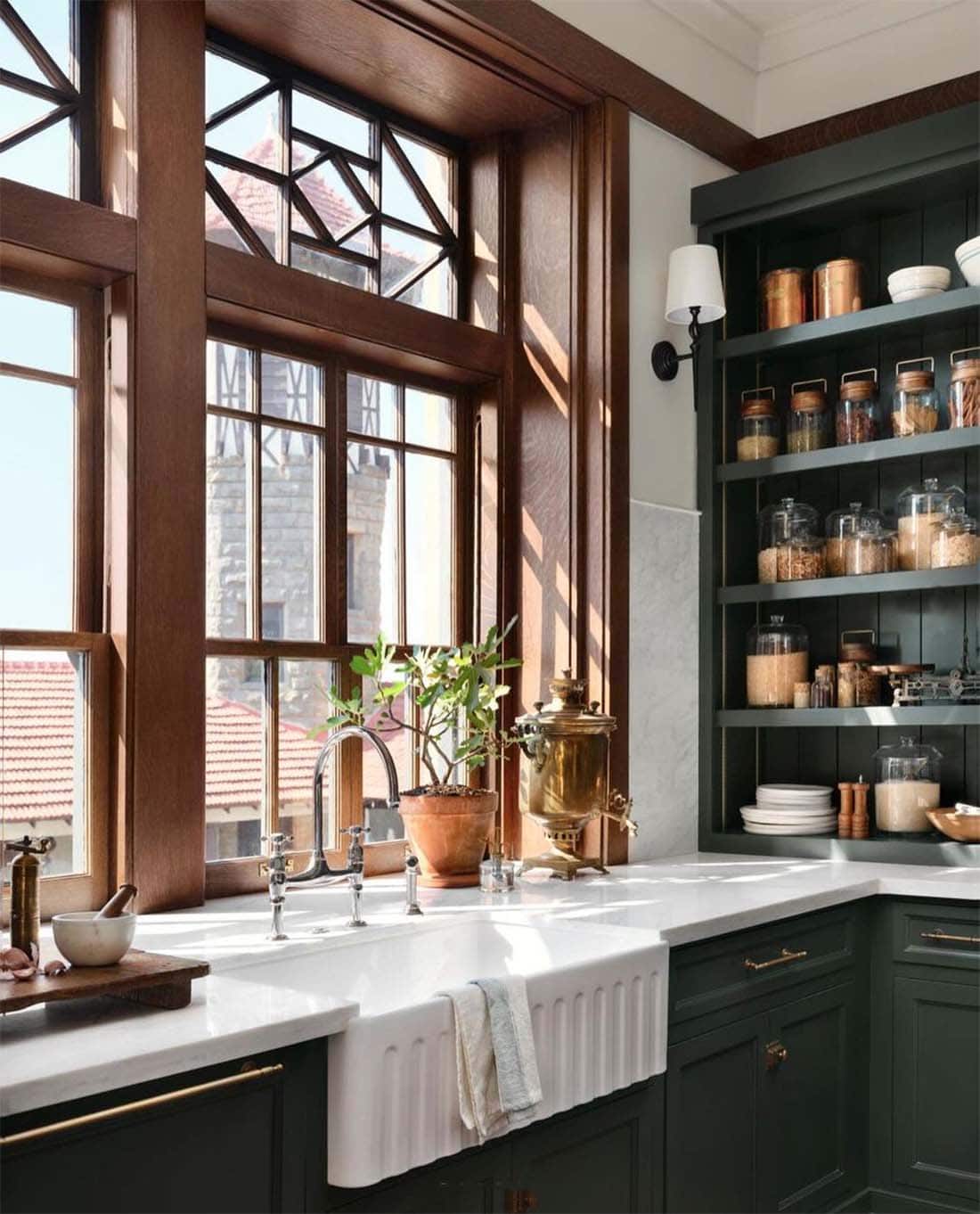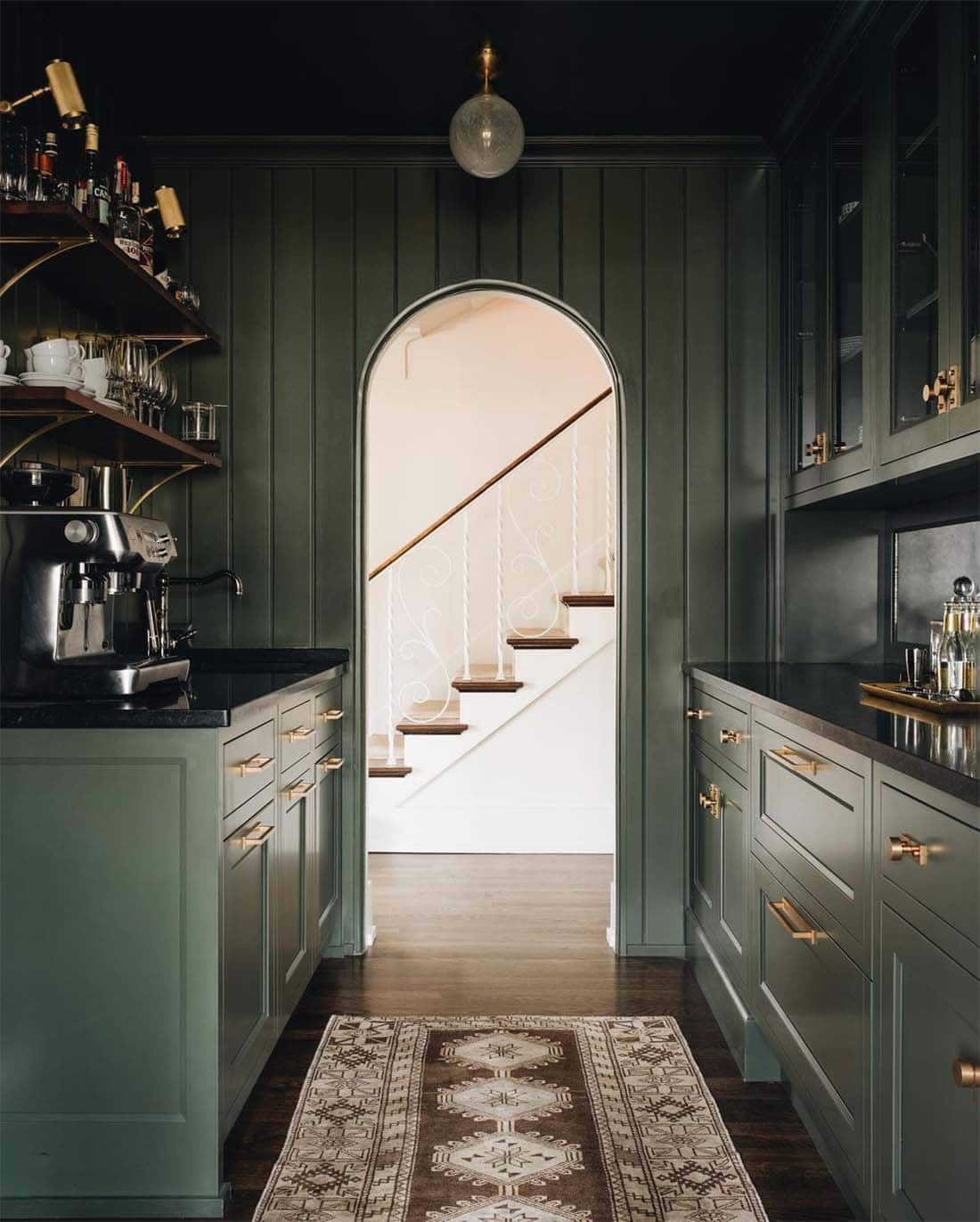 How to Choose a Green Cabinet Paint Color that Works in Your Space
The first step is to determine whether your home would most benefit from a sage green, a vibrant green, or a deep green.
To pick a good green cabinet paint color, you need to take your kitchen's hard surfaces into account. Your countertops, backsplash, and flooring all play a role in which cabinet paint color you'll choose. Wall colors should be considered as well, but because they're easily painted over, your walls aren't as limiting a factor.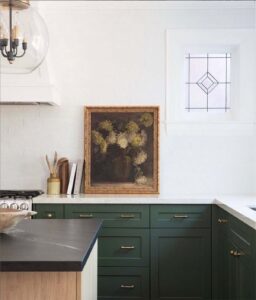 If your kitchen has warm-toned finishes such as granite, travertine, or other natural stones that lean toward tan or beige, soft muted sage greens or subtle olives work very well. More saturated colors like emerald or a bright grass green usually clash against warmer earth tones.
However, vibrant greens lend themselves very well to modern or contemporary spaces with an upbeat, colorful vibe. They show to advantage in kitchens with white walls and plenty of natural light. Bonus if you have colorful contemporary art in your space!
And deep greens have a soothing, sophisticated vibe that you'll often find in elegant traditional interiors. In spaces with less natural light, dark forest greens can help create a moodier, evocative atmosphere, without feeling heavy.
How to Use Green in your Kitchen Without Overdoing It
With green cabinets being such a strong player in most kitchens, be sure to balance them out with the right mix of textures, colors, and a sense of scale. Green painted cabinets straddle the difference between a single statement piece, like a large piece of furniture, and an enveloping color, like green painted walls. They will occupy a significant portion of the "visual square footage" of your kitchen, so balance them with the right contrasts – warm tones like woods for sage greens, strong contrasts like black or white for vibrant greens, and pairings with other rich colors or a contrast against white, for deep greens.
A little green can go a long way.
You could also decide on using green as an accent, not the main color in your kitchen. Consider painting just the island, or perhaps do the opposite, and paint all the cabinets except the island.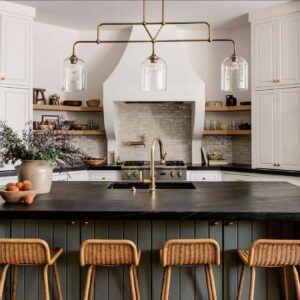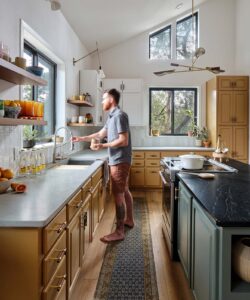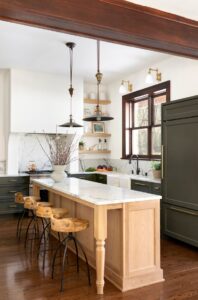 So long as your kitchen has a fair amount of natural light, you really can't go wrong with sage, or olive, or dark green kitchen cabinets. Keep your walls a light color, such as white or off-white, which is the case with most of the kitchens here. If you want to save yourself some time, use a service like Samplize to get a whole host of green paint color swatches (don't be shy, I got over 20 samples when I was trying to pick the right warm pink!). These are some of our favorite green cabinet paint colors here, but there are so many gorgeous tones out there, so have some fun!