Where to buy wallpaper has become a real puzzle for many of us.
Without a local showroom to shop at, where do you go?  How do you know what's available, what you will like, what a wallpaper might feel like or look like in your space? What options do you have?
Knowing where to buy wallpaper used to be as simple as going to your local "Wallpapers to Go" store to browse their shelves full of wallpaper books.  If your town didn't have one, your local paint store like Sherwin Williams or even a big box store like Home Depot might have a few books to browse through.  This was never ideal, because selection was limited and (quite frankly) not very stylish or sophisticated.  The best wallpaper houses like Schumacher, York, Cole & Son, and Scalamandre only offer their wallpapers through design professionals and trade showrooms.  Retail selections available to the public were usually low-end, cheesy, or rather generic.
If you were working with an interior designer, he or she would have those "to the trade only" showrooms at their disposal.  There you could see the full collections of top wallpaper manufacturers.  But not everyone works with an interior designer (although we always think it's the best way to go).  And in the aftermath of the pandemic, many trade showrooms have closed or curtailed how they do business.
If you're lucky enough to have a trade showroom available locally, and you're working with an interior designer, treat those resources like gold.
Fewer showrooms are open now, and it really is a joy to flip through page after page of gorgeous patterns and textures, on a treasure hunt for the perfect wallcovering.  (Our title photo was taken at San Antonio's own designer showroom, KBK to the Trade.)  But if that's just not an option, you'll have to buy online.
Here's my (very cheesy) analogy:
Back in the day, when you wanted a television, you'd go to your local Best Buy (for example), browse the various offerings, and pick the one you liked.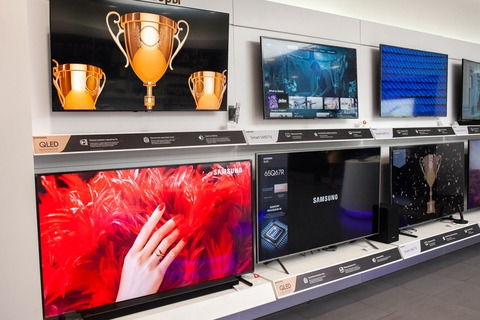 Now imagine a world where all electronics stores are closed, and your only option is to buy a TV online.  Most television manufacturers make their models available on massive e-commerce sites like Amazon.  This spares you from having to make a list of all known TV manufacturers (Sony, Vizio, Toshiba, Samsung, LG…)  and going to each of their websites, one by one.
However, what if there were also "specialty" televisions, maybe with high-end features, unique materials, or that could be made to spec?  Televisions that were cool enough that you wanted to consider those too?  And those manufacturers didn't want to go the "Amazon route", but rather sold their models only on their own sites?
You'd need a list of those manufacturers, so you could visit each of their websites and see what they had to offer.
That's kind of what I'm trying to provide here.
I've already talked about a good way to evaluate wallpaper online, and the importance of ordering samples so you can feel the wallpaper and see a piece of it in your own space.  Being able to get samples delivered means you really don't have to worry about not having a physical wallpaper book to look through and feel.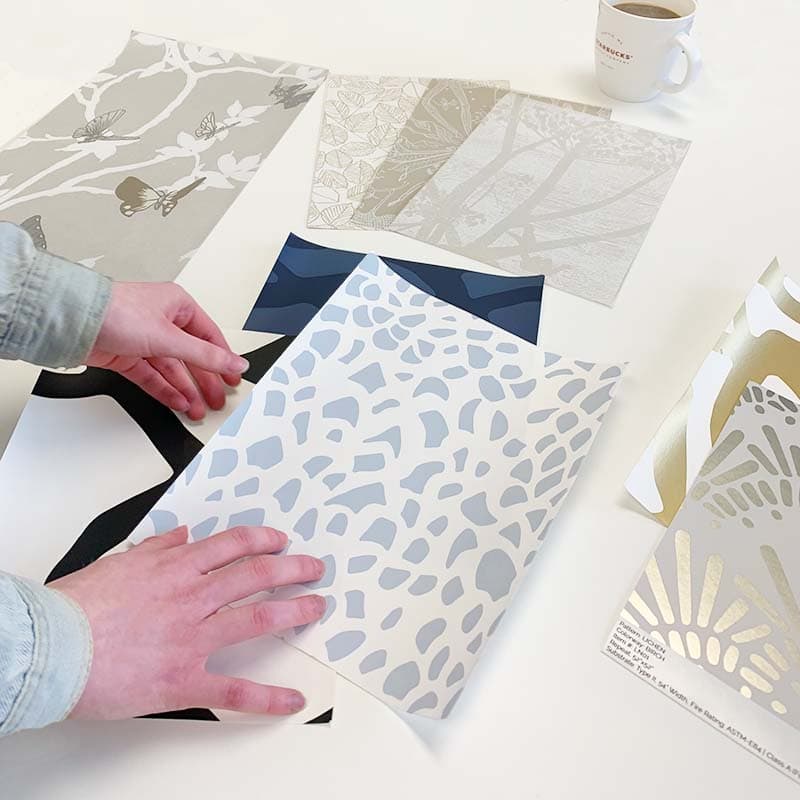 So, since you'll be browsing online, let's try to bring some order to the chaos that is the worldwide web!
Here are some of the best places we can suggest for where to buy wallpaper online.
---
.
First, the Big Retailers:
.
This is the "Amazon" of our analogy, offering a wide variety of wallpapers from multiple designers, including some of the designers listed below. Great for browsing a little bit of everything!
Our San Antonio staff is lobbying hard to install "Deco Pilots" in our office powder bath!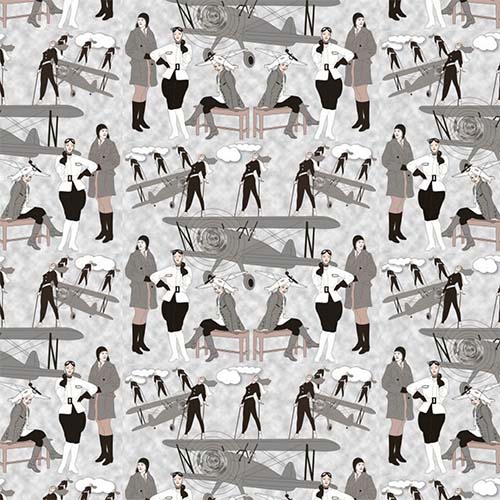 .
This is also similar to the "Amazon" analogy, in that it carries wallpaper lines by dozens of manufacturers.  However, Etsy caters more to unique, custom-made selections, including a huge variety of removable "peel and stick" wallpaper.  Talented artisans and wallpaper designers who are small and local can use Etsy to make their offerings available to the world.  The sheer variety will make your head spin – again, keep in mind the principles in our blog post on how to choose wallpaper, so you don't get sucked into the vortex!
We used this large-scale floral removable wallpaper in our videos on how to install peel and stick wallpaper: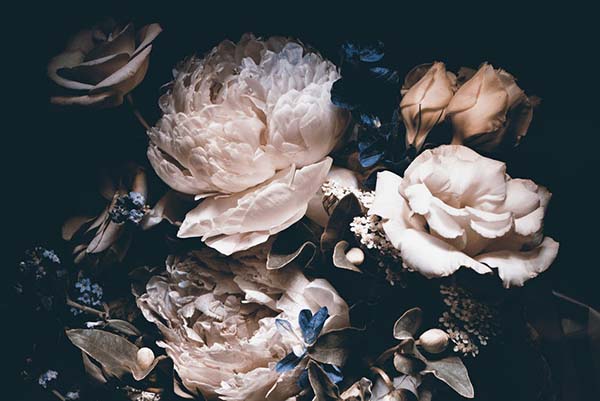 .
Now the Established "Designer" Lines:
York is the largest wallcovering producer in the United States, and they have no shortage of awesome collections.  Rifle Paper Co. sells their fun, quirky designs here, plus you'll find elegant lines like Candice Olson's, and newer additions like Magnolia Home by Joanna Gaines.  We loved York's iconic "Banana Leaf" wallpaper so much when we installed it in a client's kitchen that we wrote a blog post about it!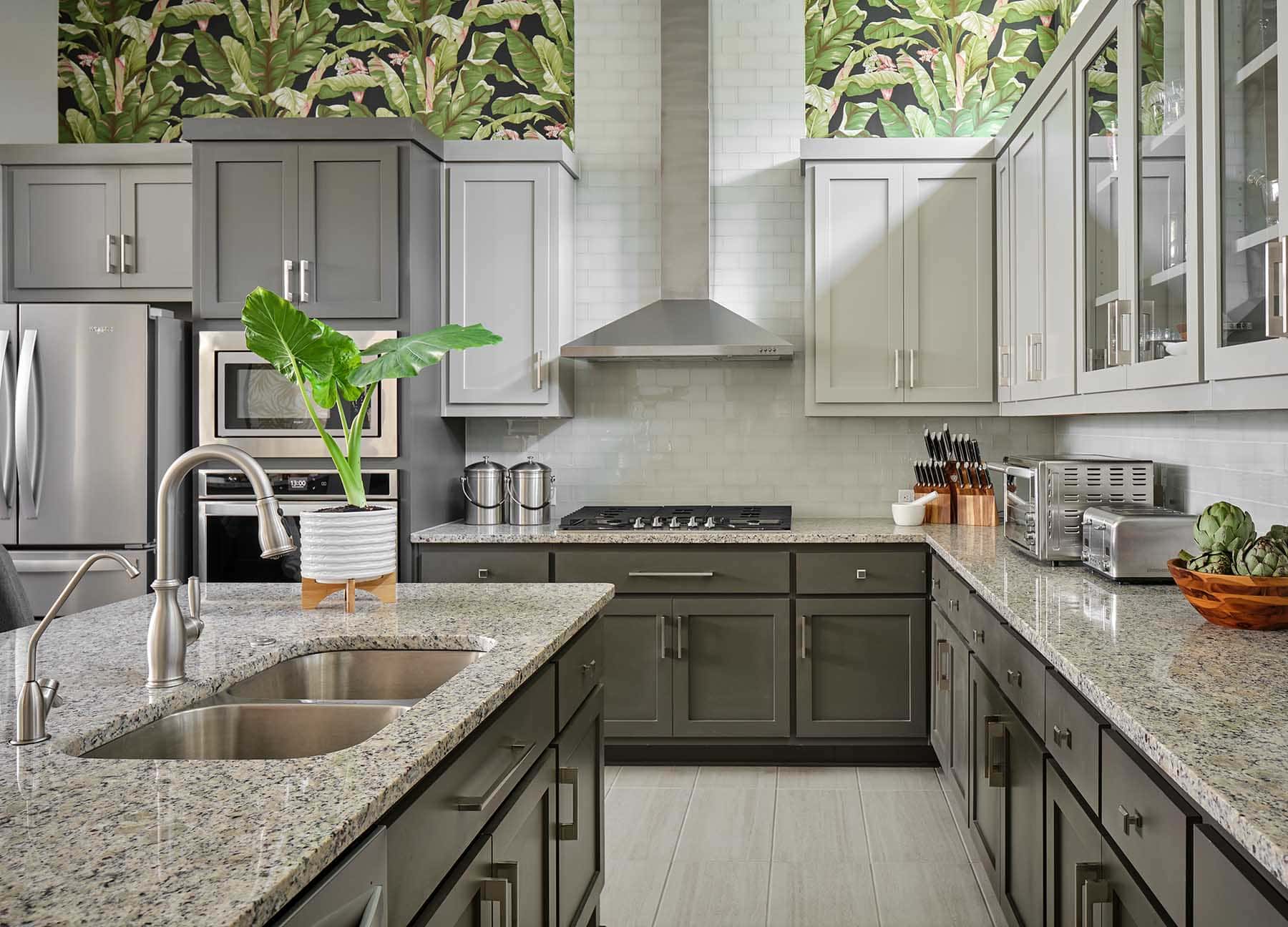 Cole & Son has a wonderful blend of contemporary and traditional, with plenty of bold patterns and global inspirations.  We hung their "Summer Lily" here in this project by Bel Atelier Design in Alamo Heights, TX (and  – fun fact  –  you can also see it in the foyer of Grace and Robert's house in Netflix's "Grace and Frankie"!):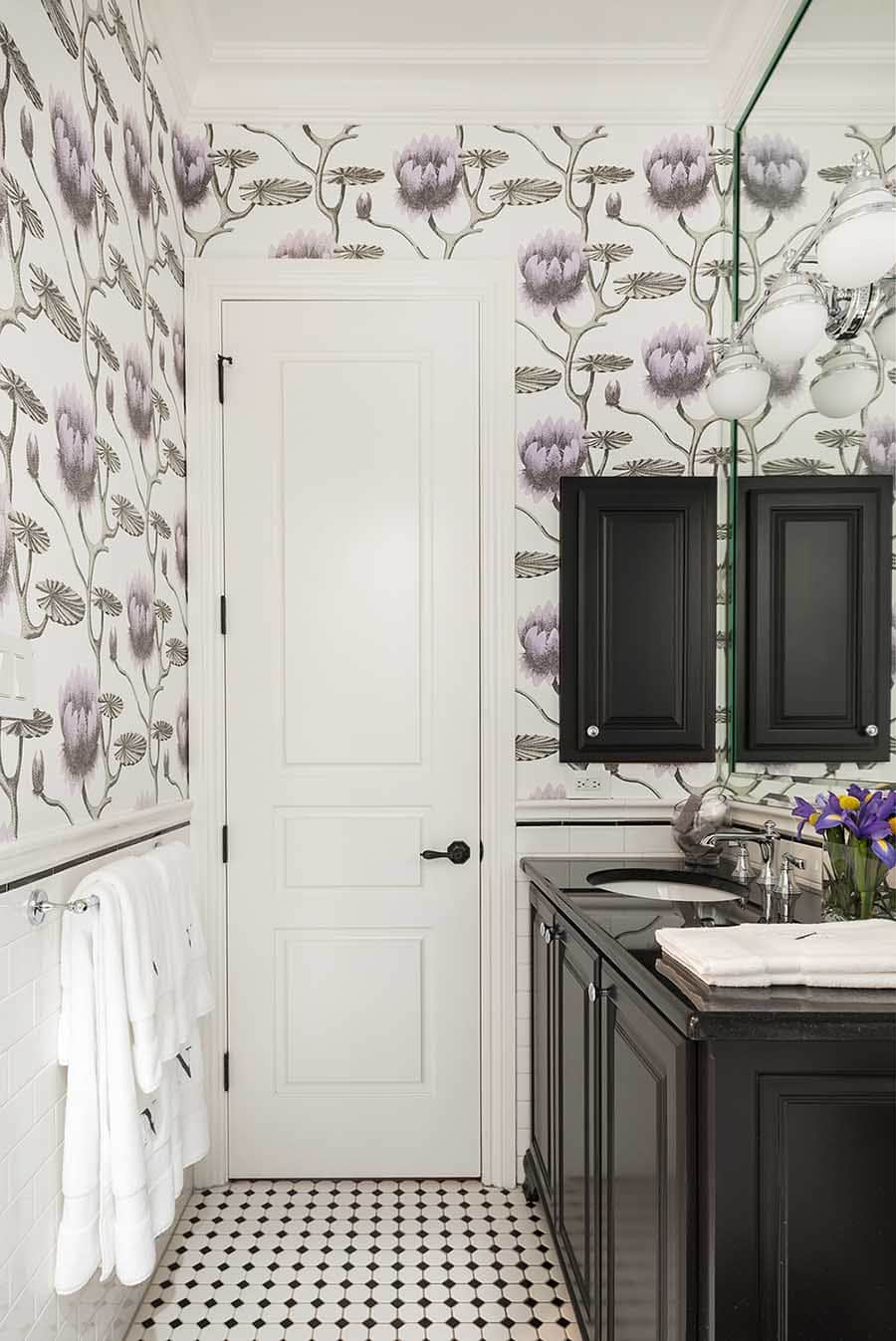 Another of my favorites! Perfect for more muted tones with pops of color, they have a large selection of chinoiserie wallpaper and textiles.  We installed their "Chenonceau" in this powder bath in San Antonio TX: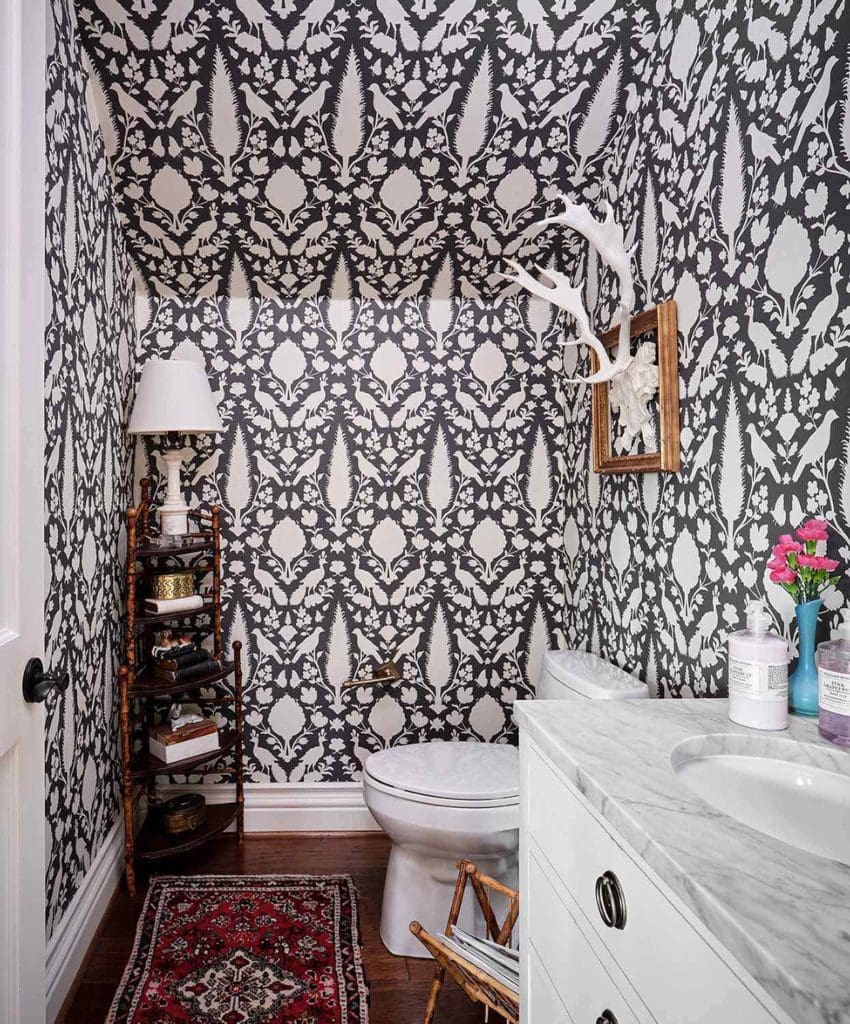 Schumacher's wallpaper has appeared in everything from the White House to "Gone With The Wind".  By the way, their blog is pure eye candy.  
Well known for their luxury grasscloths, these wallcoverings are pricier, but absolutely gorgeous to look at, and infuse a rich texture in any space.  We love this studded black grasscloth from their "Rivets" line that we installed in a Dominion home in San Antonio, TX.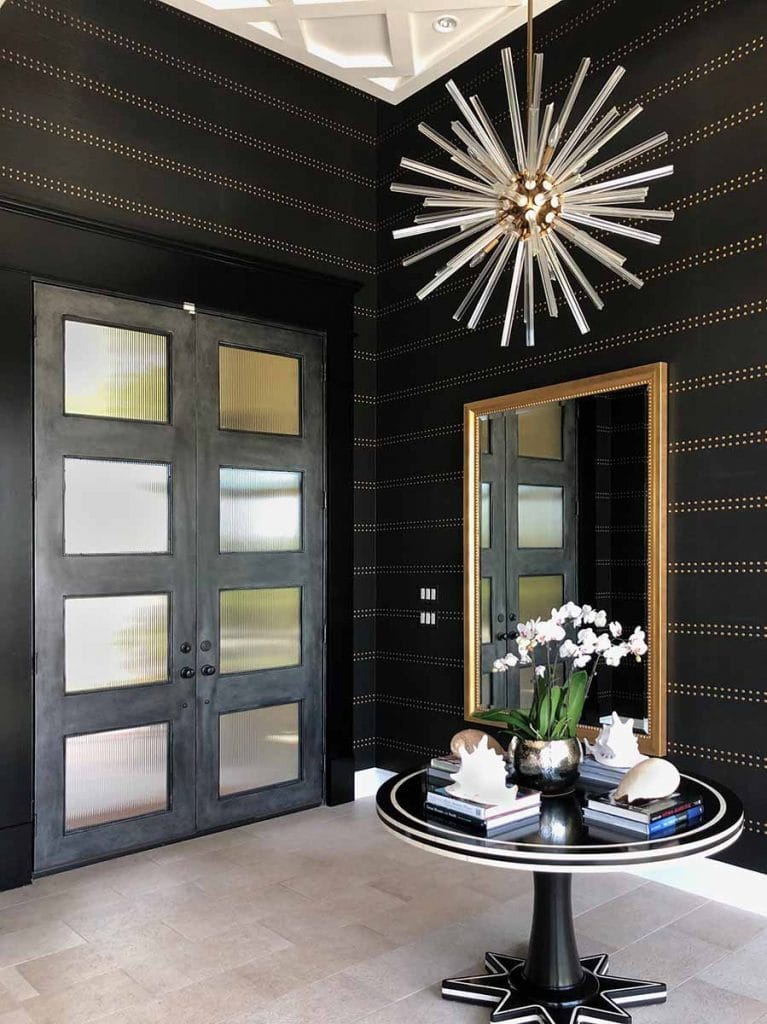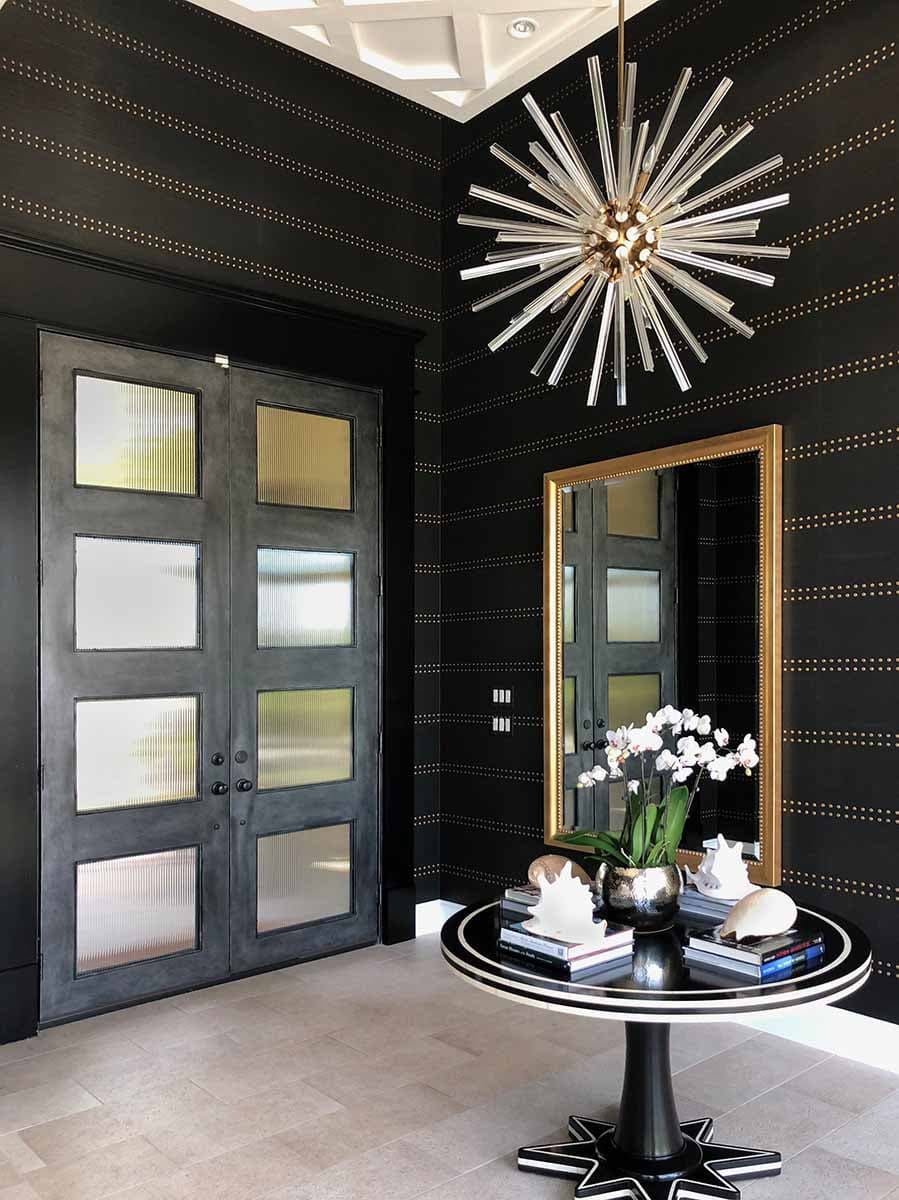 Thibaut is one of our most-installed products.  Their variety is staggering, with everything from geometrics to florals to grasscloths, but I love them for their big, bold, colorful designs, like this "Imperial Dragon" beauty that on the back wall in my office.  Plus Thibaut prices their wallpapers very well!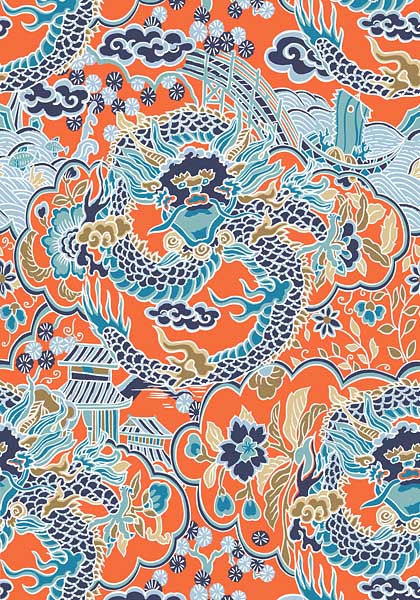 Romo seems to specialize in soft, muted wallpapers that often have a subtle metallic shimmer, like this "Pacaya" wallcovering.  Very elegant!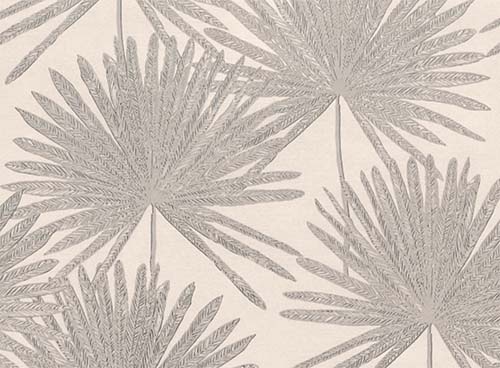 Ahhh, the Rolls Royce of wallpapers. . .  Gracie is the wallpaper we all aspire to one day have, especially if you love luxe, glam, or "grand millennial" style.  Each of their papers are hand-painted with exquisite detail, and customized to fit your specific room, so that the design factors in the location of the doors and windows.  Gracie, and also the venerable DeGournay, put "chinoiserie" on the map, at least for wallpapers.  They are probably the most expensive wallpaper out there – but they are so worth it!  Here's their "Winter Garden" (which is also available in frameable panels):
.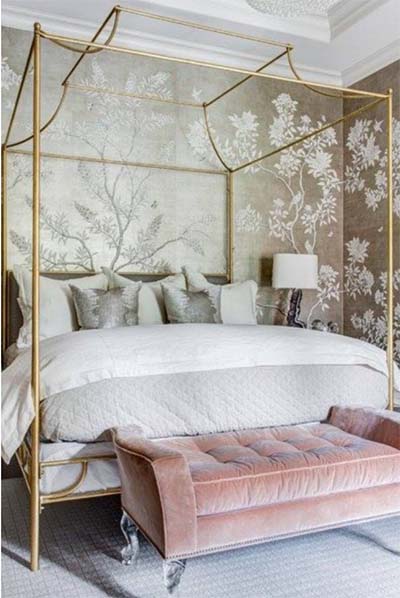 .
Yet another one of my favorites – I might have too many! They have eye-catching, attention-drawing wallpapers that wow in every space they are installed in. I love their animal prints and the funky repeat they have.  Their "Zebras" wallpaper is iconic: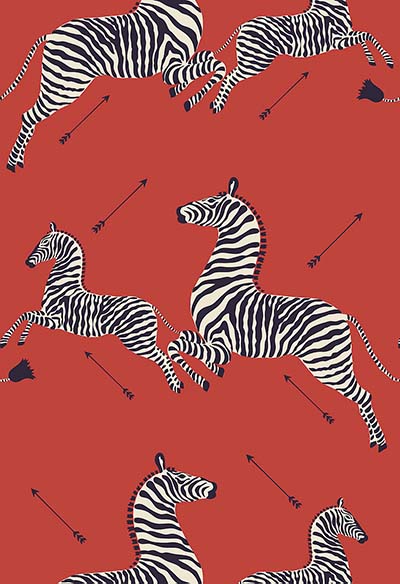 .
.
Okay, now for all the cool, unique, trendy, fabulous wallpaper designers and suppliers that aren't one of the Big Venerable Wallpaper Houses.  Well, not "all". . . I don't know if anyone out there has been able to compile a list of all the possible wallpaper sources out there.  But this list is comprehensive enough that I'm confident you will find several wallpapers you love just from this list.  There's a real renaissance of wallpaper design going on right now.  So curl up in a comfy chair, grab some coffee, and have fun browsing these amazing websites!
.
No list of where to buy wallpaper would be complete without these guys:
.
Relatively new, Hygge and West has some great artists and wallpaper designers in their collection.  Our favorite is Julia Rothman's "Daydream":
.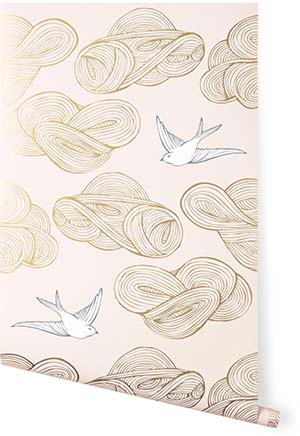 .
. . . is very artist-driven, with unique designs that you can find adorning the walls of places like Bergdorf Goodman, the Museum of Modern Art in New York, and Fiorella in San Francisco.  As a huge fan of the Netflix show "The Crown", I can't resist their "Queen Elizabeth" wallpaper:
.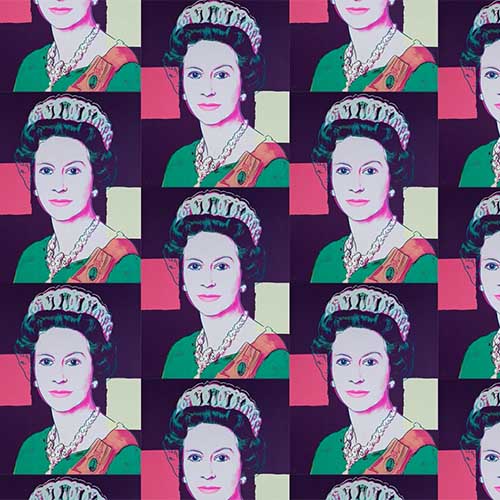 .
. . . lets you design your own wallpaper or browse its ever-growing inventory so you can get the perfect print for your walls.  I had a real hard time picking an example of their wallpapers, since they have so many great retro and boho designs, which is a style I love.  Just for kicks, here's their "Gothic Halloween Monsters"!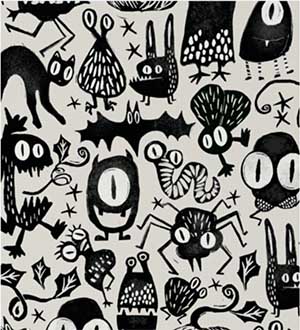 ..
.
Made to order in Australia, they run the gamut from "classic" to "fun".  We think their "Japanese Cranes" wallpaper is both!
.
.
Going back to Rifle Paper, I can't think of a better choice for a dedicated homeschool room than their "City Maps" peel and stick wallpaper!
.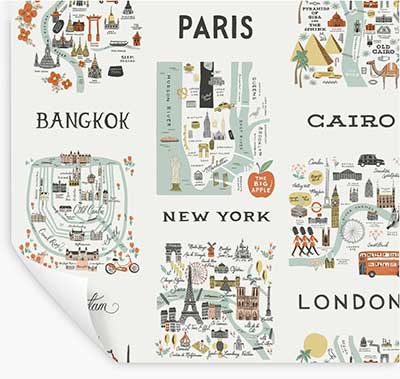 .
.
Another artist-driven site, Chasing Paper (like many others) offers all its selection in a peel and stick option.  We love their "Fine Point Floral" by Ampersand Design Studio!
.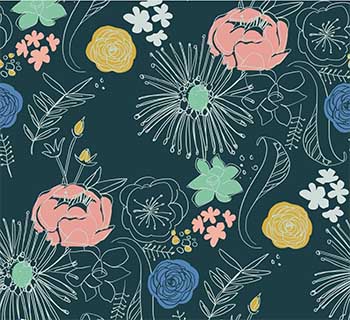 .
With a tagline like "Decorate Wild", you know this site has vibrant, bold, plant-inspired wallpapers!
.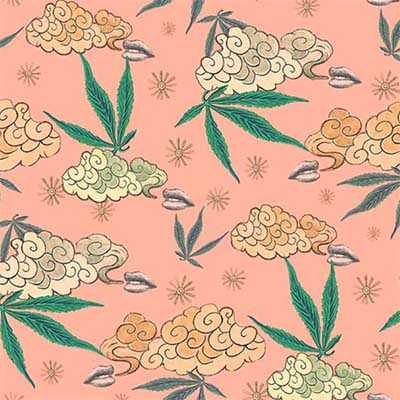 .
Another small collection of quirky wallpaper that's worth browsing.  We installed "Busted" in an Austin, Texas guest bath recently:
.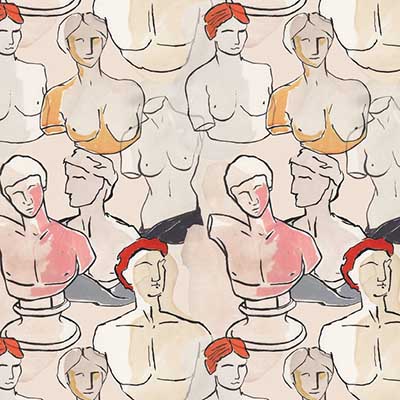 .
Who can resist a flock of flamingoes?  Roommates helped popularize peel and stick, removable, repositionable wallpapers, for which we are all thankful!
.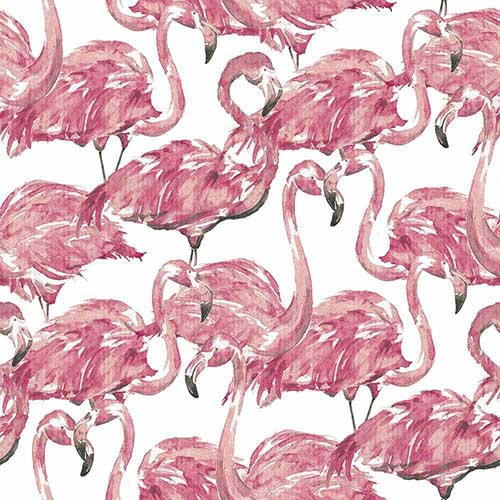 .
.
You'll find several e-commerce sites that are well known for home decor, that carry many of the unique wallpaper lines mentioned above.  Easier to search through than a giant like WallpaperDirect, these are good sites to browse if you already know you love the retailer's style:
.
Yes, they sell clothing, but this boho-inspired store has some great wallpapers!  They carry many wallpaper makers like Rifle Paper Co. that you'll also find on other websites (Rifle Paper is also sold through York Wallcoverings, as well as on their own site), so there is some overlap, but it's worth browsing their boho- and vintage-inspired designs.  Here's their "Etched Arcadia Mural" installed in our San Antonio office:
.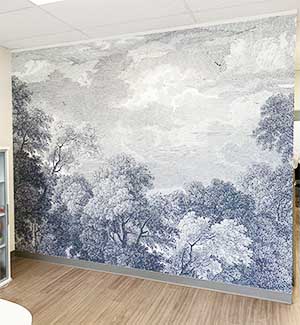 .
Like Anthropologie, PBK carries wallpaper lines that you'll also find on the makers' own sites, like this fun "Wallpaper Space Odyssey" by Chasing Paper, but if you want cute-not-cheesy kids' wallpaper, going here first will save you some time.
.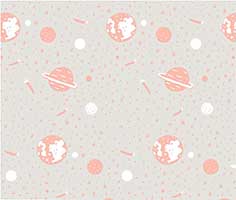 .
Their furniture lines are loved for their "retro-classic" vibe, but they also carry great wallpapers, including this removable wallpaper that looks like grasscloth, but on a vertical orientation:
.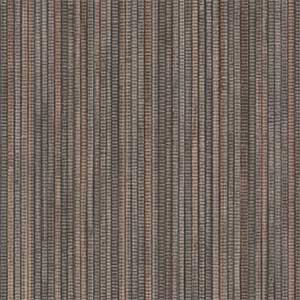 .
.
Here are a few smaller, more "niche" wallpaper collections that are more limited in scope, but may just have the paper you're looking for. . .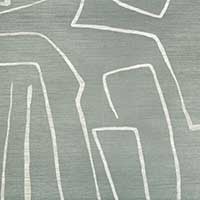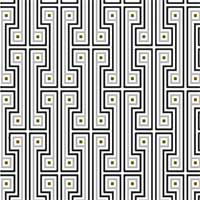 .
Another small collection, this time of more organic, less linear designs.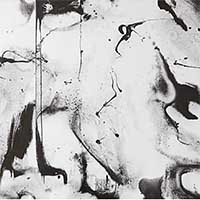 .
Hand-painted, sustainably printed wallpapers from a local Austin, Texas design studio.  Patterns are bold and graphic but with a relaxed, boho vibe.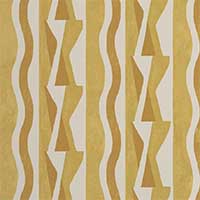 .
Another Austin treasure, and they have such a fun twist on wallpaper.  All their papers are fresh, bold and unique, and will leave you wanting to wallpaper every room in your home, plus a couple of ceilings.  Hard to pick just one represtantive design, so here are three!
.
.
And finally. . .
.
We would be remiss if we didn't make another plug for hiring an interior designer, who can take you to a trade showroom where you can shop gorgeous designs to your heart's content!  Designers make a living making selections like these, and they may have ideas for your space you might never have thought of.
.
Hope that helps!  Have fun with the process.  Knowing where to buy wallpaper really comes down to browsing both the large e-commerce sites AND all the great smaller design studios out there!