"Which paint sheen should I use?"  "Does it really matter?"  "Is there such thing as a sheen mistake?"  I hear these questions all the time.
What is paint "sheen", exactly?
Loosely defined,  "sheen" is the amount of "shininess" of any surface.  Technically anything you can imagine has a sheen, from a rose petal or a china dish to a piece of fabric, but we'll stick to which paint sheen is right for your ceilings, walls, woodwork and cabinets.
Paint sheens, in order from "non-shiny" to "shiny",  are generally called:
flat,
matte,
eggshell,
satin,
semi-gloss,
gloss, and
high gloss.
I say "generally called" because sometimes paint manufacturers will vary their naming conventions.  One manufacturer's "eggshell" might equal another's "flat matte" or another's "satin", for example.  Also, "gloss" and "high gloss" are pretty much the same thing, and the terms are used interchangeably.
Which paint sheen is right for my project?
There are pros and cons to each.  The main factors are cleanability and aesthetics, and these run on opposite ends of the spectrum.  In a nutshell:
The higher the sheen, the easier it is to clean your painted walls or woodwork, but higher sheens also reflect every little imperfection.  (If imperfections drive you nuts, stay away!)  That's why they're usually reserved for woodwork, which starts out fairly smooth already, and not walls, which have probably been hand-troweled or spray-textured.  If you want high-gloss walls as a design statement, you'll need to pay a premium to get those walls super-smooth.  It's a laborious process that takes several layers of sheetrock mud, and most builders won't even bother.   (I envy those people on the east coast, where smooth walls are the industry standard in home construction!)    Flatter sheens are kinder to most surfaces and have a softening effect that is very flattering on walls.  And flat is nearly always the paint sheen of choice for ceilings, where cleanability or scrub-ability isn't a factor.
Paint Sheen Trends
But paint sheen choices do seem to run in cycles or trends.  I've personally been around long enough to have seen three major paint sheen cycles.  When I first started out back in the late 1970s, most walls were painted in flat paint, and trim (all your woodwork, such as window sills, doors, and baseboards) was semi-gloss.  Ceilings, of course, were often an atrocity called "popcorn".
Then around the late 80s, some of the more sophisticated designers rejected anything shiny.  Satin trim was all the rage.  Semi-gloss?  Ha!  Can you say "cheap rental property"?  And flat was it for walls.  If you put a satin paint on your walls, you may as well have smeared Elmer's glue all over them.  No shine, ever.  Even furniture pieces were mostly matte-finished.
Today the rules are a little more relaxed, but in general more shine is back.  Walls are often matte finish or eggshell, even satin.  Trim might be semi-gloss and occasionally gloss.  Designers today use sheen much more intentionally than in the past, as a design element in its own right.  High-gloss cabinets, for example, look fantastic.  And we've done some entire rooms – walls, ceiling, AND woodwork – in a high gloss!  And it rocks!  Here's a quick iPhoto snapshot of one we did: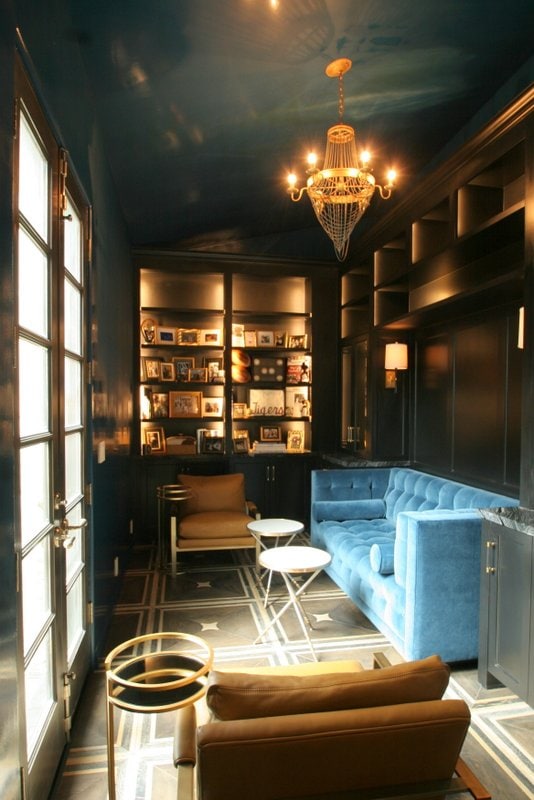 And another example: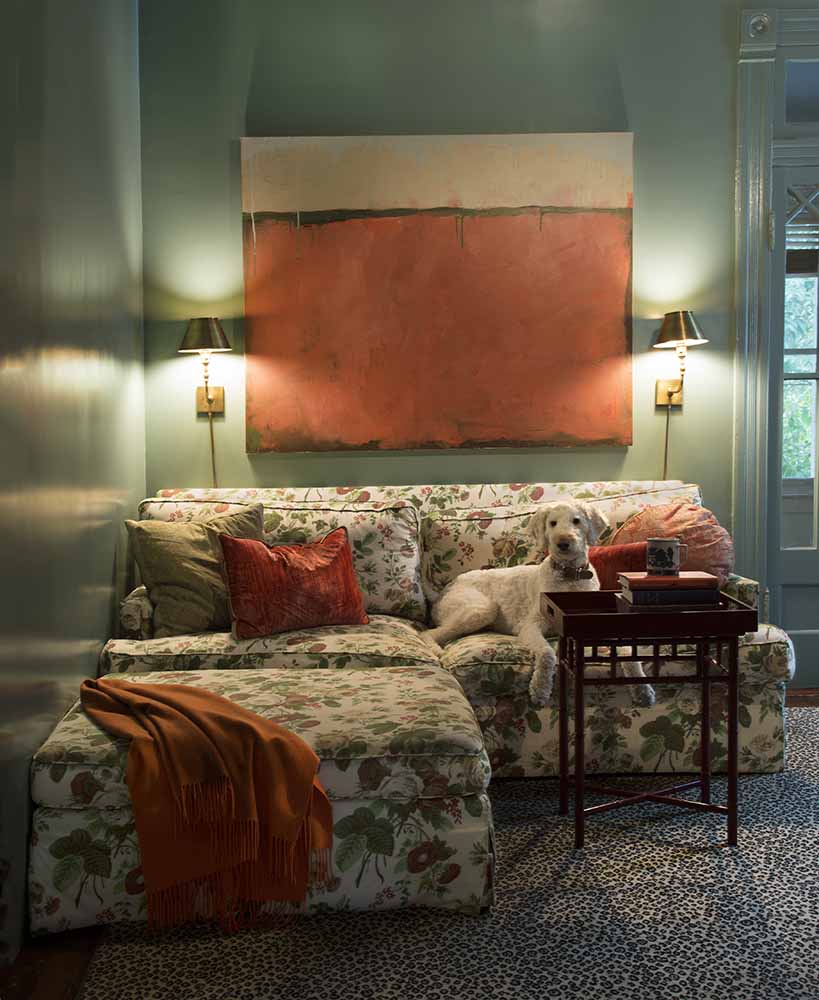 (Love the dog on that super-comfy sofa!)
Lisa weighs in:
My wife Lisa, our resident color consultant, insists you should choose the least sheen you can get away with for your walls and ceilings.  The exceptions would be where you embrace a high-gloss look, as above.  But if you're leaning toward the more commonly-seen "flat-ish" walls, go as flat as possible.  "Flat matte", which is easier to clean than flat alone, is a good all-around choice.  Any sheen higher than eggshell, Lisa says, can seem "plastic-y", and will never be as timeless as flat.  As for woodwork, the choices are wide open from satin up to gloss, and depend on how much contrast you want between your walls and trim, and your own personal preference.
So yes, sheen does matter.  For most walls, you can't go wrong with eggshell.  (It's the choice on the vast majority of the projects in our Interior Painting Gallery.)  For cabinets or woodwork, the choice is more difficult, because it'll be more of a design factor than a default, "safe" decision.  But your designer will have definite ideas, and you can always call us to come look at your space and give you our opinion if you aren't using an interior designer for this phase of your project.
Cheers!
Peter