"Which paint sheen should I use?" "Isn't the paint color more important than finishes or sheens?" "Is there such thing as a sheen mistake?" We hear these questions all the time.
Most of us think that, once we've picked the right paint color (not always easy), we've done the heavy lifting. But your choice of paint sheen matters too!
What is "paint sheen", exactly?
A paint's sheen measures how shiny it looks when dry, measured on a scale from 0 (no shininess at all) to 100 (a mirror-like reflection).
---
Paint sheens, in order from "non-shiny" to "shiny":
flat
matte
eggshell
satin
semi-gloss
gloss
---
Now, if you search online for a "paint sheen chart", you'll find something like this:
But this does you no good at all when you're trying to decide which paint finishes will look best inside your home.
And it doesn't help that paint manufacturers often vary their naming conventions. One manufacturer's "eggshell" might be another's "flat matte" or another's "satin", for example. Also, "gloss" and "high gloss" are pretty much the same thing, and the terms are used interchangeably.
So what do you really need to know when you're picking paint for your home, so you don't end up with an expensive mistake? Let's look at some real-life examples. (All projects by Paper Moon Painting.)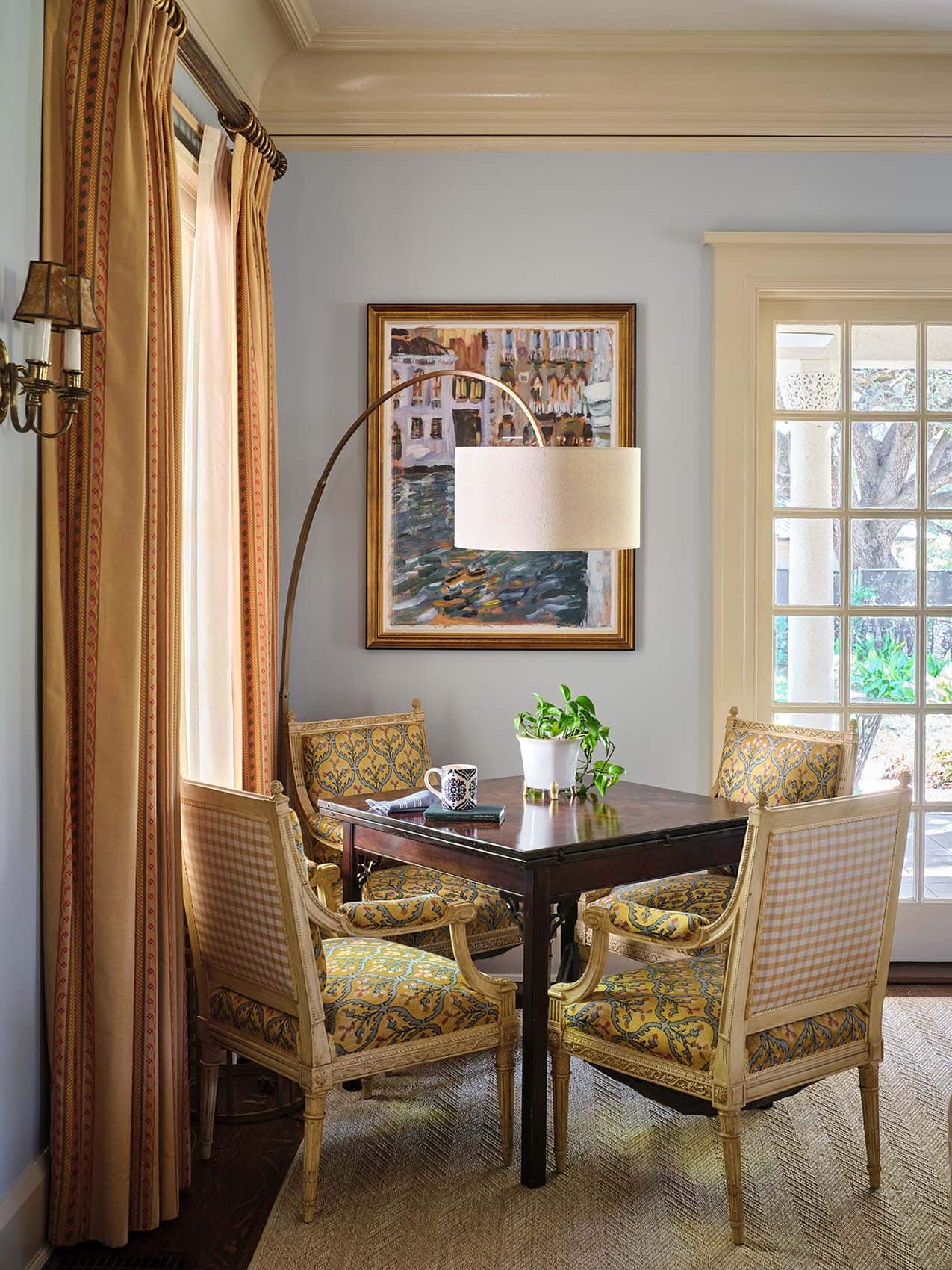 Paint sheens fall into three loose categories: Zero or Low Sheen, Medium Sheen, and High Sheen
This simplifies it a great deal. And to make it even easier, pick only a zero- or low-sheen paint for your walls, a medium sheen for your cabinets and woodwork, and a high sheen only under the guidance of an interior designer!
Zero- or Low-Sheen Paints: Flat, Matte and Eggshell
These are universally sound choices for interior walls, and if you pick one of these sheens, you can't go wrong.
Please ignore the hype online about satin sheen being the "best paint sheen" or "most common paint finish" for interior walls, especially for high-traffic areas! If you pick a high quality product, even a flat-sheen paint will be appropriate for everything except maybe a mudroom or kids' playroom.
Most interior designers prefer zero- or low-sheen paint finishes for interior walls, because the look is very soft and organic, and it lends itself well to all design styles, from contemporary to boho to traditional. And flat paint is almost always specified for ceilings, because it is best at hiding imperfections, and ceilings aren't always perfectly smooth.
If I had to pick a favorite, it would be a matte finish for painted walls. Matte sheen is just a touch shinier than pure flat, but still has so little sheen that it reads like a flat in real life. The benefit is that it's more durable that flat paint, and some of the "scrubbable flat" or "cleanable flat" paints on the market actually have a subtle matte sheen.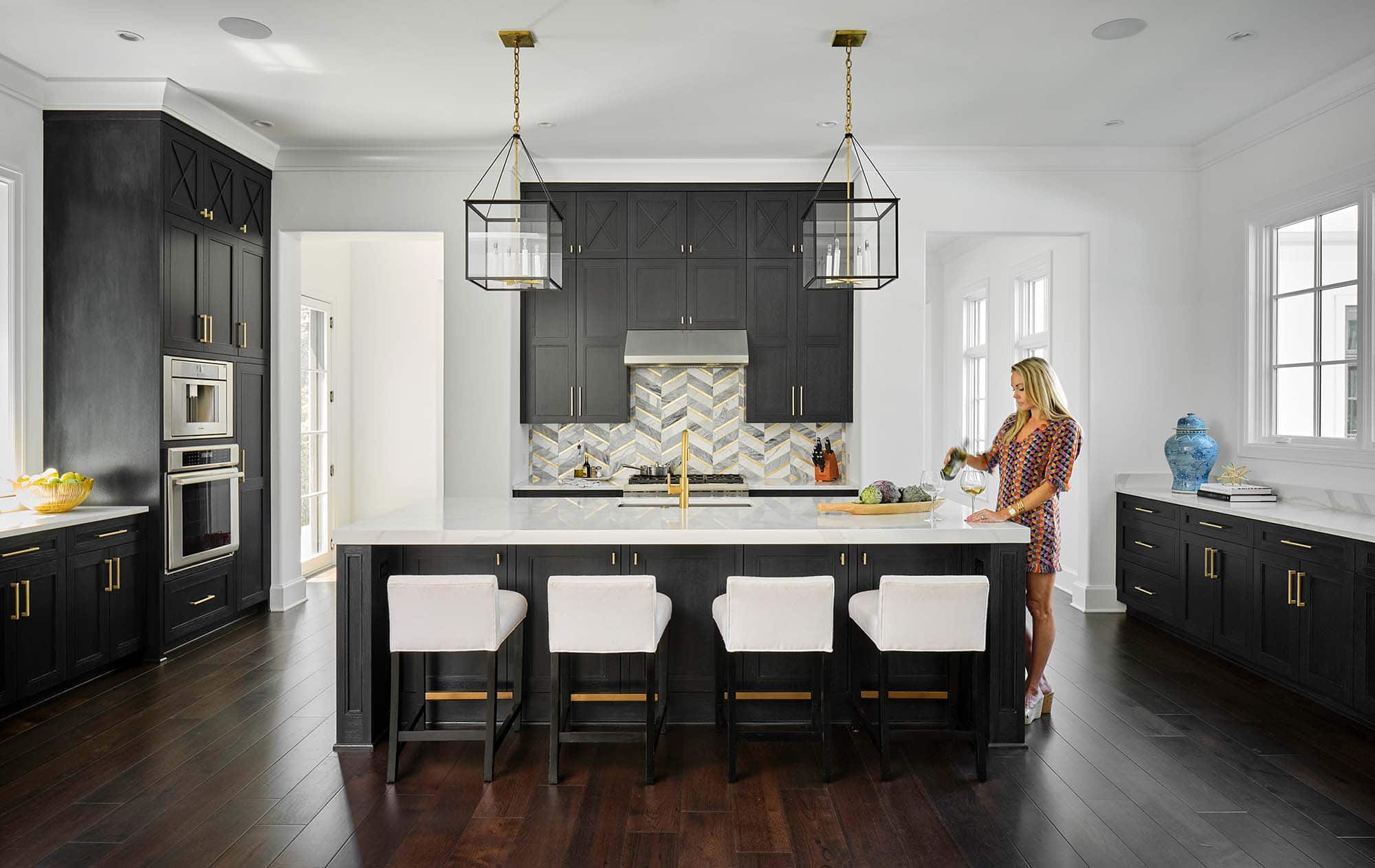 Flat and matte are so similar that it's hard to tell the difference.. Both the pale blue room with the game table and the kitchen shown above have flat paint on their walls, but they could have matte, and you wouldn't be able to tell them apart in a photo.
What about eggshell?
Many of us have shied away from flat paints, and maybe are just learning about matte sheens, but almost all of us are familiar with eggshell. I still consider this a low-sheen paint, but beware – for some product lines and some paint manufacturers, their "eggshell" is really "satin", which in my opinion is just too shiny for walls. A little uniformity in naming standards would be helpful, but until that happens, ask at the paint store just how shiny, or not, their "eggshell sheen" really is.
And be especially careful if your walls have a texture, such as orange peel or knockdown. The best paint finishes for these interiors will have minimal sheen, because otherwise the light will bounce off every tiny bump. You don't want your walls to have an aggressive "goose pimple" effect! Keep the sheen level looooow.
This dining area and master bedroom were both painted in Benjamin Moore "Swiss Coffee", in an eggshell sheen: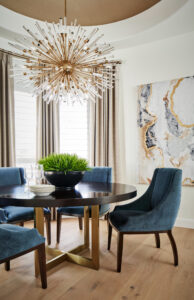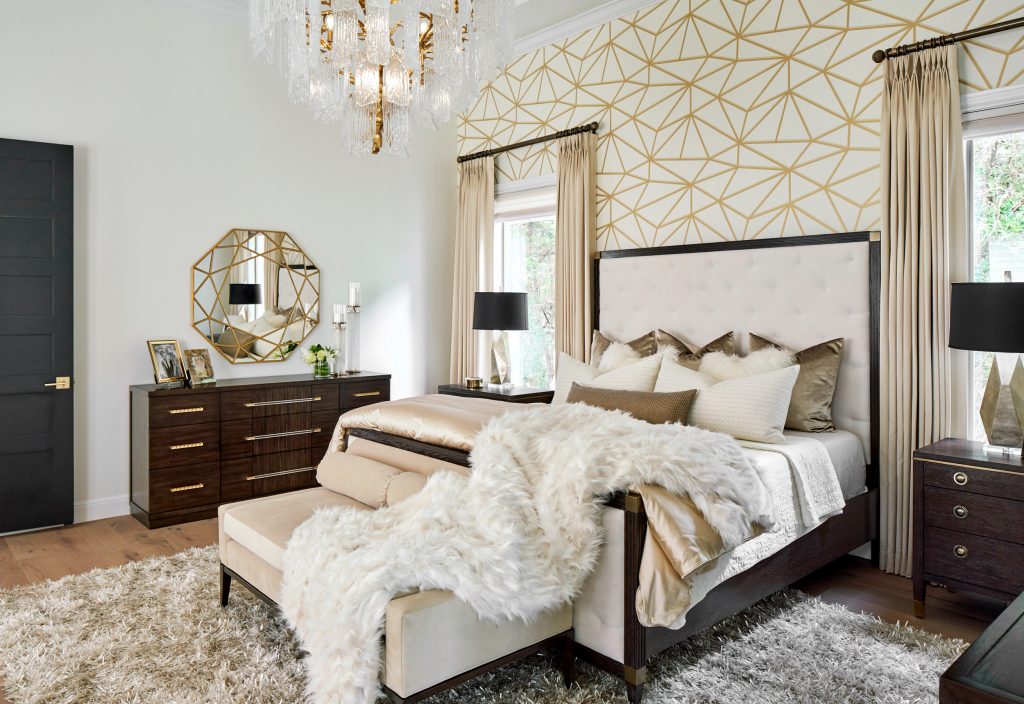 Medium-Sheen Paints: Satin
Some will disagree with me, but I consider satin a medium sheen, not a low-sheen product. Until the high-quality cleanable flats and matte paints came along, satin was considered the standard for interior walls, but in my opinion, satin walls are not flat enough to be soft and natural, and not shiny enough to be a design statement. Walls with a satin sheen can have an artificial, almost plastic feel to them that isn't usually the best look in a home.
When is satin sheen appropriate? For cabinets and woodwork!
Satin sheen is the go-to choice for almost all the cabinet painting and refinishing projects we do. A flatter sheen would leave cabinets feeling almost unfinished or unsealed, but satin is just right for a soft, elegant luster combined with excellent durability. Here's a sampling of cabinet projects we've done in a satin sheen, but you can find many more in our project galleries: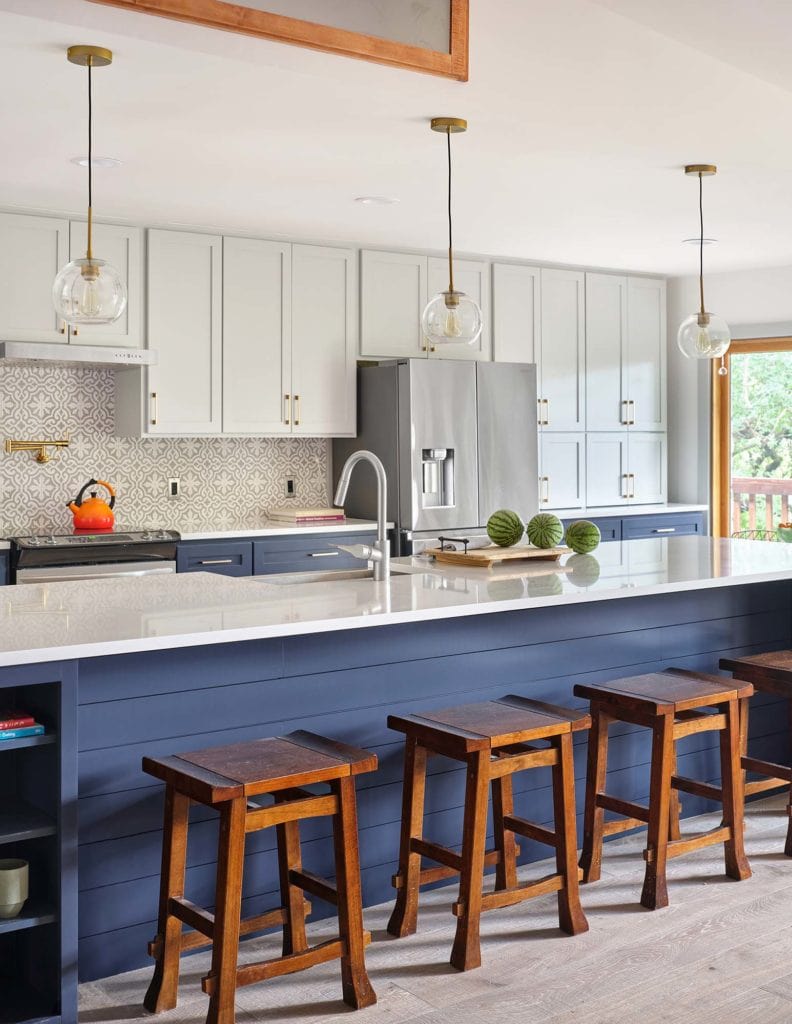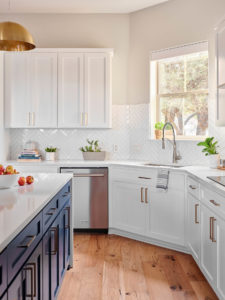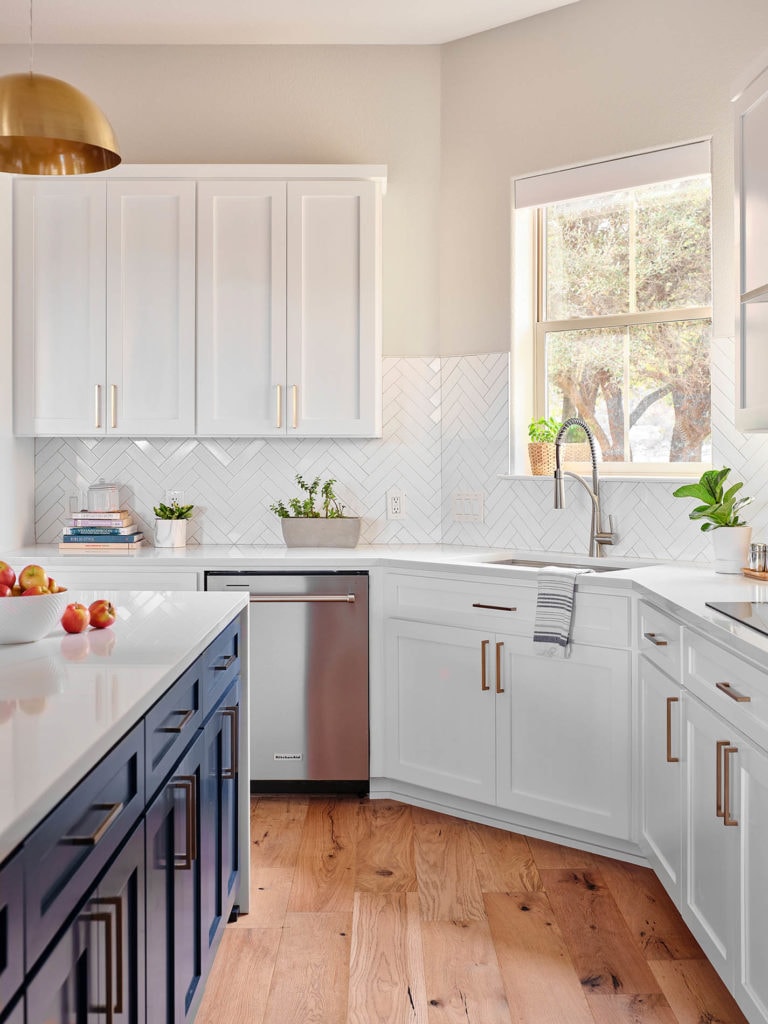 .
High-Sheen Paints: Semi-Gloss and Gloss
High-gloss paints make a stunning design statement, and you'll see them featured in some of the most gorgeous rooms by top-notch designers. However, use them with caution! The shinier the paint (and these are the shiniest of them all), the more you'll see the light bounce off every little bump or imperfection. Save these for high-end cabinetry or for walls and ceilings that are floated ultra-smooth, usually in deep, rich colors.
When you pair high-gloss with a deep, rich black, you get one of the pretties paint finishes around, what we call a "piano finish":
Which paint sheen is right for my project?
In a nutshell, will you be painting walls, or woodwork? Let's assume that you're selecting paint finishes for your own home, and not going for a bold, maximalist design statement like high-gloss walls in a deep, rich color.
---
.
When deciding between low-sheen, medium-sheen, or high-sheen paint finishes, here are some safe guidelines:
For walls and ceilings: use zero- or low-sheen paint finishes, such as a high-quality flat, matte, or eggshell paint. (For ceilings, you can default to a flat paint sheen.)
For cabinetry and woodwork: use satin, which is a medium-sheen paint. Unlike most walls, woodwork is already paper-smooth, so the light hitting it won't bounce off every little bump, and a satin sheen will give your woodwork a soft, gentle luster.
Save high-gloss paints for designer-driven, high-impact spaces!
---
.
Why do so many websites advise using satin on interior walls?
I believe suggesting satin paint for walls is outdated advice. It is true that the higher the sheen, the easier it is to clean. But there are now excellent cleanable flat or matte paints on the market that render putting satin on walls unnecessary.
What really matters about a paint's sheen is how it looks and how well it lasts. A good quality low-sheen paint may cost a bit more, but will look so much better, with an almost organic softness that is very flattering on walls. And it will hold up well to the activities of family life. Here are four excellent options, from Benjamin Moore, Sherwin Williams, PPG and Behr.
Just take a look at the gorgeous spaces in our Interior Painting Gallery. Not a single photo in our interiors gallery shows walls with satin paint! (Editor's note: this post was originally published in 2012, and updated in 2023, and this still holds true.)
The vast majority of our interior painting projects, including almost all of those done under the guidance of an interior designer, are done with zero- or low-sheen paint finishes on the walls, and satin sheen on the woodwork. Picking the best paint sheens for your home really can be that simple!