Black is a fabulous color for adding contrast, "edge", or glamour, and as home and cabinet painters, we've painted more than our share of black out there, so we wanted to share our top four picks for the best black paint colors.  There is a plethora of  options, but choosing one really comes down to where you want your black wall color or cabinet color to lie on the warm vs. cool spectrum.  It's pretty much that simple!  Out of all the black cabinet colors or black wall colors we've used throughout Austin and San Antonio, here are our favorites.
First, how do you choose among all the black paint colors out there?
Decide whether you need a "warm" black or a "cool" black, or whether you just want the most neutral, true deep black that you can find.
1. Black paint colors can have warm or cool undertones, just like any other color.
A "warm" black color can seem counterintuitive.  When you think of black, you may imagine a night sky with its blue undertones.  But for most homes, a warm black cabinet or wall color will be lovely and rich without skewing "cold".
2. Decide whether you want a true black or just a very deep, rich gray.
In our experience, many homeowners think that want a pure, deep black for their kitchen cabinets or front door or accent wall, but actually they want a very, very dark charcoal gray.  A rich dark gray will still "read" as black in most contexts, because it'll be the darkest color in the room.  But grays can give you a more nuanced color than pure black, and are a good choice if you're afraid that a deep black will look too stark or contrast-y in your space.
Here's how I envision the range of black paint colors you might choose from: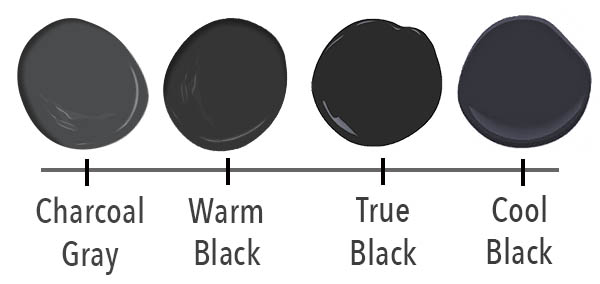 You'll notice, there's very little difference here!  But you're looking at small dollops of paint, on a computer screen.  Differences are magnified when you're painting walls or cabinets.
Here's the "short list" of what we think are the best black paint colors, just looking at some of our Austin projects and our projects in San Antonio, Texas.  These are all black cabinet paint colors, but the colors would look equally fabulous on an accent wall, in a small powder bath with a dramatic mirror and light fixture, or in a connecting space like a hallway or vestibule.  And of course, on a front door!
Let's start with the black paint colors, then we'll address dark charcoal gray.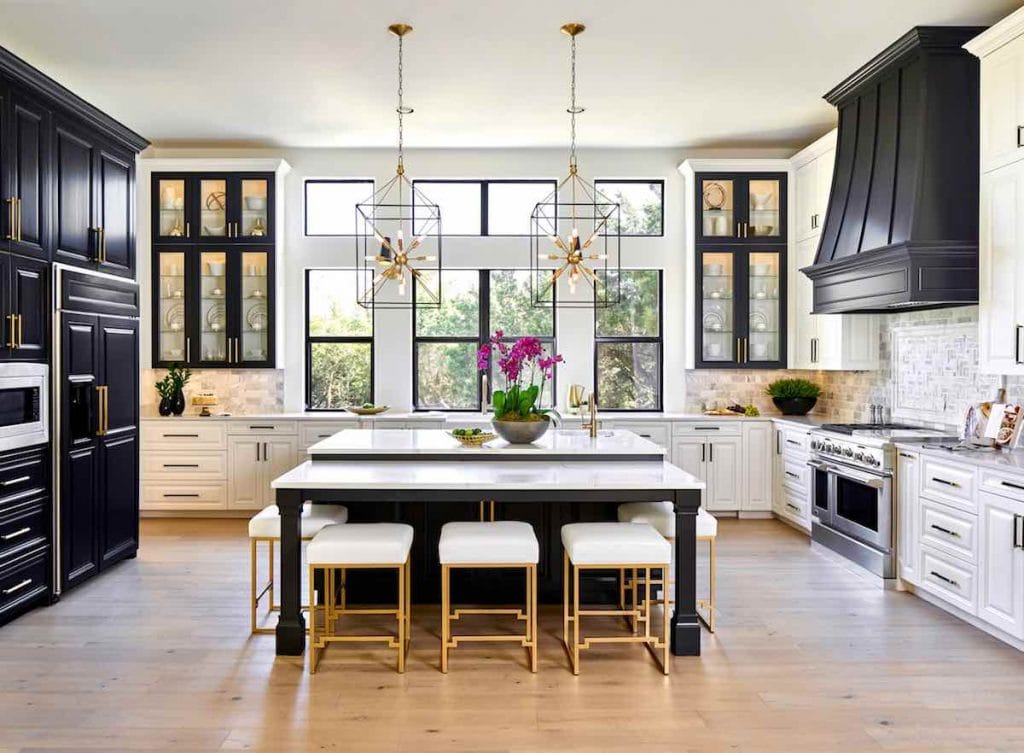 "Onyx" is a true black, a warmer version of Sherwin Williams' "Tricorn Black" (which we'll look at next).  We used it here to paint the dark cabinetry and range hood in this fabulous kitchen by Haven Design and Construction, based in San Antonio, TX.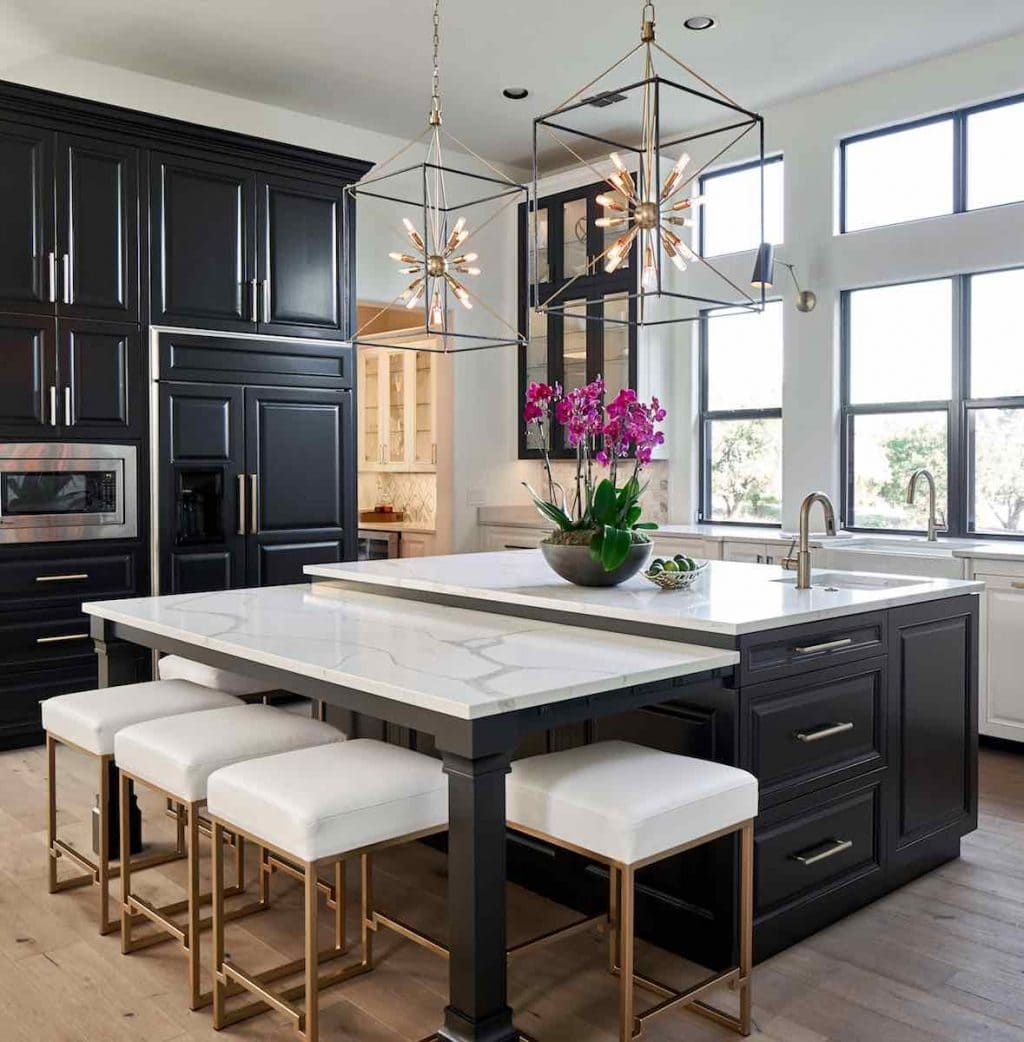 You can see that this is truly a warm black, one of the best black cabinet paint colors we've used.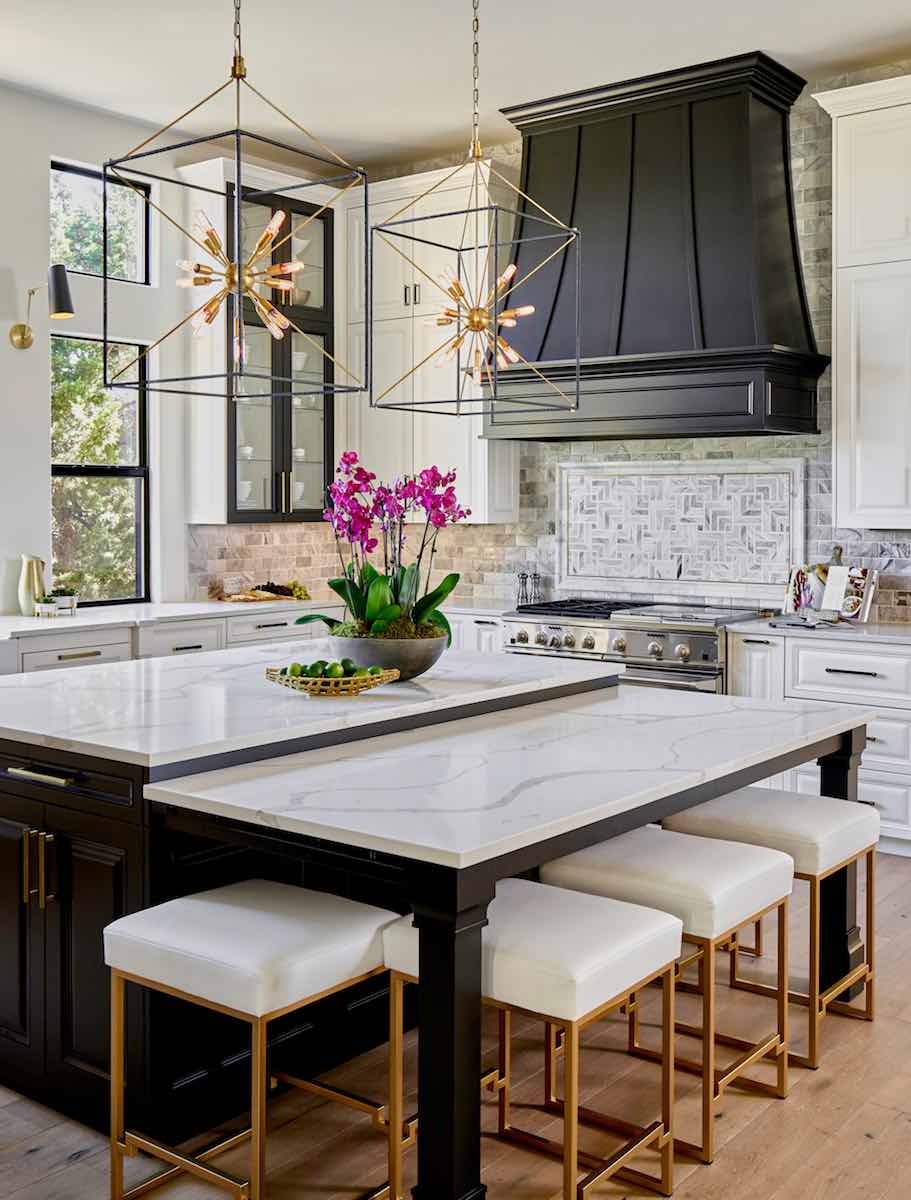 We also used "Onyx" on the shiplap wall and the lower cabinets in this Austin, Texas kitchen with more of a farmhouse style.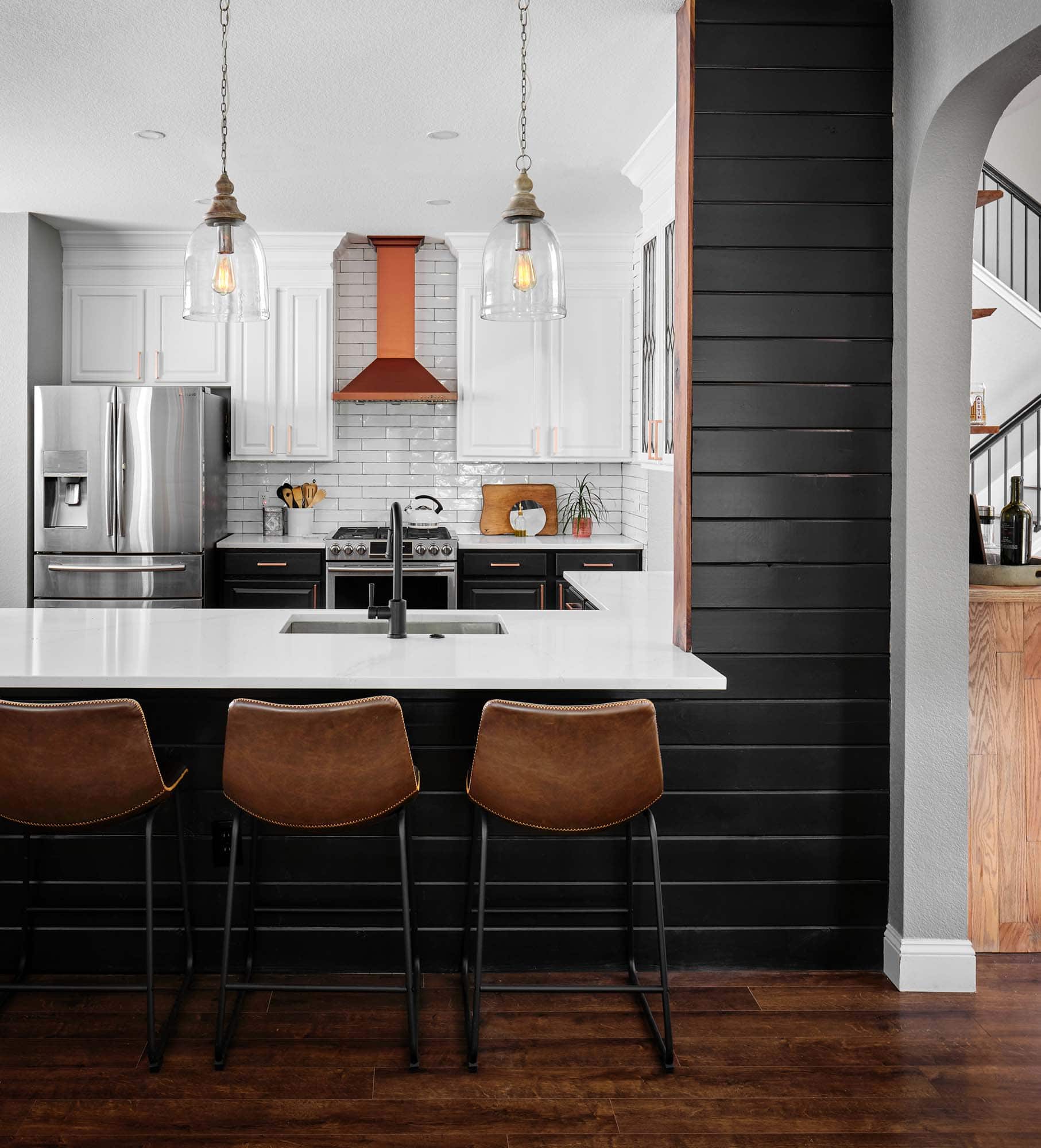 Here's its hard to see the warmth of the black color.  Regardless, it looks gorgeous!
A true neutral black (at least, in our experience), "Tricorn Black" is our go-to any time a homeowner wants a deep, inky black that's as dark as possible.  Two similar options are Benjamin Moore 2117-10, "Carbon Copy", and Farrow and Ball's "Pitch Black" (aptly named, no?).
Let's see "Tricorn Black" in action.  Here we used it in high gloss on the cabinets in this show-stopping master bath in Alamo Heights, Texas: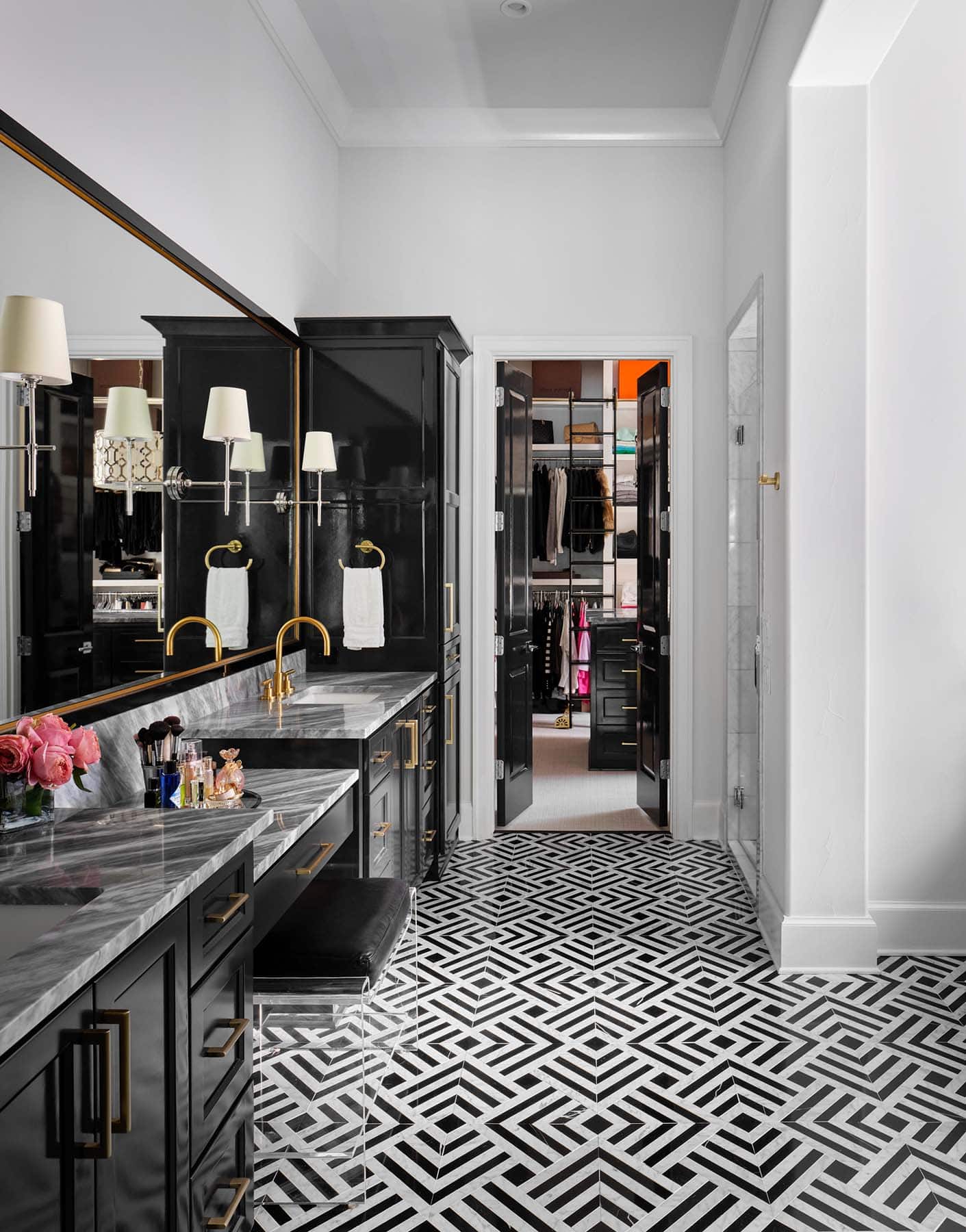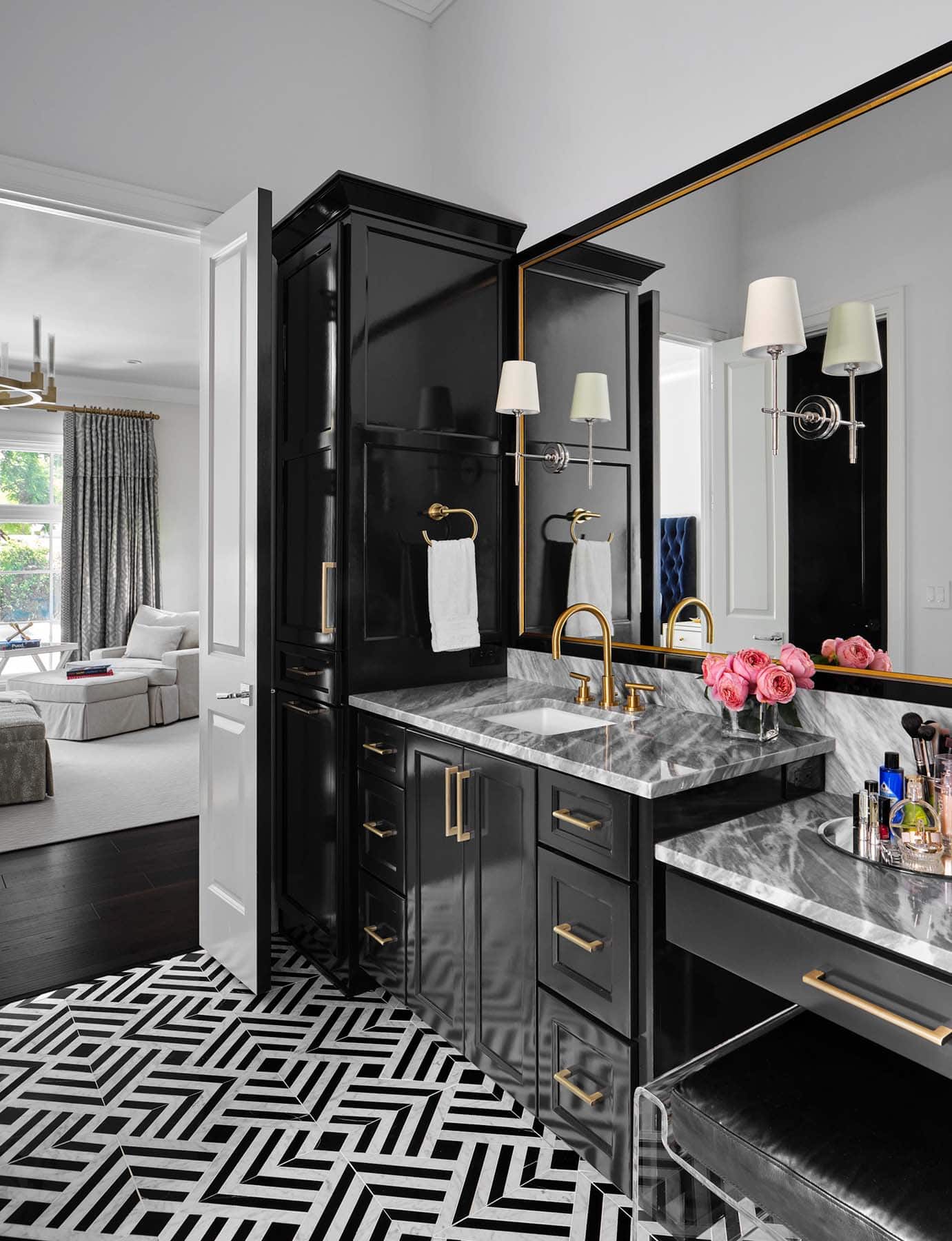 It doesn't get much deeper than this!  And we used the same black cabinet color on this home bar: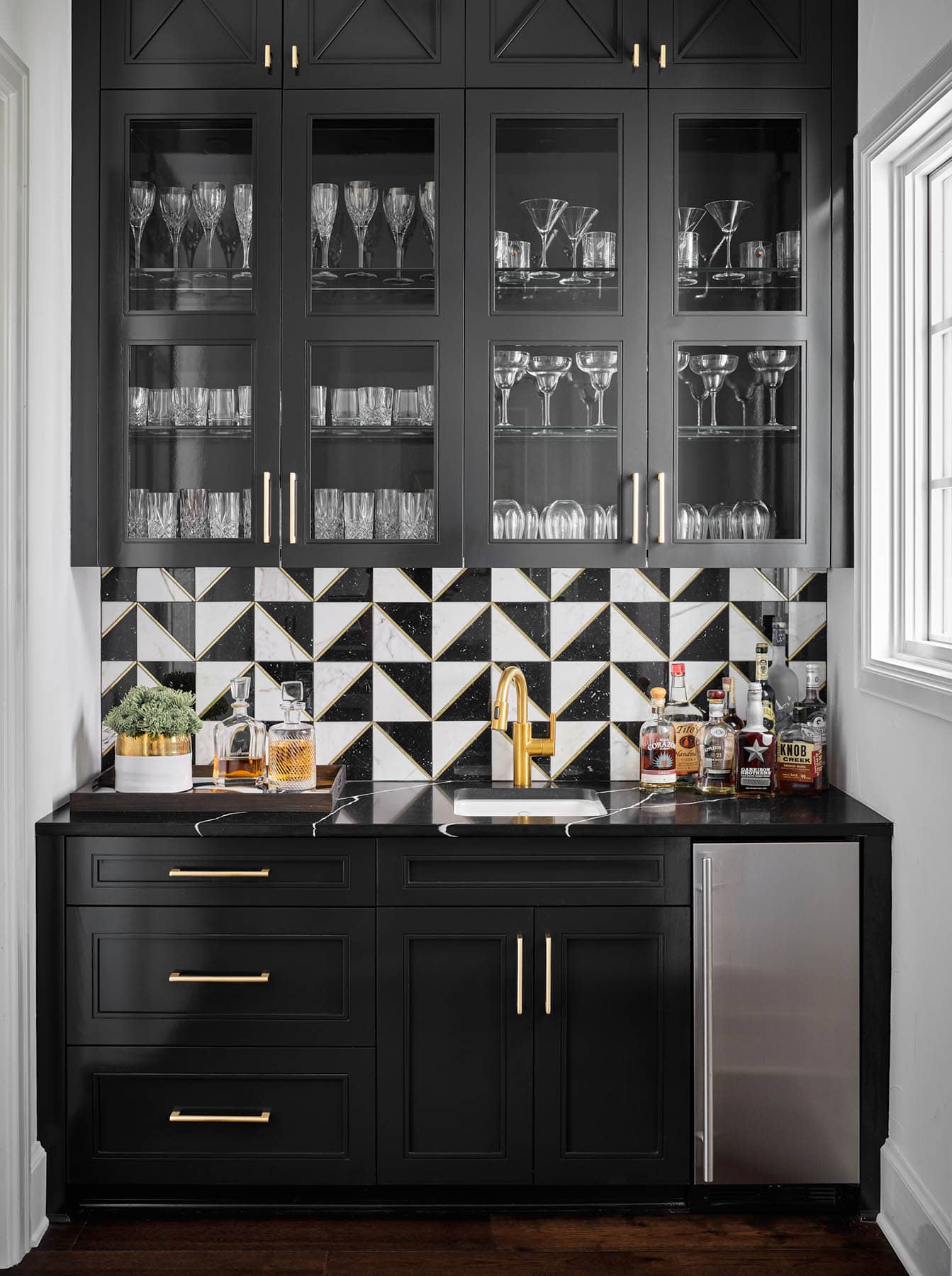 And "Tricorn Black" also makes a lovely front door color, as we did here on this Alamo Heights home (just a phone snapshot, but you get the idea):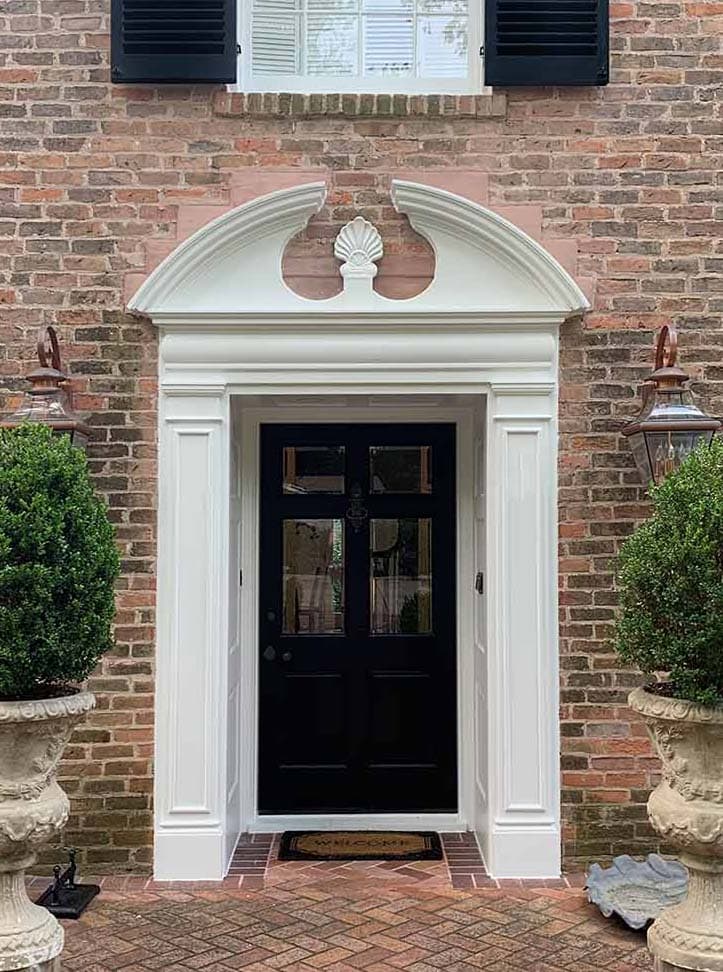 A cooler true black, "Inkwell" is similar to Benjamin Moore 1631, "Midnight Oil".   Here it is in a high-gloss version, in an Olmos Park home bar we painted: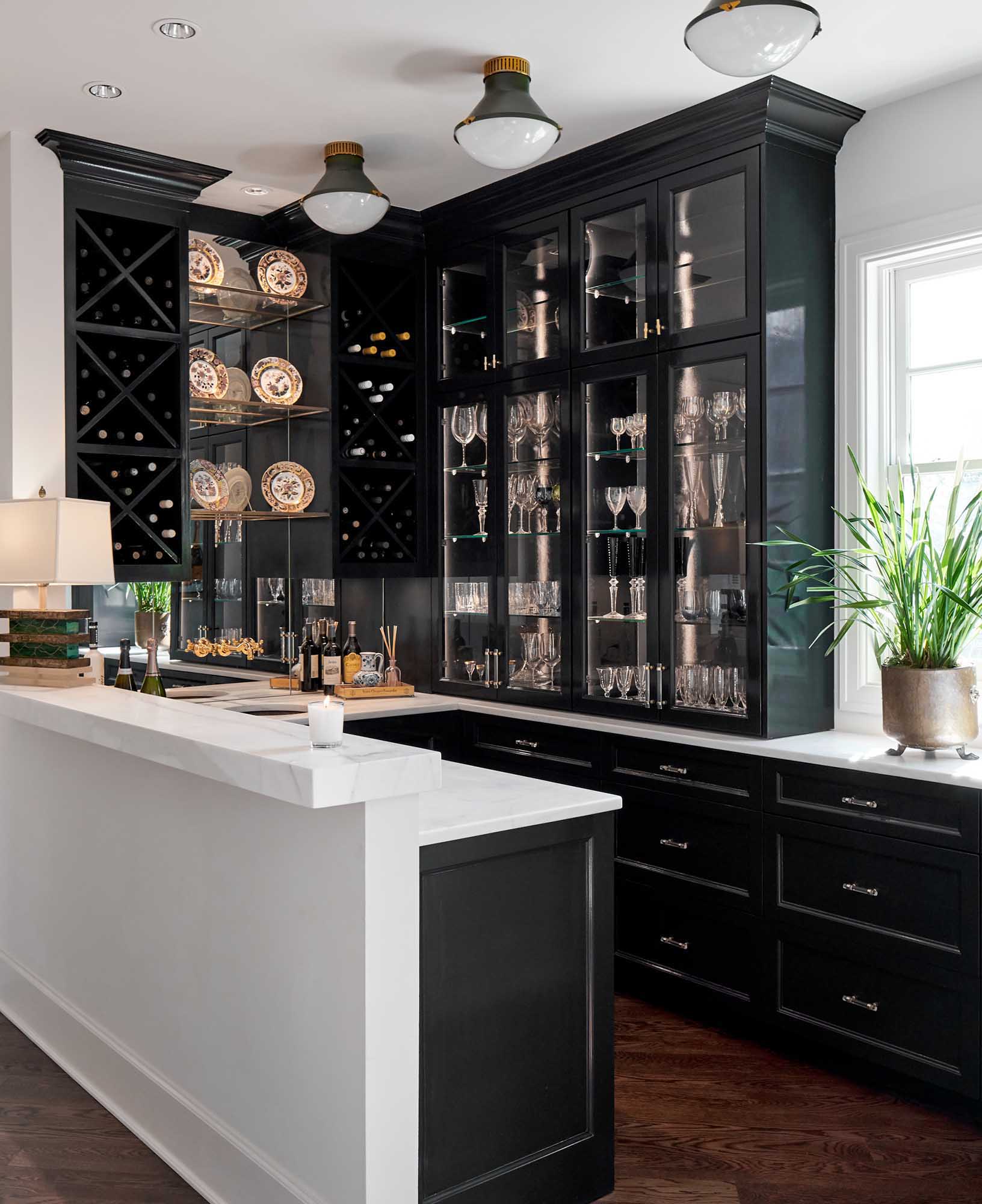 You'll notice that it's almost indistinguishable from "Tricorn Black", especially in high gloss, which deepens any color.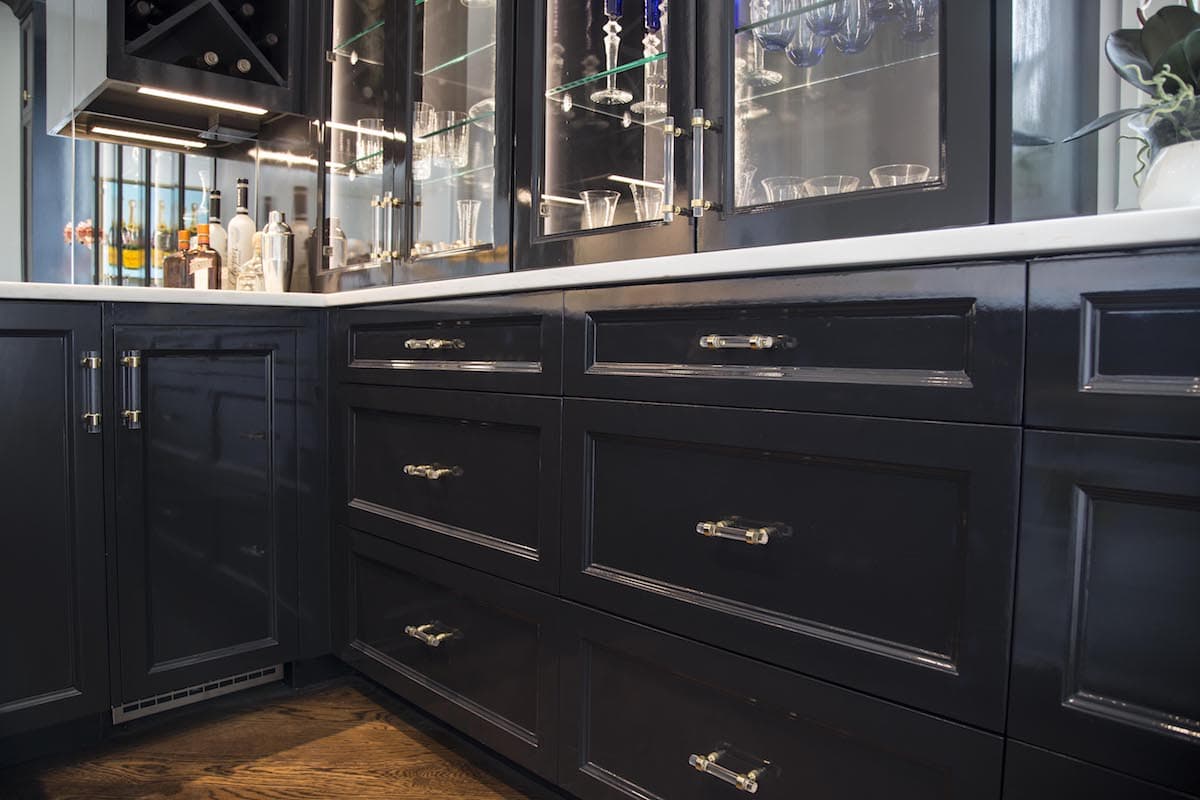 And on this lovely Olmos Park home which we painted for Styleberry Creative in San Antonio TX, "Inkwell" was the black paint color of choice for the front door and the shutters.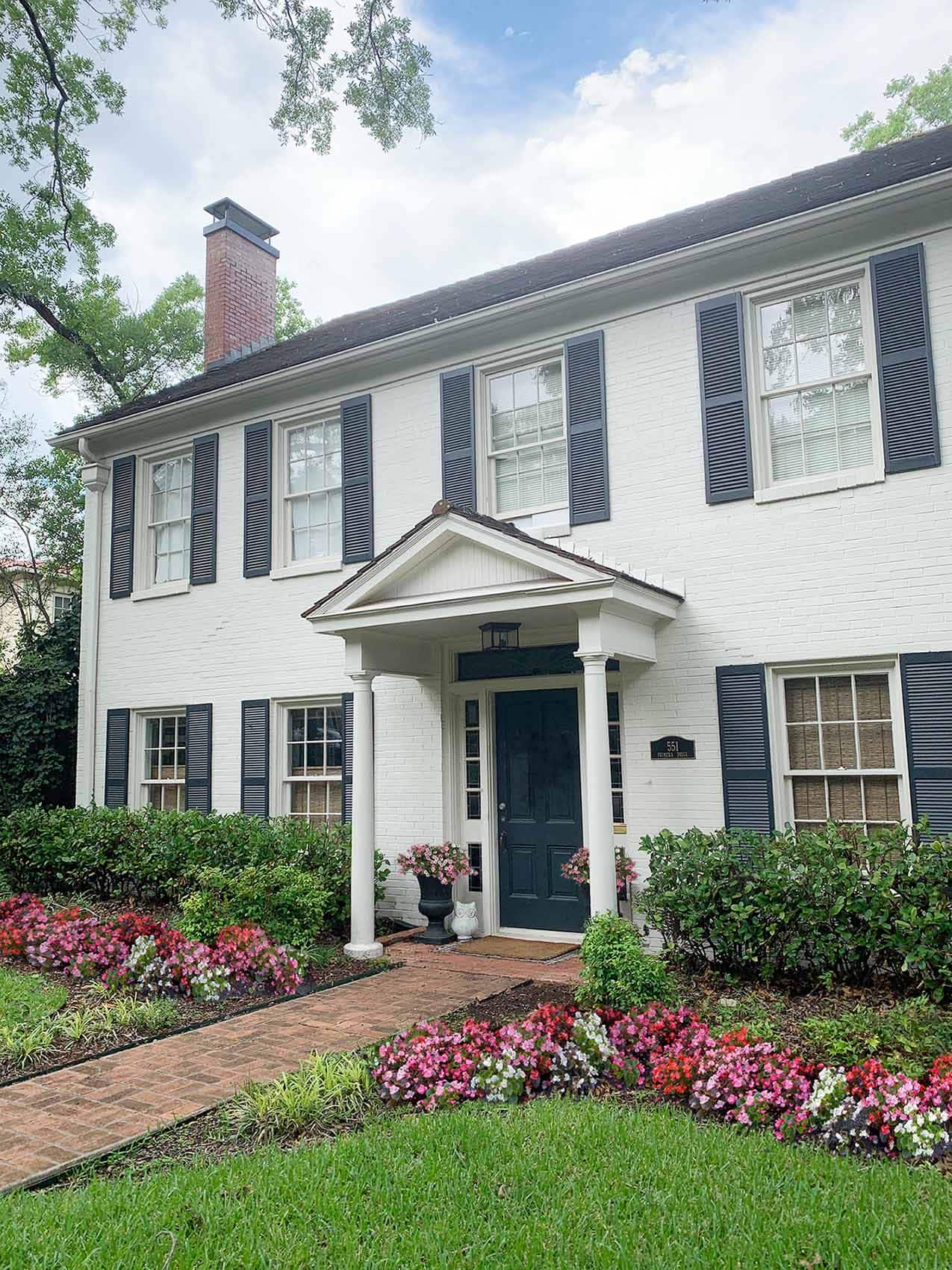 We've looked at our top picks for the best black paint colors, but what about a very deep gray?
Unless you're certain that you want a true black, add a deep, dark gray to your list of options to sample when you're picking paint color.  You might be surprised!  Dark gray will "read" as a black in most cases.  Our top pick: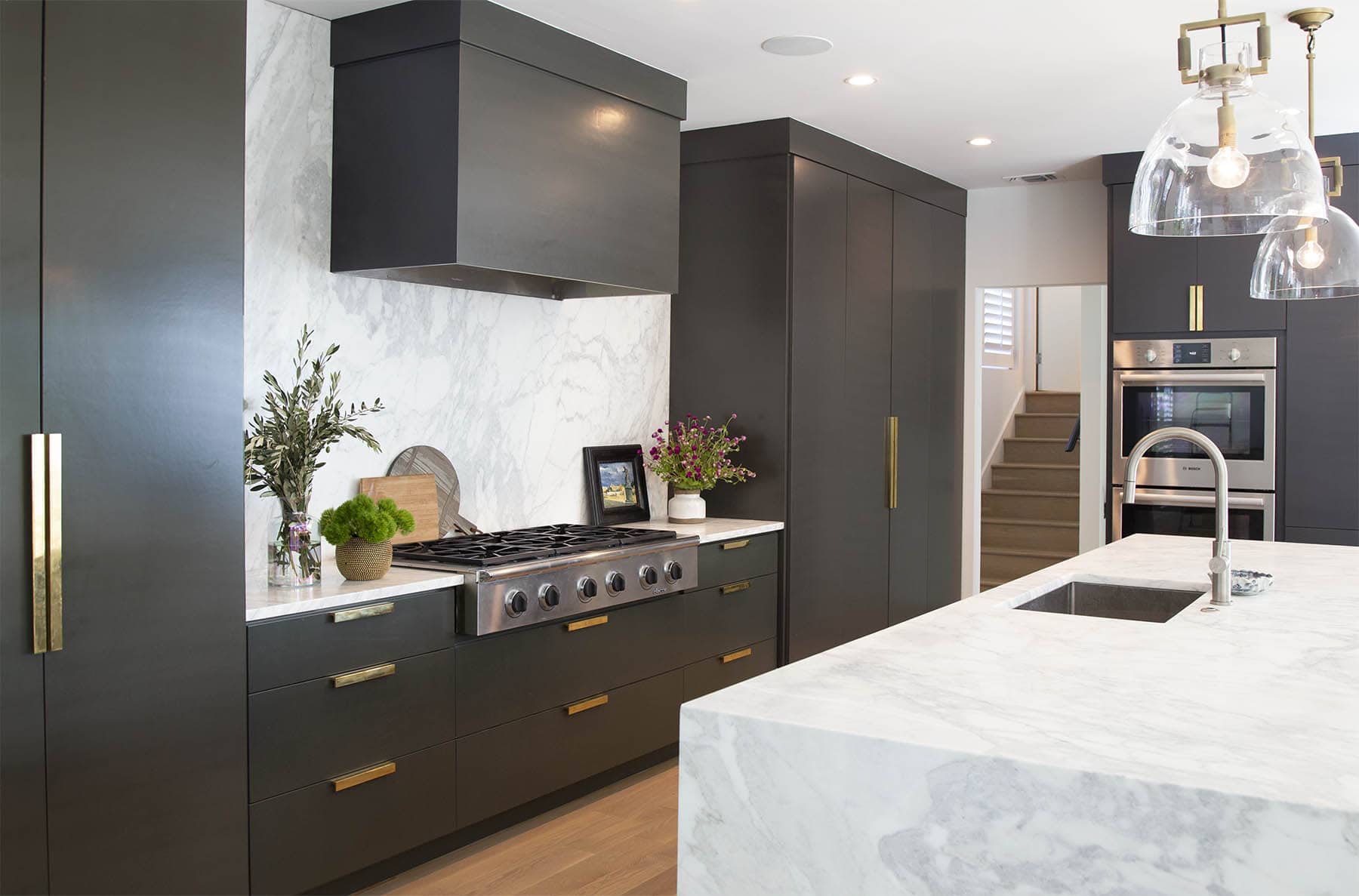 Right off the bat, I know you're thinking, "That's a gray?? It looks solid black!" And you're right, it does.  That's the point here, that a deep charcoal gray can easily look black, but may give you a bit more richness that just a true deep black would.
Here's the same kitchen from a slightly different angle: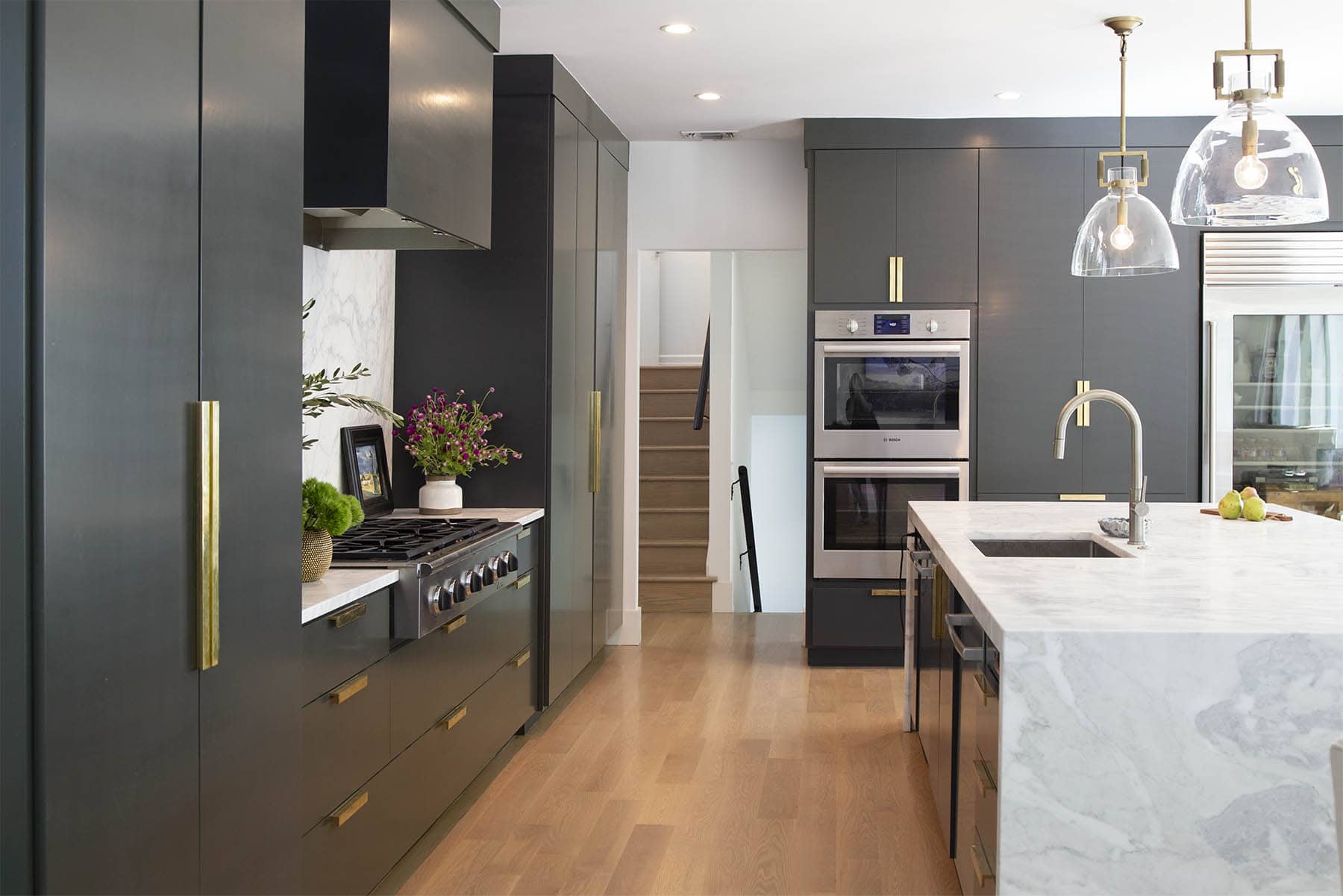 Here's another example of a San Antonio kitchen where we painted the lower cabinets in "Wrought Iron":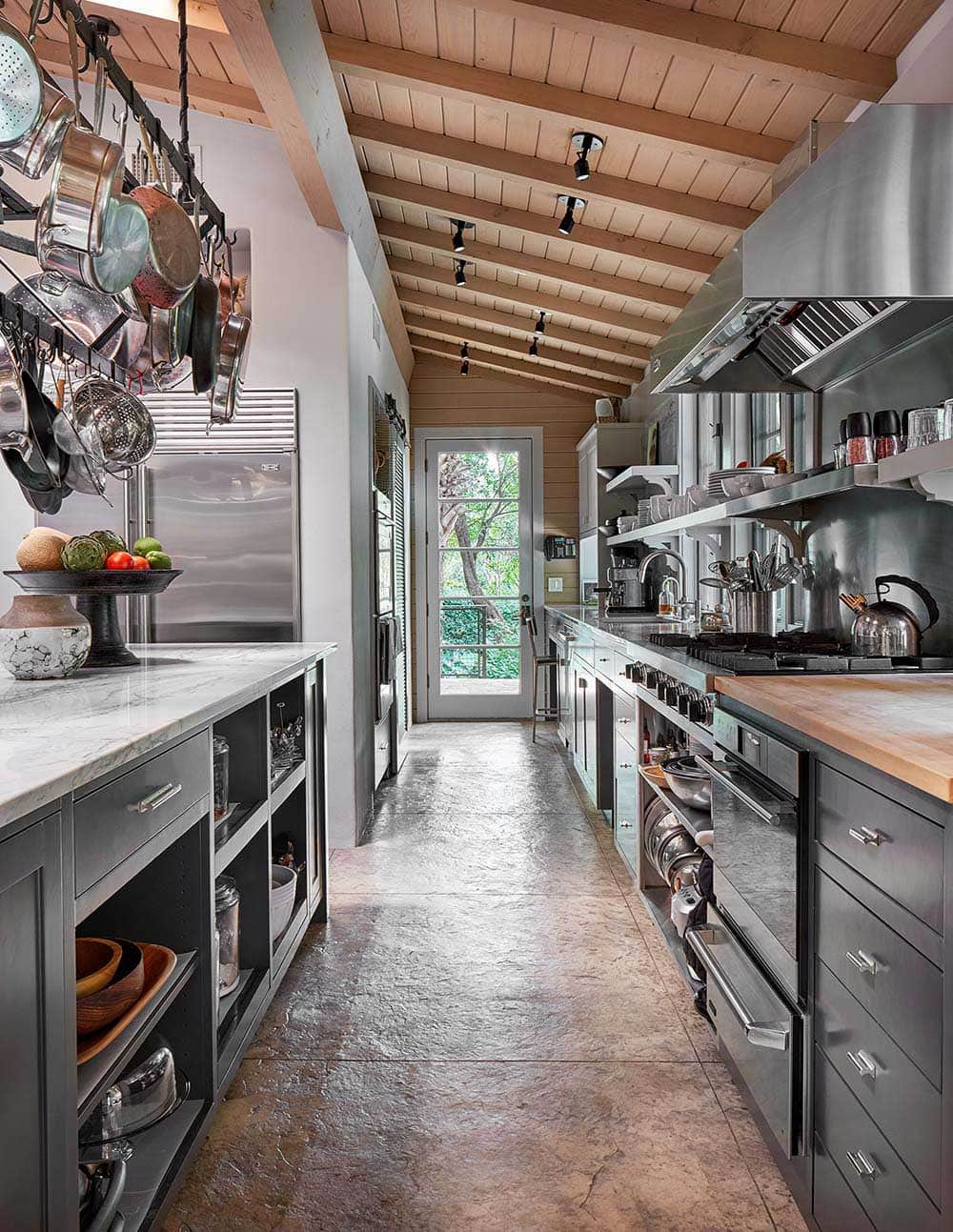 (Quite the chef's kitchen, no?  A dream for anyone who loves to cook…)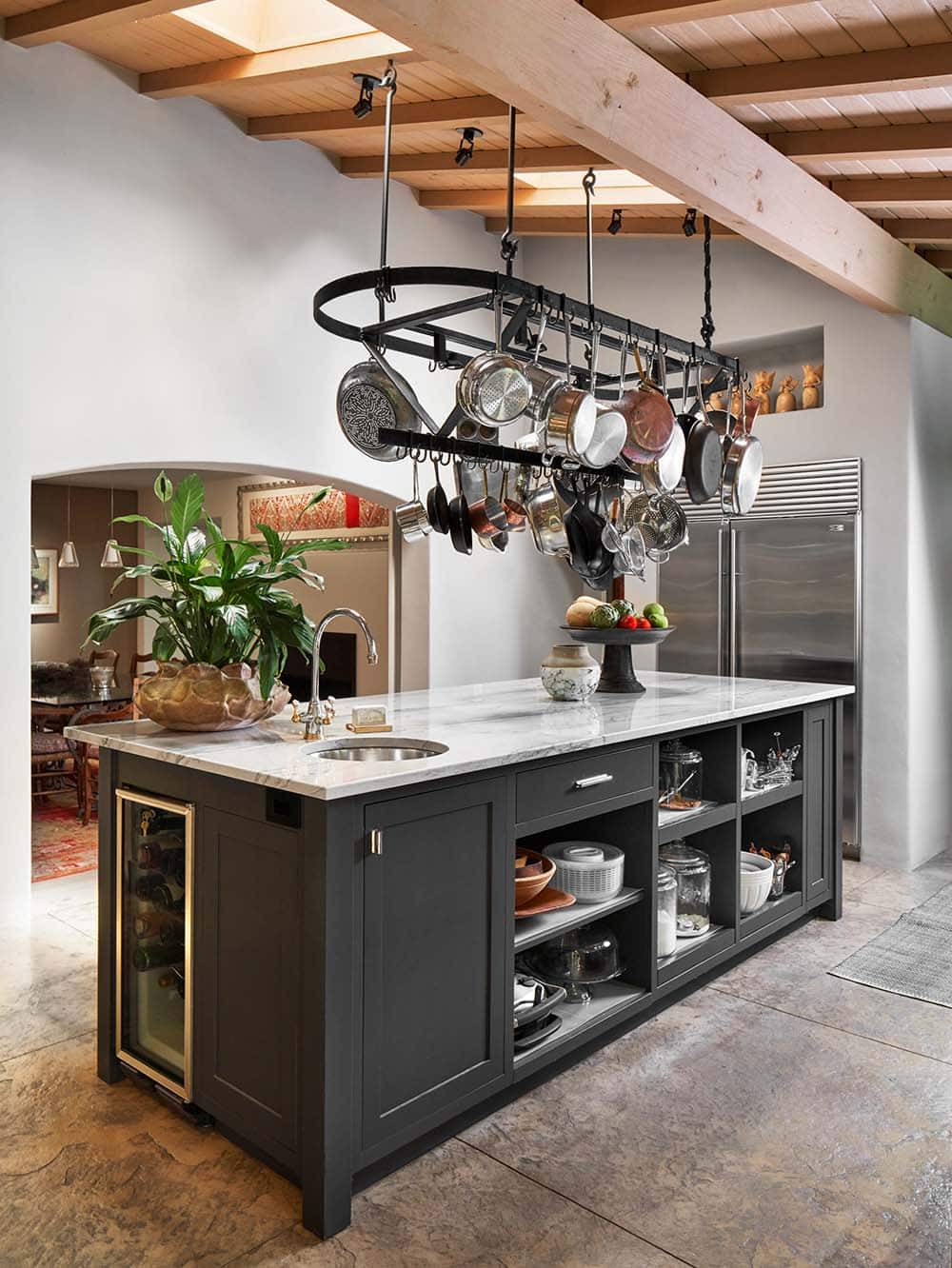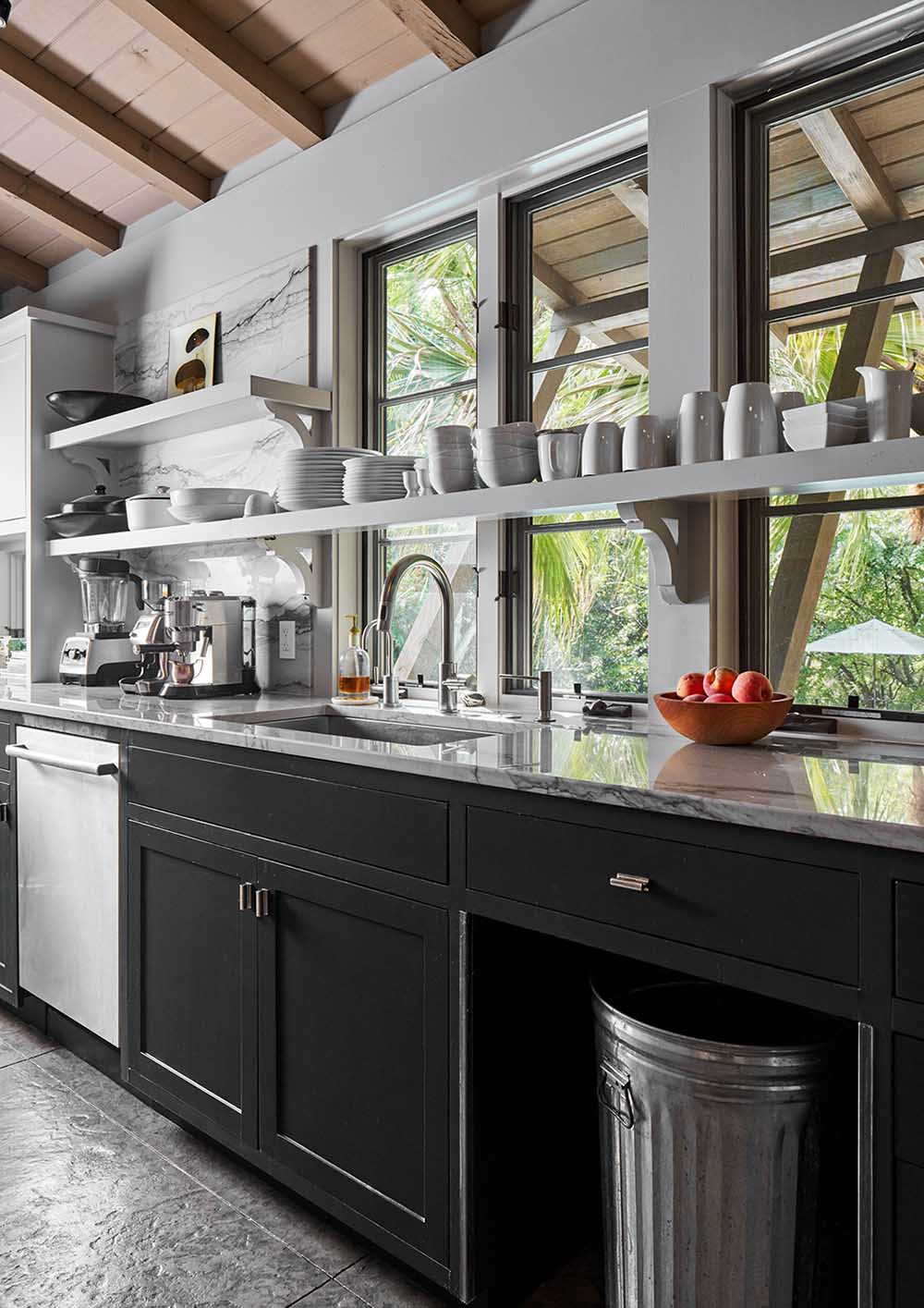 Depending on the angle and how much light is hitting it, you'd think this was painted in black, not a dark gray.
"Wrought Iron" is similar to Farrow and Ball's "Off Black", which we used in this home bar for Bel Atelier Design: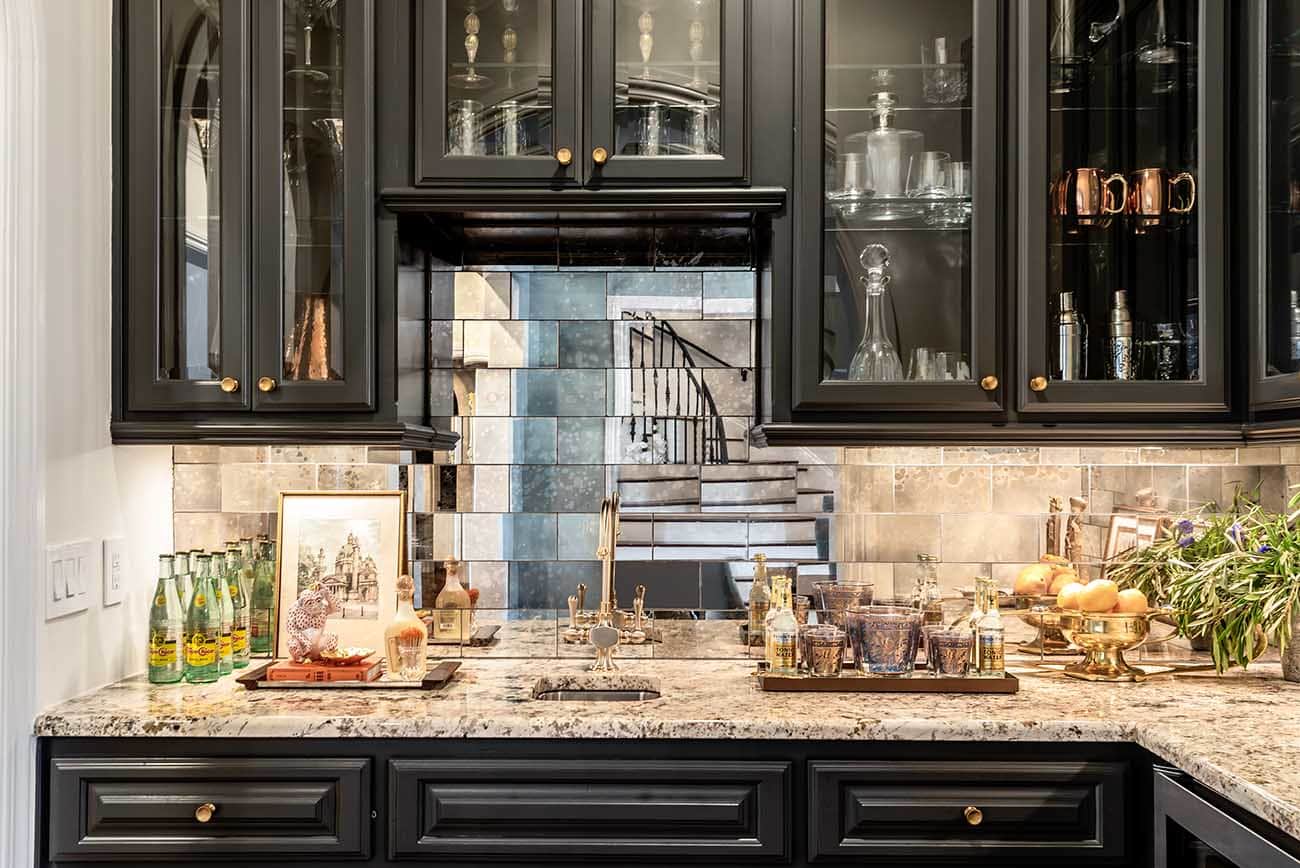 In some contexts, "Wrought Iron" will look cool instead of warm.  Which is why we always recommend you paint up a big sample of any color you're considering, to see how it'll look in your space.  And don't rely on online photos for color selections!  I know it's funny to say that in a blog called "the best black paint colors", but it's true.  Photos get edited, computer monitors or phones show them differently, and there's just no way to know how any one color will look until you see if for yourself in your space.  Interior designers (and many home painters or cabinet painters) have so much hands-on experience picking color, they can do so without painting sample boards every time.  Most mortals can't!
There you have it – our top four picks for the best black paint colors, depending on whether you need a warm black, cool black, a true deep black, or a very dark charcoal gray!