Painting crown molding is
usually

straightforward – just paint it the same color as the rest of the trim or woodwork in the room (the baseboards, door casings, and window sills).  But there are exceptions!

.

If we're painting kitchen cabinets in a new color, homeowners often ask us whether their crown molding should be painted to match.  Since crown molding often joins up with the kitchen's upper cabinets, the color choice (or any color difference) will get noticed.  We painted this entire kitchen below as part of an extensive remodel, and I wanted to show it to you as a great example of painting crown molding to match the cabinets, in order to define the room nicely.

(By the way, these photos are just some iPhone pics I shot once our Austin cabinet painters were finished and the remodel was finalized, but you can also see Matthew Niemann's professional photos of this project on our "Austin Cabinet Painting" projects page . . . they're soooo much better than quick phone snapshots!)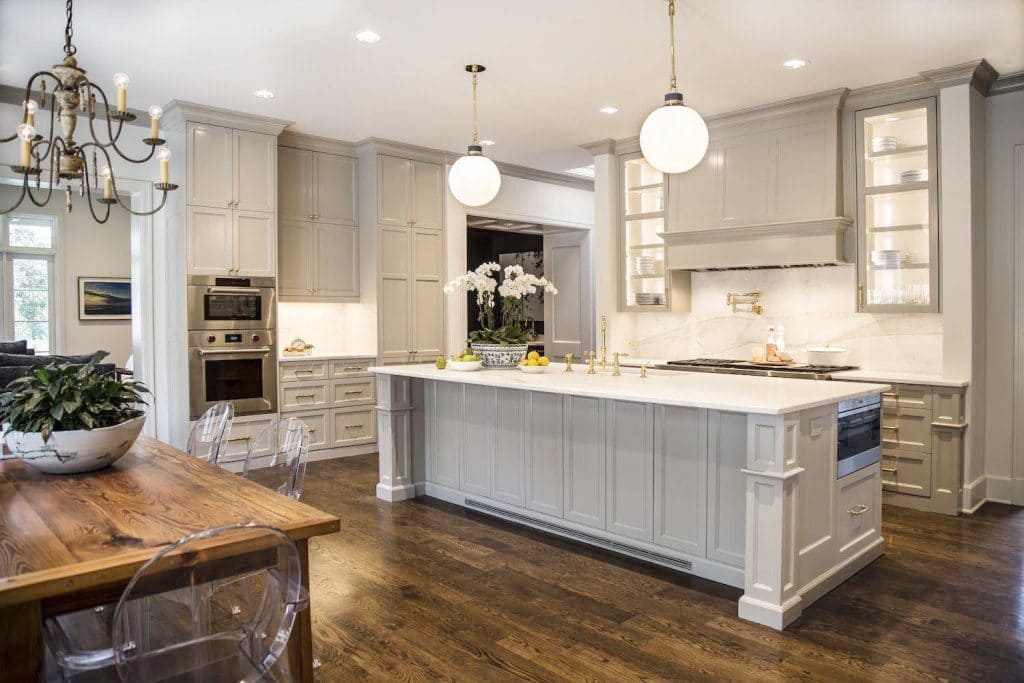 .
The kitchen cabinets AND the crown molding were painted in Sherwin-Williams' "Amazing Grey", a soft, warm gray that has green undertones.  We painted the walls and ceiling in SW 7009 "Pearly White", which carries throughout most of the house.  The other woodwork in the kitchen, such as the baseboards, is "Pearly White" as well.  However, designer Hillary Conrey opted to paint the crown molding in the same "Amazing Grey" as the cabinets.  The crown molding frames and defines the area nicely, as you can see in the breakfast area:
.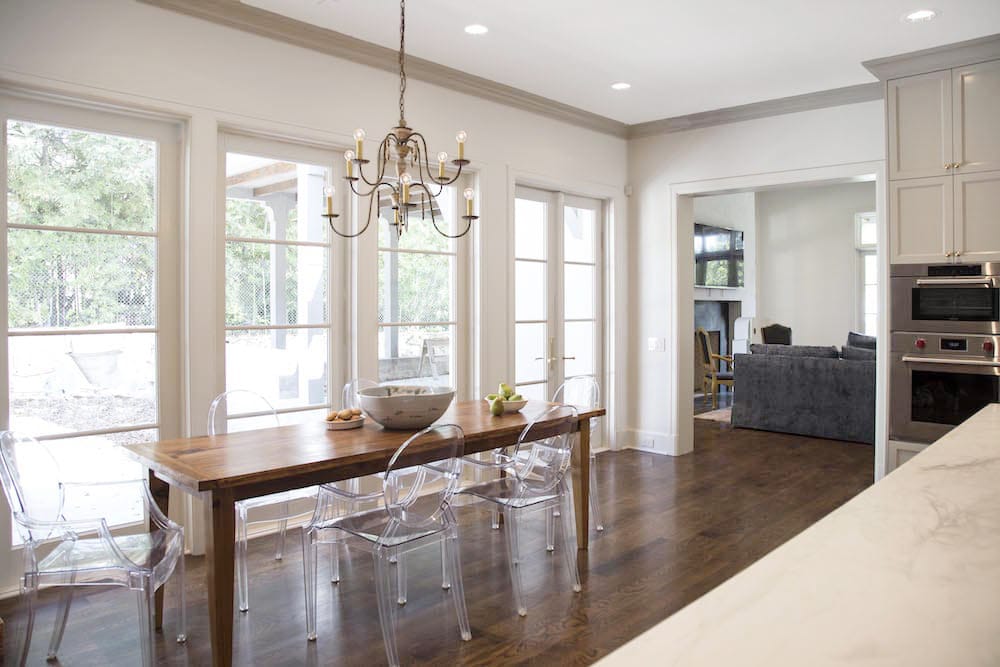 .
Nowhere else in the home has the crown been painted to match the cabinets like this, and it's a fantastic example of painting crown molding in an accent color (i.e. the cabinet color) to give the room's architecture a little extra definition.   When the kitchen cabinets are painted in a nice soft green-gray like this color, it's an especially "friendly" choice!
What about painting crown molding the cabinet color even if it doesn't touch the cabinets?
Still a great idea!  Check out this lovely home by famed San Antonio architect Atlee Ayers.  We painted the kitchen cabinets and the room's trim (crown molding, window frames) in Sherwin Williams "Riverway".
The finishes and color choices in this room are done to perfection.  The room looks collected over time, with a farmhouse vibe that leans sophisticated rather than rustic.
We couldn't resist one more example where painting crown molding to match the kitchen cabinets has been done to perfection. In this gorgeous kitchen by interior designer Mallory Mathison, notice how the window frames are painted to match:
.
.
Could the trim and crown molding have been painted white in this project?  Sure . . . but painting it all to match the cabinet rich blue cabinet color elevates this kitchen to a whole new level of custom sophistication.
.
In other words, scary as it may seem, we think painting crown molding and trim to match your kitchen cabinet color is a great idea!