Perhaps you've noticed lots of black painted trim – doors, windows, woodwork – in interior design magazines.  The problem is, not ALL the trim is black, which makes it hard to figure out the pattern.  Maybe all the baseboards and crown molding are white, but the windows themselves (the metal, wood, or vinyl parts – not the glass, of course!) are black.  I love that look  – you'll see it often with sleek metal-framed windows or doors.  But should that be the only black in the house?  And what if you like the look of black painted doors or baseboards, but don't know where or how much?  After all, any mistakes here are sure to be noticed!
Let's assume you want to use black painted trim somewhere for elegance or drama, but don't know where or how.  Here are some thoughts, inspired by a recent project we did in Alamo Heights that used black trim very well:
1.   If you want black painted trim on your windows, make sure the windows are fairly large!
As you can see in this first photo of the breakfast area, the large windows are painted black.  (We painted all the trim and windows black on the outside of the house as well, as you can see through the windows here.)  Note that I said "large windows"!  Smaller windows upstairs were left white.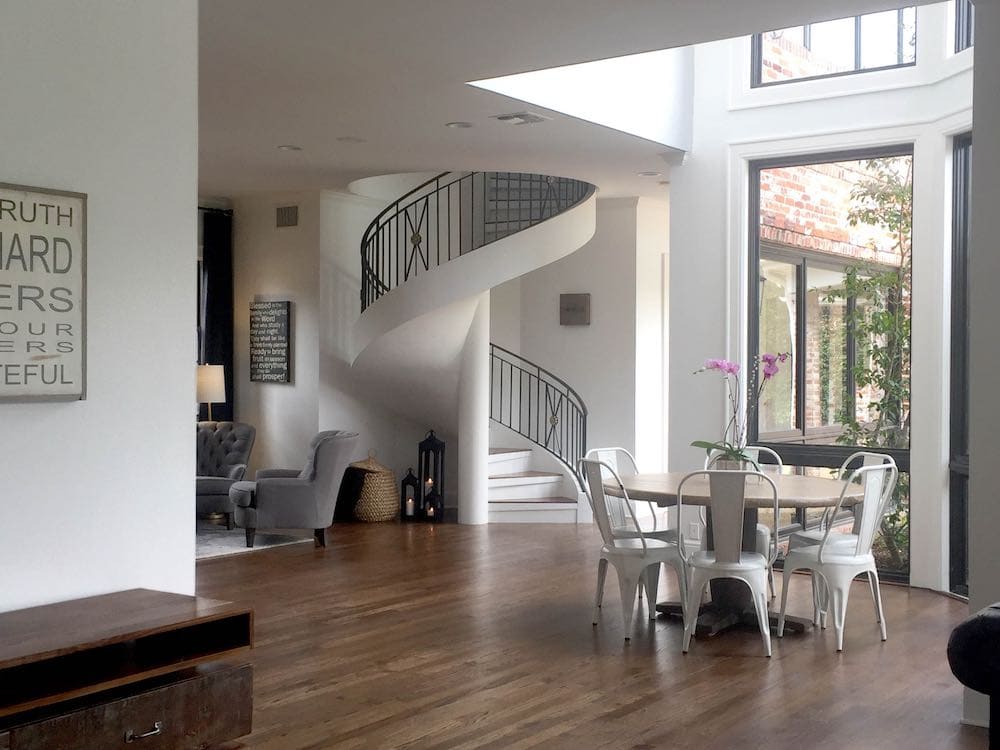 What's the principle at work here?
Small windows look even smaller when they're black, and they make the room look busier.
2.   "Statement" windows are perfect showpieces for black painted trim.
This sitting room has lovely French doors with curved windows above.  Because this is a noteworthy feature, you'll want to call attention to this beautiful architectural detail, and painting it black will do it!
3.   Glass-inset doors look lovely painted black – especially with brass hardware!
These interior French doors (below) open from the living room into an office space.  All the other trim nearby stayed painted white –  the baseboards, crown molding, and all other woodwork in these rooms.  But the French doors function visually as just large windows, after all.  Painting them in black "frames" the scene behind it, and adds some lovely dramatic contrast.  And updated brass hardware looks great on black!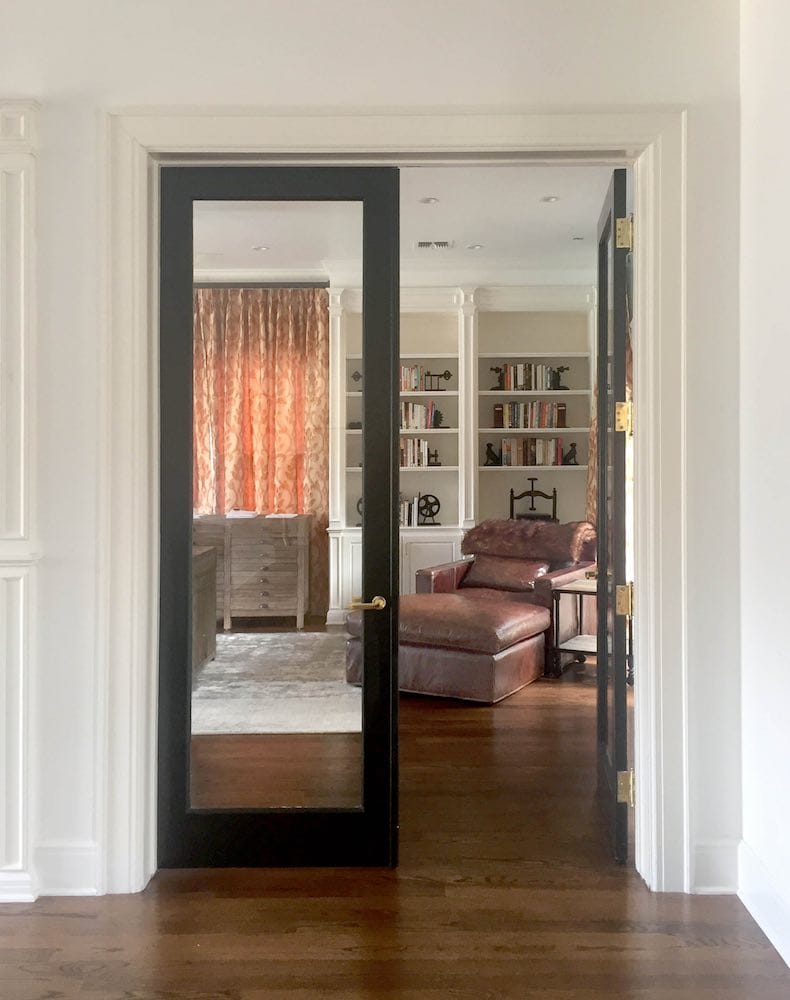 4.  Don't paint
solid

doors black!

The only exception:  All the doors, door frames, and baseboards throughout your house are painted black, so the black "flows" from room to room.  Otherwise, isolated solid black doors will look like "black holes" in your interior!  (This doesn't apply to glass-inset doors, of course.)  This hallway leading back to the garage is a perfect example.  The French doors and the large windows are black.  But all the others doors, on the left, remain the same white used throughout the house.  Since those are left white, they visually melt away and don't draw attention to themselves.  If we had painted those black, the hallway would look like a giant set of piano keys!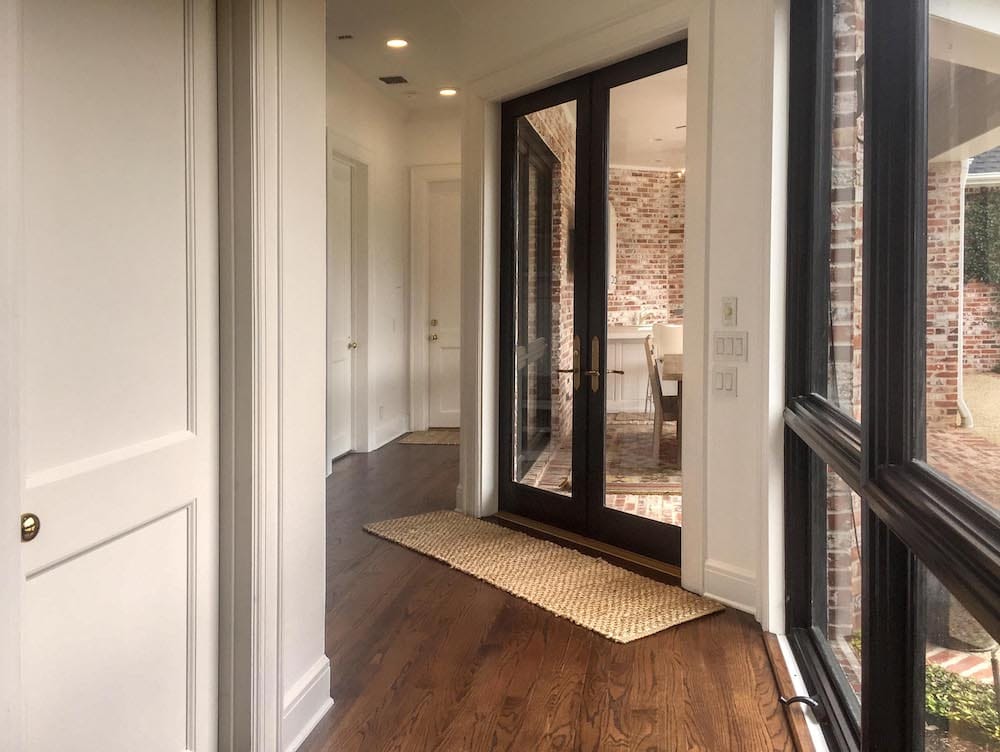 One last thought:
Keep the door frames and adjoining baseboards white!
When the door frames are painted black to match the doors, the whole thing just tends to feel visually massive and heavy.  Furthermore, I tend to think it looks awkward and "clunky" against the white baseboards that probably go throughout your house.  Limit the black to the actual doors only!
Finally, one more "last" thought, since I get asked this question all the time:
Sherwin-Williams "Tricorn Black" is a lovely neutral black for these purposes.
Hope that helps!  And if you have black painted doors or windows like these, I'd love to see them!  Just put them in the comments below, or email me any snapshots to [email protected].  🙂
Thanks!
Lisa
P.S. Kudos to the fabulous Julie Bradshaw and her team at Bradshaw Designs, who designed this house to perfection! The owners are a young family starting to pull together their first home, and the results are just lovely.  There will be more photos from this project coming up in our Paint and Cabinet Galleries!