Visualize an excited homeowner who just moved into her house, and is opening the door for the color consultant to come in and work her magic.  As a color consultant, I know exactly what the homeowner is probably thinking.  She is thrilled to have finally moved into her house but is decidedly NOT thrilled with some of the home's existing finishes.  The house was on budget, in a great neighborhood with top-notch schools, and it has a great floor plan, or backyard, or more than enough space for the family.  But the trade-off is that the house has hideous granite countertops, an outdated kitchen backsplash, and tile flooring throughout the main living areas in a nondescript beige tone that is almost a pale peach (ugh).  And the homeowner has a dozen inspiration photos to show me, of bright white interiors with hardwood floors and quartz countertops.  And did I mention the budget only allows for painting, but not for replacing the tile floors or the granite counters?  Hmm.
Color consultants have a challenging job to do.  We have to give advice that we know sometimes isn't wanted.  When homeowners call us, we know they're hoping for a quick and easy solution, a magic bullet that will transform their dated 90's house into an Instagram-worthy oasis.  We can't blame them.  We know that walls and ceilings occupy the greatest amount of visual space in a home, and that the right paint color will have the single biggest impact on how that space looks.  Nothing short of a full remodel will transform a space more than the paint color on the walls and ceilings.  (Floors have the second-biggest impact.)  This is why we're in this business, after all!  There's nothing like the transformative power of paint.
But paint can't do everything.  Unless you're going to do a full HGTV-style remodel, your choice of paint color will have some pre-existing limitations right from the beginning.  Here's where color consultants have to walk a delicate line between giving the homeowner what they want, and giving them a color that actually works in the space.  Ideally, those two goals coincide.
So, here are the six things that a color consultant will want her client to understand, to make the color-selection process a little easier and more satisfying, and ultimately, more successful.
 1.  You need to take your home's "hard finishes" into account.
If you google "color consultant", you'll see a lot of stuff online about how they select a full color palette based on the client's favorite color and maybe some item of inspiration, like a piece of fabric.  This may be the case for some color consultants who are more like full interior designers, but it's not at all how most paint color consultants function.  If your home is empty or you're about to undergo a full "gut job" remodel, then that's possible (and you really should hire an interior designer for that level of full design).  What a paint color consultant will do is take the EXISTING home, and tell you what color(s) work in THAT space.  We don't pull colors out of the air for a theoretical future home design, we find the colors that work with what you have here and how.
That means that your home's "hard finishes" (flooring, countertops, backsplash or shower tile) will dictate, to some degree, which color you can paint your walls or cabinets.  Unless you're replacing those kitchen countertops, you have to take them into account.  Why?  Because color is always perceived in contrast to the colors around it.  If your counters are an orangey-brown granite and your flooring is pinky-beige tile, you can't paint your walls that pale gray that you always wanted.  Well, you can . . .  but they'll look blue rather than gray against the floors.
Check out the third video on our "Color Lessons" page, called "Updating a Yellow Tuscan Interior", which illustrates this point.  The homeowner wanted us to help pick a gray wall color, but that just wasn't going to work with their stone floors.  See what color we recommended instead!
Take a look at the lovely kitchen here, which we painted for Abode Interior Design.  The new, off-white paint color on the walls and ceiling goes beautifully with the stone floors, countertops, detailing on the range hood, even the sinks.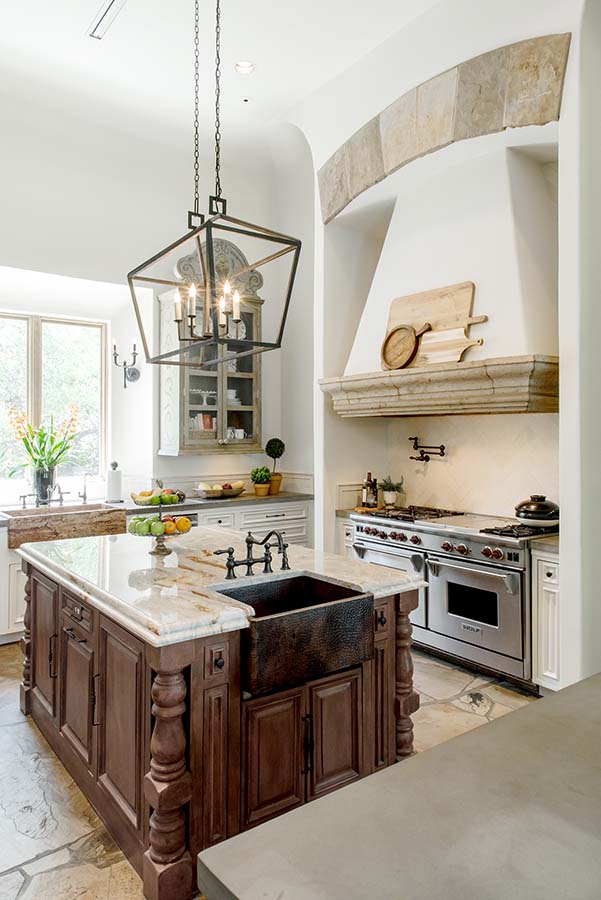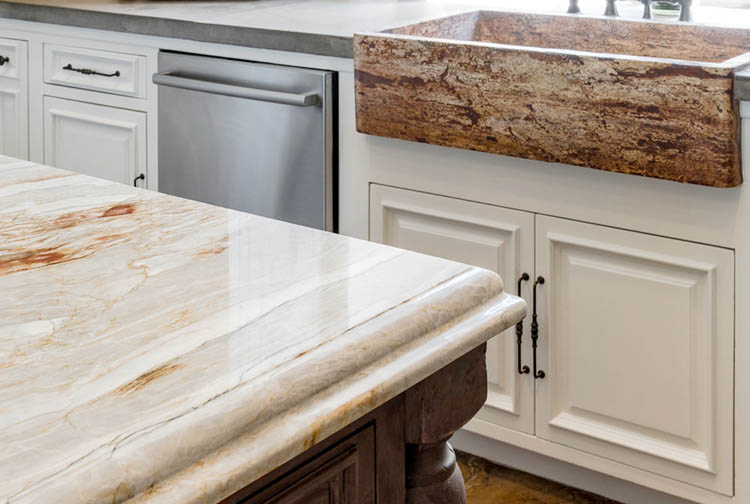 A brighter white would've looked too stark, almost like a blue-white sheet of paper, against the existing hard finishes in this kitchen.  The skilled designers at Abode made the right choice.
(By the way, this is one of the most dramatic transformations we've ever experienced.  See what it looked like before, on our kitchen before-and-after page.)
Don't despair if you hate your flooring or counters or backsplash!  We can help you find a paint color that will minimize their ghastliness and get you, if not 100%, then 90% of the look you want.  And later, as time and budget allows, you can update the hard finishes too!  (In our experience, updating the backsplash has a tremendous effect on how the kitchen looks.)
2.  There is no "perfect" color.
Please don't stress yourself out by thinking there's just one perfect color out there that will suit your space.  Typically, a consultant will follow a process of elimination when doing your color consultation.  He or she will evaluate a whole bunch of options based on your vision ("a nice white cabinet color that goes with the new backsplash", for example), then narrow all the various color options down to the ones that work in your own space.  After eliminating the colors that won't work, a few finalists will be left (usually three or four).  Those remaining contenders will all be good options and will coordinate well with your existing finishes (otherwise they would have been eliminated as an option).  Therefore, any of those three or four colors would be an acceptable choice, from an interior design standpoint.  So the final choice comes down to plain old personal preference.
3.  Color can't work magic.  (Neither can your color consultant.)
The rational side of your brain knows this already, but hope springs eternal!  A paint color will help your home look updated, more harmonious, possibly even more spacious, more "light and bright".  But it won't fix your awkward floor plan or flood your narrow room with light.  Only moving the walls or adding new windows will do that.  It also won't magically make your "Texas Tuscan" outdated kitchen look "modern luxe".  It'll take paint, plus new counters, new backsplash, new lighting, new cabinet hardware, possibly even new appliances, to do that.  But many homeowners unconsciously hope that just painting the walls in a new color will work magic, and that if it doesn't, they think it's because they just didn't choose the right color.
4.  Don't rely on inspiration photos for actual colors.
Many of those magical transformations you'll see on Instagram are the result not only of new paint (which we really do believe in), but also in the "after" photos being edited or photoshopped to look much lighter and brighter.  Nothing wrong with that, it shows the new space to its best advantage, but it can alter your perception of the colors used by the designer or homeowner.  We see this so often, we wrote a whole post about why photos can be misleading when you're picking paint color.
Use Instagram, Houzz, and Pinterest for inspiration, not as a color specification manual.  Only someone who is either a) in your actual home, or b) trained in how to do e-design, using photos you provide them, can help you select color accurately.
5.  Lighting changes how colors appear in your space.
This is another one of those things that seems self-evident, but can really throw you for a loop if you're not careful.
Color will appear different depending on how much light hits it, and on the "temperature" of that light.  And different lighting sources (incandescent, fluorescent, halogen, daylight) have different color temperatures, on the warm-vs.-cool scale.
If you have a room with lots of south-facing windows, that natural light will make a color look very different from the same color in a north-facing room that usually has the incandescent lamps turned on.  A color will look different in different homes (which is why you can't just copy your neighbor's color), in different rooms, and even on different walls in the same room (because light from the windows will hit the walls differently).  It's our job to help you find a color that works well in the particular space you're evaluating.
Here's an excellent example of how light can change color perception, even in the same room: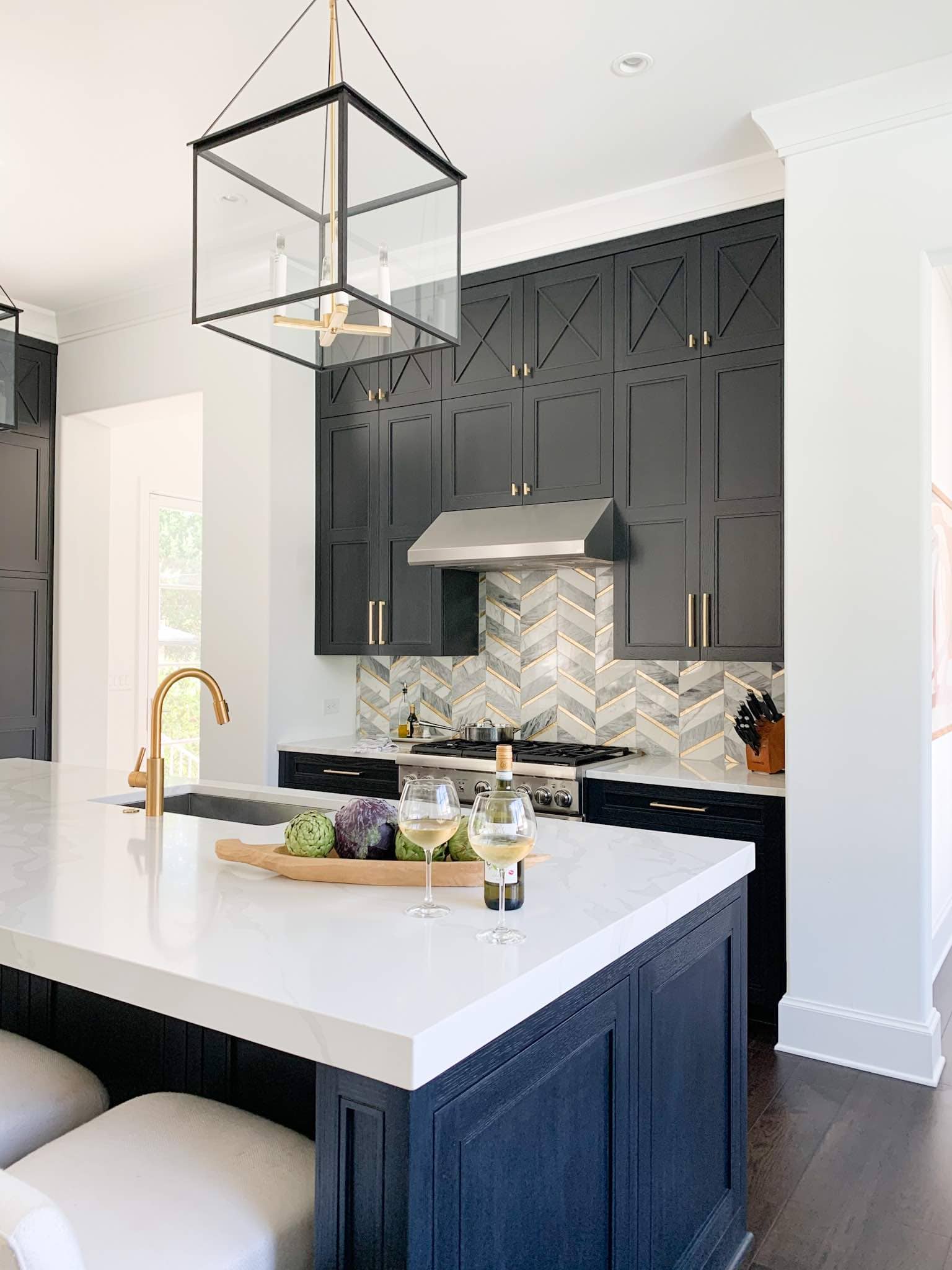 Take a look at the black cabinets on the back wall, where the range is (with the really cool backsplash) and the cabinets on the kitchen island.  Those black cabinets are all the same color!  But the strong light from the windows at right (off camera) make the side of the island look way bluer, since daylight has a bluish cast to it.  Normally, a professional photographer would edit the island color to match what it should look like in reality (more black, no blue tinge), but this was an iPhone snapshot I took during the photo shoot, so you get my photo unedited!  Perfect for illustration purposes.
During your consultation, the consultant will probably hold up large color boards on different walls to see how they look throughout the room.  What if you love the sample color on one wall but hate it on another?  Or what if you love the sample color during daylight but not at all when the lamps go on at night?  You'll have to pick based on whichever matters most.  If you primarily use a room during the day (the kitchen, maybe), choose your color based on that.  Then if the perfect daytime color looks a little muddy at night, you'll know you picked the color based on the higher priority (daytime).
Very few colors look "perfect" from all angles, under all lighting conditions.  In my own home, I tested several samples to arrive at a soft warm gray I love.  We painted all the walls and ceilings, and it looks fantastic against the dark hardwood floors and extensive white woodwork throughout the house.  But on the ceilings, that lovely soft gray looks beige  –  and I'm not a beige fan.  I'm okay with that.  I'm not normally looking at the ceilings anyway, or when I do, it's to notice the cool light fixture, not the ceiling color.  The walls are far more important than the ceilings, and I selected color accordingly.
And finally . . .
6.  Trends have a shelf life.
Nationally-known color consultant Maria Killam (from whom our own color consultants got their training) talks about this extensively on her blog.  In interior design, most color trends last ten to fifteen years, maybe twenty.  This means that your "forever home" may not be in style ten or twenty years from now.
You need to consider where your tolerance for change lies.  If you're picking the trendy neutral of the day for your home, then know that either you'll pay to paint it all again in fifteen years, or you'll have to accept keeping a home that's outdated, no matter what your friends and neighbors are doing.  Or . . . you select a color more likely to stand the test of time  –  even if it isn't all over Instagram right now.
There they are  –  some direct, honest design truths we want all our clients to know.  Listen to the design professionals in your life.  After all, your color consultant (or your interior designer) wants your home to look fresh and beautiful just as much as you do!