If you're like most of us, the question, "When should I paint my home?" rarely comes up.  This is not a thought most of us dwell on.  Unlike the interior of your home, you're probably not spending hours looking at the exterior of your house.  An outdated paint color on the outside may not bother you as much as the dull or uninspiring color on your living room or bedroom walls.  But there are solid reasons to paint your home's exterior, beside just making it look beautiful!
1. Paint your home on a regular schedule, to protect your biggest asset.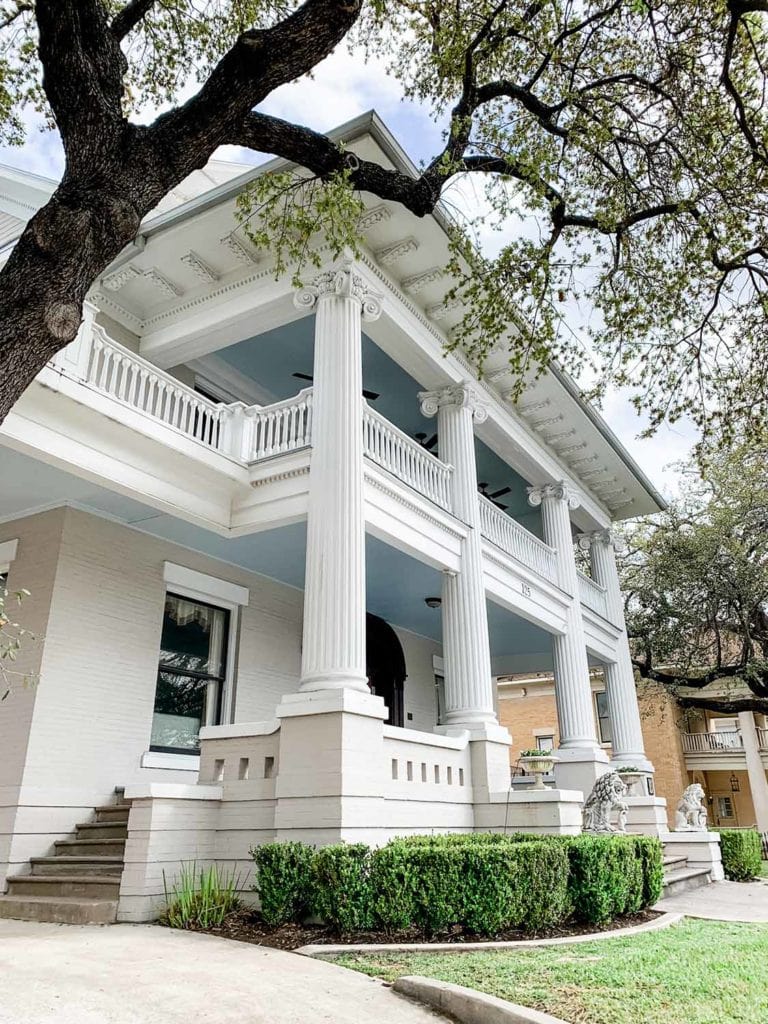 No, we're not just trying to sell exterior paint jobs here!  Even if yours isn't a historic mansion like this beauty (but especially if it is), maintaining your home's paint matters.  As we say on our exterior painting services page, properly painting your home can ensure that its outer "shell" is doing its job.  The primer and paint that go on top of all that underlying wood, stucco, or brick is designed to keep those surfaces from degrading, and protect them from exposure to the elements.  You can go years between good paint jobs, just not too many.
So how often should you paint your house?
This varies greatly by region, but here in central and southern Texas, the climate works in our favor.  We don't experience the punishing weather seen in the desert or in the wintry north, for example.  Nevertheless, our strong Texas sunlight and heavy rainfall in Austin and San Antonio mean that color will fade and moisture can creep in and cause damage, especially to the wood surfaces like your fascia and soffit around the roof of your house.  We see homes every day that are now facing a major repair job, when properly painting their home a few years earlier would have avoided the giant hassle in the first place.
In general, this is how often you should paint your home:
Stucco:   every 7 – 10 years
Wood siding:   every 5 – 10 years
Painted brick:   every 15 – 20 years
This is based on our own experience painting hundreds of homes every year in Austin and San Antonio, Texas.  If you visit the major paint stores' websites, including Behr, Sherwin Williams, and Benjamin Moore, none of them will say, "Our exterior paint will last X number of years."  There are just too many variables:  existing surface condition, the quality of the paint (and the primer underneath), how well the paint was applied, and whether the surface gets full sun all day, or is under some gorgeous-but-messy trees.  But for most homes, the annual guidelines above will apply.  Stucco, wood, and brick are all porous, and need their protection from the elements reapplied regularly.  (Yes, it's like sunscreen for your house!)
2. Paint your exterior as soon as you see any signs of damage.
Most lists of "top ten home maintenance tasks to do every year" include inspecting your home for damage, and there's a very good reason.  The weather never stops, and are homes are always experiencing the onslaught of sun and rain, so any damage will only get worse.  And since we're not usually looking very carefully at our home's exterior, we may not notice until we're looking at serious issues.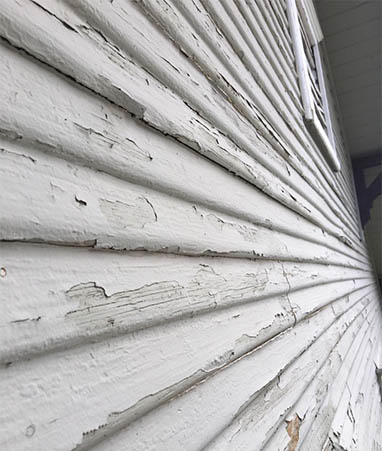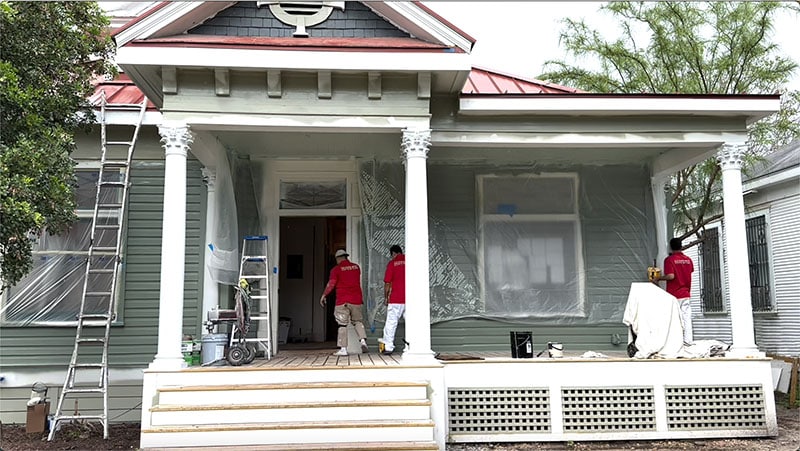 Most of the wood siding on this cute exterior was in the condition that you see in the close-up.  Don't let it get this bad, folks!
If you're wondering when you should paint your home before it crumbles to dust around you (kidding!), here's a simple list:
---
Signs that it's time to paint your home exterior
Fading or uneven color – this is often the first sign that the paint is weakening and it's time to take action.
Paint flaking and bubbling – call an exterior painter now because the longer you wait, the more issues can arise.
Visible cracks where there shouldn't be any – cracks in your home's protective surface mean more damage is coming, especially . . .
Water damage – deep cracks are easy to spot, but other damage may not be so visible.  Despite its name, "dry rot" is caused by moisture weakening the wood over time, and the only solution for rotted wood is to replace it.  Then paint your home afresh so that it doesn't happen again!
---
3. Paint your home if you're going to put it on the market.
If you're selling your home, it needs to look its best to sell quickly, as any realtor will tell you.  Updated paint colors are a huge part of your home's curb appeal.  A home that looks worn and faded on the outside will make most potential buyers look all the more carefully at the inside, to see what else is wrong.  Get some fresh paint up to impress buyers and maximize its value when it's time to sell.  And if you're not sure how to pick the right exterior paint colors, fear not  –  our professional color consultants are happy to help.
4.  You pull into the driveway and think, "I should paint my home in a color I actually love."
The three previous reasons to paint your house (to protect it, to avoid damage, or to sell it for top dollar) are all solid, sound, and pragmatic.  Updating the look of your house just to bring you joy is, I think, very practical also!  You may have other reasons as well  –  bringing your home into the current design decade, or not losing face with your picky, design-savvy mother-in-law.  But we firmly believe that the beauty and aesthetics of our surroundings affect our state of mind and our well-being.  For us at Paper Moon, this is why we're in the paint business, after all!  Loving your home can bring you a bit of happiness every day.
If you need convincing, we painted this mustard-gold house for a family member.  This is the "before" photo: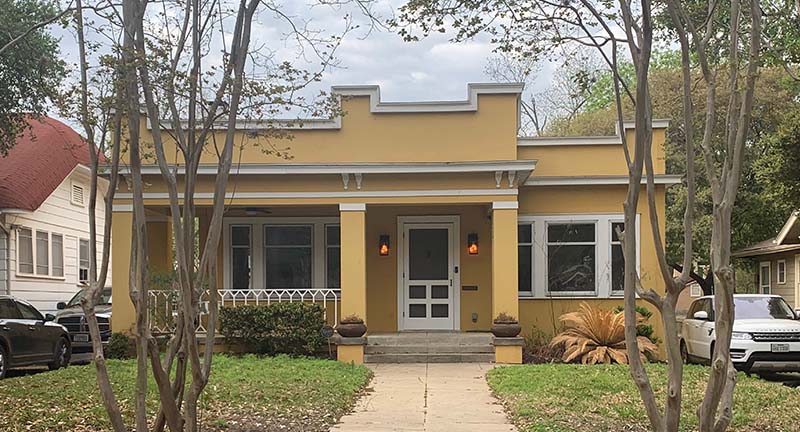 Ugh.
The homeowner went with this bright, fresh pink: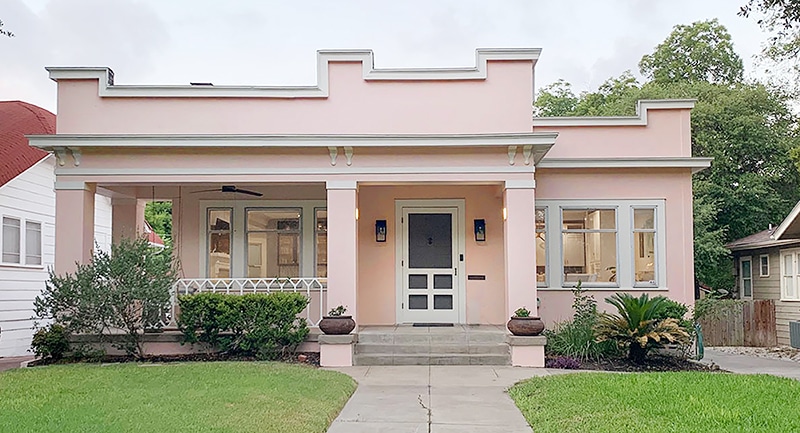 Very Miami or Palm Springs, is it not?
I know firsthand that this family member now loves driving up to her home or reading a good book on the porch swing, now that it's painted a color she loves.  Yes, paint your exterior for all the reasons noted above.  But ultimately, the answer to "When should I paint my home?" may just be, "Because I want to love my home again!"