If your home needs painting, do it, but don't neglect these curb appeal basics!
Even though we're not professional landscapers, we see so many homes when we go to estimate an exterior painting project that we feel like we've absorbed some curb appeal basics by sheer osmosis!  It's too easy to get used to the look of your own home, and no longer see the clutter inside your house or the overgrown bushes outside it.  Since we're used to our homes "as is", we don't realize what a huge change is possible with just a few easy steps!
Naturally, there's nothing like painting the exterior of your house for maximum impact.  As professional painters, we'll recommend this all day long, because we've seen the dramatic difference painting can make and we really believe in it.  But landscaping and other curb appeal components are also critical.  These things are to your home's exterior what furnishings, lighting and artwork are to your home's interior.  They finish the space and make it look appealing.
If you're getting a bid to paint your home's exterior, you may feel your home improvement budget is already spoken for.  Not to worry  –  the seven items below can be done as DIY weekend projects and don't cost much.
But first, train your eye by doing this:
Take a photo of the front of your home.  Take it from the street, just as-is, without making any changes.
Now go browse online or in magazines for gorgeous homes, beautiful exteriors, and lavish gardens.  Search for "luxury home exterior landscaping" on Google or Pinterest.  Flip through the latest Architectural Digest, Veranda, or House Beautiful.  This is like "cleansing your palate" for your eyes.  You're removing the rose-colored glasses we all have when we look at own homes, and realigning your mental images of what good curb appeal looks like.
Now pull your phone back out and look at the photo you took earlier of your own house.  I'm sure the contrast will be striking!  The point of this is not to feel bad that you don't live in a mansion  –  even a small Austin bungalow or a 100-year-old Craftsman home in San Antonio should look appealing.  It's not the scale of the home that matters, it's how the exterior and landscaping are designed and maintained.  After having viewed gorgeous photos online, you'll instantly spot things on your home's photo that need attention: overgrown trees and bushes, dead patches of grass, a door mat that's falling to shreds.  Use the impact of the contrast between photos to note the worst offenders at your home and make some changes.
Why do we bother to mention these things that aren't paint-related?  Because paint alone won't make a gorgeous exterior.  Painting is certainly important, necessary, maybe even critical.  You won't get a true home transformation without it.  But bad landscaping will minimize the effect of a beautiful paint job.  A little bit of tree-trimming or some newly-planted annuals will complete the transformation that the new paint job started!
Now, the 7 curb appeal basics that we think everyone should do.
1. Trim your landscaping.
Yes, this is basic.  Yet overgrown landscaping is the most universal thing we see.  Plants and trees grow so slowly over time that we don't register how wild and unkempt our yards look until we take a photo and see it with new eyes.
Mow the lawn, get out the weedeater, use the hedge trimmer on those bushes under your front windows. And for large trees, you may have to tire a tree trimmer.  But painting your home exterior and trimming the landscaping are the two single biggest things you can do to transform your home on the outside.
What if you like a more natural, less "manicured" yard?
That's great, but remember there's a fine line between "lush" and "unkempt".  Unless yours is an English country garden, it probably needs some pruning.  (And even English country gardens often have full-time gardeners.  That artful, organic look takes time and attention to develop!)
2.  Mulch your flower beds.
Another basic.  If your mulch has washed away over the years or decomposed down to nothing, add new mulch.  And don't just cover the existing dirt with a thin layer of mulch either.  Lay down enough to cover the soil with a good three inches of material.  Your eye can tell the difference between thin mulch (which will look spotty all too soon) and a nice, lush layer.
3.  Pressure-wash your driveway and front walk.
This makes a bigger difference than you might expect.  If you don't have a pressure washer, you can hire a company to do it, but it's easy enough to just buy a small one, or borrow from a neighbor.  An hour or two with a pressure washer will make your home look loved!
4.  Put some potted flowering plants on your front porch.
Get some planters that match the style of your home: elegant urns for a traditional look, clean-lined modern pieces for contemporary homes.  Plant some flowering annuals like begonias, or maybe a taller green plant in the middle and flowering begonias around the base.  Put your planters on either side of your front door.
While you're at it, update your flower beds with new, healthy plants.  If your front yard is just an expanse of patchy grass, consider taking a few weekends to plant some mulched flower beds in front of your porch or patio.  But do preserve a natural, fluid look.  (Use a garden hose to lay out your beds with attractive curves and shapes.) Versailles' famous gardens notwithstanding, there aren't many straight lines in nature.  Avoid just putting in a square pocket of sod or planting a straight row of shrubbery under your front windows (unless you plant some flowers in front).  The most attractive front yards have curved flower beds with a variety of plant types at various heights, for interest.  Color consultant and trainer Maria Killam has some great before-and-after photos of her own yard that illustrate this very well!
Here's an example of a brick home we painted in San Antonio, TX for Shawna Percival of Styleberry Creative.  We include more photos of this home in our blog about whether you should paint your brick home, but here let's take a look at the difference that flowers and landscaping can make.  Here's the home before we painted it in Sherwin Williams' "Shoji White":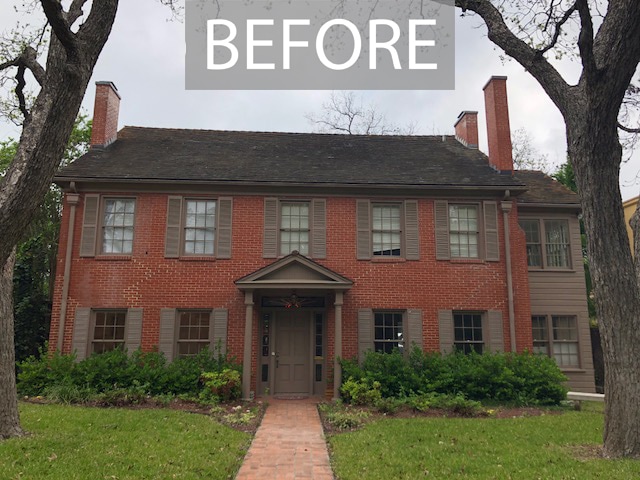 Pretty dismal, no?  Here it is after painting the exterior: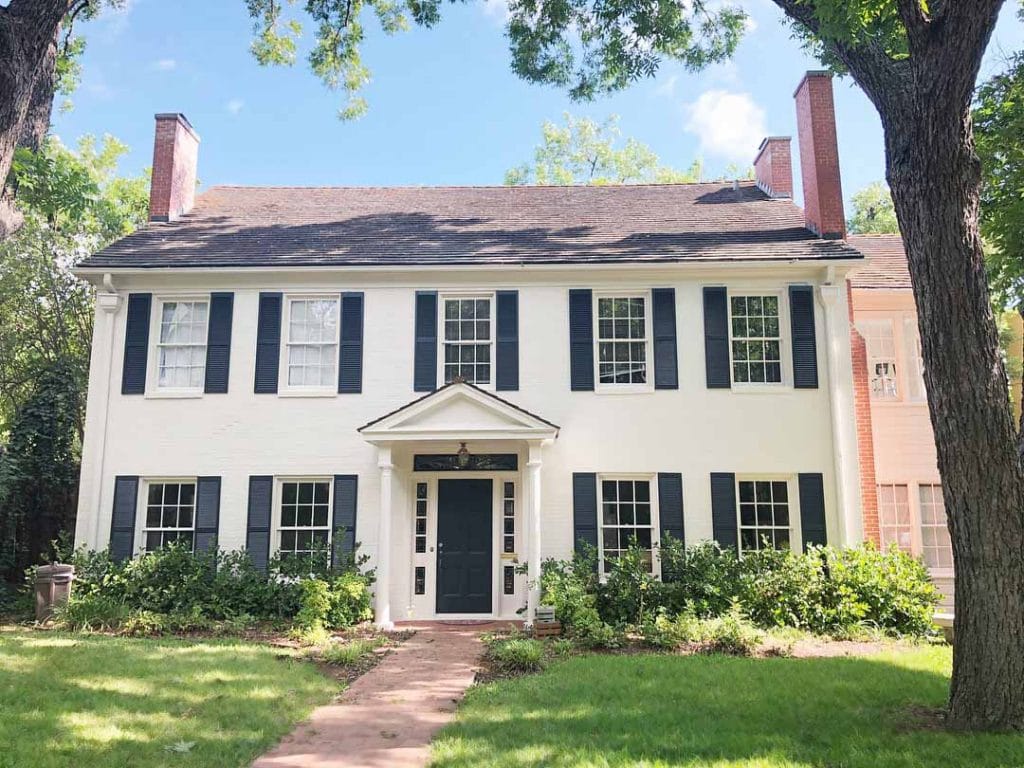 A fabulous update, to be sure!  But the landscaping needs some love.  The hedges under the windows are scraggly, the flower beds are no longer flowering, and there's nothing of interest near the front door.  But do some trimming, replant the flower beds, and add some urns of flowering plants flanking the door, and you have this fantastic, welcoming and cheerful front entry, with some great curb appeal: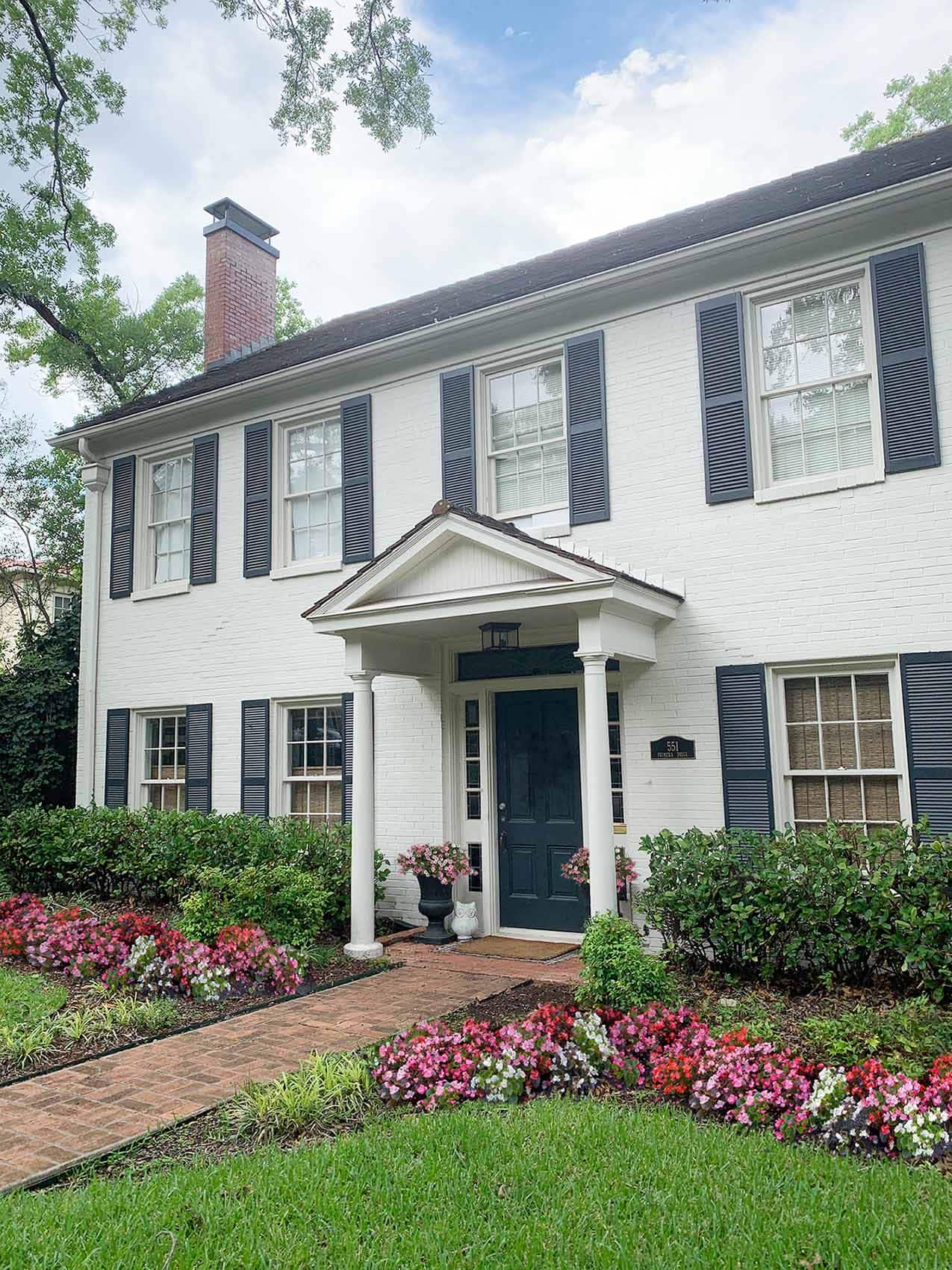 Technically, the flower beds could use a little weeding and some additional mulch, and I wouldn't mind seeing a newer front door mat, but the flowers really enhance the overall effect.  Painting the brick exterior was a very necessary step, since no amount of begonias would've saved the "orphanage" look of the original brick home.  But updating the flower beds just took it to the next level!
5.   Get a large, new door mat that is a worthy welcome to your home.
If the bristles on your old mat are shredded to bits or the rubber has broken down, get a new, beautiful mat!  You'd be surprised how much of a difference this makes.  It's not just a practical or utilitarian item.  The right mat is a critical design detail on your doorstep and can set the mood for your home as you step inside.
And get something at least 3 feet wide!  Please don't get a mat that is too small.  It should be as wide as a single front door, and wider if yours is a double set of doors.
6.  Install new, updated street numbers.
This is another little detail that shows you care about your home's curb appeal and have given the overall look some thought and consideration.  Match the style of your home, and again, don't pick something too small!  The numbers should be substantial in size and impact.
7.  Paint your front door in an appealing color.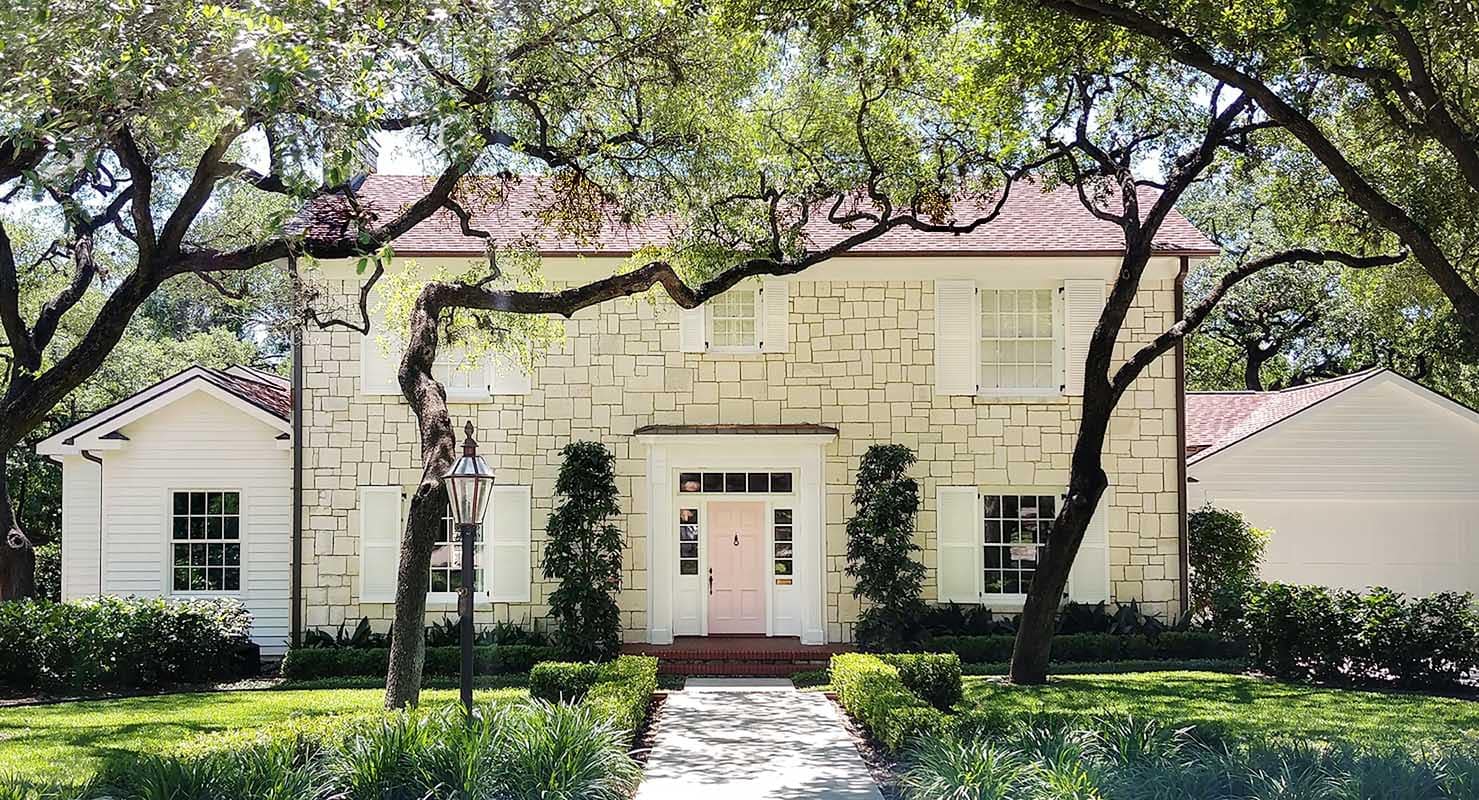 While you normally expect a bold red or other primary color on a front door, you don't have to go bold here if you don't want to.  We love the soft pink front door on this home we painted in Alamo Heights, Texas.  (It's Farrow and Ball's "Middleton Pink".)  There's also a home we painted in our exterior painting gallery, with French doors painted in a soft light blue that we love.  A fresh, unexpected color will delight the eye and make your home feel special.
By the way, almost every blog post or article on curb appeal will mention painting the front door first.  Yes, we advocate painting your front door, but we didn't want to mention it first because even a front door in a bold cherry red or classic blue or cheerful yellow won't help your home's curb appeal if the trees are so overgrown that they obscure your view of the house, or your door mat is so shabby you want to put on garden gloves to handle it.  Painting the front door definitely belongs on a list of curb appeal basics, but trimming and maintaining the landscaping is the "low hanging fruit" (no pun intended) and should be done first, before you move on to the "fun stuff".
There are other things you can do to enhance your home, but start with these curb appeal basics first!
Then later, you can move on to "hardscaping" items like remaking your front walk, laying brick pavers on your front porch, or adding exterior lighting.  You won't go wrong with these items, but do the curb appeal basics first  –  they may not seem glamorous, but they'll make a huge difference!