Should you paint your brick house?  What are the pros and cons?
A common scenario:
Homeowner Jane wants to paint her dark red brick home.  It's dismal, dreary, and looks like an old institutional building.  There's nothing attractive about it, other than its "good bones".  Hubby Josh insists that brick, like stained wood, shouldn't be painted.  (They're having this argument about their dark, stained kitchen cabinets as well.)  Who's right?
Painting brick can seem as sacrilegious to some people as painting stained wood.  About ten years ago, interior design trends turned a corner.  Many homeowners got tired of all the earth tones and the heaviness of the "Tuscan" phase.  People with stained wood in their homes (especially cabinets) now wanted that wood painted white.  Homeowners wanted spaces that were fresh and light-filled, rather than dark and cave-like.  But many of you had a real task in convincing your significant others that it was "okay" to paint over stained wood.  There's something about the naturalness of stained wood – and of brick – that appealed to a lot of guys out there.  But over the past ten years we've seen enough before-and-after photos to prove that painting stained wood is an excellent idea in most homes, and that there's no reason to shy away from it.
It's the same with brick.  There are some "no painted brick" purists out there, but enough brick homes have been transformed by painting them that there's very little "spousal resistance" anymore.  In fact, if you do a Houzz search for "brick exterior home ideas", MOST of the images will be of painted, not raw, brick!  You'll see quite a few on a Google search as well (and all those unpainted brick homes that come up are perfect candidates for a paint transformation!).  Given a choice to keep a home red-brown or change it to white or cream or greige, many, if not most people will choose to update.
But should you paint your brick house only because of design considerations?  Are there any other reasons either to paint brick, or not to paint it?  I'm a pretty big fan of painted brick houses myself, so just to get the practical considerations out of the way, I'd like to start with the "cons".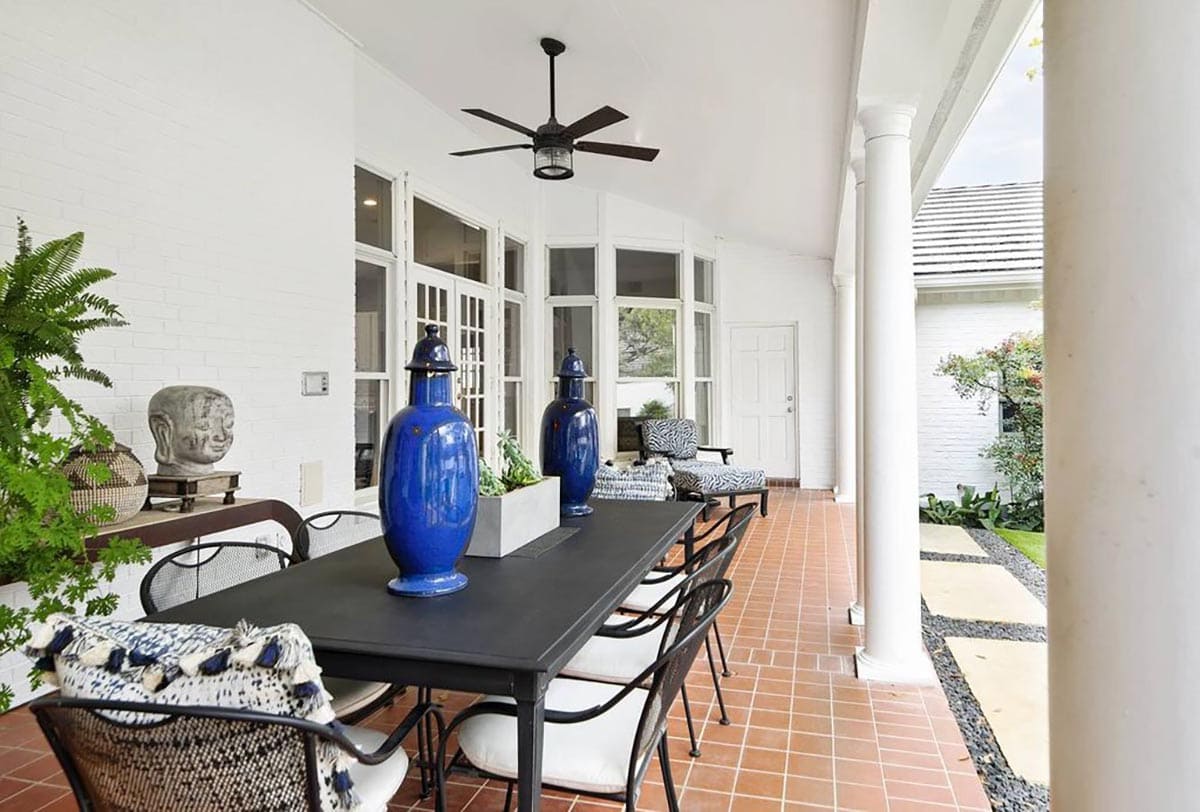 Trapped moisture can damage brick.  You'll need to make sure your brick is painted properly.
If your brick home isn't properly painted, any moisture that seeps in can cause the paint to chip, and in the worst case can damage the brick over time.  You don't want water to get under your paint through any cracks or gaps such as beside windows and doors, so properly prepping your home before painting it is important. (Moisture concerns aren't an issue if the brick is inside your home, such as a fireplace or feature wall.)
How do you make sure that water won't seep under your paint and damage your brick over time?  Use a professional painting company to paint your brick exterior.  And don't use the cheapest one, either.  This isn't just a self-serving suggestion.  Pro painters are usually more eagle-eyed than homeowners about spotting any cracks or gaps that need to be caulked or filled.  They'll also use the proper primer that is pH-balanced for masonry, and the right paints that will protect the brick while still letting it "breathe".  And they'll apply these products with uniform coats that are thick enough to protect your brick exterior from the elements, but not so thick they'll crack over time.  Painting a surface as rough and porous as brick is much more involved than just painting a house with stucco or wood siding.  This is an area where you don't want to take shortcuts.
A painted brick house may need a good power-washing once in a while.
All that dirt and mildew that you never noticed before because your brick was a medley of various red and brown tones?  You'll notice it now.  It's entirely possible that you will have to power-wash your home once in a while, although this would be true with any painted exterior, not just brick.  This is because the dirt and the mildew that tend to collect on the exterior of the home can be more visible when your home is painted.  On the positive side, if you're not thrilled with knowing that your porous, unpainted brick home is like a giant lint trap for dirt and debris, you'll feel much better with a freshly painted exterior that is easy to keep clean!
Painting your brick is a permanent decision.
Should you paint your brick house?  Yes, as long as you realize that this process can't be reversed.   You can repaint and change the color down the road, but there's no going back to unpainted brick.   Not unless you want to strip the paint off with chemicals or sandblasting, but those bricks are never going to look the way they did originally, and you will undoubtedly have worn brick.
If painting your brick house is the right choice, don't let its permanence scare you.   It's like remodeling a dated house. . .  Once you tear down those walls, rip out old flooring, or demo your ugly kitchen, you can't go back.  But your home will be much better for it!
Now for the reasons you
should

paint your brick house:
Painting your brick exterior can make a dark, dismal home look fresh and lovely like nothing else can
.
Whether classic or modern, palatial home or small cottage, there's nothing like the curb appeal of painted brick.  This lovely home?  Here's what it looked like before we painted it!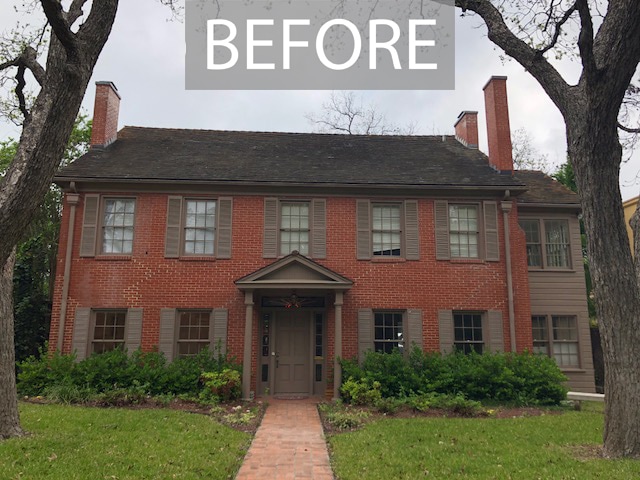 And here the transformation is just beginning: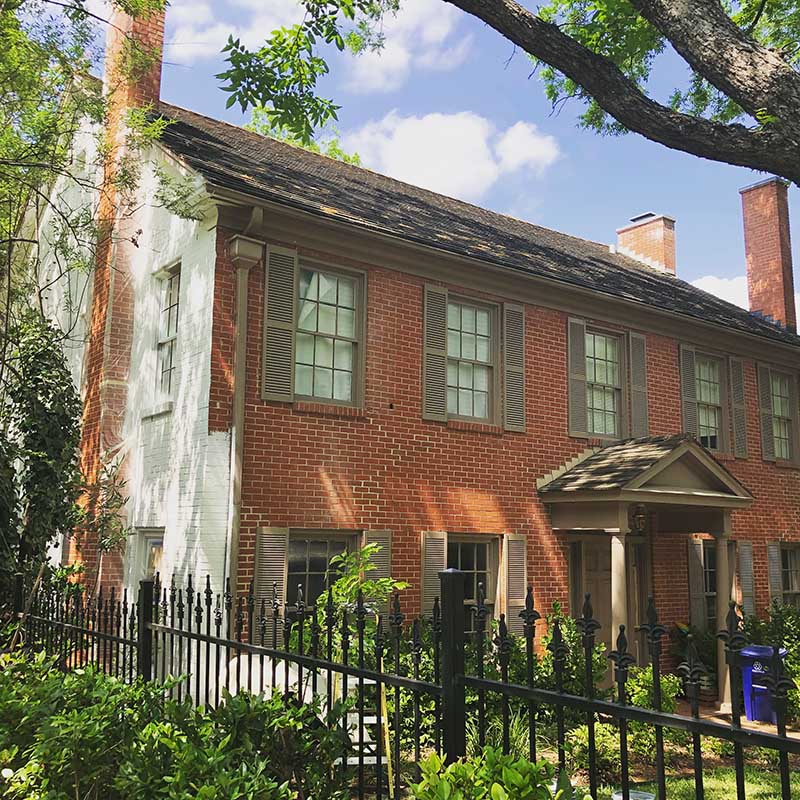 Here it is before the landscaping was updated – no other changes, just paint!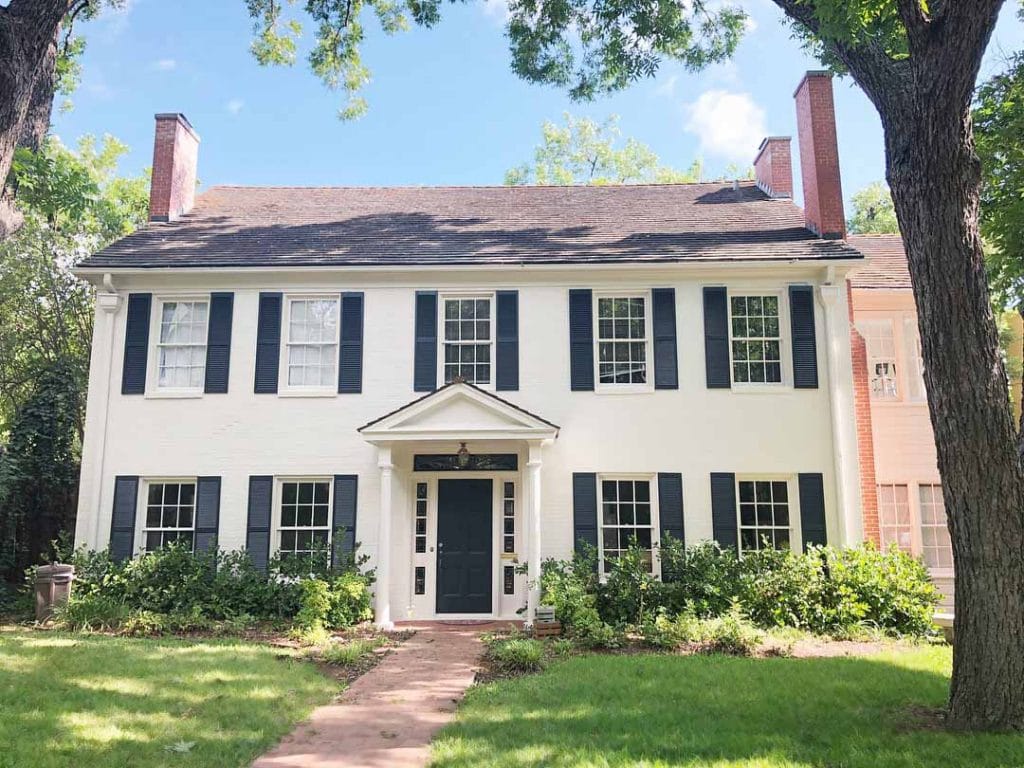 Nothing less than a full paint job will transform a house like this one.  If your home is historically significant, you might have to leave the brick alone and do minor tweaks like painting the shutters, pediment, and front door.  Introducing some contrast would alleviate all that dark red and muddy brown.  But those minor adjustments won't have nearly the impact that painting the brick facade can have.
After all, someone selected the color of the brick back when your home was built.  That color was an intentional design choice.  If you no longer (or never did) like that design choice, you don't have to live with a mottled red home forever.
Curb appeal
.
A key element of good home design is contrast.  It's the pleasing mix of light and dark elements, including the landscaping, that gives a home much of its curb appeal.  Start looking for contrast when you evaluate homes and you'll see examples everywhere.  White painted wood siding, black metal windows, copper downspouts and a seamed metal roof, for example.  Or a blue beach house with lots of fresh white woodwork such as windows, porch railings, and shutters.  The classic Mediterranean look of white stucco homes with a red tile roof.  And the landscaping, when designed well, adds more layers of texture and contrast.
Brick exteriors often blend into their surroundings.  They're the same middle range of value (light/dark) as trees and shrubbery.  And some brick is particularly "spotty" or busy.  You have to work really hard to make features such as doors, windows, and landscaping pop against a mid-range brick exterior.
But with a painted brick house, designing for curb appeal becomes much easier.  Now you'll notice your front door and your windows much more, and if you want to boost the curb appeal even further, a bright front door color or contrasting shutters might be all it takes.  As for your landscaping, it'll become much more visually prominent against a painted exterior.  Now that you can really "see" all those leaves and branches in front of your house, you might decide to do some trimming or clearing, or plant some flowers for a pop of color that actually has a chance of being noticed!
By the way, that's what happened with the beautiful San Antonio home above.  Shawna Percival of Styleberry Creative selected Sherwin Williams "Shoji White" for the facade, and "Inkwell" for the doors and shutters.  And the begonias give the landscaping some pretty color.
Protection from the elements.
Besides aesthetics, there's a practical reason to paint your brick home.  Paint acts as a sealant to protect your home from precipitation and other seasonal weather changes, while still allowing the brick to "breathe".  The caveat is that the project should be done by painters experienced in painting masonry, who know the importance of using the right paint products and sealing any cracks that could let moisture in.
Back to aesthetics.  Is there ever a good
design

reason that you should not paint your brick house?

If you can achieve enough contrast between the various elements of your home and your existing brick, and the color of your brick appeals to you, you can leave it as-is. The key is that the contrasting elements have to be substantial enough.  Just the skinny edges of your white vinyl windows won't cut it.  Here's an example where the design features like the pediment, the framing around the door and windows, and the shutters all carry enough weight to alleviate the expanse of brick.  (We painted the woodwork on this Alamo Heights home in Benjamin Moore "Pure White", and the shutters in Sherwin Williams "Tricorn Black".)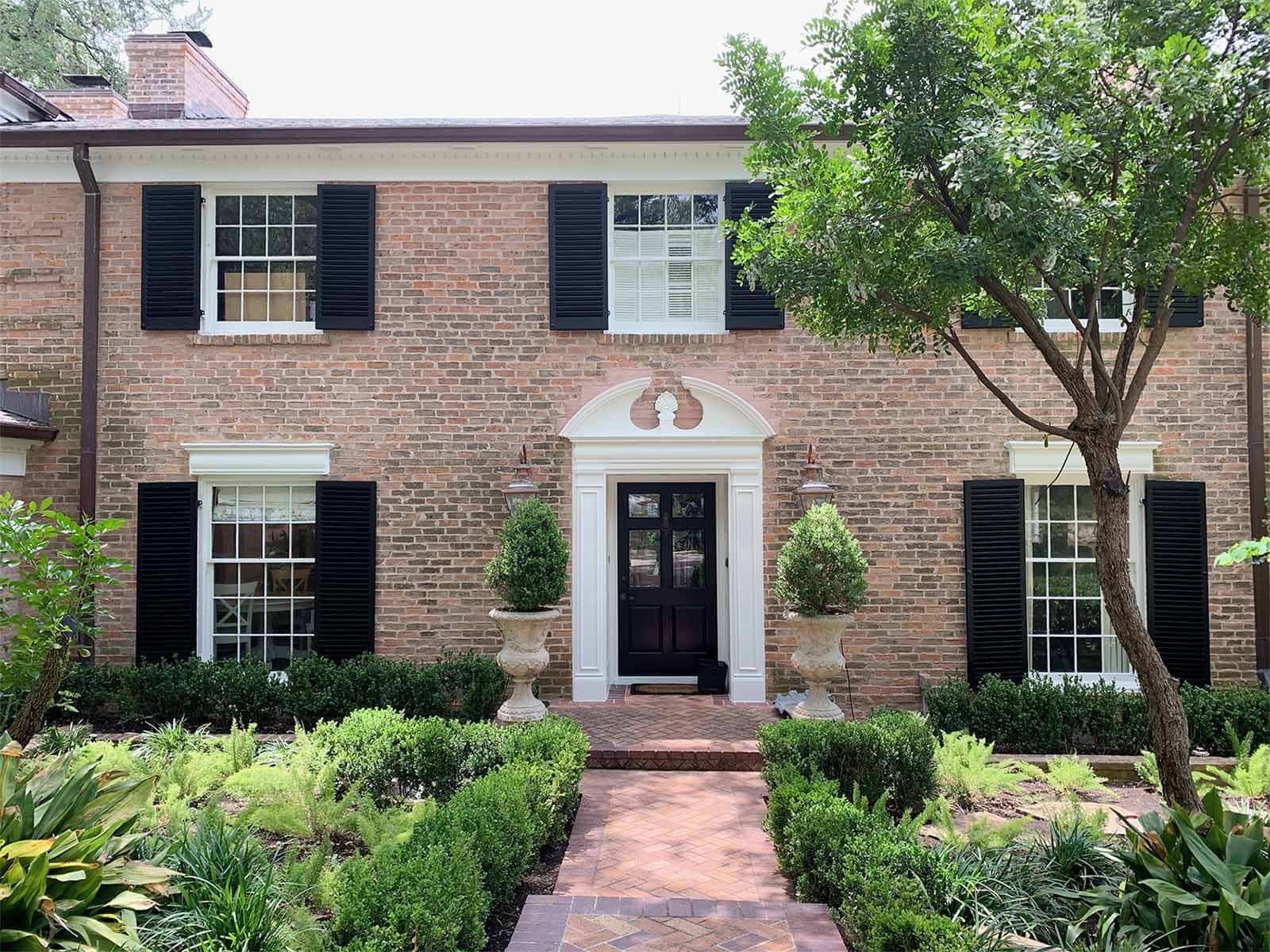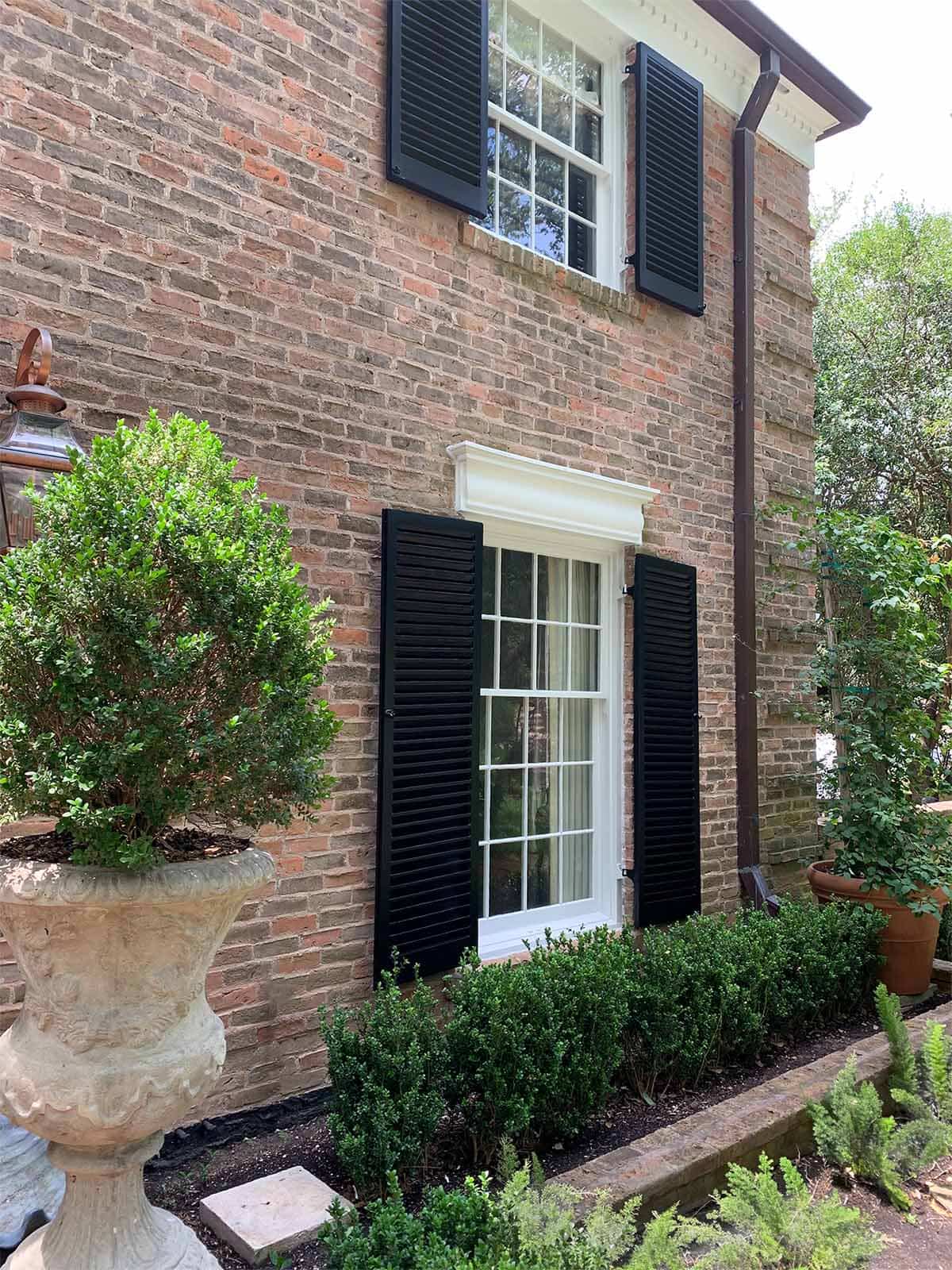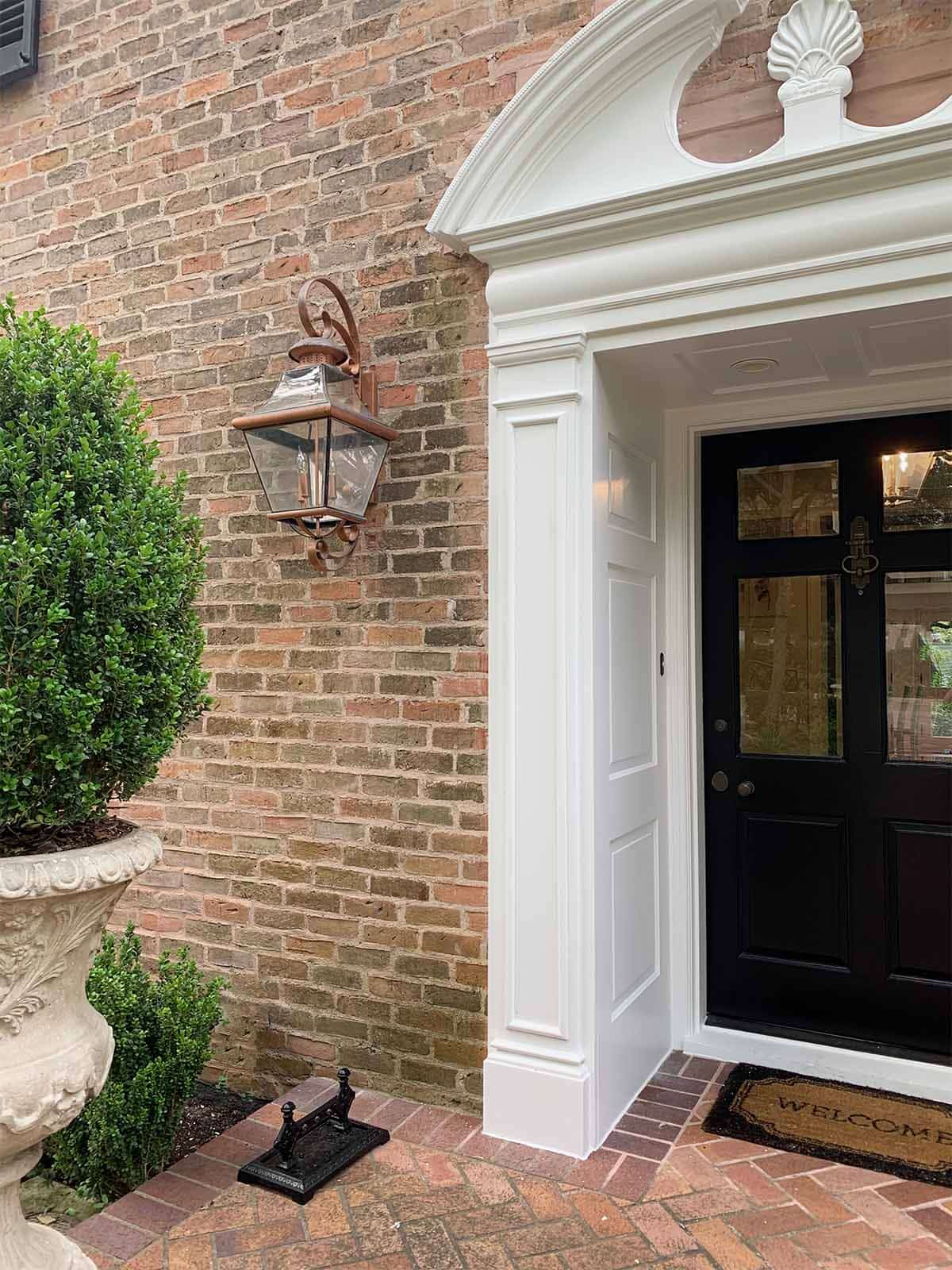 And here's an example where the design features like the columns contrast nicely with the brick, but the homeowner preferred a lighter, brighter look.  Designer Mika Pope selected Benjamin Moore's "Super White" for us to paint the brick, matching the color of the white columns.  The result is a front facade that is every bit as grand and beautiful as before, and a back patio that feels much more fresh, open, and welcoming.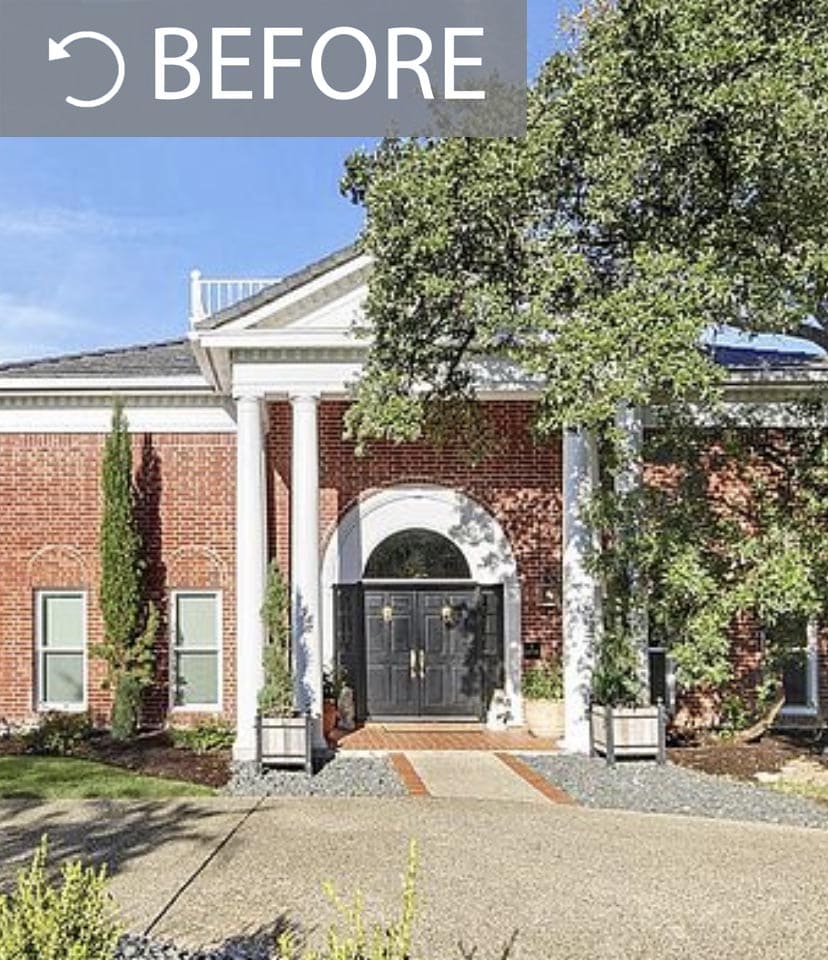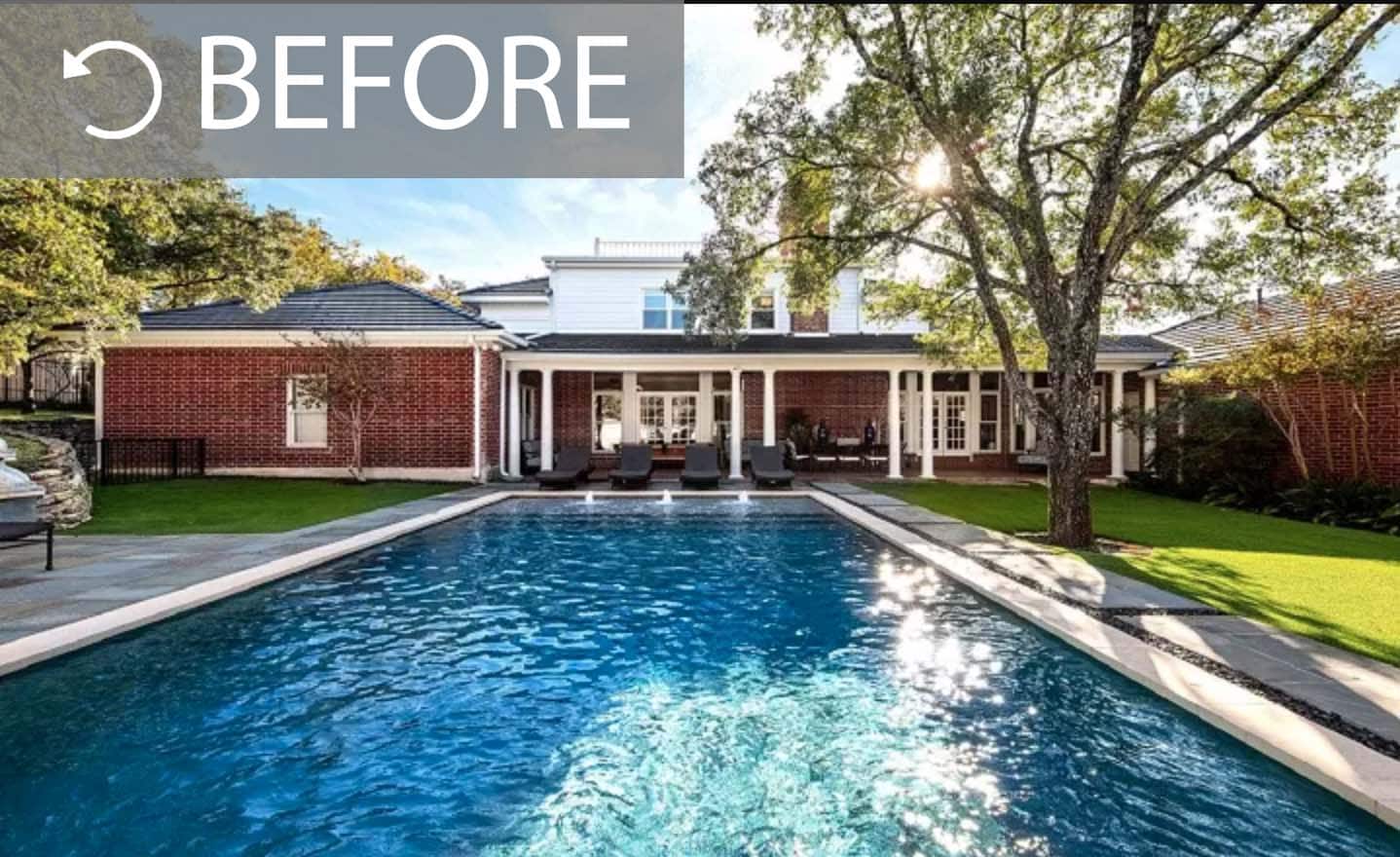 And after being painted: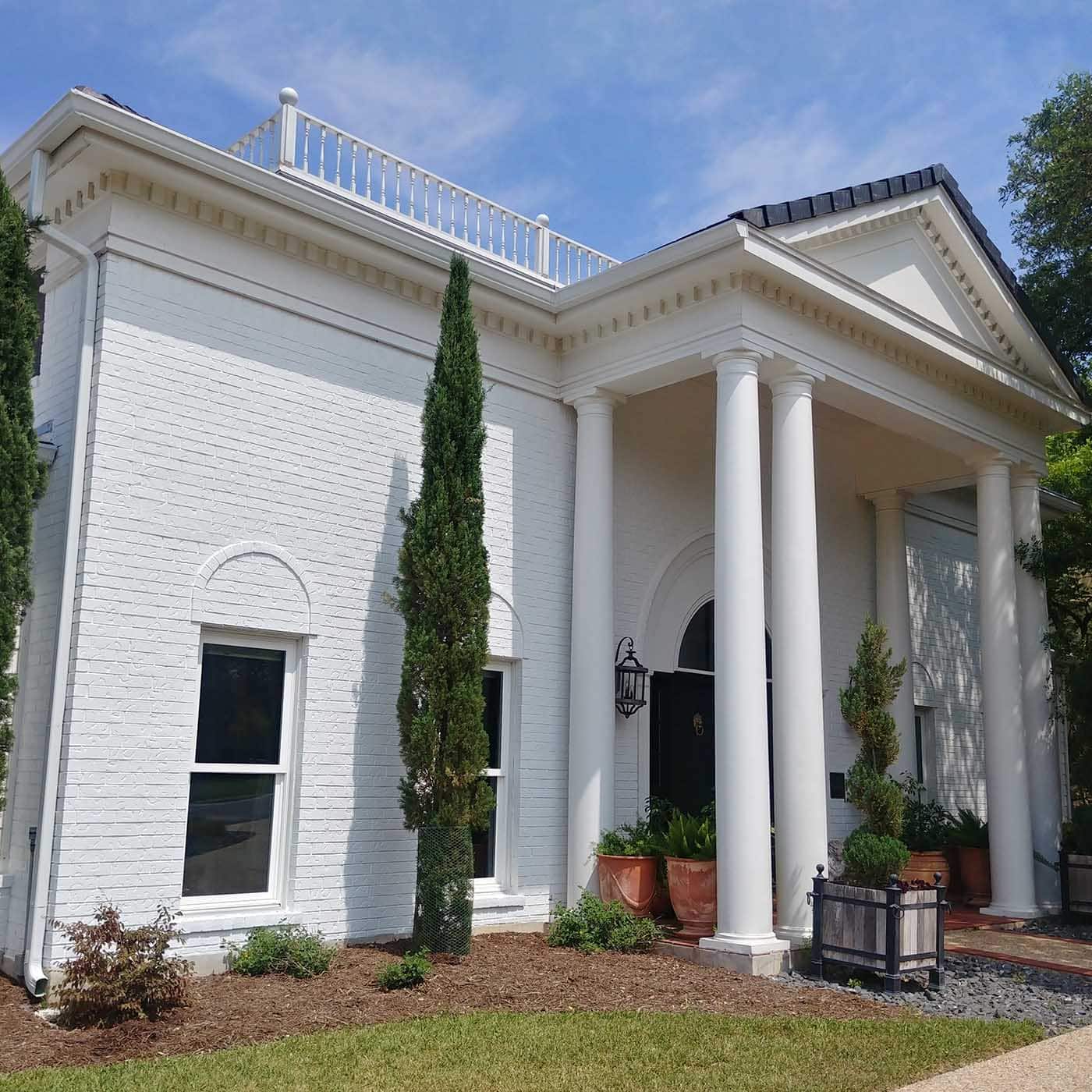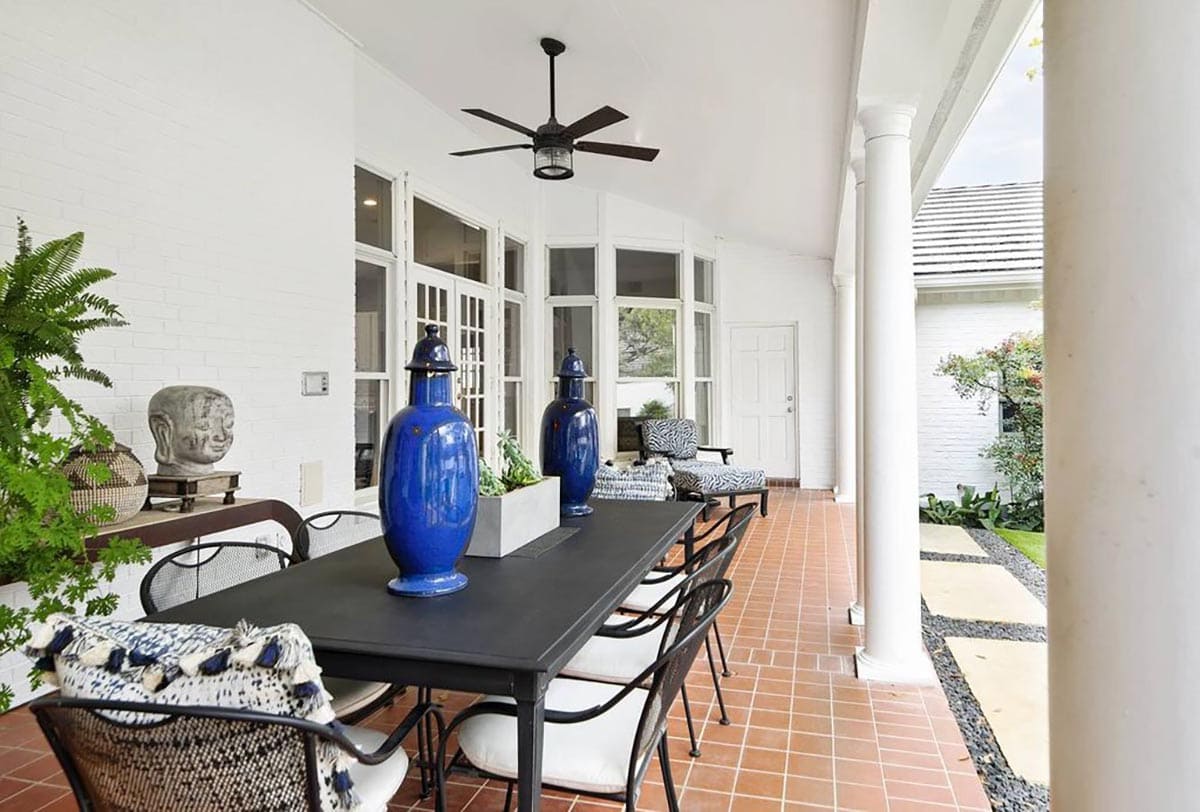 .
And just for kicks, here are a few more painted brick before-and-after projects.
This house in Austin had yellow trim and siding as well as a very mottled red-brown brick.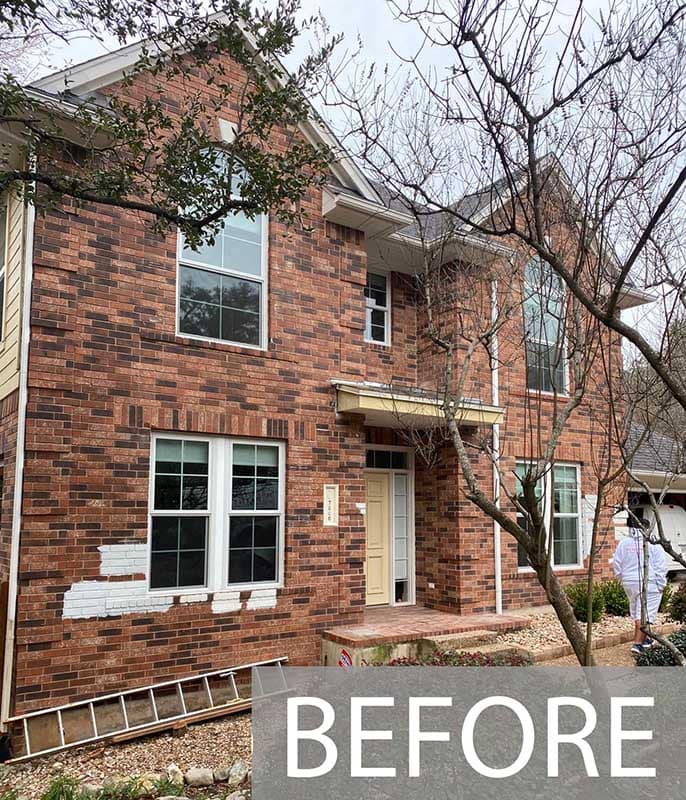 Here it is after we painted it in Sherwin Williams "Cotton White":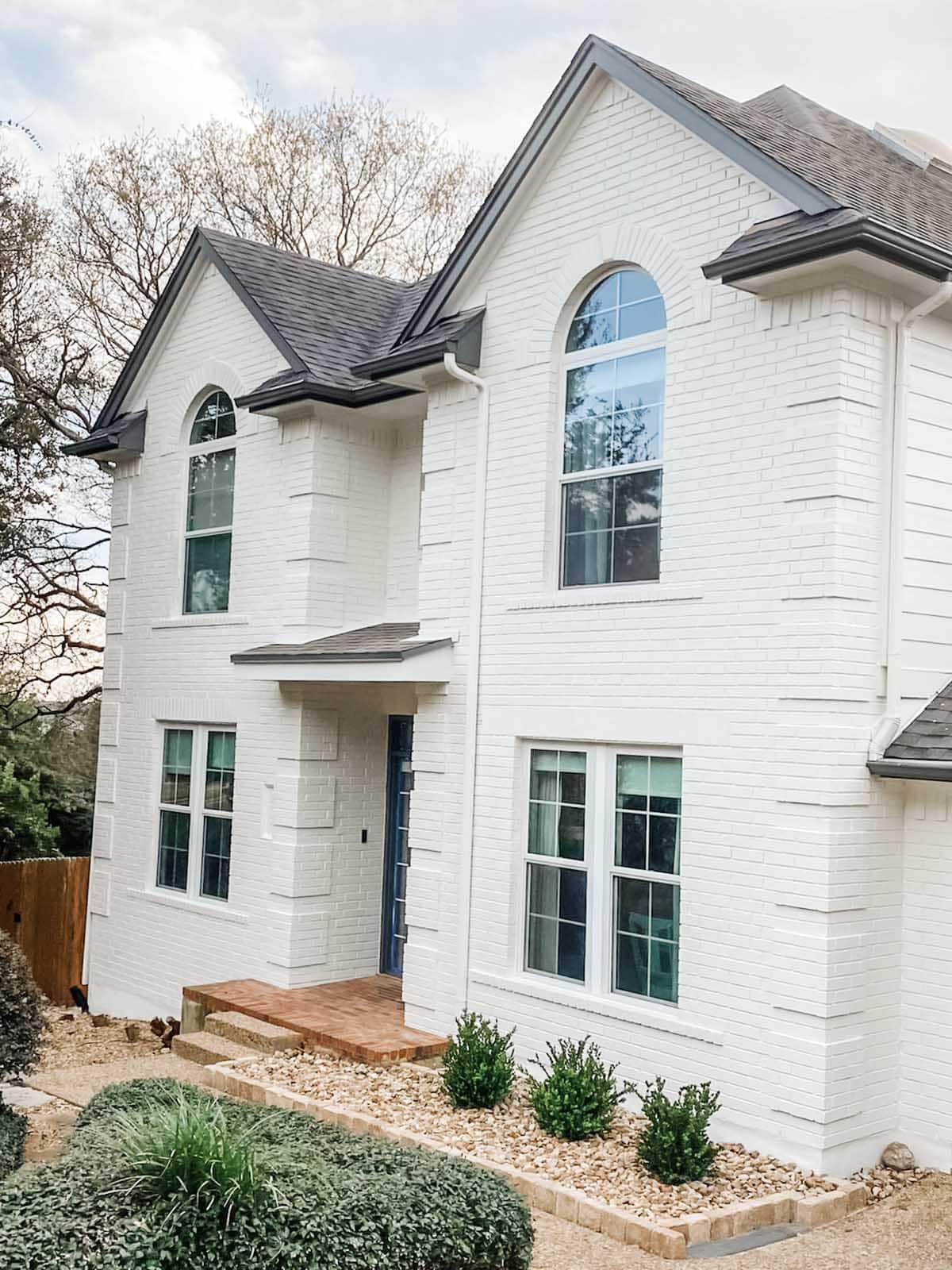 Some potted flowers on the front doorstep would be a lovely finishing touch!
And this home in Alamo Heights looked pretty ghastly when it was just an expanse of solid red brick: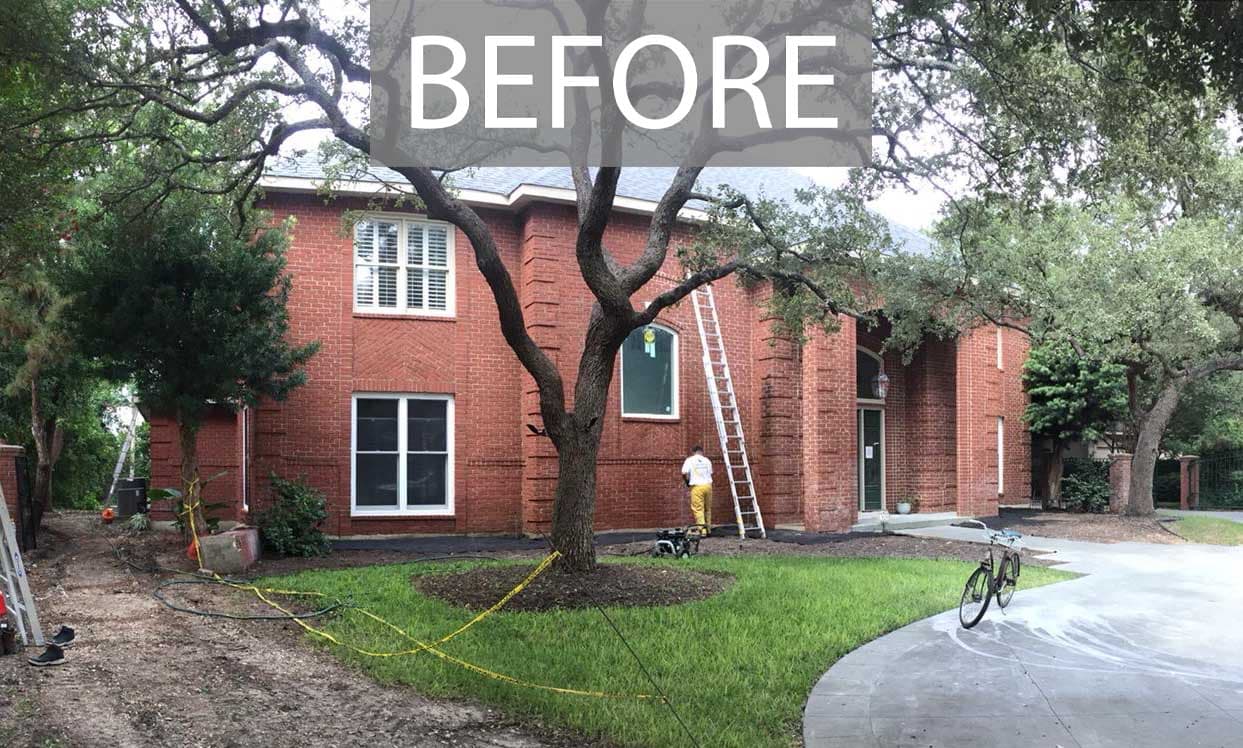 Here it is after we painted it in Sherwin Williams "Pure White"!
The bottom line on whether you should paint your brick house?
Unless you're in love with the tones of your brick and you have some visually-weighty design features that make the facade of your home look varied and interesting, then you probably should paint your brick home.   The benefits in curb appeal and even resale value are enormous.  Plus the transformation of painting a brick house is absolutely thrilling.  We've seen homeowners dance for joy and be giddy with delight when they see the gorgeous result.  It's like Cinderella's fairy godmother tapped the house with her magic wand.  Taking such a large surface area and changing not only the color but also taking it from dark to light has a greater impact than just about anything else we do, paint-wise.  And there's nothing like the beauty of a bright, welcoming home.  Take a look at our exterior project gallery and you'll see that whether those homes were made of brick or stucco or wood siding, the most significant impact comes from the color itself.  We think that in most cases, painting your brick home is a great idea!