Seemingly all at once, everyone's cabinets are outdated.
One day, everyone woke up, took a good look at their golden oak cabinets while brewing their morning coffee, and said to themselves, "Argh!!… they're orange!"  Or  you realize that those "whitewashed" pickled oak cabinets are… pale pink.  Suddenly you find yourself staring at a massive design albatross in every room where built-in cabinets reside.
Replacing them is pricey.  Even at a big box store, get a price to replace just your master bath vanities (and your countertops, sinks, and plumbing, which you'll have to do), and you'll be looking at spending enough to purchase a good used car.  And don't even think about the extensive kitchen cabinetry; you'll be spending enough there for a round-the-world vacation.
So what are your options?
Well, you could freshen up everything else around the cabinets to within an inch of their lives, and then hope no one notices (fat chance).  Furthermore, you can dimly light those rooms that are albatross-adorned (depressing and out-of-style in itself).  Finally, you could increase the median age of your friends, thereby increasing your chances of impressing people who actually like golden oak or whitewashed cabinets and who don't know what all the "updating" fuss is about.  Or, our favorite option:  you can venture into the world of cabinet painting and refinishing.  (Unless you just found out that the land you inherited from Uncle Gene will now be fracked upon.  In that case, splurge for a new kitchen.)
After all, your cabinets are probably in great shape otherwise.  They're may be solid wood, and cabinet profiles haven't changed much, just the color trends.  Take a look at a few up-to-date "shelter" magazines and you'll get some great ideas.  (Lisa's favorites are Elle Decor, Veranda, House Beautiful, and Architectural Digest.)  The two most common transformations are to paint the cabinets a new, fresher color, and sometimes to do two different colors on the upper and lower cabinets . And this is where a little savvy advice will be priceless. Not all techniques are created equal.  We'll show you this and explain why we love lacquer in Part 2.  And check out our latest transformed cabinets in our Cabinet Gallery!   In the meantime, we're here if you have any questions about how to freshen up your ktichen.
Check out the transformation!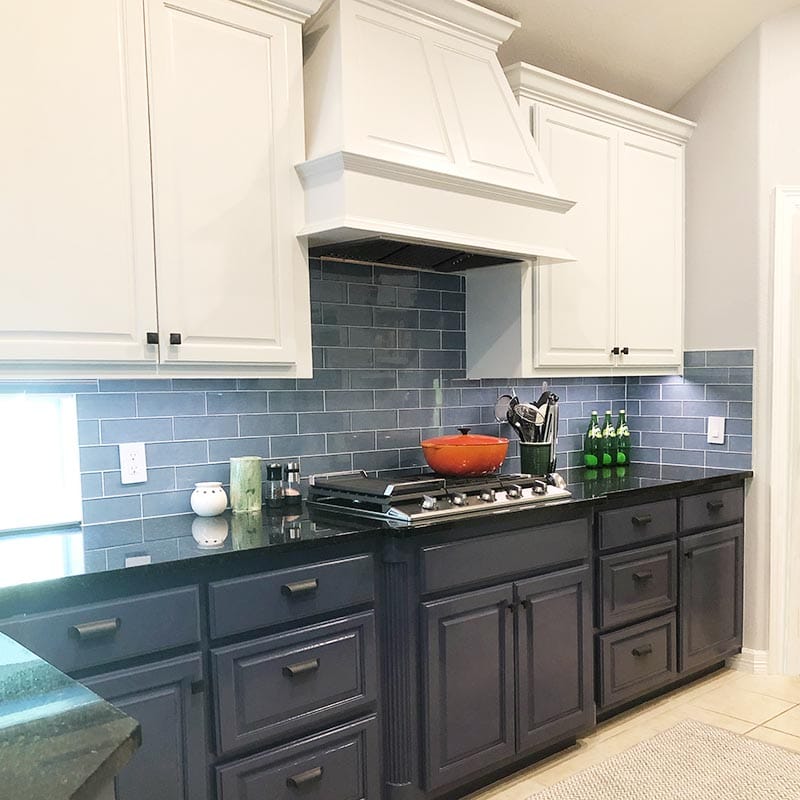 And here's the fabulous "After" photo – no more orange!!  Our Austin branch painted these upper cabinets in Sherwin Williams 6252 "Ice Cube", and the lower cabinets in SW 7602 "Indigo Batik".  And of course the walls got painted as well – and updating the backsplash with this glass subway tile was brilliant.  Amazing what painting – and in this case, a little tile – can do.  See more jaw-dropping transformations on our "Kitchen Painting Before and After" page.  Updating cabinets in your kitchen will have a greater impact on your home and living space than just about anything else!