The undertones in exterior paint colors can make or break your painting project  –  here's how to identify them!
If you're planning to paint the exterior of your home, you can't just pick a random color out of a fan deck –  you need to know about the ever-present undertones in exterior paint colors, so you can make a good design decision.
After all, your home consists of more than just the surfaces you're probably going to paint.  Let's say you're wanting to paint your house's siding (stucco or wood) and trim (fascia, soffits, and doors and windows).  These are all visually connected to other elements on your house.  The roof, the color of the mullions on your vinyl windows, and any decorative accents such as brick or stone will all be seen right next to your house's main body color (and trim color), and can't be ignored. Therefore, your exterior paint color needs to coordinate with all these elements!  (This is one of the 4 main points in our post about
picking exterior paint colors
, which goes into this more thoroughly.)  Becoming familiar with the undertones in any paint colors you're considering, and getting comfortable with identifying them, will help you make the right choice for a beautiful home.
.
Even if your home doesn't have any other elements to coordinate with (doubtful, but I guess it could happen!), you'll want to identify the undertones of any paint colors you might use.  You may have a Southwest Pueblo all-stucco home, with no visible roofline and only natural stained-wood doors and windows.  Even so, the design style of your home would suggest a pink-beige neutral.  Or if your home is all wood, with a gray standing-seam metal roof and white painted trim, you might not think you have to coordinate with anything, but you do.  The white trim and gray roof mean you can't pick a yellow-beige or gold-beige for your wood siding, even if you've fallen in love with your neighbor's tan-colored house.  If nothing else, knowing how to spot the undertones in exterior paint colors will give you confidence that you're picking a color that truly coordinates with its surroundings, and matches the style of your home and neighborhood.
.
The various undertones of exterior paint colors

We're all familiar with the strong, saturated colors on a color wheel: red, blue, yellow, green, orange, violet.  However, odds are you won't be painting your home a bright red or yellow!  Most of the time, home exteriors are painted in more muted, neutral colors.
However, "neutrals" do not necessarily go with everything.  Grays, beiges, tans, whites . . . there are hundreds of variations of each, and each one will lean toward a particular undertone.  For example, there are "green grays" like the color of concrete, "blue grays" like the color of a steel battleship, and "violet grays" the color of . . . (uh. . . can't think of a natural example of this one!).  All three are "gray", but they have distinct undertones that you can learn to identify.  Same with beige:  old ivory piano keys are a "yellow beige", while travertine stone floors are a "pink beige".  Making the right choice of neutral for your home will depend upon what its undertone is, and whether it coordinates with the undertones of the other elements on your house (stone, brick, roofing material, etc.).
Paint undertones usually fall into one of the neutral categories listed below.
(They're also all laid out in the row of color chips, above.)  Take a quick look and get familiar with these undertone categories.  You don't have to memorize them, just look them over and notice the differences.  And don't worry if you can't see the undertone in these color chips!  Even to my eye, some of these colors don't look "pink" or "green" at all  –  not at first glance.  But colors are always viewed in context to what's around them.  Put two color chips next to each other, and one will look more "green" or "pink" than the other.  It's not an exact science, but it'll help you make an educated decision.
PINK-BEIGE:
Sherwin Williams 7555 Patience
Sherwin Williams 6106 Kilim Beige




ORANGE-BEIGE:
Sherwin Williams 7716 Croissant
Sherwin Williams 6115 Totally Tan YELLOW-BEIGE:
Sherwin Williams 7688 Sundew


GOLD-BEIGE:
Sherwin Williams 7697 Safari


GREEN-BEIGE:
Sherwin Williams 6148 Wool Skein
Sherwin Williams 7527 Nantucket Dune (I know, I know… Nantucket Dune doesn't look "green" at all! But it'll look pretty green if you hold it up to your pink-beige Texas travertine.)
GREEN-GRAY:
Sherwin Williams 7036 Accessible Beige
Sherwin Williams 7640 Fawn Brindle BLUE-GRAY:
Sherwin Williams 7064 Passive
Sherwin Williams 7065 Argos VIOLET GRAY:
Sherwin Williams 7043 Worldly Gray
Sherwin Williams 7031 Mega Greige TAUPE:
Sherwin Williams 7037 Balanced Beige
Sherwin Williams 7633 Taupe Tone This information on undertones is from nationally-known color consultant
Maria Killam
, who wrote some great blogs about picking the right exterior colors.  (Our Paper Moon Painting
color consultants
were all trained by Maria Killam.)  She also came up with this convenient "undertones color wheel", which helps visualize the whole array of undertones in one place.  It's only available if you also buy her sets of large color boards for professional color consultants, but we're posting the photo of it here because it really is a useful visualizer!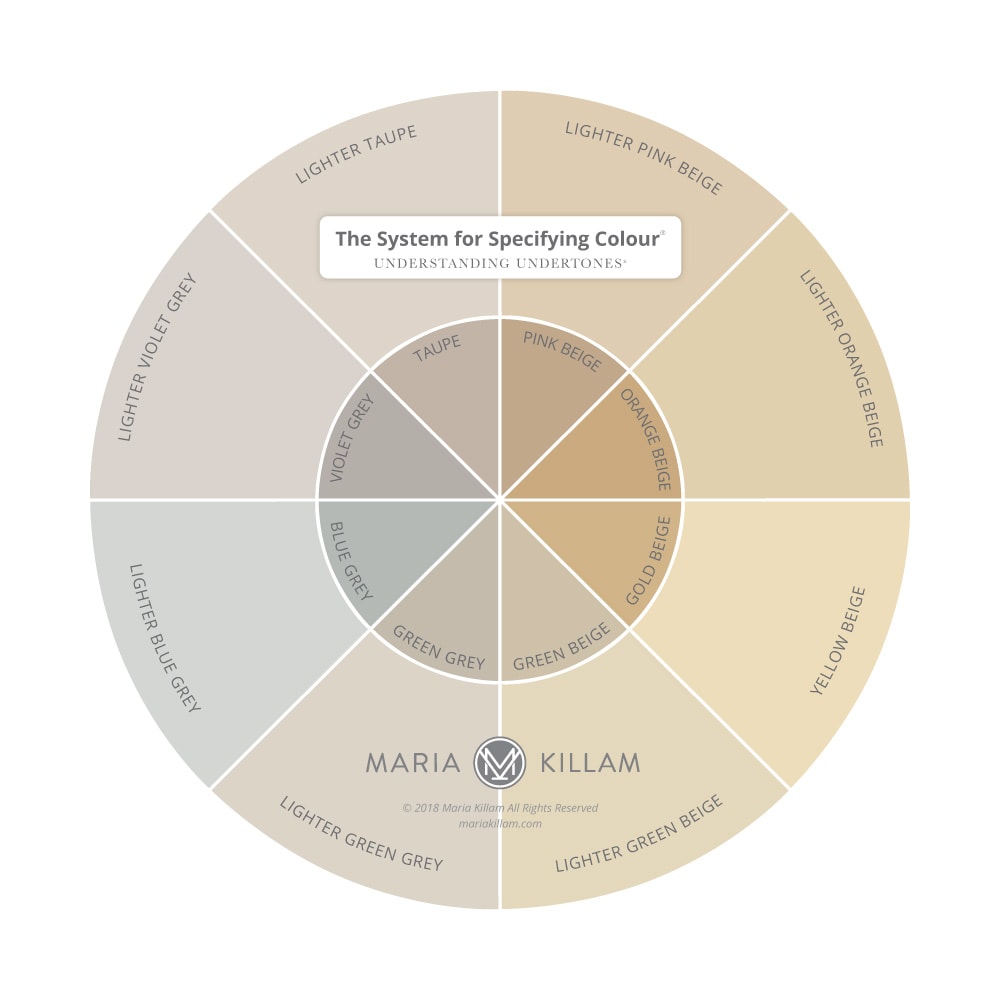 So how do you determine the undertones on your own house?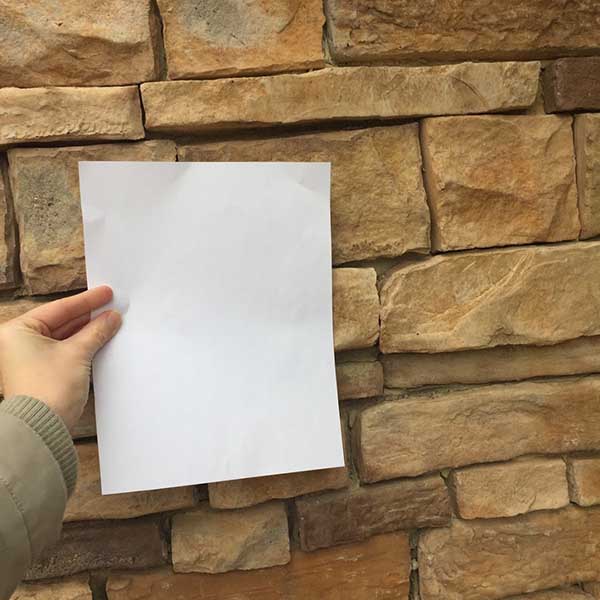 Undertone here is gold-beige:

Let's say you have stone on the lower front of your home, that you need to coordinate with.  Try holding a blank piece of paper up against your stone, and it becomes easier to spot which undertones it might have.  Conversely, you can use the list above to pick up those paint chips from your nearest Sherwin Williams, and hold them up to your stone to see what goes well.  If you're not practiced in seeing undertones, don't worry . . . just eliminate the obvious ones that don't work, and try to come close to what you think it might be.  If you see several undertones, pick the dominant one, the one you notice most when you stand a long way away..
Once you've determined the undertone you're working with, pick some possible color options, and then test them to see which is best.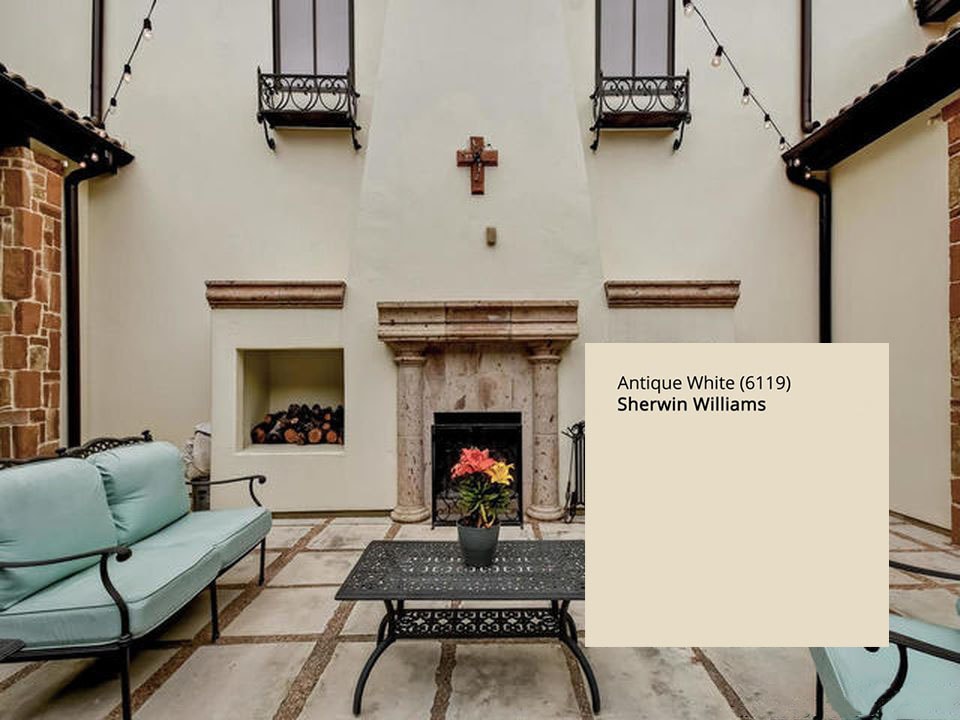 You'll want to narrow down your choices to three or four good options, bearing undertones in mind.  You don't have to
match
your brick or stone's color, but your paint color must either
share
an undertone, or have an undertone that coordinates well with your brick or stone (or roof, or windows).
.
When you're back at the paint store to pick some colors to sample, you'll have to evaluate all those color chips with an eagle eye, to narrow down the ones that might work for you.  Say you want an off-white and you've determined you need a pink-beige undertone to go with the brick trim around your doors and windows.  At the paint store, pull out an array of possible options, go one or two steps DARKER than you think you need (since sunlight washes out colors), and weed out any color chips that don't have a pink-beige undertone.
Now, test your sample colors!
.
I like getting poster boards and cutting them in half, for a nice, large sample of color.  Get sample pots of your three or four candidates from the paint store, and paint one on each board.  (If your boards will get some serious handling, prime the poster boards first with a spray can of primer, so the paint doesn't flake off.  It's a good idea anyway, so your poster board doesn't warp when you paint it.)
.
Hold the painted sample boards outside, propped vertically against your house, in both shade and full sun.  It nice to have a friend help you, not only to hold the boards up but also to give you a second opinion.  The boards will look very different in shade versus full sun, but the right color will work well in both conditions.  (If you've decided to try an off-white that is too light, you'll see immediately that it looks glaringly bright outside.)  Take in the whole scene:  the color boards up against your windows, against your doors, against any brick or stone on your house, even against the stone or brick or concrete of your patio or front walk.  Eliminate the ones that just don't seem to "play well with others".  You should be able to spot a winner!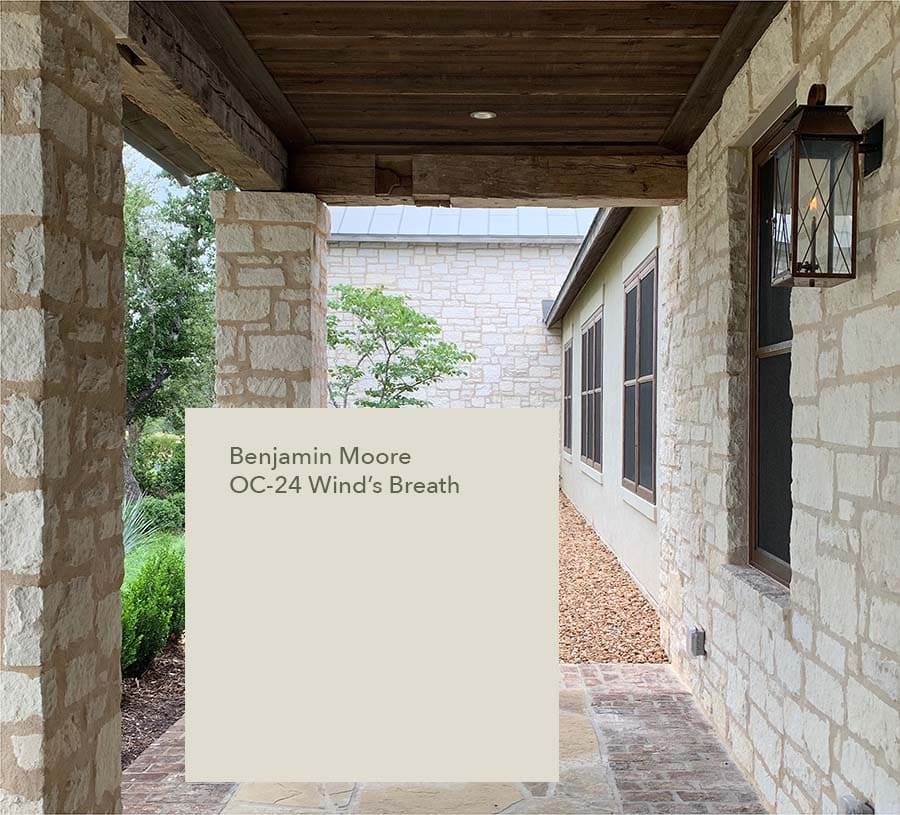 .
And lastly . . . Don't worry if you're not an expert at this!
You don't have to get good enough to do this for a living.  You're just taking a little extra time to make sure you select an exterior color that you won't regret later.  If you learn to spot the undertones of exterior paint colors that you might be using, you can make the right decision for YOUR home  –  I promise you'll be glad you did!