Can I use my kitchen while my cabinets are being painted?
We get asked this often enough that we wanted to answer this question in detail.  Professional painters like us want their clients to feel at ease when they're in the middle of a painting project.  After all, we know that painting, or just about any part of a remodel or home improvement project, can be disruptive, and we want our homeowners to be disrupted as little as possible!  Unlike plumbers or electricians, painters may take up a bit more space while they work, and this is especially true during a cabinet painting project.
During a kitchen cabinet painting project, we do take over your kitchen, but only for as short a time as possible  –  we promise!
While doing kitchen remodels, one of most commonly asked questions is, "Can we still use the kitchen while you're working in it?"  The short answer is a qualified "no", depending on what's being done.  If you're just getting your walls or ceiling painted, the painters will most likely drape protective plastic over your cabinets and appliances, and cover your floor.   You can access your refrigerator, microwave, and other small appliances by just moving the plastic out of the way (although most painters would prefer you wait until they're working on the other side of the kitchen).  Since painting the walls or ceiling of a kitchen is usually a one-day project, the disruption to your daily life is minimal.
The real issue is whether you can use your kitchen while your cabinets are being painted.  Let's take a look at what steps are taken to "prep" your kitchen, before any painting actually happens.
Since cabinets are butted right up against your mounted appliances, range, and dishwasher, those items will have to be "masked off" and wrapped in airtight plastic or masking paper.  (Why airtight?  So that no paint "overspray" gets on your fridge or appliances while your cabinets are being sprayed.)  So you won't have access to most mounted appliances because they will be fully sealed off.
Refrigerators that cannot be moved to nearby rooms will be loosely draped with masking plastic that covers all sides, but we leave the front open for access.  If the fridge can be moved to a convenient spot nearby, that's usually easier for the homeowner, but even if that's not an option, the fridge will be draped loosely enough that the plastic can be moved out of the way to get into the fridge, and then put back after the painting is done.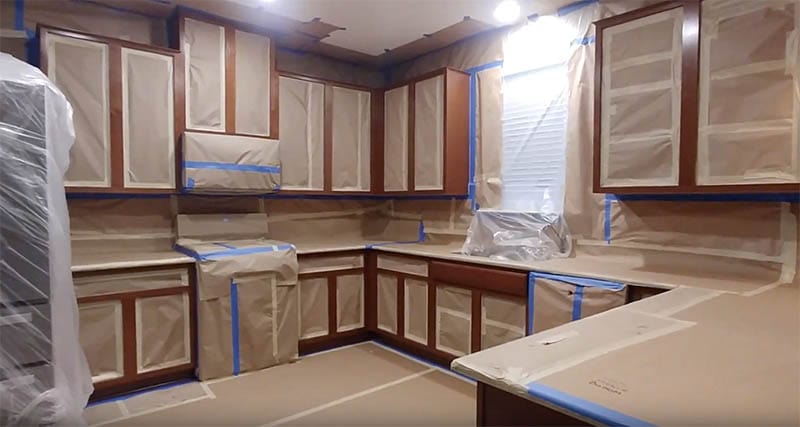 The kitchen sink will also be draped for protection, but loosely enough (usually) that you can have access to it.  In the picture above, you can see the loose draping of plastic over the sink and fridge.  This allows for basic use of the kitchen for things like grabbing a glass of water or snacks out of the fridge, but will probably prevent actual cooking, especially while work is being done.  The range, microwave, and dishwasher are covered in masking paper.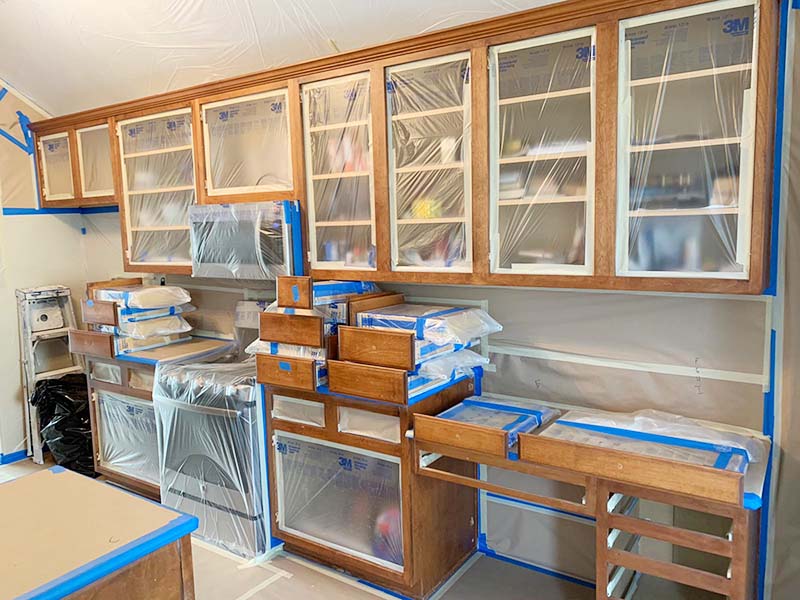 In this photo, you can see that the range and microwave are sealed off (along with the dishwasher, which is in the kitchen island).  The fridge would normally be at the far left (where the small ladder is), but the homeowners moved it to the next room before we arrived, so they could access it freely during the week.  As you can see, everything around the cabinets is very well protected with paper and plastic, but that means you can't really cook a meal in there!
And then there's the "tenting off" of the kitchen area itself.  Most contractors will put up tent walls with plastic and support poles, to keep dust or paint smells as contained as possible.  Usually they'll be a zippered opening in the plastic wall ("zip walls") so you can walk in and out of the kitchen, but during the work day, it's best to leave the painters to do their work uninterrupted.
We learned our lesson when a homeowner tried to fry some burgers right next to the very section of cabinetry that we were painting.  We're not making this up!  It took extra work to make sure there was no cooking grease or residue on the cabinets we had just primed, or else we'd risk the paint not sticking properly to the cabinets.  Usually it only takes us a couple of days to prep and paint the base cabinets in a kitchen.  For the few days that we were painting that part of the kitchen cabinetry, the burger-frying homeowner really needed to eat out.
To sum up, you really won't have full use of your kitchen during the cabinet painting process.  Since your appliances will be sealed off, you won't be able to access them until after the base cabinets are painted.  Your sink and fridge are more accessible, but it's still best to limit using them to the bare minimum, especially while the painters are working (and probably spraying paint) in the kitchen area.  The zip walls will give temporary access going in and out, but they're really meant to contain all the mess and give the workers and homeowners a little bit of separation, not to let the kids, pets and neighbors to go in and out every half hour.
So how can you make the process easier for yourself and your family?
First, remember the end goal!  Even though you can't fully use your kitchen for perhaps a week, it's a small price to pay for transforming your kitchen, with fresh new-looking cabinets and a space you'll enjoy.  Also, it helps to take these steps, before the painters arrive on the first day:
Move light appliances like coffee makers or microwaves to adjacent rooms
Grab the dog food or the kids' cereal, and put it somewhere handy
Select a few plates, cups, and bowls to use during the week, that you can hand-wash in a bathroom or utility room sink.  If there isn't a good sink available…
Get some paper plates and throw-away cups and silverware.  If you just can't stand the feel of plastic knives and forks, grab the utensils you'll need from the kitchen drawer, but do yourself a favor and get some paper plates!
The best part:  take advantage of this time to sample some new local restaurants!  And of course, there's always Door Dash, GrubHub, or UberEats when you want something quick.
Feel free to call us if you have any questions about your specific kitchen situation.  We've streamlined our kitchen cabinet painting process so that it's as quick and painless for you as possible, while still delivering a gorgeous, like-new factory finish to your cabinets.  Just check out some of our kitchen before-and-after photos to see what we're talking about.  Please be patient during the transformation  –  the results are worth it!